March 2020 PCS Newsletter
Lots of new Pez are coming out - if they aren't here yet, they will be here very soon! There have been several new pez released this past month and more are on their way! Europe has released their 2020 catalog with lots of new offerings, some of which are not included at this time in the lineup for the USA, so there will be a lot of new pez throughout the year!
Our new arrivals include the Emoji Pez Crystal Glitter Poop and Party Popper Crystal Glitter Ball pez, in stock now.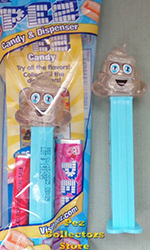 The Emoji Pez Twin Pack pairs with Unicorn/Surprised emoji pez and Brown/Crystal Glitter Poop have also just arrived.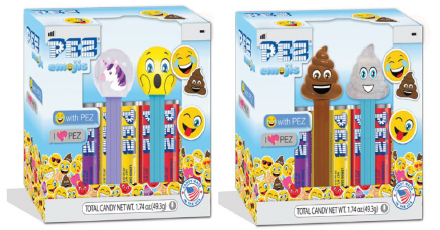 Moana is the newest addition to the Disney Princess Pez assortment and she will be in stock in just a few days!
Rocky and Zuma have joined the Paw Patrol assortment in the USA. Rocky is the environmentally friendly mixed breed pup and Zuma is a chocolate lab pup that does water rescue. These are in stock now!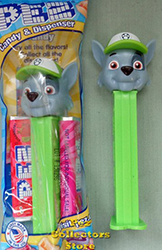 Thomas the Train has been re-released in the Nick Jr. assortment with a few changes and will be in stock in a few days! Sadly, it looks like Nahal from Shimmer and Shine has been dropped from the planned USA releases, so it will continue to be a European only release.

The Easter Lamb pez is a new full body lamb mold – with the lamb sitting on his rump showing his belly and all 4 feet. This follows the new full body animal style adopted for recent animal pez. The lamb is available now in the Pez Collectors Store!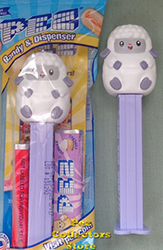 There are new Easter Eggs for 2020. The orange egg features a picture of a rabbit with a chick sitting on top of his head. There is also a blue Easter Egg with a spring garden scene with carrots and rabbits that is dated 2020. Easter Eggs are available only in tubes and are in stock now.


PEZ Candy, Inc. and Just Born, Inc. have joined up to create a Peeps Pez dispenser for Easter! This concept has been around for quite some time as a fantasy pez creation, but this release is legitimately produced by PEZ Candy, Inc. and we have them available now, mint on card with pez candies.

The Easter Chick Pez PAMP Suisse boxed set with silver Pez Candies is due to be released in March. We will have these in stock as soon as they are available!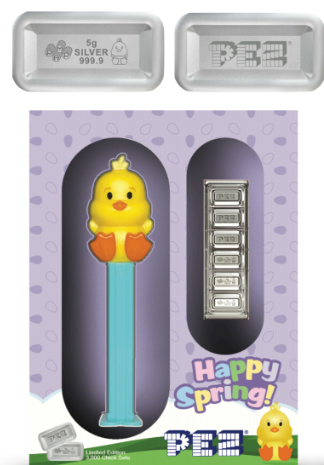 The LOL Surprise 4 piece gift set comes in a box with an exclusive Cheeky Babe dispenser available only in the gift set, and three mystery dispensers that might be the Stylin', Special, or Super versions. The mystery pez are hidden inside the pink mystery box covers in the box. Each gift set comes with 6 rolls of Pez Candy refills. These are in stock now.
FC Bayern Munchen soccer ball is a new arrival from Europe. This German soccer ball was produced in 2019 for the FC Bayern Muenchen Soccer team from Munich, Bavaria, Germany and it is available now!

We are anxiously waiting for the arrival of the new USA Mickey Mouse and Friends pez assortment which will include new molds for Mickey and Minnie, plus a Steam Boat Willie Mickey with a hat and Pill Box Hat Minnie. These new Mickey and Minnie will be available beginning March 1 in the USA. We expect to have these in stock within a few weeks!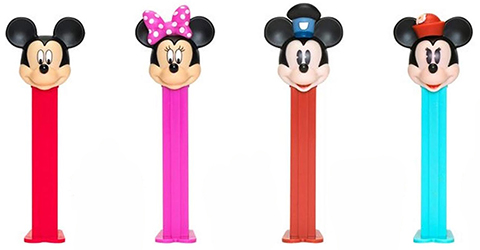 The 2020 European Mickey and Minnie pez set is a set of 4 new Mickey and Minnie pez. Mickey comes in a black suit (stem) with bow tie and a Mickey silhouette in his ear, and in a Mickey with 4 Mickey silhouettes printed on the stem, while Minnie comes with a fancy striped and polkadot bow on a pink stem and on a turquoise stem with a pearl necklace and white bow. These versions are available only in Europe and are different molds than the old Mickey and Minnie pez. These are expected to arrive from Europe soon and we will have them available in the Pez Collectors Store as soon as they arrive.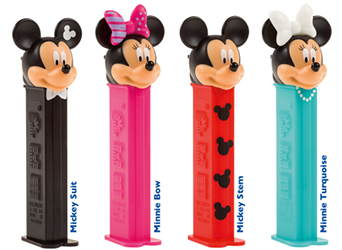 The 2020 Trolls are due for release in the USA beginning March 1. These are the same as the European Trolls released a few months ago, but they will come mint in bag with Pez candies. We will have them in stock in just a few weeks!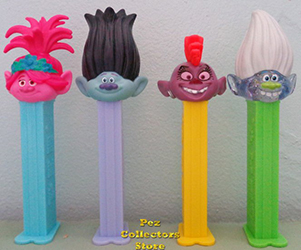 The European Panda Girl with a crown and Panda Boy pez are this year's trendy Limited Edition Pez. These are shipping to us now from Europe and we expect to receive them within a few weeks. It is uncertain if they will be released in the USA, but in the past, the announcement for a USA release has come in May, so it is possible that the same dispensers will be available in the USA.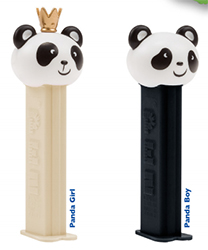 In April, the long awaited new Wonder Woman Pez is expected to be released in the USA, along with Batman and Superman in "new colors" that look very similar to the European Batman and Superman pez from 2016. These were originally planned for release in 2019, but were delayed until 2020 and we will get them in stock as soon as possible!
Scooby Doo is scheduled to be re-released in the USA beginning April 1. The information from Pez indicates the assortment includes new dispensers. Scooby Doo will have a Scooby emblem printed on his stem. Shaggy will have a few whiskers on his chin, Daphne will be on a purple instead of a light green stem, Fred will be on a white stem and Velma appears to be the same as always from what we can tell from the information available so far. The set pictured below is the set from the 2014 Mystery Machine gift set and below that is the expected 2020 release.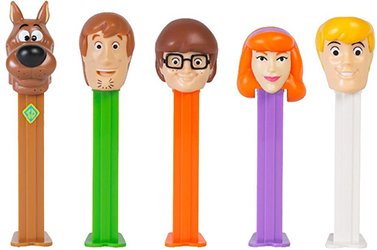 Scooby and Shaggy are also expected to be released in a twin pack in the USA beginning April 1.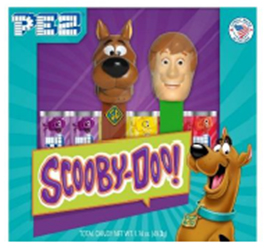 A new Spongebob set is scheduled for release April 1 in the USA and it includes a Bubbles Spongebob (common), a Crystal Spongebob (special), a Glitter Spongebob (rare), a Gold Spongebob (ultra rare with only 1000 pieces made) plus Patrick and Squidward.
The European Catalog was released after the ISM trade show in Cologne. Many of the planned releases are the same as those scheduled for release in the USA, though often the release dates for Europe are ahead of the first planned ship dates for the dispensers in the USA.
A new Princess Aurora pez with a different bust mold and off the shoulder gown will be released in Europe. This new Disney Sleeping Beauty Princess Aurora is not currently scheduled for release in the USA, but we will be getting them from Europe as soon as they become available.
There is a new Spiderman with heavy black webbing planned for release in Europe. The same new Spiderman Pez will be released in the USA in shipments beginning June 1.

Europe is getting three new Harry Potter pez – Harry, Hermione and Ron, each with the Hogwarts emblem on the stem. These same dispensers will be released in the USA beginning June 1 as singles, in twin packs (Harry and Hermione, and Harry and Ron), and in a 4 piece gift tin with Dumbledore in July, 2020.
The European Minions Rise of Gru Pez set includes Stuart, Bob, Otto, and Kevin, each with new molds that include little arms and hands! The same dispensers are expected to be released in the USA May 1.
European Scooby Doo Pez look to be very similar to the 2014 release with a few stem changes and addition of a few whiskers for Shaggy. The same 'new' set is scheduled for release in the USA April 1 (see above).
LOL Surprise Season 2 are scheduled for release in Europe, again with 3 different dolls each in 3 different variations. The mystery cover is light blue with LOL Surprise printed on it instead of pink with a question mark. The same characters are expected in the USA beginning August 1, though the rarity of each variation seems to be different at this time, it could change by the time they are released.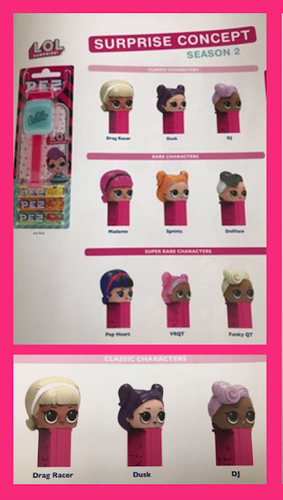 Europe has plans for the 4th quarter release of DreamWorks Spirit Riding Free assortment. We aren't sure which characters will make the cut.
Europe also has plans to release a 44 Cats assortment which is reported to include Lampo, Meatball and Milady dispensers, shared by Nenad Ghosty Markov at ISM.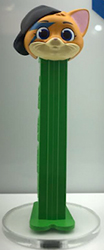 Funko POP! PEZ release announcements have slowed with only a few of the previously announced characters coming out as Funko Shop exclusives. Toy Story Chuckles, Lotso and Zorg were released and sold out immediately on the Funko Pop Up Shop. We will have just a few of these available soon!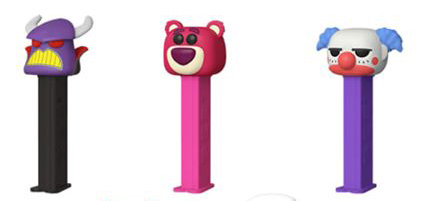 Likewise, Hanna Barbera Breezly, Sneezly, Hardy Har Har, Lippy Lion, Muttley, and Touche Turtle have been offered as Funko Shop exclusives and we will have a few in stock in the Pez Collectors Store.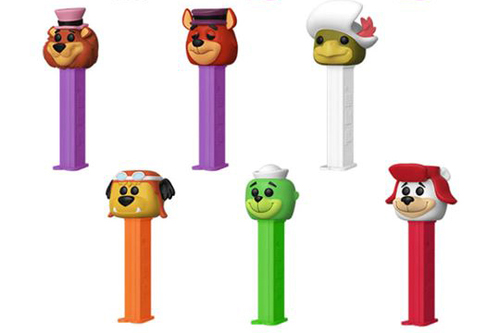 We expect to see DC Comics Green Lantern, Lex Luthor, Green Arrow and Hawkman, Darkwing Duck, Launchpad McQuack and Negaduck, and Appa the Last Airbender, all offered as Funko Shop exclusives at some point in the future and we will try to get them in stock as well.
The only new announcement of Funko POP! PEZ has been Emerald City Comic Con Exclusive Masters of the Universe Tri-Klops, Stinkor, and Evil-Lyn.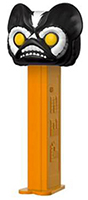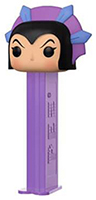 Funko also announced a POP! with a fireman pez pal holding a fireman pez pal POP! PEZ as an Emerald City Comic Con exclusive.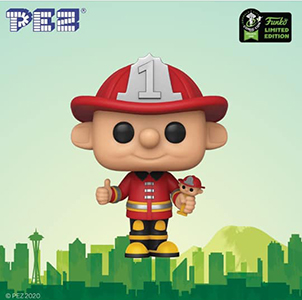 Monthly offerings from Funko through June 2020 do not include any POP! PEZ and while they could announce new releases at any time, there were none announced at the New York Toy Fair. We hope to see the line refreshed and expanded, but don't really expect anything until the second half of the year. We will certainly get any available POP! PEZ in stock just as soon as possible and will keep you updated!
That's all the news for now! Happy Pezzing!
All the best,
Chris Jordan
www.pezcollectors.com