March 2018 Newsletter
It has been a fun month in the Pez Collectors Store with all the new releases! Pez from the USA and Europe have been arriving and more are on their way! Check out all the newest additions in stock now and read about the upcoming releases that will be in stock soon!
Crayola Pez are in stock now in the Pez Collectors Store. These fun new pez come in 3 colors that match the candy flavors – Vivid Violet for grape candy, Jazzberry Jam for raspberry candy and Outrageous Orange for orange candy. The Vivid Violet and the Jazzberry Jam are actually rather hard to tell apart unless compared side by side, but they look great together along with the Outrageous Orange! More new colors will be available in the gift set in June so we can all look forward to brightly colored pez!
Shopkins pez arrived in February and they are rather cute. Apple Blossom, Strawberry Kiss and Kooky Cookie are the characters that are available in this assortment.
DJ Suki has been added to the Trolls assortment and she is rocking with her bright orange hair and her blue nose really stands out on her pinkish red face.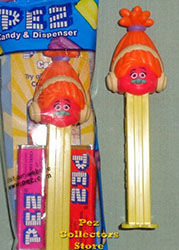 Rock the Dots Minnie Mouse is in stock now as well. This new addition to the Mickey and Friends assortment features big polka-dots on her bow. It is similar to the European Minnie from the Stylish Mickey and Mad about Minnie pez, but the stem on this newest version does not have any dots.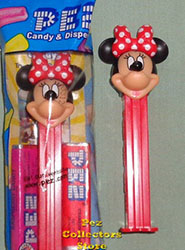 The Thumbs Up and Sparkling Heart Emoji pez on crystal balls are available now. These newest additions to the Emoji Pez assortment feature some of the most used emoji symbols for those familiar with "Like" and "Love" on social media and other web applications.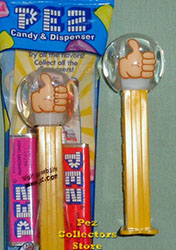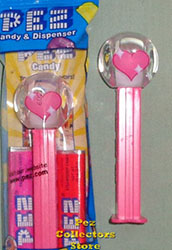 Black Panther is a hit at the box office and it has been a hit for Pez, too! This great new addition to the Marvel Pez Assortment has been a fast seller and we have just a couple left in stock at this time. We will be getting more soon.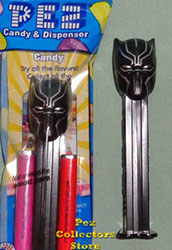 Easter Pez are in stock now in the Pez Collectors Store. All the Easter Pez this year come packaged with new Vanilla Cupcake flavored pez. The Tan floppy ear bunny on a full size pink stem and the Mr. Bunny on a purple stem are new stem variations this year and they are included in the assortment along with the Ducky and the 2017 Lamb with Blue Kerchief. The new Easter Egg features an Easter Basket and these are available in tubes.

The Easter Eggs with mini pez for 2017 arrived and all of them have 2 rolls of Vanilla Cupcake flavored Pez. The mini pez include the tan floppy ear bunny on a mini pink stem, the blue ducky on a mini yellow stem and the lamb with purple kerchief on a mini blue stem. Since each of the eggs has Vanilla Cupcake flavored pez, these are definitely the ones released for Easter 2018, but we were expecting the new white floppy ear bunny on a mini green stem. When I asked about this, I was told that the new white floppy ear bunny was to be 'flowed in' to the assortment when the remaining inventory of tan floppy ear bunnies was extinguished. Until they are all gone, the new pez will not be included. So far, I don't believe anyone has gotten any of the new mini white floppy ear bunny and though I have asked to be notified when it is added to the assortment, I am not sure that it will actually be available this year. I guess it just depends on how many tan floppy ear bunnies on mini stems still remain in inventory at Pez Candy.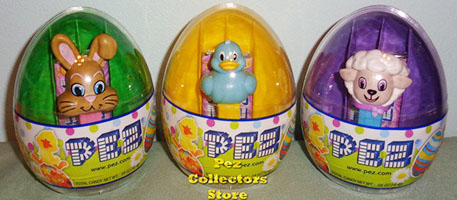 Vanilla Cupcake flavored Pez Candy is delicious! This flavor is supposed to be a Limited Edition seasonal candy flavor and it is supposed to be only included with Easter Pez, just as Banana flavored pez was supposed to be exclusive to the Despicable Me 3 tripack boxed sets. We now have both Vanilla Cupcake and Banana flavored pez available in sealed cello 6 roll packs so you can continue to enjoy these flavors!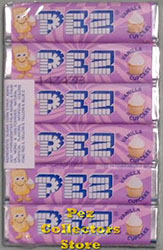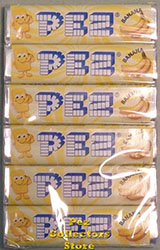 The Blaze Monster Truck pez assortment has arrived from Europe. Blaze is the red monster truck, Crusher is the blue monster truck and Stripes is the yellow monster truck with tiger stripes. These characters are from the Canadian educational animated TV series on Nickelodeon. The set of 3 European Blaze Monster Truck pez are available now in the Pez Collectors Store!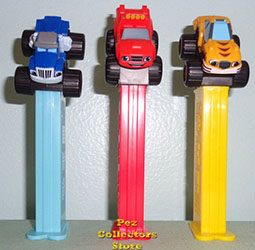 Shimmer, Shine and Nahal pez have arrived from Europe and they look great. Shimmer is the pink hair, blue eye genie and Shine is the blue hair, purple eye genie. Nahal is Shine's Bengal Tiger cub. Nahal is a European only release and the European set is in stock now in the Pez Collectors Store.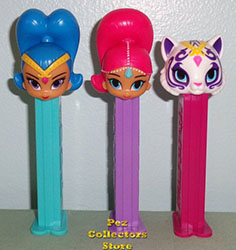 Shimmer and Shine will be released in the USA beginning March 1, so they will also be available soon mint in bag and in a twin pack boxed set as soon as our order arrives.
Paw Patrol Tri-packs are scheduled to begin shipping from Pez Candy beginning March 1. The tripack will include Chase, Skye and Marshall and we expect our order to arrive soon!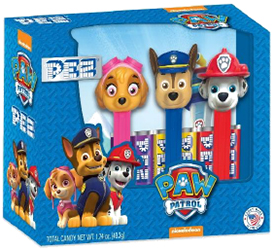 The Hello Kitty Unicorn pez assortment should be released in Europe this month and our order should be coming to us soon. This set is really cute with the Unicorn and different versions of Hello Kitty. The cute little stars, heart and rainbow printed on the ears is a sweet addition to make different variations of the Hello Kitty pez.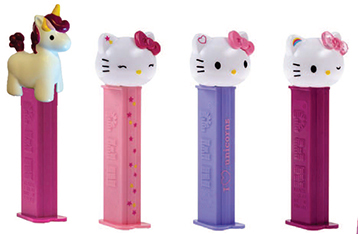 A new licensed item is coming to the Pez Collectors Store. Brush Buddies Pez Poppin' Toothbrushes feature Emojis and Peppa Pig will be available soon, and in June we can expect Thomas & Friends to be added to the line. Monster High characters have been considered but are not currently scheduled for production. The character heads are on a PEZ like stem that has a button. When the character head is removed and the button is pushed, a toothbrush pops out and locks in place so kids can brush their teeth! The irony of brushing with a candy dispenser is interesting, but this isn't the first time that PEZ has been a feature of a toothbrush. These are unique novelty toothbrushes and they will be available in the Pez Collectors Store soon!
New wind-up walking Oh Poop! emoji candy poopers are in stock now in the Pez Collectors Store. The set includes the purple Unicorn Poop Emoji pooper, the rainbow Poop Emoji pooper and the blue Bunny Poop Emoji pooper. These are great new releases from Imaginings 3!
Planning ahead to what we can expect to be released in April, we are excited about the Jurassic World Pez assortment. This set will feature just the heads of the dinosaurs. T-Rex, Blue the Raptor and Dilophosaurus are included in the assortment. We expect to receive these by early to mid April.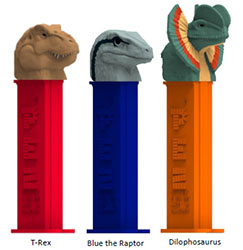 There will also be a Jurassic World Twin pack with T-Rex and Blue the Raptor pez. These are expected to be the same as the dispensers in the Jurassic World assortment, but packaged in a twin pack with Jurassic World graphics. These should be available in the Pez Collectors Store by early to mid April.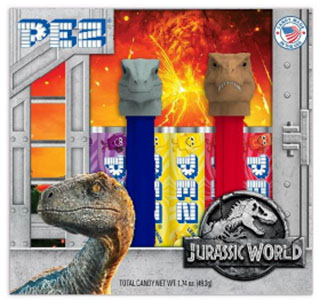 Peppa Pig will be released in April in Europe and we will get these in stock just as soon as possible. The set includes Peppa and George and it is a European only release.
An exclusive Canadian NHL Hockey Masks pez set with the original 6 teams is coming sometime in April as well. The Original Six era of the National Hockey League (NHL) began in 1942 with the demise of the Brooklyn Americans, reducing the league to six teams: Boston Bruins, Chicago Black Hawks, Detroit Red Wings, Montreal Canadiens, New York Rangers, and Toronto Maple Leafs, so these are the teams we are expecting to see represented in this set. We will have more information about these soon and will have them in stock just as soon as possible.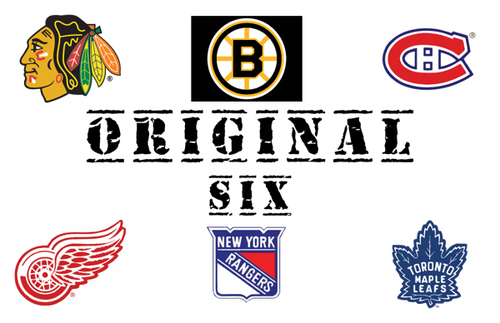 Pop Pez will be coming this summer and the first ones released are expected to be the Hanna-Barbera characters Huckleberry Hound, Yogi Bear, Grape Ape, Snagglepuss, Secret Squirrel, and Morocco Mole. The International Toy Fair in New York included additional designs for Bob Ross, Hulk, Deadpool, Batman, Cap'n Crunch and Quisp. More characters from Star Wars, Marvel, and DC Comics are also anticipated! We plan to carry the full line!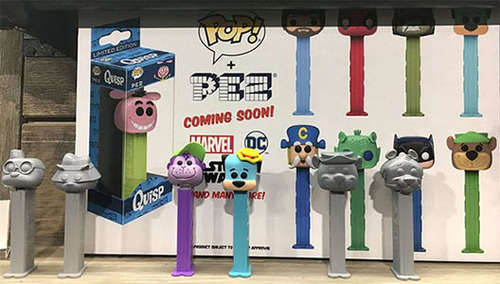 In the Pez Collectors Store newsletter last month, we ran through the scheduled Pez Conventions and Gatherings in the USA for 2018. Hopefully you have had a chance to consider which of these you might be attending. There has been an update to the information for the Michigan Pez Convention. They will be changing their date to August 16 – 18 and the location is moving to an Embassy Suites in Livonia, Michigan. There is a 3 day early registration window on March 1, 2 and 3 if you want to get the Early Registration version of the convention dispenser. Visit www.mipezcon.com for all the details and to register.
The deadline for early registration for the Northeast Pez Convention is March 15 and after that, prices go up! Save your money for pez – register now at www.pezconvention.org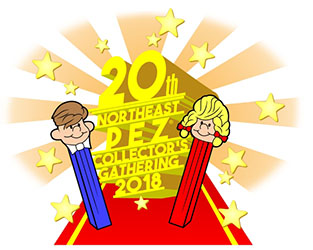 That's all the news for this month! Happy Pezzing!
All the best,
Chris Jordan
www.pezcollectors.com