March 2017 Newsletter
The year has started off right with lots of new pez releases already, with lots more coming in the next couple of months! It is always fun to get completely new promotional pez that are a totally new mold and one was just released that really gets us energized!
The 2017 Hello Kitty Pez Set arrived from Europe and the revised paint really changes the look for the old molds! In this year's assortment, Hello Kitty has a pink bow and a pink stem, both with tiny dark pink polka-dots, a second Hello Kitty with a lavender bow and a lavender stem with printed hearts, a full body standing Kitty with a dark pink heart and a light pink bow, and a sitting Kitty with a purple bow and overalls. This set is a European only release at this time. It was originally expected that the pink and lavender Hello Kitty pez would be released in the USA, but plans for that seem to have been scrubbed. These are in stock now in the Pez Collectors Store.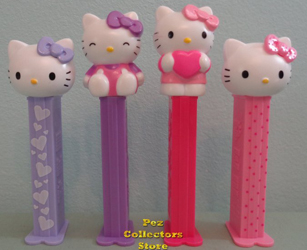 The orange stem Chillin' moji has also arrived from Europe. In the USA, the Chillin' emoji is on a red stem and in Europe it was released on an orange stem. We have this European version available now.

The Easter pez are available now in the USA. We have found the Easter Egg with a lamb on it comes on both a light yellow and a dark yellow stem. The Easter Eggs come only in tubes and we have both variations available now in the Pez Collectors Store.
The new mold 2017 Easter lamb on a full size stem has blue eyes and a blue scarf or kerchief around its neck. It comes on a purple stem. We have these in stock now, mint on card with pez candies.

The new mold 2107 Easter lamb on a mini stem has purple eyes and a purple scarf or kerchief around its neck, so the head is different than the one on the full size stem. The mini stem lambs come in plastic Easter eggs! These are super cute and are available now!
The Energizer Bunny Pez is available now in the Pez Collectors Store. This is a great new promotional pez with the Energizer Bunny head on a stem that has the Energizer logo. It comes on an Energizer card that shows the Energizer Bunny with his drum on both the front and back of the card. This awesome new promotional pez is available only at select Kroger Stores, free with a coupon with the purchase of Energizer Batteries.
The 2017 plush set of Pez Cuddle Cubs Valentines Bears are the same as those released in 2011, but they come in bag instead of on card. Included is the brown bear holding a LOVE heart, a Yellow Bear and a Pink Bear with a sweet ribbon bow. These bears have cute little paw pad prints on the bottom of their feet. These plush pez dispensers come mint in bag with a convenient clip and package of pez candy and they are in stock now in the Pez Collectors Store.
We have a fun new item in stock. The Pez Notes Journal is a soft cover journal book, approximately 8 1/2" x 5 1/2" with 100 lined pages of recycled paper, plus a page with one side for important contacts and the other with a 2016, 2017 and 2018 calendar. The PEZ Notes Journal has a high gloss coated cover and a bound spine. Perfect for keeping track of your collection purchases, want lists, friends details and other important pez collectors notes!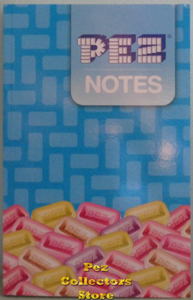 Sadly, it seems that the Canadian NHL promotional pez have been nixed. We were looking forward to something special for the 100th anniversary, but it was decided not to do a new NHL series at this time.
We are anxiously waiting for our first shipments of DC Super Hero Girls to arrive. Wonder Woman, Supergirl and Batgirl are superheroes and Harley Quinn is technically a supervillain, but they are all part of the DC Super Hero Girls assortment. We will have the pez mint in bag and also in twin packs! These are scheduled to begin shipping from Pez Co. March 1 so our orders should be arriving soon!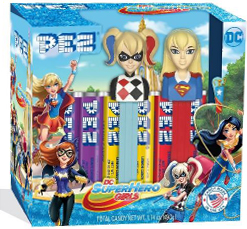 We are also waiting for our order of Smurfs Gift Tins with click n play pez and game boards to arrive. These are scheduled to begin shipping March 1 and we expect them to arrive soon. This great mushroom shaped gift tin is really cute and we are anxious to see if the pez have any differences from the click n' play Smurfs pez released in Europe in 2014.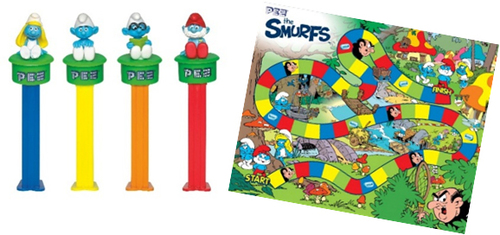 Paw Patrol Chase and Skye Pez will be released in Europe in mid-March and we are looking forward to receiving our order of these adorable new pez. Chase is a police and traffic German shepherd puppy and Skye is a Cockapoo pup that loves to fly in her helicopter or with the wing from her pup pack. These two new pez are great looking and will come to the USA in May, but who wants to wait that long? The European releases will be in stock in the Pez Collectors Store sometime this month!
Next month we will look forward to the Guardians of the Galaxy Marvel assortment including Groot and Rocket Raccoon, along with Spiderman, Iron Man and Captain America. Groot is a Guardians of the Galaxy Superhero tree that regenerated from a twig, whose language is best understood by Rocket Raccoon – the master marksman and military tactician raccoon. These awesome new pez are scheduled to be released April 1!

There will also be a Guardians of the Galaxy Twin pack shipping April 1 which will include Groot on a standard stem and an exclusive Rocket Raccoon on a mini stem! Sweet!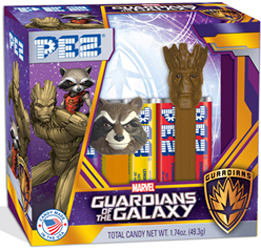 Two new Star Wars pez will be added to the Star Wars pez assortment April 1. BB-8 and Rey will make their debut in the assortment which will also include Kylo Ren, First Order Stormtrooper, Chewbacca, R2D2, and Yoda which will be retiring.


The first convention in the USA is the PezCific Coast convention and the PezHead of the Year (PHOTY) is always announced at this convention. I was honored to be chosen as the PHOTY for 2016 and my reign is now over. Previous winners of the PHOTY award serve as the nominating and selecting committee for this distinguished award. A pezhead's contributions, activity, and involvement with betterment of the hobby through conventions, gatherings and public forums and groups over the past year and years prior are considered in choosing the next recipient. The crown and torch have been passed to the 2017 PHOTY, Jessica Orozco! Congratulations, Jessica, on being named PHOTY 2017!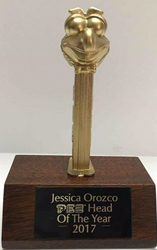 The next convention in the USA will be the 19th Annual Northeast PEZ Collector's Gathering June 22 - 24, 2017 Stamford, CT. Details can be found at www.pezconvention.org.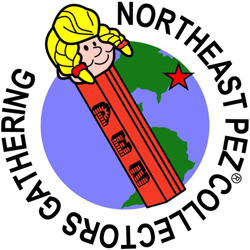 That's all the news for this month. Happy Pezzing!
All the best,
Chris Jordan
www.pezcollectors.com