March 2015 Newsletter
Most of the USA is still feeling the freeze of winter, but the pez keep flowing in! We have received new dispensers from Europe, new releases from USA will soon be available and we are expecting new Pez from Japan this month! We have even more new pez to look forward to in coming months and pez conventions to plan for and attend. We also got a blast from the past in a shipment of items which came from a previous pez salesman that has been lots of fun to go through. So, as much as we are looking forward to spring and warm weather, we have been plenty busy playing with pez inside as the winter storms rage on!
We have received the 2015 Minnie Mouse Pez set based on the Disney Channel Minnie's Bowtique and Minnie is modeling the latest fashions in bows with all new facial expressions and using both head molds that were seen in the 2014 set.  Two bows have polka-dots and one is printed with colorful Mickey Mouse heads (we originally thought these were just paint splotches!). Two of the stems are printed – one saying Minnie Mouse and the other with I (Heart) Dots.  This European pez set is available now in the Pez Collectors Store.
Spike the Bulldog is the mascot for BMW MINI cars and dealerships in Germany received pez dispensers of this mascot with printed stems showing the MINI logo. Spike is very well done with lots of detail and great paint! The cards look pretty awesome, too. This great new promotional pez is available in the Pez Collectors Store, either mint on card with European pez candies or loose for those who want to display him loose and save on shipping!

This month, Pez Candy, Inc. will release the Despicable Me pez assortment in the USA. The set of 3 features minion Dave, minion Stuart and the little girl Agnes. This Despicable Me pez set will be in stock in the Pez Collectors Store just as soon as Pez Candy begins shipping!
The 2015 Kyoro-Chan parrot pez are the newest promotional pez for the Japanese Morinaga company brand of chocolate called ChocoBall. This is the second series of Kyoro-Chan parrot pez and this time Strawberry, Caramel and Peanut have smaller heads and feet. These have just been released in Japan and we have a shipment on its way to us which should arrive within a week.
In April, the Marvel Avengers Assemble assortment will be released in the USA. This set includes three new dispenser molds. The wings on the 2015 Captain America pez are printed on the side of the helmet rather than being molded to stick out from the helmet. The new Incredible Hulk pez has a light green face and dark green hair and a totally different look than previous Hulk pez releases.  The newest Ironman has a different shaped gold faceplate that is wider in the mouth area, and is distinctly notched at the top to fit the red head. The Thor pez which is part of the assortment does not appear to be changed at all, though it may come on a different patent stem. Below are comparisons of the existing Marvel pez dispensers and the newest assortment coming in April.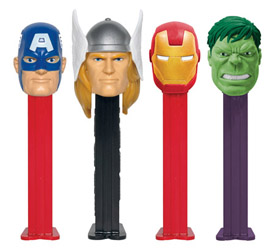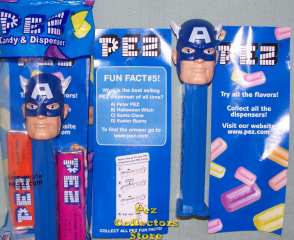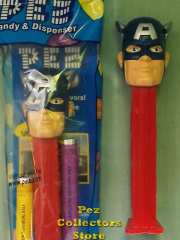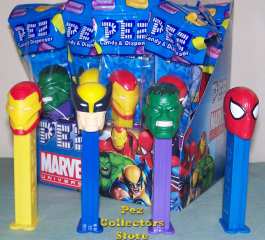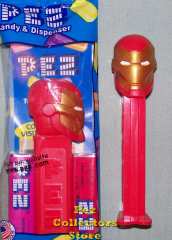 Pez Candy frequently changes concepts and designs before a final product is settled on. We originally heard that the Peanuts 65th Anniversary set would be in a gift tin, and then were told it would be released only on card or in polybag. We have just received word that the Peanuts 65th Anniversary pez will be released as a gift set in August, but we have not gotten confirmation of what the gift set will look like or whether it will be a boxed set or a tin. We are hoping that it will be something special like Snoopy's dog house! We are fairly certain that Lucy will be on a blue stem and Charlie Brown will be on a red stem just like the anticipated European pez releases. We will provide more information as it becomes available for sharing!
Another interesting upcoming new USA Pez release is the much anticipated Harry Potter pez set. This set will be a limited edition and will include Harry, Hermione, Ron, Dumbledore, Hagrid and Voldemort. So there are 6 pez characters instead of 9 which have been seen in large boxed sets previously. There were some rumors previously that there would be no pez candy in the boxed set, but that the set would be in a display tray with carded packages of pez candy to be sold separately. We are pleased to see that in the newest flyer from Pez Candy USA, the pez candies appear to be inside the boxed set! This set will be released in September, 2015!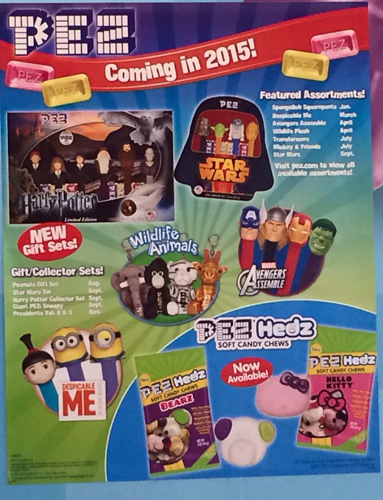 The PezCific Coast Pez Convention kicked off the 2015 Convention season and they really set the bar high – it was a blast!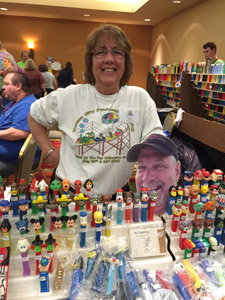 One of the unique things that happens at the PezCific Coast convention is the announcement of the PezHead of the Year (PHOTY). The previous winners of this award confer and vote on the recipient for the next award based on their contributions to the pez collecting community. This year, the PHOTY award went to Aaron Lamay for his work on the Pez Yearbook – a compilation of autobiographies of many pez collectors worldwide, for the Pez Guide Book he has produced and his involvement in pez collecting groups online. Congratulations Aaron!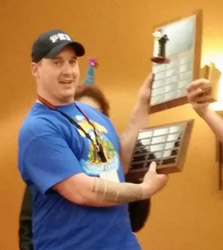 Next up will be the Austin Texas Pez Gathering March 27 - 29. The deadline to register for the convention has been set at noon on February 28, so hopefully everyone who is interested in attending has already registered.
The Northeast Pez Gathering will be held April 30 – May 2 and the early registration deadline is coming up March 15, so be sure to get your registration sent in and save a bit on the cost of registration!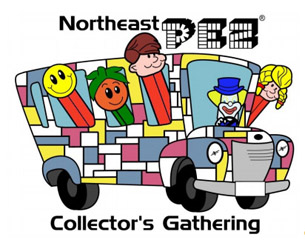 The 25th Pezamania Convention in Cleveland isn't until July 23 - 25, but we are already hearing reports that the hotel is sold out of rooms for this epic event! John Gliha reports that registrations already received have exceeded their normal final attendance numbers, so this convention will be huge! Never fear, if the Holiday Inn has no room, the hosts are arranging room blocks at the Hampton Inn and Red Roof Inn nearby for overflow!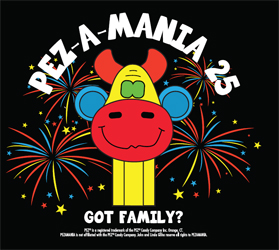 A new convention will be hosted by Dan and Jil Borchers in Las Vegas September 17 - 19. The Sin City Pez convention sounds like it will be a lot of fun in a great location! For more information, visit http://sincitypez.weebly.com/
We were recently contacted by a woman whose father was a PEZ salesman through the 1990s and early 2000's. He recently passed away and his daughter was ready to pass on the pez items he had left from the time he worked for the company. We purchased the items and have added some of it to the Pez Collectors Store inventory. 
The entire shipment weighed 216 lbs and included many Giant Pez which are now listed in the Pez Collectors Store. A few are shown here and are available in the Pez Collectors Store!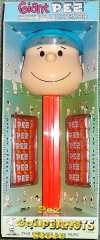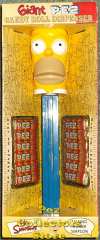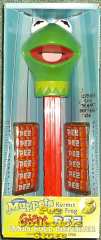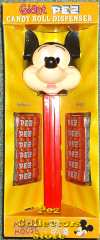 We were able to add to our inventory for some of the 1990s releases such as Simpsons, original TMNT pez, original valentine pez and Christmas Pez which were included in original 24 count counter display boxes. We also stocked up on School Tool pez, rocket pens and magic dispensers. These can all be found now in the Pez Collectors Store.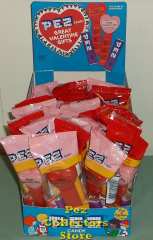 Also included were some unique items that were salesman samples. Some of these I will keep for my personal collection and others that we received duplicates of are listed in the Pez Collectors Store. For example, there were two sets of original Cats and Dog series Fuzzy Friend samples. These have a tag which says "SAMPLE Made in China Not for Resale" and each of them has a neon orange stem and cap inside. There has not been a pez that was made with this color stem and cap, so these were clearly used just for production of the sample Fuzzy Friends!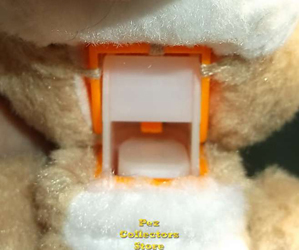 Included in the packages were several men's PEZ Employee shirts and sweaters. These are embroidered with the PEZ Candy logo in either dark blue or light blue, over the pocket on the short sleeve polo shirts and on the breast on the v neck sweater. We have several of these available in size large and Extra Large.
We received a large quantity of Pez Paper items including stationery with the Pez logo and address on the letterhead and matching envelopes, Salesman presentation pocket folders in two different styles, ad sheets and Pez Events Calendars. Extras of these are now listed in the Pez Collectors Store.
                 Pez Letterhead and Envelopes           Light Blue Pez Presentation Pocket Folder
Closeup of Embossed Pez Presentation Pocket Folder
Embossed Pez Presentation Pocket Folder Inside
1980s Pez Sales Brochure cover and foldout inside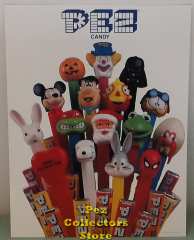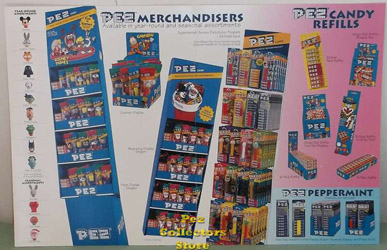 1998 Pez Sales Brochure cover and foldout inside
2004 Pez Events Calendar front with January - June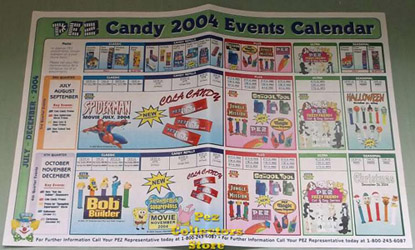 2004 Pez Events Calendar Back with July - December
There were lots of different pez paper items, but one ad sheet was very interesting since the item was never produced. Another example of how concepts can change or be completely eliminated before final production! This pez pop was a concept for a Sourz flavored candy lollipop inside a Peter Pez head, scheduled for release in 2003, but this item was never actually produced!
There were also a few prototype items which are very cool! We know that there were some prototypes made for the Bugz series including a red antenna Ladybug which was discovered at Pez Candy but we had not heard of any other different prototypes for the series. This Florence Flutterfly in polybag was definitely a prototype. The eye inserts in the prototype are a clear colorless crystal and the pupils and iris are printed on paper on the underneath side of the eye, similar to the way the Big Bee eyes were done. The Florence Flutterfly that was produced for retail sales has white plastic inserts for eyes with the pupil and iris printed on the outer or top surface. This prototype was an awesome find!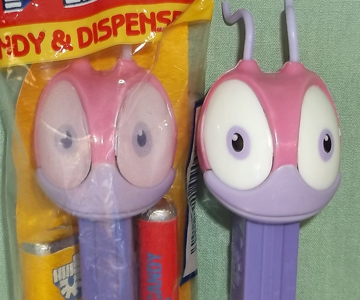 We really like the 2 prototype power pez dispensers and an ad sheet promoting the dispenser in its prototype form. The final power pez does not have the dispenser on top, but rather has a push button to trigger the motorized action. There is also a side gate on the final product which is absent on the prototype.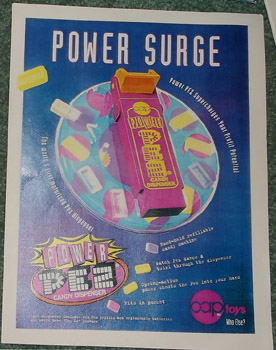 We received a preproduction Golden Glow intended for the Golden Glow Anniversary dispenser, but the base stand is not printed.
This Employee Clock is truly awesome – the engraved plate says A Year to Remember 1996/1997 PEZ Candy.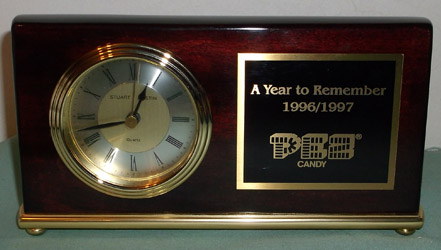 Also included in the shipment were these Salesman displays. We were told by the seller that she remembers her dad putting these together. Ad sheets for a particular assortment were placed on the front and back of a piece of cardboard then the dispensers were hot glued to the ad sheet and the entire display was then shrink wrapped or cellophane wrapped. These cardboard displays were then used by the salesmen on the road to show the new products!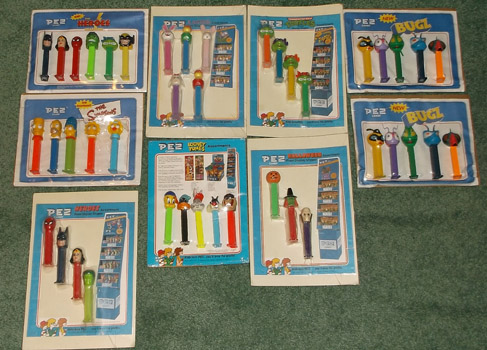 We hope you enjoyed the little show and tell – it is always interesting to see items from Pez Candy, Inc. which we have never seen before and to learn the stories behind the items!
That is all for now! Happy Pezzing!
All the best,
Chris Jordan
www.pezcollectors.com