March 2014 Newsletter
It is always exciting to get new pez and this past month we have been able to add quite a few new releases from the USA and from Europe! The pez conventions in the USA kicked off with the PezCific convention in Manhattan Beach, CA and we were able to add a lot of retired pez that we have been out of stock on for a while. Plus, there are more new pez coming in March!
The Minnie Mouse Bowtique pez from Europe are available now in the Pez Collectors Store. There are two different molds used for these pez – two have a mouth with a tongue printed and two have a circular mouth that makes a small chin in the mold. There is a mix of two different printed stems and two different bedazzled bows, plus winking eyes and open eyes. All the Minnie Mouse pez are completely different!
The Planes 1 pez set with Dusty and El Chupacabra have landed in the Pez Collectors Store. These are cute dispensers from the Disney Planes movie. They are available now!
Jake and Skully arrived as well, but we sold out quickly. Not to worry, more arrived today! This pair is from the Disney Jake and the Neverland Pirates Disney Jr. show. These are in stock now in the Pez Collectors Store.
Ace Hardware has released the first promotional truck for 2014. This is a new version with a paint bucket beside the logo! We have these in stock now in the Pez Collectors Store!
Hello Kitty friends Badtz Maru the Penguin and Keroppi the frog have arrived in the Pez Collectors Store and are available now!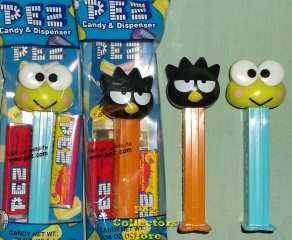 In case you didn't find any in stores, the Valentines Monkey with Heart pez is still available in the Pez Collectors Store, mint in bag with pez candies. Most Valentine pez are long gone from stores now, so here is your chance to add the Monkey to your collection!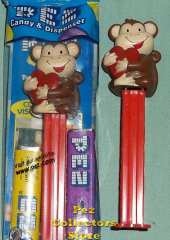 Fozzie Bear has been released and is now available in the Pez Collectors Store. This new Fozzie Bear has no bow tie! I always wondered why Fozzie was not released with Kermit and Miss Piggy when the Disney Muppets pez assortment was released with Animal. At least he has been added now!
Emoticons should be coming within a few weeks. Our contact in Australia has been busy getting the shipping arrangements worked out, but it won't be long now!

Space Alien is supposed to be released this month though we are waiting until the old inventory is sold out before ordering so that we can be sure that our order will include the new dispenser. It could be a while before it starts showing up.
The Fairfield University Pez basketball has been released in the Pez Visitors Center. Unfortunately, that is the only place they are being sold, so we will get some in stock when we find someone to go to the Visitors Center for us!
The Captain America with a dark blue mask and red stem has been released in the Pez Visitors Center as well. This is also being added to the Marvel Assortment which will include Wolverine, Spiderman, Hulk, Thor and Iron Man. Again, we are waiting until the old inventory has gone out the door from the warehouse before ordering to be sure we get the one new pez!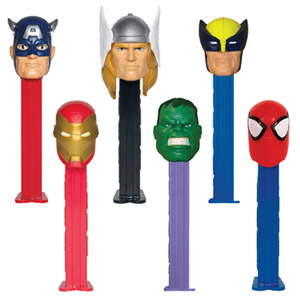 Dr. Doofenshmirtz will be added to the Phineas and Ferb assortment in April! He will join Phineas, Ferb, and Candace!
Pez Heroes are coming in April as well. This will be a completely new set and will include Policeman, Fireman, Army man and a Nurse. These are different looking than the 9/11 Emergency Heroes. They are less lifelike and a bit more cartoonish in appearance. But, they appeal to pez collectors of all ages!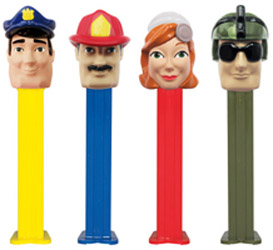 Rio 2 should begin appearing any time now in Europe! We are anxiously waiting to hear that our order is being filled and shipped! These three tropical birds, Blu, Jewel and Raphael are really bright and colorful!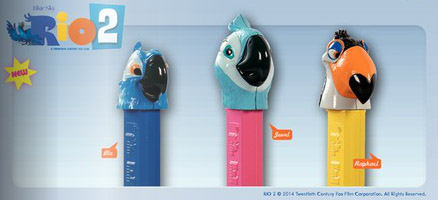 I had a great time in California! Not only was the weather delightful, so was the PezCific convention! Maheba Merhi and her wonderful family do a fabulous job! Maheba was named as Pez Collector of the Year and it was awesome to get to see her surprise when her name was announced! It was so much fun to get to meet many of the West Coast collectors at the convention and to reconnect with many friends as well! We were able to add a bit of inventory – funky faces, TMNT, Sesame Street, Spongebob, Pokemon, Jungle Book and many other older, retired pez. We added a few vintage in the past month as well! There are too many to list, and we are still going through all our purchases and reactivating them as quickly as possible. Be sure to do a search for whatever you're hoping to add to your collection as we may have recently re-added it to our inventory!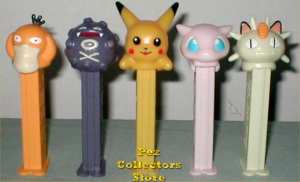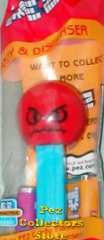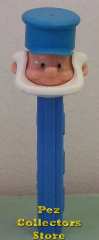 The next convention coming up in the USA will be the 16th Annual Northeast Pez Collectors Gathering, May 1-3. There is no tour of the Visitors Center scheduled for this year, but that doesn't mean you can't make a side trip on your own while you're at the convention! There will be plenty of pez, pezzy people and good times in Stamford CT! Early registration is due by March 15, so hurry and get your registration sent in!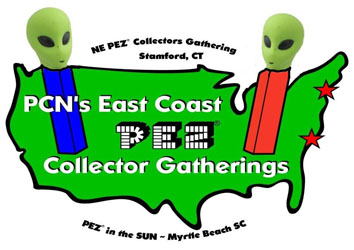 Until next month, Happy Pezzing!
All the best,
Chris
www.pezcollectors.com