March 2011 Newsletter
Mother Nature seems determined to let us know who has the upper hand this winter, and snow is blanketing us once again as I write. Fortunately, new pez are coming to warm our hearts and brighten our day. The new Easter pez and new major league baseball pez are a great reminder that Spring is coming soon and what better way to add some cheer than adding new pez to the collection! The 2011 Convention season has kicked off with a great PEZcific Convention in LA and more conventions and gatherings to follow each month. European Pez such as Mr Men and Little Miss Sunshine have made their way to the USA – a sure sign that old man winter will soon go away!
Mr. Men have arrived and they are cute as can be! We have seen that these 5 different dispensers can also be found with the names printed on the stems in French, but we have them printed in English in the Pez Collectors Store! Mr. Bump, Mr. Strong, Mr. Rude, Mr. Happy and Little Miss Sunshine are great click-n-play style dispensers. The tops can be removed and played with, then snapped back in place on the dispenser for more Pez fun!
The 5 new major league baseball pez – Houston Astros, Texas Rangers, Cincinnati Reds, Los Angeles Angels and Colorado Rockies are all available now in the Pez Collectors Store. As with the other sports pez, these are available mint on card or can be purchased loose to save on shipping!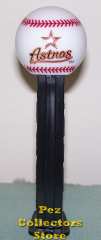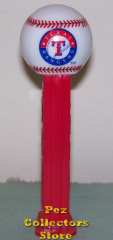 Toby the brown tram engine number 7 has arrived and he looks great beside the rest of the Thomas and Friends pez dispensers!
Easter pez have arrived and the Bucktooth Chocolate Bunny has a fresh new green stem for 2011! Mr Bunny still has the darker blue eyes and the pupils are somewhat more centered than they were a few years ago. The Bunny has the factory numeric code on the inner sleeve at the bottom of the stem, indicating that it was produced sometime after fall 2009, but it is on a 4.9 Hungary stem. A few years ago, the Mr. Bunny on Blue was released on a 5.9 Hungary stem and this was before the factory coding! Patent numbers are not always the best way to tell when a dispenser was released, but the presence of the numeric code on the bottom of the inner sleeve and on the poly bag or card is helpful information. Seeing new dispensers with older patent numbers is fun!

Hello Kitty Skull pez have been released in Europe and we have a small shipment on the way to us. There are 4 new Hello Kitty pez with bows. There are glittery crystal heads, a polka-dot bow and two different bows with skulls in this set! International airmail packages are taking a very long time to arrive, but these are on their way and we will have them available in the Pez Collectors Store just as soon as they arrive!
The promotional pez trucks keep rolling out the door at the Pez factory! The next one scheduled for release in April is the Price Chopper advertising promotional pez. We got pretty excited when we heard about this one, thinking perhaps it would be available at our local Price Chopper grocery stores with locations in Kansas and Missouri, but these will be for the New England Price Chopper grocery stores in Connecticut, Massachusetts, New Hampshire, New York, Pennsylvania and Vermont! These are scheduled to be released sometime in April, so we will look forward to adding them to the Pez Collectors Store just as soon as they are released and shipped to us. We are guessing that the truck will have a logo something like the image below!
The PEZcific Pez Convention set the tone for a wonderful 2011 convention and gathering season. The convention reports indicate that a good time was had by all! The PezHead of the Year is named at the PEZcific convention and this year's recipient is Paul Telford! Congrats Paul!  Next up will be the March Green Bay Pez Gathering March 5 & 6, then the April NE Pez Convention in Stamford, CT April 7 - 9.
The Pez Collectors Store is proud to host the Kansas City PezHeads Gathering and it is going to be so much fun!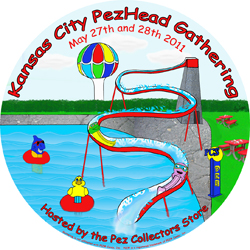 The gathering will kick off on Friday, May 27th with registration opening at 3:30 pm and room hopping through the afternoon. Friday evening will be a blast with Pez and Pin Swapping and pezzy games in the hospitality room from 7 – 9pm. We have arranged for extra dealer space for the Saturday morning Pez Show and dealers will have tons of Pez and Pez items for sale! Gathering registrants will stuff themselves at the wonderful BBQ Lunch Buffet and we will have a charity auction and awesome games with Pez prizes on Saturday afternoon. All of this is included with your registration!
We offer the Economy Registration which includes all the food, the fun, the games, the registration name tag and admission for room hopping and the Pez Show. The Works Registration includes everything plus the T-Shirt, registration and attendance pins, a special Kansas City PezHead Gathering Dispenser and candy packs! These souvenir goodies are well worth the extra cost for the Works Registration! We are really looking forward to a wonderful time and getting to see old friends and meet new ones! Please visit our website at www.KCPezGathering.com to register to attend.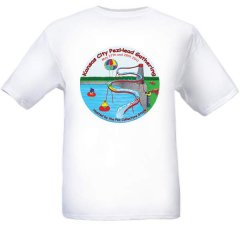 We also offer an absentee registration packet for those who can't be with us but who would like the goodies from the gathering! The absentee packet will be mailed after the gathering and includes souvenirs from the gathering - a bright and colorful 2011 KC PezHead Gathering T-shirt, the gathering dispenser, the candy packs and the registration pin.  There are also other fun items which can be added to your order – the 2011 KC PezHead Gathering Shot Glass, tote bag, extra pins or t-shirts are all available for shipment just after the gathering! Check out our Extra Goodies section of the Kansas City PezHead Gathering page!
We have just 50 limited edition KC PezHead Gathering Charity Pins available and the proceeds from the sales of these pins will go to the Crohn's and Colitis Foundation of America to support research in finding treatments and hopefully a cure for these diseases. This special pin comes on a numbered limited edition Kansas City PezHead Gathering charity card and with only 50 produced, they won't last long! The pin can be reserved by placing your order through the KC PezHead Gathering website while supplies last.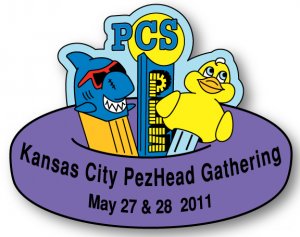 Until next month, Happy Pezzing!

All the best,
Chris

www.pezcollectors.com
www.KCPezGathering.com