June 2020 PCS Newsletter
This past month has brought us lots more new pez, along with additional information about upcoming pez releases. It is amazing that new pez can be so uplifting and seeing how these little pieces of plastic can bring a smile to anyone's face is joyful! Treat yourself to some new pez or bring some happiness to someone else's day with a surprise – order online and have them delivered to your door. We have just what you're looking for in the Pez Collectors Store!
The 2020 Despicable Me Minions from the Rise of Gru pez assortment are in stock now! The set includes Stuart the one eye Minion, Kevin the tall two eye Minion, Bob the smiling heterochromia eyed Minion, and Otto the chubby two eyed Minion from the Illumination Entertainment Minions The Rise of Gru movie. The Minions all have little arms and hands in various positions! This set is available now in the Pez Collectors Store!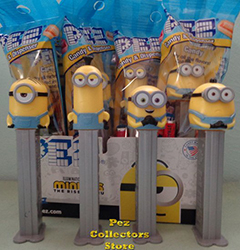 My Little Pony Glitter Crystal Pez have arrived in the Pez Collectors Store. The set of 6 includes Rainbow Dash, Pinkie Pie and Twilight Sparkle in both Glitter Crystal versions and Solid versions. For those who collect variations, collector Brian Jaskolski discovered the Maroon stripe on the solid Twilight Sparkle is a darker red on the new release included in the set of 6! These have been very popular and sold out quickly as full sets of 6 or sets of 3 including only the glitter crystal heads. We have more ordered and will have them back in stock soon!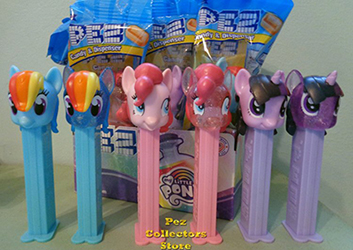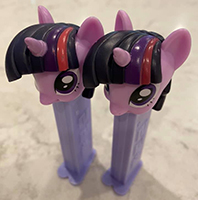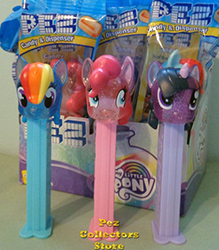 The 2020 Marvel Spiderman with heavy black webbing is available now. The June 2020 Marvel assortment includes the new Spiderman pez as well as Miles Morales. Miles Morales looks like Spiderman with a black head and red webbing, but he is a completely different character! We have the Spiderman in stock now and expect to add Miles Morales within a few weeks!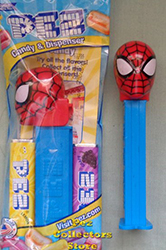 Charm Style Harry Potter Pez were first released in Europe and have made their way to the USA. These cute versions of Harry, Hermione and Ron come on black stems with the Hogwarts emblem printed on the stem and we expect them to be the same as those released in Europe. These come with Mystery Flavor Pez candies! The full size Charm Style Harry Potter Pez are shipping to us now and will be in stock within a few days!
The Harry Potter Pez Twin Pack Pairs are in stock now! The twin pack pair feature Harry with Ron, and Harry with Hermione, all on Mini pez stems! Each twin pack comes with Harry Potter graphics and 6 packs of Mystery Flavor Pez Candy in each twin pack. These are sold in pairs, so you get all three characters!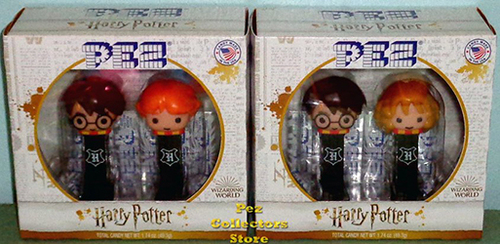 For those who prefer to save on shipping, we also offer the mini stem Harry Potter, Hermione and Ron pez loose and ready to display!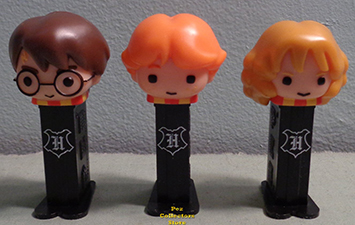 In case you are wondering about the Mystery Flavor, all of the candy tablets are white, so you can't tell the flavor by looking at the tablets. I opened all the candy packs from a 6 pack and could immediately tell from the smell (and taste) that there were 3 packs of lemon flavor pez candies. The other three were raspberry flavor. It seems that the Mystery is in what flavor the candy might be, but there is no new or unidentifiable flavor. It could very well be that other packs of candy will include cherry, orange, strawberry, or grape flavors, rather than the lemon and raspberry found in the 6 pack I opened.
Pez released the exclusive Mystery Flavor Candy Mascot pez on their website on May 28. This was a limited edition of 1000 and was limited to one per customer and these didn't last long! Ordinarily, these dispensers would likely have gone to candy buyers and customers at the Sweets and Snacks Expo, but since the event was canceled, Pez released them on their website with advanced warning through social media that they would be available at noon eastern time. They were sold out within 3 minutes! It is not clear how many of the 1000 were actually made available for sale in that 'Funkoesque' listing, but however many there were were quickly sold!

In July, we expect to receive the Harry Potter Pez Gift Tins which include the Exclusive Dumbledore Pez in addition to Harry, Ron and Hermione. The gift tin features the charm style Harry Potter characters on the front with a window to see the pez, and the Hogwarts school is shown on the back of the gift tin. Each gift tin comes with 6 rolls of Mystery Flavor Candy! This set is scheduled to begin shipping July 1 and we will have them in stock just as soon as possible.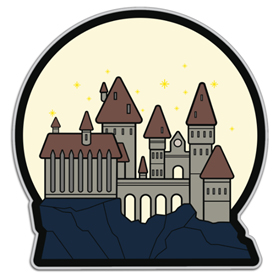 Pokemon Pez assortments are being updated beginning July 1 with the addition of Eevee, joining Pikachu, Squirtle, Bulbasaur and Charmander in the full set. Originally a twin pack with Pikachu and Eevee was planned, but the twin pack was canceled by Pez Co., so we will have these available in polybags.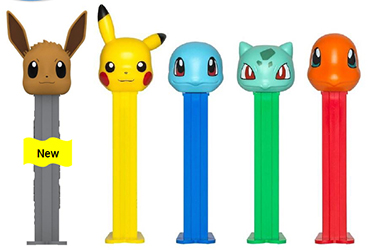 The PAMP Suisse Easter Pez with silver pez candy bricks was canceled, but there are plans for a new release coming in late June or early July. The set features the Ducky Pez and the graphics show a bright sunny day with a ducky floating in a pond. We are told that the packaging has been improved to be sure that the Silver Pez Candy bricks stay intact in the box during shipping! We will have these in stock as soon as they are available!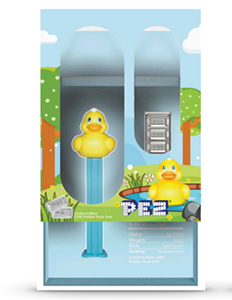 Pez Palz blogspot has shared more information about the European Spirit pez, scheduled to be released in September. The European pez set includes Lucky the little girl, and three horses – Spirit the dark mane Mustang, Boomerang the multicolored Pinto, and Chica Linda the yellow mane Palomino. We have these ordered and expect to receive them in September!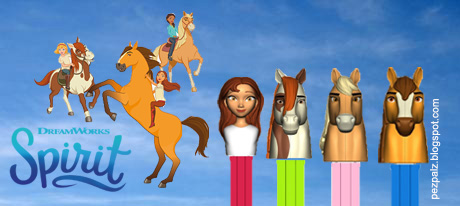 Pez International has also shared information regarding the early 2021 European release of Masha and the Bear pez. The licensing agreement does not extend to include distribution in the USA or Canada, but we will be sure to get these in stock from Europe!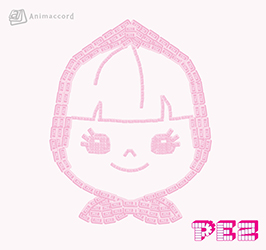 USA Pez Candy, Inc. shared a sneak peek of the Taco pez that will be part of the Pez Treats line coming in January, 2021. We can't wait to see what other pez will be included in the Treats line!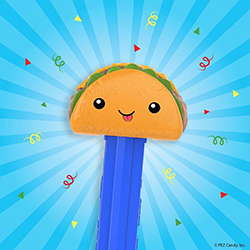 Funko has not announced any new POP! PEZ, though the long anticipated Funko Exclusive Avatar – The Last Airbender Appa, Zuko and Aang were recently available for about 2 minutes on the Funko Popup shop. These exclusive Funko POP! PEZ are a limited edition of 1500. They were limited to 2 each per customer and sold out amazingly fast. Perhaps not all 1500 were available for purchase on the website at the time of the sale, so there may still be hope for those who were not able to get them.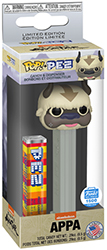 We have restocked some of the POP! PEZ that we previously sold out of, including Masters of the Universe, Disney, and Myths. We have most of the POP! PEZ releases available if you need to fill in any gaps in your collection! Check out the full line in the Pez Collectors Store!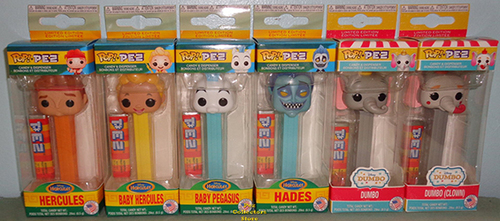 Sadly, COVID-19 has taken a toll on pez conventions originally scheduled for the summer of 2020. The 2020 Michigan Pez Convention and the 2020 Pezamania Pez Convention have been canceled. Meanwhile, Hosts Morgan Rhinehart and Landon Proctor have hosted two Virtual Pez Conventions via Zoom which have been wonderfully educational and entertaining. They do plan to host additional events, so be sure to follow them on facebook on the Virtual PEZ Convention group page.
At this time, Pez on the River is still scheduled to take place September 10 – 12, 2020. Registration and all the details can be found at www.pezontheriver.com and we hope conditions will allow us all to get together in Winona, MN for this event!

That's all the news for now! Happy Pezzing!
All the best,
Chris Jordan
www.pezcollectors.com