June 2019 PCS Newsletter
There is so much to talk about this month! New pez arrivals, more new pez coming in soon, more POP! PEZ arrivals and announcements and an entire year of anticipated Pez information from the 2019 Sweets and Snacks Expo! Plus, summer time pez conventions are coming up quickly!
The Hello Kitty Mermaid pez set has arrived from Europe. The set is a splendid addition to the Hello Kitty Pez line with a full body pink tailed Hello Kitty Mermaid, a full body blue tailed Hello Kitty Mermaid, a Hello Kitty with a purple stem printed with clam shells and a clam shell in her bow and Hello Kitty with a blue bow with clam shell and a fuschia colored stem with tiny polka-dots. These are available now in the Pez Collectors Store!
The Cactus Pez are scheduled to begin shipping June 1. We think calling them Spike and Barb is much better than calling them Yellow Cactus and Pink Cactus, but whatever they are called, they are really cute! These will come mint on card with pez candies and they should be arriving soon!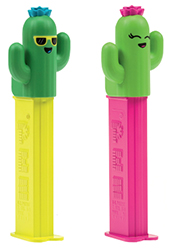 We are looking forward to the June release of the new Lion King Pez assortment which is supposed to include updated dispensers with new stem colors. The assortment will still include Mufasa, Simba, Nala, Pumbaa, and Timon. Our order should be arriving within a week or so!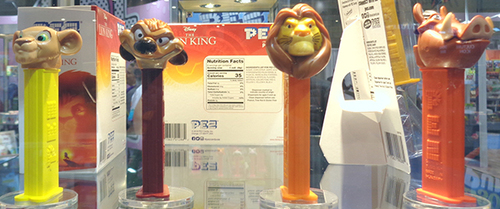 There will also be a pair of twin pack with the updated Mini Simba and Mini Nala dispensers and a second with Mini Pumbaa and Mini Timon, both featuring new Lion King graphics! These will be in stock within a week or so!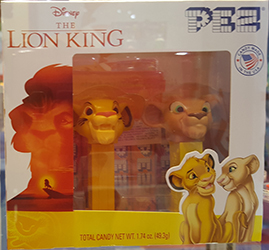 Funko POP! PEZ Caddyshack Carl Spackler and the Gopher arrived and they are great! Available individually or as a bundle, these two hilarious characters are an awesome POP! PEZ release!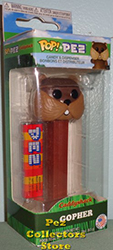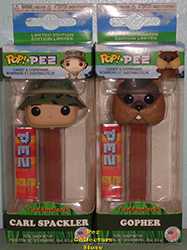 Ghostbusters Slimer, Stay Puft and Winston Zeddemore POP! PEZ are in stock now and the rest of the Ghostbusters crew are expected later this month.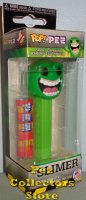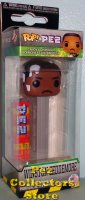 New Funko POP! PEZ Hanna-Barbera Atom Ant, Ricochet Rabbit, Wally Gator and Dick Dastardly have also just arrived and are available now from the Pez Collectors Store, individually or as a bundle!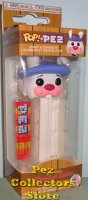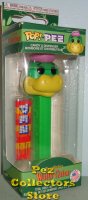 The POP! PEZ making lots of news was the 600 piece limited edition Red head PEZ Girl! She is beautiful and sold out in about a day and a half! Funko will also have a less limited release of 2000 each of a Brunette and a Blonde PEZ Girl! These are a fabulous POP! PEZ set!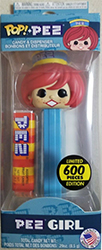 With only 636 of each produced, the Pez Pal Boy, Fireman and Policeman Chase are a great deal by comparison to the prices the 600 piece Red head PEZ Girl and Golden Huckleberry POP PEZ are selling for! These were a shared exclusive for Funko, John LaSpina and the Pez Collectors Store. They are now available only in the Pez Collectors Store! Buy the bundle and save even more!
Looney Tunes Marvin the Martian will be arriving in the Pez Collectors Store within a few weeks!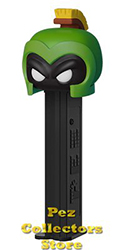 In late June, we expect to see Big Boy then Ad Icons Green Giant and Little Sprout will follow later.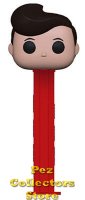 An E3 Shared Exclusive Disney Kingdom Hearts 3 Donald POP! PEZ is expected to make its debut at the 2019 Electronics Entertainment Expo, June 11 – June 13.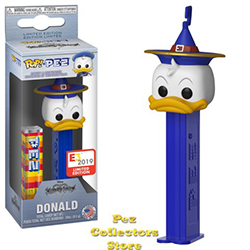 Funko announced several new anticipated releases which we will have in stock in coming months. In August, we expect to receive the H.R. Pufnstuf, Witchiepoo, Cling and Clang will be available.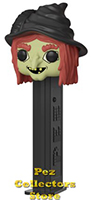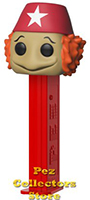 Land of the Lost – Sleestak POP! PEZ will also be available in August!

Also coming in late August are Tron S2 POP! PEZ featuring Tron and Sark.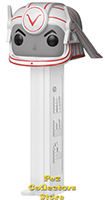 Iron Giant has also been added to the lineup of expected POP! PEZ.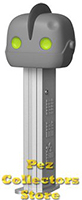 DC Comics Harley Quinn, Dark Knight Rises Batman and Band and Suicide Squad The Joker are also being added to the POP! PEZ lineup and should arrive in August!
The Sweets and Snacks Expo is a trade show for buyers to meet with companies to plan their next year of purchases. Companies display their new and upcoming products so they can attract new accounts and generate more business. They also get a sense of projected sales for new products and can plan their production accordingly.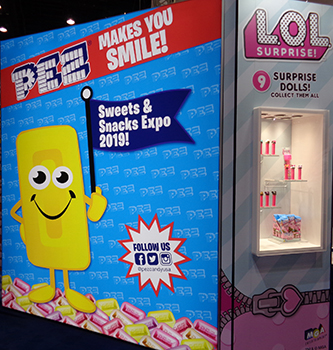 The Pez Collectors Store attends each year to see the new candy collectible products on display. Our first stop is always the Pez Company booth. Pez produced a special limited edition dispenser, printed on the stem specifically for the Sweets and Snacks Expo and these had to be won playing a Plinko type game. Depending on where your puck landed, you won either a common new pez or the special dispenser for the show. Name tags were marked, so you could only try once a day and if you won, you could not play again. This very special dispenser will also be available without the printed stem, so collectors will have an opportunity to add them to their collections!


Besides the new Lion King discussed above, the next release from Pez will be Halloween Pez, scheduled to begin shipping July 1. As shown at last year's Sweets and Snacks Expo, there will be a Halloween Party Bag with 12 individually wrapped mini pez dispensers.
The ball mold is used for all 6 different designs – a black ball with a picture of Bats, black ball with picture of a Ghost, a yellow ball with picture of a black cat wearing a pointed hat, a yellow ball with picture of a pumpkin, an orange ball with a picture of a spider in its web and an orange ball with an owl wearing a pointed hat or Frankenstein.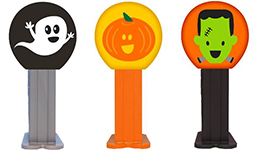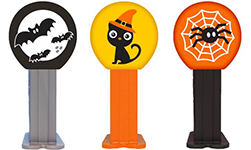 A new full body Bat is also scheduled to be added to the Halloween Assortment for 2019.
August 1, LOL Surprise assortments are scheduled to begin shipping. These mystery dispensers include 3 different dolls, each in a Popular, Fancy, and Rare version, for a total of 9 different dolls. The Popular versions of each doll will be most plentiful, the Fancy versions will be less abundant and the Rare versions will be the most scarce. The assortments will be random mixes with no guarantees on what might be in a case or a counter display box. The stems are all the same pink stem and the doll heads are hidden in a hinged plastic mystery box with a question mark printed on it, so you can't tell from the blister package which dispenser you will get. The Polybags are completely opaque, so you can't see through at all.
The Popular Glitter Queen with a big bow also comes in a Fancy Diva version and a Rare Pranksta version. The Popular Splash Queen with side swept hair also comes in a Fancy Surfer Babe version and a Rare Rocker version. The Popular Queen Bee with bangs and 2 large buns also comes in a Fancy Purple Queen version and a Rare Glitter Hoops MVP version.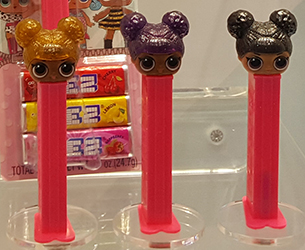 September 1 Christmas 2019 Pez will begin shipping. The assortment will include the new 'snowglobe' colorless crystal ball with a picture of Santa in his sleigh and a new Snowman with a red stocking cap and red and white striped scarf. Additionally, the Christmas Tree which was available only in tubes for 2018 will be in the standard assortment.
The Gingerbread Man will be exclusive to Tubes this year, though we expect it to be in the standard assortment for 2020.
The ornament balls with mini pez are supposed to include the new snowman with the stocking cap, though it will be flowed in to replace the previous snowman with black bowler hat, so we're not sure when this will actually happen.
The 12 Days of Christmas Gift Set includes a unique spin on the standard ball mold because a loop was added which allows the mini pez to be hung as an ornament. The clear colorless balls have numbers 1 – 12 printed on them in alternating red and green colors. There is also an image of the associated gift for that day, so number 1 has a Partridge in a Pear Tree image, number 7 has a swan swimming, number 11 has a piper piping, etc. These come in a boxed set with a ribbon printed on it to look like a gift which can be reused to store the ornaments.
The Grinch Twin Packs are scheduled to ship beginning September 15. The two twin packs each come with a full size Grinch. One comes with a mini Cindy Lou Who and the other comes with a mini Max the dog.
Frozen 2 assortments were not on display, but they are scheduled to begin shipping September 15. We know that Anna, Elsa and Olaf will all have updated molds and a new Kristoff dispenser will be included in the new Frozen 2 Assortment. There will also be new Frozen 2 twin packs with a new Elsa and mini Olaf and a second twin pack with the new Anna and Kristoff. A Frozen 2 Gift Tin is also scheduled for release September 15. The Gift Set will include Kristoff, new Elsa, new Anna, and an exclusive Sven reindeer, available only in the gift tin!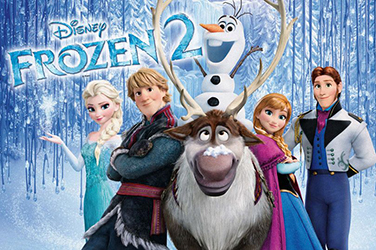 Star Wars Episode 9 Rise of Skywalker pez are also scheduled for release September 15. These were not on display, but we can expect to see Stormtrooper, BB-8, Rey with a new stem color, and updated Kylo Ren. In addition to these, the assortment will also include one new First Order character and one new Resistance character.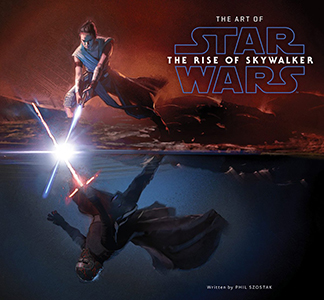 There is also two new twin packs – one with BB-8 and the new Resistance character on a mini stem (we're going to guess it will be droid D-0 because who else could be a cute mini pez next to BB-8?) and a second with the revised Kylo Ren and new First Order character. A new Episode 9 Rise of Skywalker Gift Tin will also be released September 15 with Rey on an updated stem, BB-8 and the new Resistance character, Stormtrooper, revised Kylo Ren and the new First Order character. Of course, we can expect Rise of Skywalker graphics on the tin and twin packs!
November 1 is the first ship date for Valentines for 2020. The assortment for 2020 includes a new Teddy Bear pez and the crystal Pink Silly Heart pez that was previously only in the twin pack will now be included in the standard assortment.
January 15, 2020 is the scheduled date for shipping the new Emoji Pez assortment which will include a new colorless crystal Poop and a colorless crystal ball with the Party Popper with confetti emoji icon. The Cheesing emoji which was previously released on a lavender stem will be released again on a red stem. There will also be two new Pez Emoji twin packs – one with the Unicorn and Surprised emojis and a second with a Brown Opaque Poop and a Colorless Crystal Poop.
Peppa Pig will come to the USA with a scheduled release date of January 15. The set of 4 includes Peppa Pig, George, Princess Peppa and Pirate George. These appear to be the same as the Peppa Pig and George released in Europe in 2018 and the Princess Peppa and Pirate George scheduled for released in Europe in September 2019. The Peppa Pig pez will also be available in twin packs – one with Peppa Pig and George and a second with Princess Peppa and Pirate George.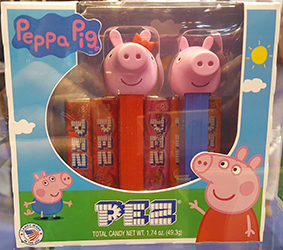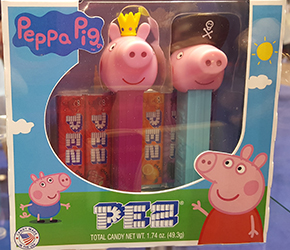 January 25 is the first scheduled ship date for Easter 2020 pez. The new pez is a full body lamb sitting on its rump with all 4 feet and its belly showing. There seems to be a trend towards these full-body, full belly sculpts – it matches the bunny sitting on its rump, the chick sitting on its rump and the Halloween Bat. Maybe we should rub the bellies for luck?!?
The 2020 Easter Egg in Tube has a picture of a bunny head with a chick sitting on top of its head which is definitely something different. The egg is died a pretty shade of orange.

The mini pez in Easter Eggs include the sitting blue bunny, the sitting chick and are supposed to include the white floppy ear bunny on a green stem which was expected previously but never released. This will be flowed in to replace the existing mini lamb.
February 1, 2020 Moana will join the Disney Princess Pez. What a marvelous update to this assortment!


February 1, 2020 Rocky and Zuma will join the other Paw Patrol pez in the USA assortments. These will be the same as the Rocky released in Europe in 2018 and the Zuma scheduled for release in Europe in September 2019.

March 1, 2020, a new character will be added to the Trolls pez assortment and Poppy will have an update for the Trolls World Tour. More information will be made available when we have permission to share additional details.
April 1, 2020, Scooby Doo will be released again with a few changes, primarily to the stems. Scooby will have the SD logo from his dog tag printed on the stem, Fred will be on a white stem instead of blue, Daphne will be on a purple stem instead of the pale green and there doesn't appear to be any difference for Shaggy or Velma. These will be available as a standard assortment rather than the gift set previously released, and there will be a twin pack with Scooby and Shaggy available.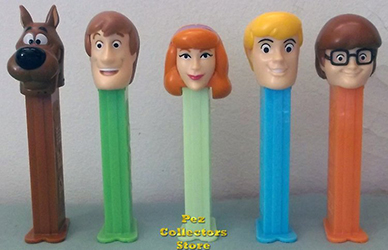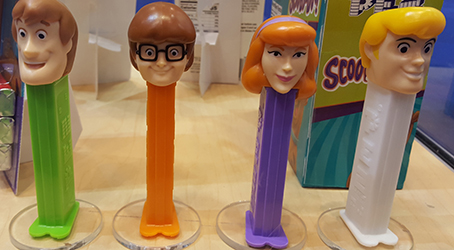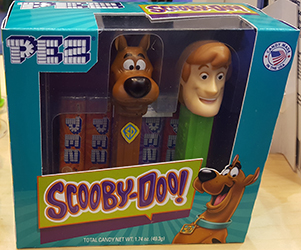 April 1, 2020, DC Justice League will be updated with an all new Wonder Woman Pez. Batman will be the 2016 European Batman on a silver stem with a black cowl and cape version, and the 2016 European Superman with a blue collar and filled in hair curl.

June 1, 2020, Minions 2 will see two new minions added to the assortment. We will provide more information when we are allowed to share.
June 1, 2020, we will be expecting something new from Marvel! We will be on the lookout for a Spiderman - Miles Morales mix!
Halloween 2020 will begin shipping July 1, 2020. At that time, we expect to see the Scary Pumpkin added to the mix. This is the same mold as the current Happy Pumpkin, but with a jagged mouth and more sinister eyes to make him more Scary!


July 1, 2020 is also the schedule ship date for a new Harry Potter Pez assortment. We are expecting Harry, Hermione, Ron and Dumbledore in a more animated, cartoon style. There will also be a Harry Potter Gift Tin released at the same time!
July 1, 2020 Eevee will be added to the the Pokemon Assortment!
September 1, 2020 Venom will be added to the Marvel Assortment. That could be a pretty wicked dispenser!
September 1, 2020 is also the scheduled release for a new assortment of Marvel Eternals. We will share more information when possible!
September 1, 2020, Blue will join the Nick Jr. assortment.
Christmas 2020 pez will begin shipping September 1, 2020. A new Santa will be added to the assortment, the Gingerbread Man will be available in the standard assortment and a new Christmas Bear will be available only in tubes.
As always, any of the information provided here can change. Items may be added and planned items may be canceled. These projections are for one to one and a half years away, so anything can change at any time.
Returning to the present time, it is time to get real serious about upcoming pez conventions. Next up is the Michigan Pez Convention! Be sure to plan for the 4th Michigan Pez Convention by getting registered and booking your hotel room! Jim and Jody Blaine work hard to put together a great event and it is always a lot of fun! We will look forward to seeing you in Ann Arbor, Michigan, June 20 – 23rd! Visit www.mipezcon.com for all the details! We look forward to seeing you there!
July 18 – 20 – 29th -Pezamania Convention, Cleveland, OH, www.pezamania.com - Take the family to Summer Camp! Hurry and get your registration in before tomorrow for a chance at the early bird prize! We are really excited about attending this convention!
We have more to share from the Sweets and Snacks Expo for Treat Street Pooper collectors, but we're about out of room this time so that's all for now! Until next month, Happy Pezzing!
All the best,
Chris Jordan
www.pezcollectors.com