June 2018 PCS Newsletter
It has been an exciting month in the Pez Collectors Store. May started off with sharing good times with pezheads during a trip to the Northeast Pez Convention and ended with a trip to the 2018 Sweets and Snacks Convention. Lots of new pez have arrived and a new grandstand size designed to fit perfectly in Billy Cabinets or other 30 inch shelving units is now available. More new pez will be arriving within the next few weeks of June and we have sneak previews of the USA pez lineup on display at the Expo and information about upcoming products not displayed as well.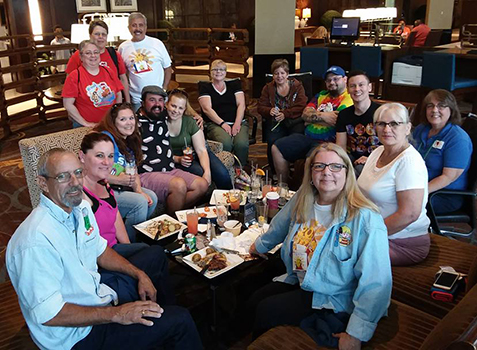 The Canadian Hockey Mask Pez for the original 6 NHL Hockey teams were added to our inventory in May. The masks are the same as those used for the Fire and Ice Hockey Mask Pez set and they look great with the team logos on the helmets and the NHL logo on the stems. We have lots available now in the Pez Collectors Store.
The San Francisco Giants Pez Baseball with the SF logo was modified a bit, making the letters of the logo more distinct and readable. The S and F letters are elongated on the ball and do not blur together the way the old 2010 logo did. The difference is quite easy to see side by side in the picture below with the new version on the left and the 2010 version on the right. The logo on the caps is not outlined and has not changed.

The Incredibles 2 pez set was released and the set includes Violet, Dash and Jack Jack on full size stems in polybags. Violet and Dash are a torso, thin neck and head bust sculpt, while Jack Jack is a new head only design. Jack Jack's head is new and different than the Incredibles original release.
The Incredibles 2 Tripack Pez set includes Violet and Dash in the bust sculpt on full size stems along with Jack Jack's new head on a mini stem, all in a tripack boxed set with great Incredibles 2 graphics. We are offering these box or loose if you prefer to display your pez loose and don't want to pay additional to ship the extra packaging.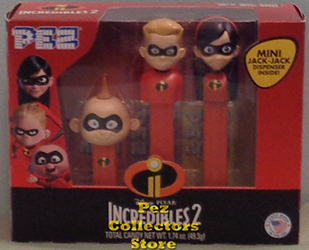 The Han Solo Pez Gift Tin arrived and the graphics on the tin are great on the front, back and sides. The set includes a new version of Chewbacca with an ammo bandolier, a young Han Solo, a young Lando Calrissian, and new L3-37 Droid. Again we offer this set in the gift tin or loose for those who prefer to save on shipping.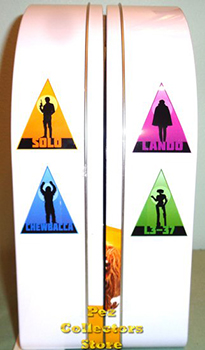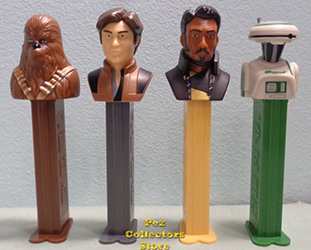 The Paw Patrol twin packs with Marshall and Chase pez and with Marshall and Skye have joined the previous Paw Patrol twin pack with Chase and Skye, so now all the different combinations of these original 3 Paw Patrol Pez are available. We are selling the twin packs separately, so you can choose your favorite pair or add all 3 different twin packs to your pez collection.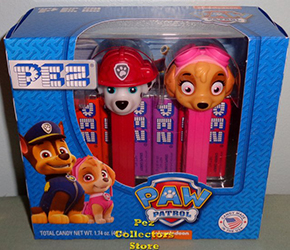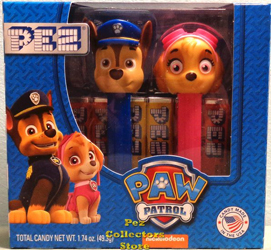 The Crayola Pez Gift Set has just arrived in the Pez Collectors Store. This boxed set includes Red, Yellow, Blue and Green Crayola Crayon Pez, matching Strawberry, Lemon, Sourz Blue Raspberry and Sourz Green Apple Pez Candya package of actual crayons, and 4 coloring sheets in a box that features Crayola Crayon graphics. Available now, in the gift set or the dispensers sold loose and ready to display!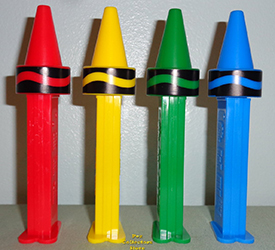 We added a new 29.5" long 5 tier Acrylic Grandstand Stadium Pez Display that is perfect for displaying your pez on a table top or in a shelving unit such as the 30 inch Billy Cabinets and bookcases. The assembled display unit measures approximately 29.5"wide x 7.5"deep x 8.5"tall (approx. 12 inches base to top of head of pez on top row) and holds 120+ pez. The shelves have a toe clip that holds the feet of current pez or the toes of a Pez Collectors Store shoe, to keep the pez from falling, yet allows them to be slid from side to side for easy rearrangement without having to move each pez individually as you have to do with a slotted or notched display. The display is shipped flat to save on shipping costs and is easily and quickly assembled.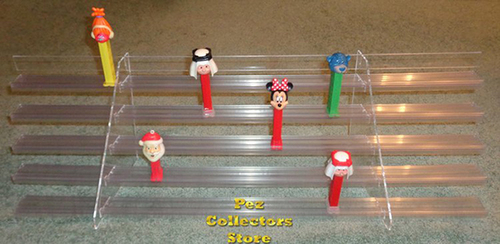 Bee International has released two new Pez licensed items that are in stock now in the Pez Collectors Store. The 40 count Pez Candy Flavored Fun Straws Bag and the 6 count Pez Candy Flavored Fun Dippers feature straws or pouches filled with candy powder in 6 different Pez Fruit Flavors - Cherry, Orange, Lemon, Apple, Raspberry and Grape! The Pez Logo and new packaging look are featured on the bags and these are great new licensed items to add to the pez collection!
The Marvel Ant Man Pez is also shipping to us now and should arrive within a few days. This new Marvel pez is being released ahead of the Ant Man and the Wasp movie coming to theaters July 6.

Jurassic World Gift tins are shipping to us now and will be arriving in a few days. This Jurassic World Gift Tin with click and play dinosaurs have removable tops that can be used as pawns for the Jurassic World board game which is included in the gift set and the spinner for the game is built into the back side of the tin. The click and play tops have full body T-Rex, Blue the Raptor, Triceratops and Mosasaurus dinosaurs. The dinosaurs are not proportional to actual size, but represent what the dinosaurs looked like. Be looking for these to be added to our inventory soon!
The Flamingo Pez set with Floyd and Mable on blue and pink stems will be available on card with USA candy packs within a week or so. These new pez are a great kick off to summer!
PJ Masks is now shipping to us from Europe. This set of pez includes Catboy, Gekko and Owlette who are the superhero characters from this Disney Junior animated tv series. The set will also be coming to the USA, but not until February, 2019 when it will be available as single pez on card or in bag and as a tripack boxed set.
Paw Patrol Rocky and Rubble will be available from Europe very soon. The new Paw Patrol Pez are two additions to the Adventure Bay Rescue Pez assortment and they are super cute. Rocky is a mixed breed Eco pup who reuses recycled items to repair broken things. Rubble is an English Bulldog construction worker pup. We have ordered these from Europe and look forward to having them in stock soon! Rubble is actually scheduled to be released in the USA in March 2019, but there are currently no plans for adding Rocky to the USA assortment.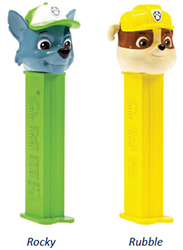 In Mid June, Miraculous Ladybug and Cat Noir are scheduled to be released in Europe. We will have these in stock just as soon as possible!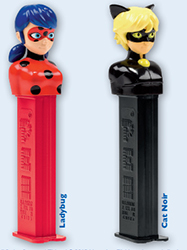 Brush Buddies Pez Emoji and Peppa Pig Toothbrushes are expected to arrive in the Pez Collectors Store by June 5, and a Thomas the Train Brush Buddies Pez will be added later in June! These fun licensed items are a great addition to the pez collection!
Pez Emoji twin packs with Brown Poop and Rainbow Poop Pez are scheduled to begin shipping from Pez Candy July 1 so we will look forward to having these in stock next month. Crystal LOLing and Happy Emoji Pez will also be available in a new Twin Pack, representing the first crystal release of these Emoji pez, aside from as convention pez. Our order is placed for these and we will have them in stock next month!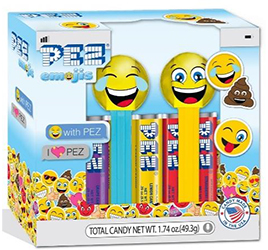 Also shipping July 1 is the 2018 Halloween assortment. This year, the assortment will include two new dispensers – the Cute Witch and the Happy Pumpkin. The friendly ghost , the revised mummy, and the baby Vampire will be included in the assortment. All of the Halloween pez will come with a package of Candy Corn flavored pez candy, in addition to a pack of traditional flavored pez candy. We will get these in stock just as soon as possible!
I attended the 2018 Sweets and Snacks Expo to get more information about upcoming Pez releases and check out other candy collectibles such as Treat Street Poopers and Radz dispensers! I was fortunate to get to attend the event accompanied by a few other good friends who are pezheads and they helped me to be able to gather all the information and check out everything at the show!
This trade show is huge with all of the big candy and snacks manufacturers on hand to display their new products in hopes of getting new contracts with more retail outlets to carry their products. Every single booth at the show is competing to get more of their product out to a broader market and they get attention by having free handouts, samples and different gimmicks like mascots or games.
PEZ Candy had a Plinko board that dropped into the center winner's circle or into different candy flavors where you won two packs of that flavor candy and a lip balm of the same flavor. The first morning of the show, the winner's circle got to choose the flavor candy and lip balm package they wanted and everyone got to get a special carded pez dispenser, then the name badge was marked with a red marker so you couldn't go back a second time. After the first morning, Plinko into the winner's circle won a pez dispenser and everyone else got the pack with two candy packs and lip balm, making it even harder to get a pez dispenser.
The 2018 Truck Pez dispenser card has the Sweets and Snacks Expo Logo on it and the pez is a truck with a mixed fruit candy pack image on the side. PEZ Candy packs have a whole new look now – the old candy packs were simply colored – purple for grape candy, red for strawberry, a deeper red for cherry, yellow for lemon, etc. The new candy packs are still color coordinated to the flavors, but they have a realistic picture of the fruit flavor, a swirl design in the background and a dancing candy brick mascot on either side of the PEZ Logo. The truck pez and candy pack/lip balm giveaways were perfect for getting candy buyers used to the new look for Pez Candies!
I had an opportunity to talk with my PEZ regional sales rep and took pictures of all the upcoming pez on display to share with pez collectors. I also got some preliminary information about other new releases which were not on display, but are being planned for the 2018/2019 year.
Last month, we shared information about the September 1, 2018 release of Stranger Things Twin packs. The mockup samples were on display at the Expo and they look great. Lucas and Dustin will be in one twin pack and Eleven and Mike will be in a second twin pack. The names will be printed on the stems and the twin pack boxes feature graphics from the Netflix Stranger Things show. These look awesome!
Mickey's 90th Anniversary Twin Packs were not on display at the show, but are scheduled for September 1, 2018 release. The boxed set includes Mickey with 90 Years printed on the stem and Minnie with large polkadots on her bow and stem. The look is somewhat retro and the anniversary twin pack looks awesome!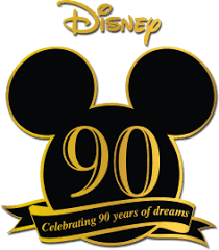 Christmas Pez will begin shipping on September 1 and this year we can look forward to a new red collar Reindeer and a new Red Elf with Green trim in the poly bag and carded assortments. A new Christmas Tree will be added to the Christmas Tubes. The new mini Red Elf with Green trim will be included in the ornaments, and the derby hat snowman will be on a mini stem in ornaments this year, too! Christmas Pez will all come with Sugar Cookie flavored Pez candy!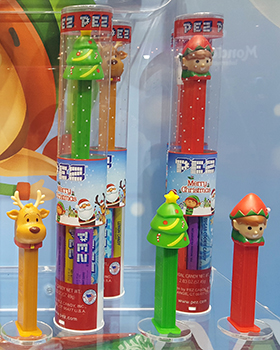 It is expected that the Red Elf with Green trim, the red collar Reindeer and a new snow globe with Santa's Sleigh will be included in the polybag and carded assortments this Christmas.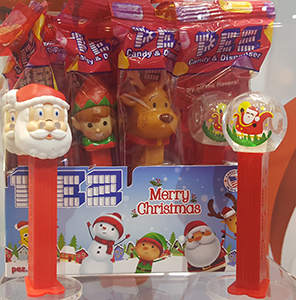 The ornaments will include the red elf with green trim on a mini stem, Santa on a mini stem and the new derby hat snowman on a mini stem. I am told that the ornaments are being revised so that they will reseal better after the outer wrapping is removed, so that will be a nice improvement!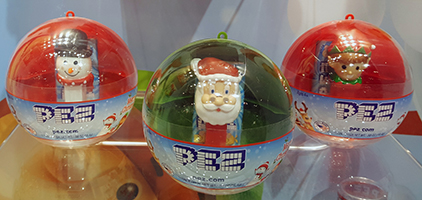 October 1, the Grinch Gift Tin will begin shipping. This tin is shaped like the Grinch's head and includes the Grinch, Cindy Lou Who, Max the dog and Fred the reindeer. This set looks wonderful and will be available in plenty of time for Christmas. It will come with Sourz Green Apple flavored Pez candy!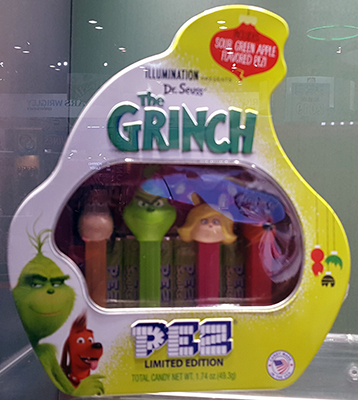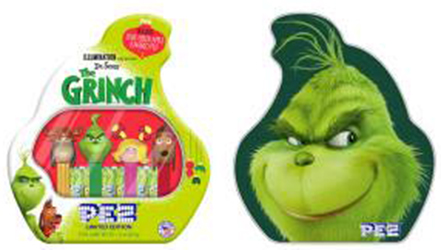 November 1, the Shopkins twin pack will be released. The boxed set will include a new Shopkins character – Cheeky Chocolate, along with Strawberry Kiss. The twin pack will include Chocolate and Strawberry flavored Pez Candy.
November 1 is also the first scheduled shipping date for Valentines for 2019. The Valentines assortment will include the Ladybug Pez with a pink face and pink stem that otherwise looks like the Ladybug from the Bugz assortment, and a red Happy Heart. The heart shape faces forward on a standard, footed pez stem – a great improvement for Valentine Heart pez! There will also be a Valentine's Heart Twin pack with a red crystal Happy Heart and a red crystal Silly Heart. The Valentine pez will come with cotton candy flavored pez candies.
January 15, 2019 is the release date for the updated Emoji Pez Assortment. Surprised Emoji and Unicorn Emoji will be added to the assortment. The Surprised Emoji is an opaque yellow ball with a wide open circular mouth and hands on the cheeks printed on the ball. The Unicorn emoji is a colorless crystal ball with a profile picture of a unicorn head printed on the ball. Honestly, I understand the surprised emoji expressing the feeling of surprise, but I don't really understand why a unicorn head is an 'emoji'. Emojis typically represent feelings or may be ideograms conveying some sentiment or idea. I guess I have never personally felt particularly 'unicorn' (and I have never felt particularly Poppy Troll or Branch Troll, either). That said, apparently Unicorn Face was approved as part of the Unicode 8.0 in 2015 and added to Emoji 1.0 in 2015, so Pez Co. is ahead of me in keeping up with the emojis!
January 15, 2019 is also the release date for Cheeky Chocolate and the Cupcake Queen to be added to the Shopkins Pez Assortment. The mystery boxed set originally scheduled for release in September, 2018 would have been the first introduction to the Cupcake Queen, but that product was canceled.
January 15, 2019 is the release date for How to Train Your Dragon pez and the set will include Hiccup and Toothless. It is anticipated that these will be the same as those released in Europe in September, 2018. These will be available as singles in polybag or on card, but will also be available in a Twin Pack boxed set!
Easter 2019 pez will begin shipping January 15, 2019 and we are very excited about the new full body Chick and full body Blue Bunny. These will be available on full size stems in the polybag and carded pez assortments.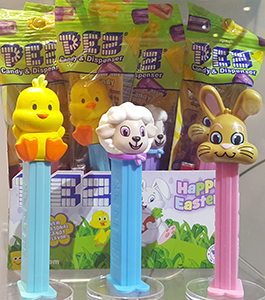 The full body Blue Bunny will also be added to the Easter Tubes, along with a new Chick in Egg Easter Egg, available only in tubes. The Easter Eggs with mini pez are supposed to include the new full body Chick and full body Bunny on mini stems, along with the lamb on the mini stem. The blue Ducky and the white floppy ear bunny on a green stem are listed as 'while supplies last', but since the white floppy ear bunny never made it into the eggs as scheduled for 2018, we really can't be sure what will be included in 2019! All of the Easter Pez will come with Vanilla Cupcake flavored pez.
February 1 , Uglydolls are scheduled for release. Uglydoll is a brand based on a series of plush toys, and in uglyverse, ugly is anything different and is celebrated as something unique and special! The set includes Moxie, a pink girl, Ox, a green guy with eyes shaped like an X and an O, UglyDog, a one eyed blue dog and Lucky Bat, a red bat.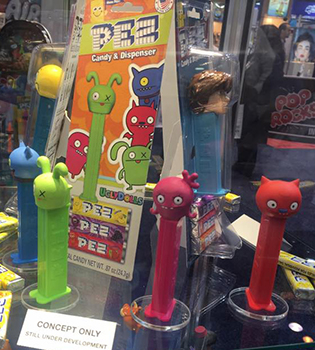 PJ Masks will be released in the USA February 1, having been released in European countries in late May or early June 2018. The set will be available in bag or on card, and will also be released as a Tripack boxed set.
Rubble will be added to the Paw Patrol assortment March 1, 2019. Rubble and Rocky are scheduled for release in Europe in June, 2018, and it looks like there will not be any difference between the European version and the US version.
A new Crayola crayon color will be added to the Crayola pez assortment beginning April 1, 2019. The color is called Cerulean blue. It is an interesting choice of color – we really don't know why it was chosen as the next addition to the crayon pez assortment!

Thanos will be added to the Marvel Pez Assortment beginning April 1, 2019. Again, the Marvel mystery packs that were scheduled for the first release of Thanos in 2018 were canceled, so Thanos will come out ahead of the Infinity Wars 2 movie.
May 1, 2019 is the scheduled release date for Aladdin Pez. The assortment will include Jasmine, a new Genie and Aladdin. These will come in polybag or on card and they will be released in a Tripack boxed set.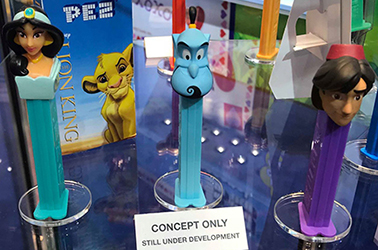 The Secret Life of Pets 2 assortment is listed to be released May 1, 2019. Unfortunately, we don't have any further information to share about this at this time. We don't know if it will be the same Max, Duke, Chloe and Snowball pez or different characters or different molds of the same characters. It could be a simple refresh of the packaging, but that is unlikely!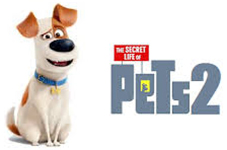 Lion King is scheduled to be re-released beginning June 1, 2019. The dispensers will be the same as before, but we expect that the stem colors will be updated. There will also be a Lion King twin pack available with Simba and Nala on new colored stems.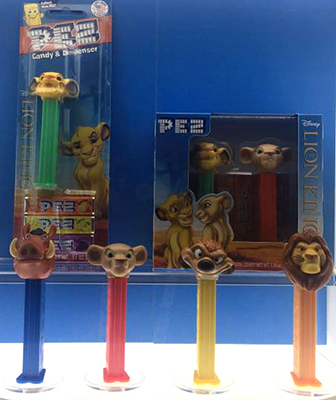 Toy Story 4 are also scheduled for release June 1 and again we don't have any additional information at this time. It is possible that these will be the same dispensers as previously released or they could be different. The will also be a twin pack for Toy Story 4, but at this time we don't know which two dispensers will be included.
Transformers 7 is also listed for an update June 1, 2019, but since Paramount removed the movie from its schedule as the Sweets and Snacks Expo was underway, this could change. There was no additional information for whatever updates may have been planned for this set, so we will wait to see if it is added to the 2019 Pez Plan.
On July 1, 2019 Halloween 2019 Pez assortments will begin shipping. A cute full body bat will be included in the assortment for 2019 and the baby vampire will only be included until supplies are depleted.
There will also be a new 12 count Halloween Party bag with 6 different mini pez, each individually packaged with a roll of candy corn flavored pez. The mini pez use the ball shaped mold in black, yellow and orange colors. Printed on the black balls is a picture of bats flying and a picture of a ghost; on the yellow balls are a black cat picture and a jack-o-lantern picture, and Frankenstein and a spider in its web are printed on the orange balls. I know many collectors are tired of pictures printed on balls, but least they aren't being called Halloween Emoji Pez (yet).
September 1, 2019 is the scheduled release date for a Wonder Woman 2 Gift Set. We don't know yet what will be included or what will be new in this gift set.
September 1, 2019 is also the scheduled release date for a new 12 Days of Christmas Gift Set. More details about this will be forthcoming as soon as we receive information we can share!
September 15, 2019 will be the release date for the Star Wars Episode 9 assortment, twin pack and Gift Tin. Unfortunately, at this time, that is the only information we have about these!
Frozen 2 is also scheduled for release September 15, 2019. There will be an assortment, a twin pack and a gift tin, but we don't know anything else yet!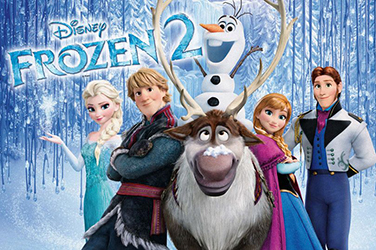 Christmas 2019 pez will begin shipping September 1, 2019 and the assortment will include a new Snowman with a red and white striped scarf and a red and white stocking cap. There will also be a new Gingerbread man pez that looks really cute!
The Grinch Twin Packs with The Grinch as a full size dispenser and Cindy Lou Who as a mini dispenser, and a twin pack with a full size Grinch and a mini Max dispenser will be released October 1, 2019.
November 1, 2019, Valentines Pez for Valentines Day 2020 will begin shipping. We can look forward to a cute new Bear pez in the assortment!

As always, we will share information with you as we are allowed. There may be changes to the schedules and sometimes planned products are canceled before they go into production. Likewise, new products sometimes get added to the lineup and there are always new promotional pez and Pez Licensed items coming out, so we will continue to work hard to keep you up to date with the newest information!
Coming back to the present, it is time to get your groove on and register for the 28th Pezamania - Peace Love and Pez Convention in Cleveland Ohio July 26 – 28, 2018. It is going to be far out and you will want to be a part of this trip down memory lane, though in truth, those who lived through it may not entirely remember it. Pull out your bell bottoms, your tie die shirts, your hippie boots and your long pointed collars! Check out all the details at www.pezamania.com and book your hotel room before it is too late!
The 3rd Michigan Pez convention will be held August 16 – 18 in Livonia, MI, the 4th Sin City Pez convention will be September 13 – 15 in Las Vegas, NV, the 5th Pez on the River Gathering will be October 11 – 13 in Winona, MN and Pezylvania IX will be October 13 in Kutztown, PA. Pez in the Sun is also coming back Oct. 30 – Nov. 3 in Myrtle Beach, South Carolina! More information will be coming later about these, or you can click the links to get more information and get registered for them now!
That is all the news for now. Happy Pezzing!
All the best,
Chris Jordan
www.pezcollectors.com