June 2017 Newsletter
June 2017 Pez Collectors Store Newsletter
We have some great new pez in stock in the Pez Collectors Store and this month we can show you sneak previews of upcoming USA Pez releases for 2017 and 2018 as shown at the Sweets and Snacks Expo. Beyond just getting pictures, we spend time talking to the PEZ Co. representatives to get a better understanding of the new products and their release dates, then we share all the information with you in the June newsletter!
The Paw Patrol Twin packs and singles are available now in the Pez Collectors Store. Chase, the German Shepherd Police Puppy and Skye, the helicoptering Cockapoo puppy from Adventure Bay are the two dispensers in the Paw Patrol assortment at this time. We have the Twin pack boxed set as well as Chase and Skye in polybags, available separately, together, loose or in bag – however you want them!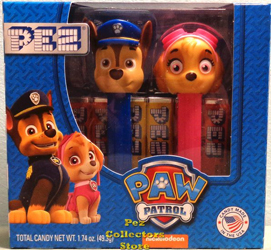 The Nintendo Pez assortment is finally an official assortment in the USA. The four dispensers, Mario, Yoshi, Princess Peach and Donkey Kong are the same as those previously released in European countries, but they are now available in the USA in polybags with USA pez candies.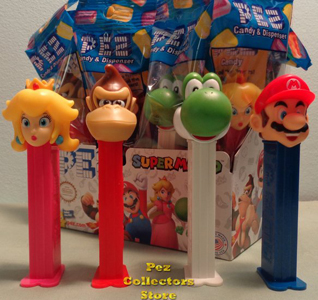 The World's Smallest Pez (a disputable name, since mini x mini Japanese Bandai pez are smaller working pez dispensers) are now in stock. These cute Visitors Center Pez Pal Boy and Peter Pez are on mini stems and come in a clear hard case plastic package with a roll of assorted flavor Pez Candies. Great packaging and great mini pez, and they are available now in the Pez Collectors Store.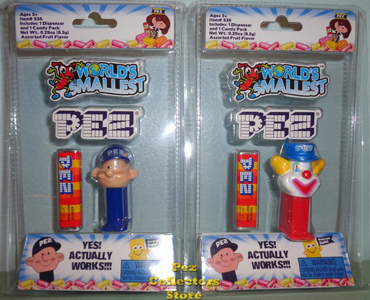 Despicable Me 3 pez are in stock. The new assortment includes Dave, Stuart, and Agnes from the original Despicable Me assortment, plus Jerry, the two eyed minion with buzz cut hair and a lopsided smile, and Gru, the semi –villian who loves the minions. These two new dispensers are great additions to the assortment.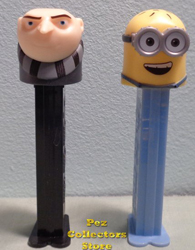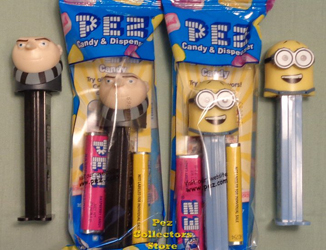 The Despicable Me 3 Pez Tri-Pack boxed set features minions Jerry and Stuart on mini stems, along with a full size Gru. The mini Jerry and mini Stuart are exclusives to this tri-pack boxed set and are not available on the mini stems in any other packaging. The tri-pack boxed set also includes 6 rolls of the exclusive Banana flavored Pez candies! For those who perfer to save on shipping, we also offer the pez loose! These are in stock now!
June 1 is the first scheduled ship date for the My Little Pony Connectibles Pez and the Transformer Connectibles pez, though they have been spotted in some retail stores already. The Twilight Sparkle and Rainbow Dash My Little Pony Connectibles come with stickers to decorate and customize the Pony's connectible body parts, tail and wings.
The Transformer Connectibles include Bumble Bee and Optimus Prime. The snap together connectible pieces convert the Pez Dispensers into full action figures. Transformer and My Little Pony Connectibles will be available just as soon as our order is received.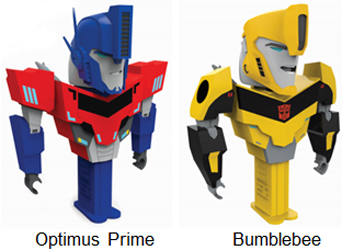 A new Ohio State Football pez variation has been discovered by collector Branden Gozell. This new variation is like the black outlined version except it has the OHIO STATE lettering in solid rather than just outlined letters. So often, when pez are remade, they make a change for some reason, but PEZ Co. doesn't notice that it is actually a new variation. Our sales rep doesn't let us know that a new variation is available, so we don't know until someone finds it. We have placed an order with PEZ Co. for this new solid lettering variation and hope to have them soon!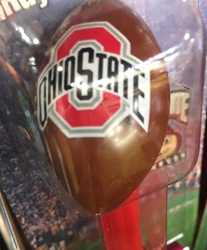 I attended the 2017 Sweets and Snacks Expo in Chicago and spent a great deal of time at the PEZ Candy, Inc. booth, talking with the sales reps, taking pictures, trying the new candies and, of course, the requisite photo with the giant dancing pez candy and getting the souvenir 2017 Sweets and Snacks Expo dispenser.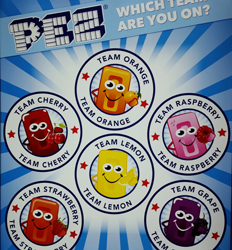 The next new pez to be released will be for Halloween, shipping July 1. The 2017 Halloween assortment will include the baby vampire, friendly ghost, flat top pumpkin, witch G and a new 2017 Mummy B pez. The Mummy A pez from 2005 was a completely different mold and it was only included in the mix for one year, so it will be nice to have a Halloween mummy pez again!

September 1 is the release date for lots of new dispensers, sets and boxed editions. We begin with the Star Wars Gift tin shaped like the Millennium Falcon. It includes BB-8, Rey, Young Chewbacca and an exclusive Han Solo dispenser, available only in the gift tin.
Two new Star Wars Twin packs will also be released – one with BB-8 and Rey, and the other with Young Chewbacca and "Beaks". We believe "Beaks" is a code name for a secret, embargoed character in Episode 8 – the Last Jedi. The twin packs will likely have the Last Jedi graphics as well.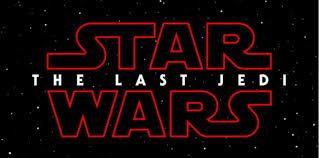 Justice League will add Aquaman to the assortment including Batman, Superman and Wonder Woman in September, and a new Justice League Gift tin will include Batman, Superman, Aquaman and an exclusive Cyborg, available only in the gift tin.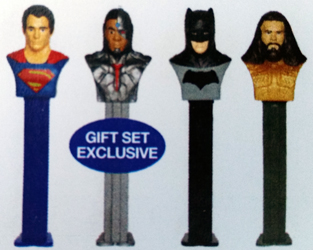 A Nintendo Super Mario Pez boxed set will be available September 1. This gift set includes Mario, Donkey Kong, Princess Peach, and Yoshi dispensers with their names pad printed on the stems. The dispensers are the same as the Nintendo set currently available, except for the printed stems.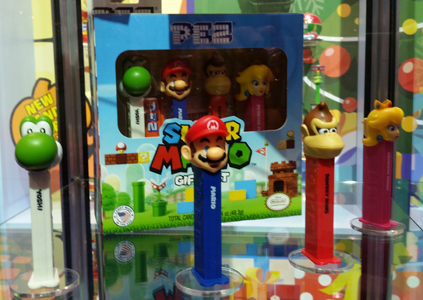 A PEZ candy gift tin will be released September 1. The tin says "Over 50 rolls of Pez Candy and Classic Dispenser" and the product information says it will come with 50 rolls of pez candy and a Remake Regular pez. It is not known what color the Regular will be or if all of the tins will have the same color dispenser. The tin will be sealed, so it will not be apparent from the outside which dispenser is included. The tin features a classic PEZ girl offering a candy with a "PEZ Makes You Smile!" banner. The candy flavors should be Grape, Strawberry, Lemon, Raspberry, Orange and Cherry flavor pez.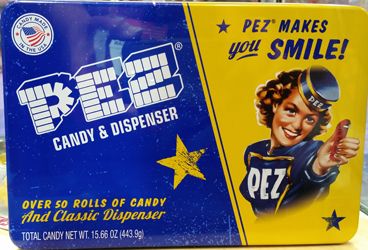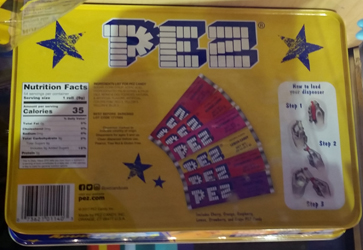 The 2017 Christmas Pez assortments are also scheduled for release September 1. The Christmas assortment will include the new Snow Globe dispenser. It is a colorless crystal ball featuring a snowman amongst Christmas trees in a snowy landscape. This much anticipated dispenser was not on display at the Sweets and Snacks Expo because it was already shown last year and, since there is limited room to display at the Expo, the emphasis was on displaying 2018 products. The assortment will include Santa, two dot reindeer, Derby hat snowman, green penguin and Red Elf on a Shelf in addition to the Snow Globe.
The Christmas Tubes will include a new Blonde haired Angel. She will be exclusive to the Pez Tubes.
There are also three Christmas ornament plastic balls that have mini pez inside. There is a mini Santa, a mini Red Elf and a mini Brunette haired Angel, each with 2 packs of candy behind the mini pez. The Christmas ornaments will come in red and in green colors and each mini will come in both a red and a green ornament, so the truly complete set will include 6 ornaments.
November 1 is the first ship date for Valentine's Day 2018 pez. I am sorry to report that there are no new Pez planned for the Valentines release. There is new packaging, but no changes to the dispensers are planned. Of course, we can always hope that there is some new printing variation on the Happy (Heart) Day dispenser, Valentine Love Bear, or on the Love or Kiss emoji that will be included in the 2017 shipment of 2018 Valentine's Day pez.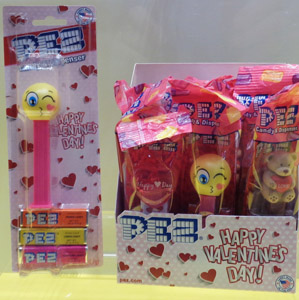 January 15 is the ship date for a new emoji assortment. A colorless crystal ball featuring the Thumbs Up emoji and Sparkling Heart emoji will be added to the assortment along with Happy, LOL'ing, Chillin', Crystal Devilish, Cheesing, Silly. The opaque Devilish is no longer in production, as it was actually a factory error which luckily gave us all an extra dispenser, so it is not to be included in the assortment.
January 15 is the ship date for the 2018 Easter Pez. Pez will include some special flavored pez with Holiday dispensers, beginning with Easter Vanilla Cupcake flavored pez. I sampled this at the Expo and it was very good. One roll of holiday flavor candy will be included with each holiday dispenser, along with one or two regular flavor pez candies. The graphics on the counter display boxes and cards will change, but the only new dispenser will be a white floppy ear bunny on a green mini stem in the Easter Eggs. There are no other new dispensers planned for Easter 2018.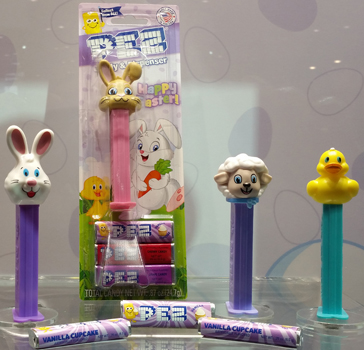 February 1 will bring a new addition to the Marvel pez assortment. The Black Panther will be added to the assortment. The dispenser looks pretty cool and will be a great addition to the Marvel assortment.

March 1 a new Shopkins pez assortment will be released. The set will include Strawberry Kiss, a rare Fruit & Veg Shopkin, Apple Blossom, a common Fruit & Veg Shopkin, and Kooky Cookie, an ultra-rare Bakery Shopkin. There are many different Shopkin characters, but these are the only three that will be included in this initial release. Bear in mind that these are simple mockups for the Sweets and Snacks Expo, so the final product may look different.
Also scheduled for March 1 release is a new addition to the Trolls pez assortment. DJ Suki is an orange haired Troll with headphones, ready to lay down the beat. This new dispenser will be flowed into the existing assortment of Trolls pez along with Poppy, Branch and Guy Diamond.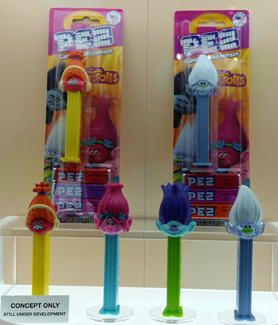 April 1 is the release date for a new Nickelodeon release – Shimmer and Shine. Shimmer is the pink haired genie-in-training and Shine is the blue haired genie-in-training. These well intentioned genies often muddle up the wishes they try to grant and have adventures trying to fix what has gone wrong. Shimmer and Shine are awesome looking pez dispensers and they will come as singles as well as in a twin pack boxed set.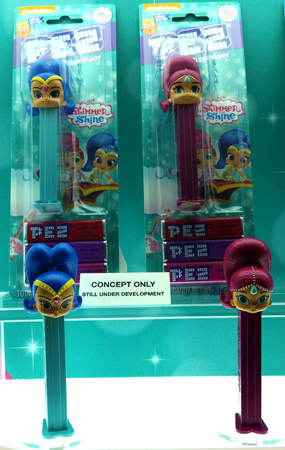 A Nickelodeon Paw Patrol tri-pack boxed set is also scheduled for release April 1. The boxed set will include Marshall the fire-fighting Dalmatian puppy. He is cute as can be! It is unclear at this time if Marshall will be released earlier as a single in the USA, though he is scheduled to be released in the third quarter of 2017 in Europe.
May 1, 2018, a new Star Wars Pez Gift tin will be released for the Disney Han Solo movie that will premiere on May 25. The characters that will be in the set are under embargo by Disney at this time, so we will provide more information as it becomes available!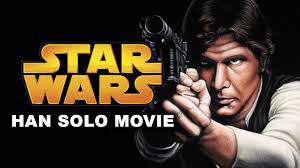 June 1 Ant Man will be heavy in the Marvel Assortment in honor of the Ant Man and the Wasp movie release coming July 6, 2018. This character looks kind of creepy and awesome at the same time!

A Jurassic World Gift Tin will be released June 1. This tin will feature Jurassic World Click and Play Pez and a Jurassic World board came in which the tops of the pez can be used as playing pieces. The mockups on display at the Expo feature a Tyrannosaurus, a Triceratops, a Mosasaurus, and perhaps an Edmontosaurus. The pez on display are mockups for the expo to show the concept and are not necessarily what the final products will look like, but there will definitely be Jurassic World dinosaurs!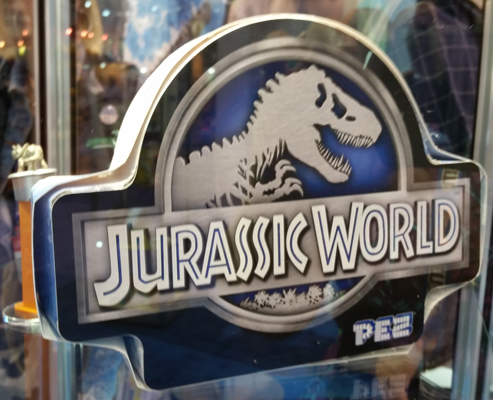 July 1 is when the 2018 Halloween Pez will begin shipping. In addition to the Baby Vampire, the Friendly Ghost, and Mummy B, a new Cute Kid Witch with Orange hair, and a new Happy Pumpkin will be added to the assortment. The Witch G and Flat Top pumpkin will be phased out as inventory is depleted. The 2018 Halloween pez will be packaged with one roll of Halloween exclusive Candy Corn flavored pez candies and an additional roll or rolls of regular fruit flavored pez candy.
September 1, PEZ Co will introduce a new Mystery Box concept. A Marvel 4 piece boxed set will show three dispensers through a window – Spiderman, Iron Man and a Mystery Box exclusive Thanos will be visible, and a 4th mystery dispenser will be completely hidden from view. The mystery dispenser will be a crystal version of Black Panther, Hulk or Groot! These mystery versions will also be exclusive to the mystery box. We are told that the different mystery characters may not be packed evenly in a case, so without being able to see the pez, there will be no way to know what you are getting until you open the mystery box and you could find the same mystery character in every box in a full case of pez. This will make it particularly difficult to collect them all! It is unknown at this time if there will be a detectable difference in weight between the different mystery characters to be able to determine which might be in which box and most of us don't carry a sensitive scale around with us anyway!
There will also be a Shopkins 4 piece Mystery Box with Strawberry Kiss, Apple Blossom, and Kooky Cookie, plus a mystery version of Cupcake Queen in a limited edition version, a rare version, or an ultra-rare version. Again, the mystery contents may or may not vary among boxes in a case, and it is even less likely that a tiny weigh difference will exist between the three different paint job versions of the same dispenser! It will be hard to decide whether to keep these in package and not know what you have, or open them up, hoping to get them all!
September 1 a new Crayola Crayon Gift Set will be released. This cute boxed set will include a red, a green, a yellow, and a blue crayon pez, a bonus pack of crayons for coloring and coloring sheets! It will also include Pez candies and the mockup shows that it will include standard fruit flavors as well as sourz flavors! The packaging on this boxed set is really cute as it mimics the graphic look of a Crayola Crayon box!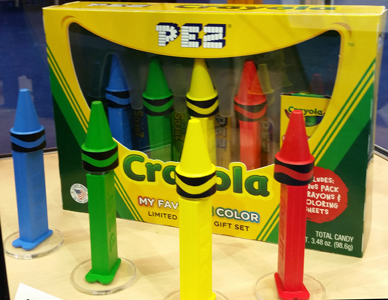 A talking Giant BB-8 is planned for release September 1 and it looks great!
Also in September, the 2018 Christmas pez will be released. A new one dot, red collar Reindeer will be added to the Christmas Pez Assortment and all of the 2018 Christmas Pez will include a Christmas exclusive roll of Sugar Cookie flavored pez candies. The new one dot, red collar Reindeer and a new Christmas Tree pez will be available in the Christmas Tubes.
November 1, 2018 the Valentine pez assortments will begin shipping for Valentine's Day, 2019. There are two new dispensers planned for 2019 Valentine's Day. The Ladybug pez (previously a part of the Bugz pez assortment) with a pink face, on a pink stem will join the Valentine assortment. There will also be a Heart with a big smiling face. The surface of the Valentine heart will be flat, without the ribbon seen on previous valentines. The big difference with this new Valentine is that it will have feet and the heart will face forward on the footed stem, the way typical pez are arranged! This is a whole new mold and design concept for the Valentine Heart and we think it is great!
For Candy pack collectors, Pez will be doing an update to the candy packs at some point this year (this was expected to happen in 2017, but it seems to have been delayed for a while). The new packaging is awesome! These new candy packs plus the special holiday flavor candy packs will really boost the candy pack collections!
That is all the information we have and can share at this time for the 2017 – 2018 USA pez releases. As always, I am sure that Pez will surprise us along the way and other unexpected pez exclusives and variations will appear. We will keep you posted as we learn more about these pez related releases!
Additionally, there seems to be increased licensed items coming out with the Pez brand featured. One example is the M2Machines trucks for Pez. These are supposed to be coming in June and we will get them in stock just as soon as possible.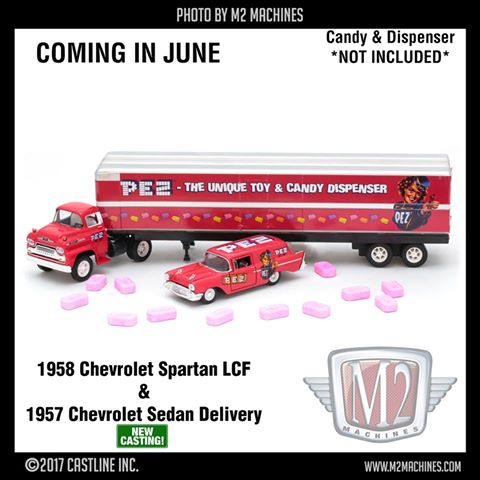 Europe also still has some releases coming that the USA doesn't currently have plans for - Yo Kai Watch dispensers will be awesome! These are scheduled for release in October, 2017!
For those interested in Poopers, Pop Ups, and Radz, we will share more information about them in our next newsletter! We visited the Flix booth, the Radz booth, and the Treat Street Booth and they all have some awesome new candy collectibles coming out!
Kids are getting out of school now or soon so it is time to get yourself registered for Pez Conventions!
June 22 - 24 is the Northeast Pez Convention in Stamford CT
July 20 – 22 is the Pezamania Convention in Cleveland OH
August 24 – 26 is the Michigan Pez Convention in Troy MI
September 14 – 16 is the Las Vegas Pez Convention in Las Vegas NV
September 22 - 23 is the Steel City Pez Gathering in Pittsburgh PA
October 12 - 14 is Pez on the River in Winona WI
October 22 is Pezylvania VIII in Kutztown PA
With so many to choose from, it is hard to pick just one, so pick several and get registered to attend!
Happy Pezzing!
All the best,
Chris Jordan
www.pezcollectors.com