June 2016 Newsletter
Excitement abounds as we receive some of the greatly anticipated pez releases for the year. The excitement is further compounded by the sneak previews of what new pez is planned for the rest of the year and for 2017, as shown at the Sweets and Snacks Expo. It is an awesome lineup and we are thrilled to share the news with the Pez Collectors Store Newsletter subscribers.
The Transformer Robots in Disguise pez from Europe have arrived. These newer generation Transformers include Optimus Prime, Bumblebee and Grimlock. It is expected that the Transformer pez release in the USA scheduled for August will be the same as this set already released in Europe. These are in stock now in the Pez Collectors Store, loose and ready to display!
The Finding Dory Pez assortment floated in on clear or translucent stems. Dory is on a clear yellow stem, Nemo is on a clear blue stem and Bailey is on a clear aqua stem. The heads are the same as the European Finding Dory Pez, but are different than the heads previously released in the USA. The stems on the European set are opaque – a solid color that is not see-through.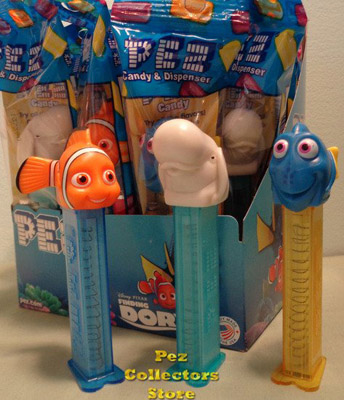 The Finding Dory Fishbowl Gift set also arrived and is available now. The same three new pez heads are all on clear aqua colored stems in the fishbowl assortment. The lightweight plastic fishbowl is fully functional and a great new habitat for your live pez (Spanish for fish). Or, use it as a candy bowl for your extra Pez candy packs! Either way, the PEZbowl is a winner!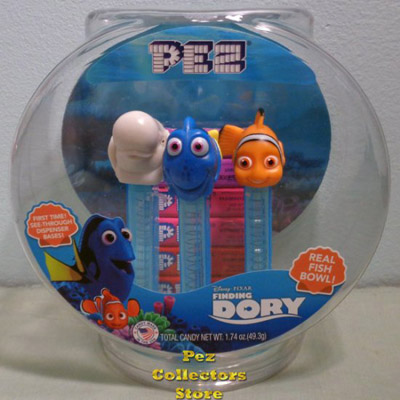 We finally have been able to add stock for Kylo Ren and First Order Stormtrooper pez! We now have plenty available in the Pez Collectors Store!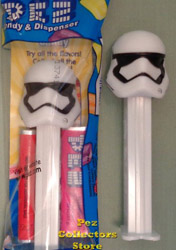 We are expecting the new Secret Life of Pets pez to arrive soon. This set of 4 includes Max the Jack Russell Terrier dog, Duke the big mongrel Newfoundland dog, Chloe the overweight tabby cat, and Snowball the white rabbit. This Universal Studios, Illumination Entertainment licensed pez set is based on the characters in the movie scheduled for release in the USA July 8, 2016. This set was on display at the Sweets and Snacks Expo in Chicago. We will have these available soon in the Pez Collectors Store!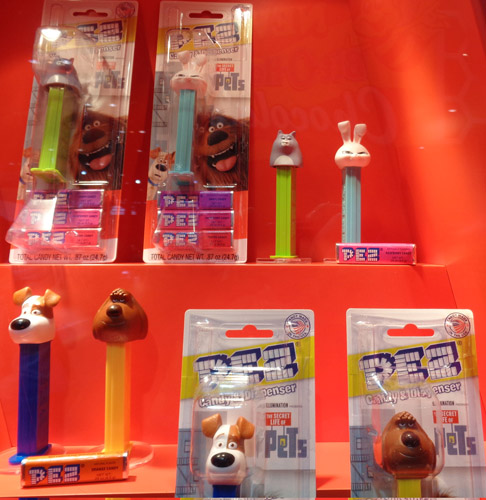 I attended the Sweets and Snacks Expo in Chicago and visited the PEZ Candy, Inc. booth to get the information about upcoming releases planned for the next year. The expo is a huge event with hundreds of different candy and snack brands presenting their newest innovations, all trying to get new retail customers to carry their brand. Most of the companies give away samples of their products and have different giveaways to attract buyers and brokers to visit their booth. PEZ Candy was giving away a specially carded Love Emoji with a printed stem that says I (heart) PEZ. The card is an emoji card that has the Sweets and Snacks Expo logo and only 1000 of these were produced. They were given when you got your picture taken with the giant emoji pez and the pez girls and were limited to one per person.
It is truly a treat to get to chat with my sales rep, meet and talk to president and CEO Christian Jegen, and even to see past President and CEO Joe Vittoria come by for a visit! But, getting all the information about the new pez coming is the best part of all!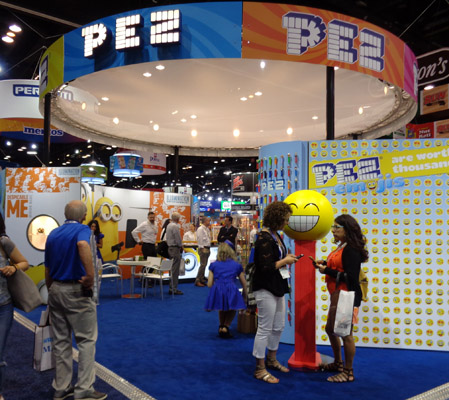 In the next USA release for 2016, we are looking forward to the Transformer Robots in Disguise in August, 2016. We expect these to be the same as the ones already released in Europe, but you never can tell what variations there may be from the European and the USA shipments.
In September, 2016, PEZ Candy will be releasing the Trolls pez. The set will include Poppy and Guy Diamond which has a crystal head with glitter inside, as well as Branch who isn't allowed to be shown at this time. The Trolls pez are a DreamWorks licensed set coming out just ahead of the November 4 movie release.
The Star Wars Rogue One gift tin is also scheduled for release in September. The tin will be shaped like Death Star and will include 4 dispensers – Darth Vader, Death Star, Storm Trooper and a new mystery character, not yet revealed. How about a Shadow Trooper? Just a guess on my part – time will tell!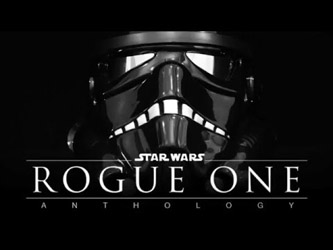 For Halloween this year, we will have a new Witch, both in Europe and in the USA.
For Christmas this year, we can look forward to a red hat elf on a red stem and a green hat penguin on a green stem. These are both color updates to the existing green hat elf and blue hat penguin, but they sure look cute!
In December, 2016, the Power Rangers Pink Ranger, Red Ranger and Black Ranger will be released. Originally, these had been planned for July release, but they were pushed back to December, still well ahead of the March 24, 2017 movie release.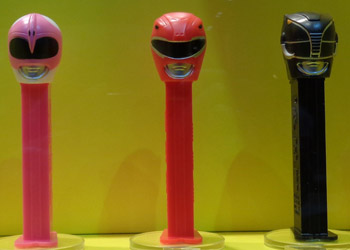 December is when Valentines begin shipping and it doesn't look like there are any new Valentine pez scheduled for release for 2017. The boxed sets will be updated for 2017 with the addition of a Minions twin pack with Dave and Stuart and this will be a welcome change from Mickey and Minnie Friends Forever! There was updated packaging shown at the Expo for Valentines Day, 2018, but it will be a long while until we see it on the shelves!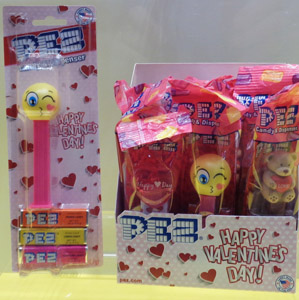 Easter pez begin shipping in January, 2017 and there is a great new lamb planned for Easter 2017. The same updated lamb head will be on a regular sized stem in polybag and on card, and it will come on a mini stem which will come in a plastic egg.

There is also a new Easter Egg pez that features a fluffy lamb picture on the egg. The new lamb egg will be released in the Easter Tubes.

There are three new emoji pez coming out in 2017. Devilish is a red crystal head that looks awesome and joining it will be Chillin' in sunglasses and Cheesing with a big toothy grin. These were on display at the Sweets and Snacks expo.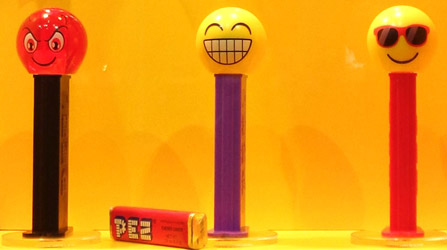 A visit to the Pez Visitors Center revealed the new emojis, both in a solid, opaque form and also in a crystal form! Thanks to Aaron Lamay for sharing this image!
Make room for at least one more Hello Kitty Pez! A new Pink polk-a-dot Hello Kitty was on display at the Sweets and Snacks Expo, coming in 2017.

The new Smurfs movie originally scheduled for release in August, 2016 is now scheduled for release March 31, 2017. What a great reason to release Smurfs Pez! There are plans for a boxed gift set that will include the 4 Smurfs Click 'N Play pez along with a Smurfs Game Board and Pez Sours Blue Raspberry Candy. The Smurfs Click 'N Play pez appear to be the same as those released in 2014 in Europe. It looks like the tops will be used as playing pieces for the board game.
There is also a new Smurfs pez set in the works with Papa Smurf, Smurfette, Brainy Smurf and Smurf boy. These updated molds look great and it is a wonderful addition to the previous series from the 1990s and early 2000s.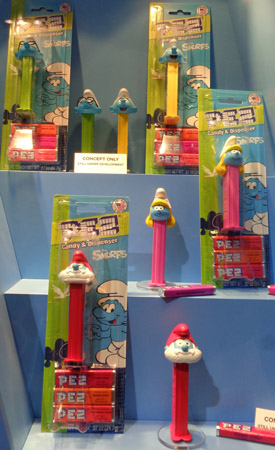 Despicable Me 3 is a new movie scheduled for release June 30, 2017. Pez will be expanding the Despicable Me assortment to include Gru and minion Jerry with buzz cut hair and two eyes.
There is also a tri-pack boxed set that will include a full size Gru and minions Jerry and Stuart on mini stems. This tri-pack will come with new Banana flavored pez candies – a perfect flavor for Minions and an opportunity for Pez Candy to test market a new flavor candy!
It is time to "Get Your Cape On" as pez introduces the new DC SuperHero Girls pez assortment. The set includes Supergirl, Wonder Woman, Harley Quinn and Batgirl. These young crime fighting girls with special superpowers make a great new pez set for those young and young at heart!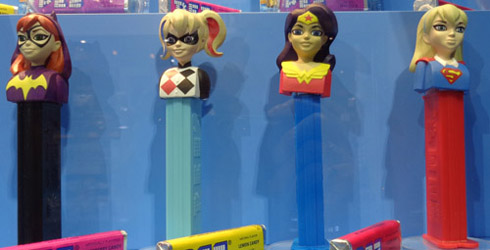 The Marvel superhero pez assortment will also get a couple of new additions from the Guardians of the Galaxy 2 scheduled for release in the USA in May, 2017. Groot, the 8 foot tall alien tree with a limited vocabulary, and Rocket Raccoon, the superhero master marksman and tactician, will join Captain America, Iron Man and Spiderman in the Marvel Superhero assortment.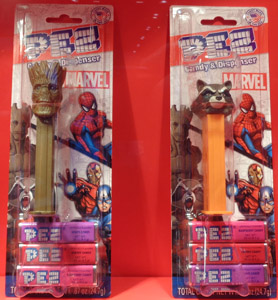 The Justice League Dawn of Justice pez assortment will have a new addition in 2017. Aquaman will be released and added to the existing assortment with Batman, Superman, and Wonder Woman.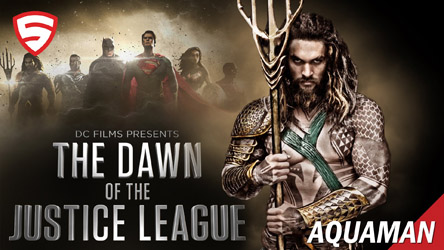 Nick Jr. Paw Patrol characters Chase, the German Shepherd police dog and Skye the fearless flying Cockapoo will be released in 2017 as part of a Nick Favorites assortment along with Teenage Mutant Ninja Turtles. The Spongebob Squarepants characters will also be included in the set while supplies last.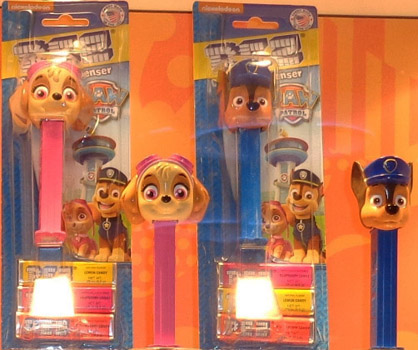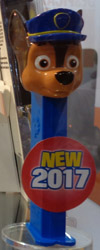 New My Little Pony and Transformer Pez Connectibles will be released as a mixed assortment. Rainbow Dash and Twilight Sparkle will have connectible parts adding a body, wings and tail to the dispensers while the Transformers will have connectible parts adding a body and moveable arms to the dispenser. Adding the connectible parts turns the regular pez dispenser into a great action figure for lots more fun play!
The Star Wars pez assortment will get a few new characters for 2017. BB-8 and Rey will join the assortment ahead of the Star Wars Episode VIII movie scheduled for release in December, 2017.
There is also a Millennium Falcon gift set which would include BB-8, Rey, Han Solo and Chewbacca concept under development.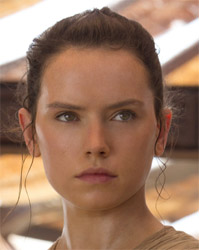 Halloween 2017 pez will include the new mummy that looks awesome! There will also be an update to the Halloween packaging for 2017.
For Christmas 2017, we can look forward to 4 mini pez – Santa, Reindeer, elf and a new angel shown with brown hair on mini stems in a ball shaped ornament with a loop for hanging. These ornaments are really cute and the mini pez are great, too!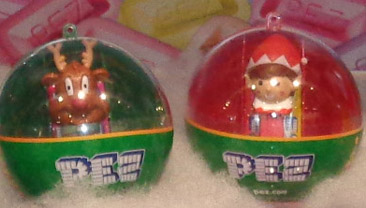 There will also be a new Snowglobe pez for Christmas, 2017 featuring a snowman among pine trees in a winter scene on a clear crystal ball. A sweet blonde angel on a full size stem is also planned for Christmas 2017 and the packaging will also be updated.
For those who also collect Radz dispensers, the Radz booth also a great display! Check out the upcoming Radz dispensers!
The Treat Street booth also has some new poopers coming out! While it isn't certain yet, they are anticipating these new Political Poopers and we can't wait to get them in stock!
There are a couple of pez conventions coming up this month. The Portugal Pez Gathering will be June 18 and 19 in Castelo Branco and the Kleinmunchen Pez Gathering will be June 23 – 26 in Kleinmunchen, Austria.
Next month, the Turkey Pez gathering will be July 10 in Istanbul, the Norwegian Pez Gathering will be July 14 – 17 in Haugesund, Norway.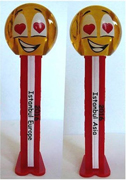 The next Pez Convention in the USA is the largest convention of all – the Pezamania Pez Convention July 28 – 30 in Cleveland, Ohio. I have heard that extra dealer tables were added to the ballroom and the hotel is sold out, but there are several other hotels very near, so be sure to get your registration in soon and book a room because you don't want to miss this event! We look forward to seeing you all in Cleveland!

That's all the news for this month! Happy Pezzing!
All the best,
Chris Jordan
www.pezcollectors.com