June 2015 Newsletter
It is so exciting to write the newsletter for June. The Pez Collectors Store has been really busy this month! We launched our redesigned website with an awesome mobile-friendly view and fresh new design, we acquired a significant number of vintage pez that we can offer at very good sale prices, we received a few new pez releases this month. And, I went to the Sweet andSnack Expo to learn all about the new pez being released this year and in 2016!
First, the Pez Collectors Store got a facelift! The Pez Collectors Store is celebrating our 10 year anniversary online this year and much has changed over the years. To keep up with the times, the website now has a more modern, up-to date look and an awesome mobile-friendly view which makes it much easier to browse and shop from your smart phone or tablet. We still have the same great services and features, and all the newest pez from around the world! Now it is easier than ever to get the pez you want, right here, right now at your fingertips! Check us out in the desktop or mobile view at www.pezcollectors.com!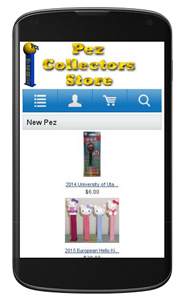 We have added a new pez from France. The Scoupe et Tourbillon pez is part of a birthday party invitation set. Scoupe et Tourbillon is a comic strip in a Le Petit Quotidien, a French magazine for children ages 6 to 10 yrs. The comic strip is quite popular among French children and they enjoy reading about the adventures of the young reporter, Scoupe and his sidekick, Tourbillon who is a green fantasy character (not an alien) with an antenna on top of his head. The set includes an invitation for a child's birthday party, a press badge (name tag with a pin on plastic name tag holder), a reporter's notebook and of course, the pez featuring Scoupe and Tourbillon. This Scoupe et Tourbillon promotional pez set comes with the pez and all of the extra goodies, or as just the pez if you prefer!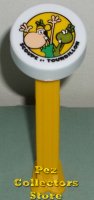 My Little Pony Pez have been released in the USA. The set is identical to the European My Little Pony pez set which was released in December. The set includes Pinkie Pie, Rainbow Dash and Twilight Sparkle pez and they come mint in bag with pez candies! Of course, we also have the My Little Pony Counter Display boxes in stock now!
We were contacted by a Pastor from a church in Staten Island whose family had been in the retail toy business in Park Slope, Brooklyn. The gentleman's father was in business for well over 30 years and had, at one point in his career, opened a Toy Museum which housed many rare collectibles, among them pez dispensers. He had purchased many dispensers and had sold many, but he also saved a lot of some of the pez, telling his son, "These are going to be very valuable someday". The pez had been stored in his parents' home since the seventies and since both parents had passed away, he was ready to part with the pez. We were able to purchase these dispensers, and acquired a significant quantity of 9 different vintage pez at a good price, so we are able to offer these on sale to our customers at a price below catalog or 'book' price! We do ask that you limit your purchases to two of each so that everyone gets a chance to purchase these great vintage pez at great prices!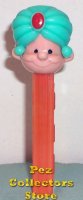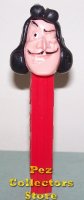 Transformer pez are coming in July! Transformers pez set includes Optimus Prime, Megatron and Bumblebee with a retro eighties cartoon appearance. The Generation 1 Autobots vs. Decepticons have a place in the hearts of many and now they are truly immortalized as pez dispensers!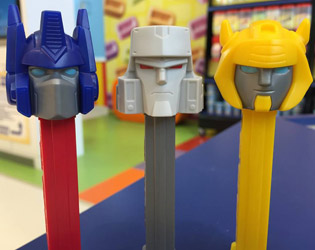 I traveled to Chicago to the Sweets and Snacks expo in May to check out all the new products coming out for the rest of 2015 and those that are coming in 2016. I spent a lot of time visiting at the PEZ Candy, Inc. booth and had a great time talking with the sales team. I asked and was given permission to take pictures. I was having some difficulty getting photos of all the displays because I was not tall enough to hold the camera high enough to get a good photo, but the great PEZ sales team came to my rescue and took several photos of some displays for me! They say you're not famous until you have your head on a pez and folks at the show had the opportunity to have a picture with their head on a pez stem, alongside the pez girls. Given that I am not quite as tall as your average 12 year old, I had to stand on my tip-toes to reach the top of the stem and it was really funny to me to watch all the other people have to squat down for their photos. Thanks PEZ Candy, for a great time and all the awesome information.

So here are some previews of what is coming in for the rest of 2015 and in 2016.
Halloween pez are scheduled to begin shipping in July, but there is nothing new in the Halloween pez assortment for this year. Trick or Treat will be the same as before with the Baby Vampire, Friendly Ghost, Flat top Pumpkin and Witch on purple stem. The daddy Vampire, flat top pumpkin on GITD stem, Jack-o-Lantern, previous witch and the bat will be discontinued.
In August, we can expect to see the Peanuts 65th Anniversary Limited Edition Gift Set. The pez have a new look with Lucy on a blue stem, Charlie on a red stem and Snoopy on a white stem while Woodstock is still on a yellow stem, but that only makes sense! The 65th Anniversary set comes in a limited edition boxed set shaped like Snoopy's doghouse! I wasn't able to see, but there is every reason to believe that the copyright on the dispensers will be changed from UFS (United Feature Syndicate) to Peanuts Worldwide LLC. This set is an awesome tribute to 65 years of Peanuts!
In September, we will see the Star Wars Limited Edition Gift Tin with crystal Darth Vader, R2DS2, C3PO, and Yoda. The Tin is shaped like Darth Vader and says limited edition. While it was very hard to see the back of the tin and impossible to get a photo, it did look like it has Darth Vader's face pictured, similar to the photo below.
The Star Wars pez assortments will be updated in September with new packaging featuring Storm Trooper and the set will include Darth, Yoda, R2-D2, C3PO, Wookie Warrior (or young Chewbacca) and Storm Trooper. This update is in anticipation of the December 18 release of Star Wars: Episode VII – The Force Awakens movie produced by Lucasfilm and Walt Disney Pictures. While the pez themselves don't look to be any different, it will be interesting to see if the copyright on the pez changes from Lucasfilm Ltd to include Disney!
The Harry Potter Collectors Set is also scheduled for release in September and it looks awesome! The box is really neat because Hedwig the Owl, the words "Harry Potter" and the wings of the Golden Snitch Quidditch ball appear to be done in a holographic foil so the colors change in different lighting. The pez look awesome, too. In the display box, they appear to be different heights, but I believe the stems are all actually regular size stems set in the packaging at different heights for the display box to give an illusion that Hagrid is quite tall, Hermione is shorter than Harry and Ron who are shorter than Dumbledore and Voldemort. This set will come with 12 rolls of Pez Candy in the boxed set.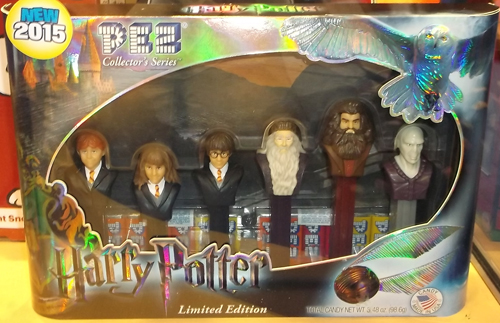 Christmas pez will begin shipping in September, but there are no changes for the regular Christmas dispenser assortments. There is a new Winter Plush assortment which will include Snowman, Reindeer and Santa! These will begin shipping in September!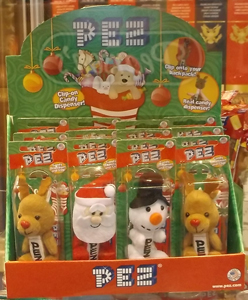 At the Sweets and Snacks expo last year, there were plans for the Hello Kitty pez tin to be refreshed with different graphics for release in September. The pez inside, crystal My Melody, crystal Kitty with red bow, crystal Hello Kitty with hibiscus flower and crystal full body Hello Kitty with overalls, were to be the same as those currently released, so the only difference was the gift tin itself. The photo is of the tin that was on display at the Sweets and Snacks Expo in 2014, but it was not on display at the expo this year. It seems that the updated tin has been delayed until inventory of the current Hello Kitty Tin and the 40th Anniversary Tins is depleted.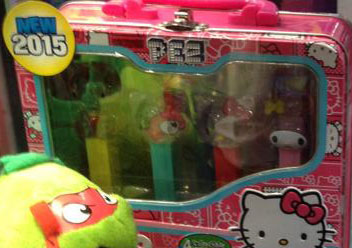 November is the scheduled release date for the final President Pez volumes 8 and 9. Each boxed set will also include a puck pez with the POTUS seal printed on the top of the puck. The seals look very nice – it was just hard to get pictures of them without glare. Volume 8 will include Nixon, Ford, Carter and Regan. Volume 9 will include George H. W. Bush, Clinton, George W. Bush and Obama. The likenesses are good for some and not quite so good for others in my opinion, but they all look vaguely familiar. It appears that the red stem is used for the Republican presidents and the blue stem is used for the Democratic presidents, so the parties are being correctly represented in these two volumes – a step in the right direction for the educational series!
Valentines assortments for 2016 will begin shipping in November. There are no changes for the regular pez dispensers in the assortments, but there is a new Couples or Twin Pack boxed set which will feature Snoopy and Woodstock. The Snoopy and Woodstock pez appear to be the same as those in the 65th Anniversary Peanuts Limited Edition boxed set, but they are packaged together for the Valentines twin pack. The other boxed set will be the same the 2014 Mickey and Minnie Friends Forever boxed set.
Moving on to the lineup for 2016 – Wow!!
January, 2016 the Pezemojis will begin shipping. These are quite similar to the Emoticons from Australia, but they have different faces and names than the Australian releases which came out over a year ago, or the planned additional Australian ones that were expected but have been delayed. The five dispensers are Love, Happy, LOL'ing, Silly and Kissing.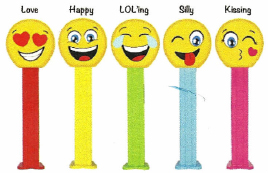 Also in January, 2016, the Minnie Stylish with the Mickey heads on the bow and the new mold style with the tiny "O" shaped mouth and winking eye will join the Mickey and Friends assortment. She was released in Europe as part of the 2015 Minnie Bowtique set, but she will be a new addition in the USA. The Mickey Mouse and Friends packaging will become more retro classic in appearance!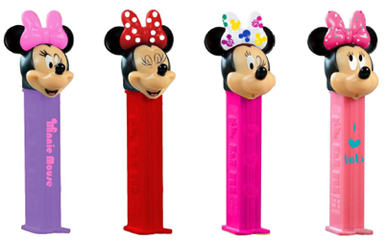 2016 Easter pez will begin shipping in 2016 and we can look forward to some cute changes! There will be mini eggs with a floppy ear bunny on a mini stem, Mr Bunny or Bunny E on a mini stem and Ducky on a mini stem in the eggs. We may see some different colors on these bunnies and ducky than we have seen before! In the tubes, there will be a new zig-zag decorated egg and in bags and in the tubes there will be a white head floppy ear bunny.
In February, 2016, the Disney Junior assortment will be changing! Minnie and Sofia the first will continue in the assortment, Jake and Skully will be replaced by Miles from Tomorrowland and a "Mystery Dispenser" that we are guessing will be Kion (the youngest son of Simba and Nala) from the Lion Guard, since the packaging shows the Lion Guard logo along with Minnie, Sofia and Miles.

Also in February, a Batman v. Superman Dawn of Justice Pez Set will be released with a new Batman, new Superman and new Wonder Woman. These have a more realistic, chiseled or sculpted look to them than the more cartoonish looking versions we have seen before. I think they look awesome!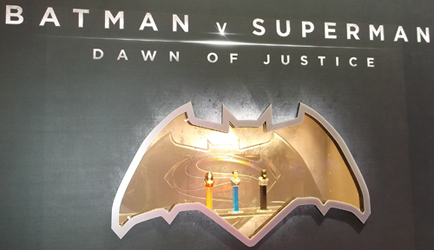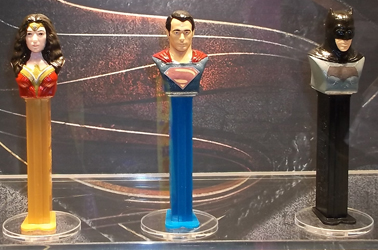 March 2016 is the scheduled release date for a WWE Collectors Gift Set. This boxed set for World Wrestling Entertainment includes wrestling greats John Cena, Hulk Hogan and The Rock. The pez look good, but does this represent a step towards WWE becoming more kid-friendly or is it about PEZ becoming more adult oriented?
In April 2016 there will be a treat for candy pack collectors! Pez Candy will be getting a new look! We really like the updated candy packs – the pictures of fresh fruit are probably a move to appeal to the more health conscious consumer (like anyone is really going to be fooled), but the smiling candy is cute and fun and the graphics make the candy packs so much more interesting than the plain colored ones we have seen in the USA for so long!
We all know that Hello Kitty celebrated 40 years in 2014. Well, guess what happens to your eyes after you turn 40? Yep, corrective lenses are in Hello Kitty's future! In May 2016, we can look for this sweet Kitty to be sporting her stylish new glasses!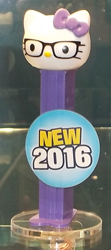 Also in May 2016, the Teenage Mutant Ninja Turtles Connectibles will be released. This is a new interactive product for Pez! The TMNT pez come with shell body parts and weapons they can hold. Leonardo has his katana, Michelangelo wields his nunchucks, Donatello has his bo staff and Raphael has a pair of sai. These great new pez were in the top 5 for the Most Innovative New Product Award, Novelty division at the Sweets and Snacks Expo 2015! I personally voted for them and think they should have won!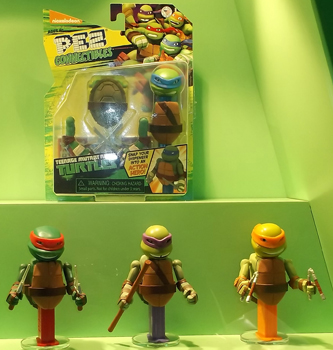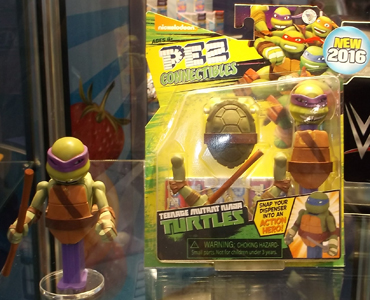 Finding Dory is another release scheduled for May, 2016. These awesome pez come on crystal stems that look really great. Dory, Nemo and a Mystery Dispenser to be announced will be included in the set. The new dispensers will be released on card or in bag and will also be released as a gift set with a real fish bowl. The fish bowl can be used as a display for the pez, or it can be used as a real fish bowl for real fish!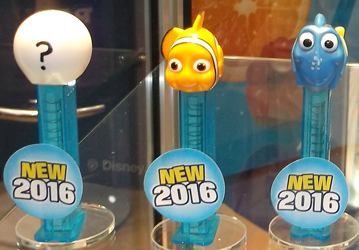 In July 2016, Pink, Red and Black Power Rangers pez will be released. These teenage mighty morphin superheroes pez are being released in anticipation of the January 13, 2017 Power Rangers movie release.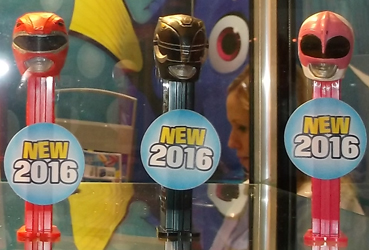 In September, 2016, there is supposed to be a new Star Wars gift or collectors set based on the Star Wars Anthology: Rouge One, a Star Wars spin off expected to be released December 16, 2016. The new product was not on display at the Sweets and Snacks Expo, but September 2016 is a long ways away, so we will have to wait to see this new pez set! September is usually the month for releases for the 4th quarter and usually a boxed set and maybe a gift tin are released, so I expect that Pez Candy will have more surprises for us in 2016! It looks like it will be a great year for some awesome new pez!
Be sure to get registered to attend the 25th Pezamania Pez Convention July 23 – 25, in Cleveland Ohio. This convention is going to be huge and it will be a blast! All the information can be found at www.pezamania.com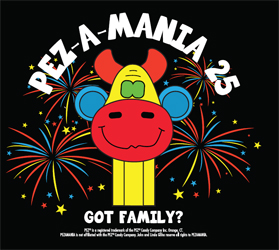 That is all the news for this month! We hope you enjoy our newsletter and the new design of the Pez Collectors Store website! Thanks for being with us as we celebrate the website's 10th year online! Happy Pezzing!
All the best,
Chris Jordan
www.pezcollectors.com