June 2014 Newsletter
This month, we have a number of new pez in stock and we are showing you sneak peaks at upcoming sets. There are several pez conventions on the near horizon that you will want to be sure to attend if possible, and we are also notifying the pez collecting community about an issue which has come to our attention regarding the President Pez volumes released to date.
Disney Planes 2 Fire and Rescue series pez have been released in European countries and features a new Dusty who has traded his landing gear for pontoons, Blade Ranger the Helicopter and Lil' Dipper the super scooper. This set is not expected to be released in the USA, but we have them  available now in the Pez Collectors Store!
Dr. Doofenshmirtz the evil scientist has been added to the Phineas and Ferb Pez assortment and is available now.  Doof now joins Phineas, Ferb, Perry and Candace, making a great pez set for this Disney TV show!
The 2014 SpongeBob and his friends Squidward and Patrick are available in the Pez Collectors Store. There are several differences between the original USA release, the later European release and the newest re-release. The 2014 assortment includes only Patrick, Squidward and SpongeBob on a red stem. The European release of SpongeBob Pez and the newer USA release have a 2008 Viacom copyright (original USA release has a 2004 Viacom copyright). The new release is 'half dressed' just as the European set was - the clothes are printed only on the front of the dispenser, not around the sides like the original release. The 2014 USA re-release is very much like the European release, except that the newer stems on Patrick and SpongeBob have the ledge at the top of the stem that is seen in more recent dispensers. Further, Squidward originally came on a light green stem that matched his head, but he is now on an orange stem. For those who love variations, this is a great new addition!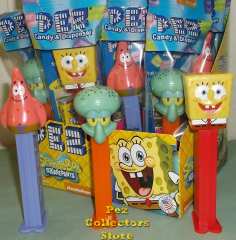 The UCONN basketball without a mascot can now be purchased in the Pez Collectors Store. We have no idea what convinced this winning team to drop the mascot and just feature a very plain font UCONN name, but clearly this basketball team knows what they are doing!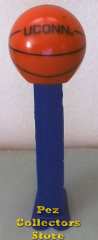 The 2014 25th edition LaSpina Original Collector's Price Guide to Pez is available in the Pez Collectors Store. Needless to say, with all of the new pez that have been released, the newest edition is the thickest LaSpina Guide ever. This handy book includes the dispensers and lists colors or variations and price ranges for these dispensers. It includes check boxes to allow you to keep track of your own collection and rapidly see which dispensers you have or those you might be missing!
Disney World of Cars is shipping to us now. This assortment will include Dusty with landing gear, the race plane El Chupacabra and Mater with announcer headphones and race flags printed on his stem. As far as we know, the Dusty and El Chupacabra will be the same as those released earlier this year in European countries. This new USA Pez release comes mint in bag with pez candies.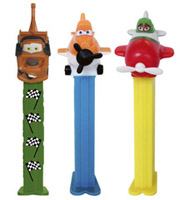 More soccer ball pez have been released in Germany and Switzerland. The German soccer balls are a set of 3 plain soccer balls on a red, black and a gold stem. The first Switzerland soccer pez for 2014 are dated, with a plain soccer ball on a white stem with 2014 in red print on the stem and a red stem with 2014 in white print on the stem. 
There is another set released in Switzerland for the FC Basel soccer team. Originally the mockup artwork was shown on the Pez International Facebook page as a black and white mockup that made the soccer balls look like they were printed in silver. These do not exist. Instead, the FC Basel soccer pez were printed in color. This set is on its way to us, both loose and on card and should arrive soon!
July is the scheduled release date for the USA Disney Junior pez assortment. This set will include Sophia the First (a junior princess), Jake and Skully from Jake and the Neverland Pirates and an all new Minnie Mouse pez. Sophia looks really cute and the Minnie Mouse is different than any previously released in Europe or the USA. We expect that Jake and Skully will probably be identical to the ones released earlier in the year in European countries.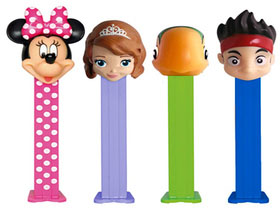 The third series of Teenage Mutant Ninja Turtles is scheduled for release in July in the USA, just ahead of the August 8, 2014 Teenage Mutant Ninja Turtles movie release. This is an all new set of 4 turtles featuring Michaelangelo, Donatello, Raphael and Leonardo! We will have these in stock just as soon as our order is shipped from Pez Candy!
We have held off on releasing photos of upcoming pez sets in compliance with the Pez Candy Co. policy of not posting photos of upcoming pez more than 30 days prior to their first scheduled release. However, since the pez have been on display in the Pez Visitor Center more than 30 days in advance, have been on display at the All Candy and Snack Expo in Chicago and images provided by Pez Candy to other distributors have been posted widely about the internet, we see no harm in sharing the photos of sets we can expect to be released in the USA through the rest of the year. 
In August, there will be a 40th Anniversary Limited Edition Hello Kitty gift tin with Mama Mary, Papa George, Sister Mimi and Hello Kitty, all as full body characters. The tin is the shape of a Hello Kitty head and has a window to show the 4 dispensers. This limited edition anniversary tin was on display at the 2014 All Candy and Snack Expo and this photo was taken by pez collector Matthew Meliker at the expo. Hello Kitty looks really good for 40 yrs!
In September, Pez Candy will release the Scooby Doo Gift set with Scooby, Fred, Velma, Daphne and Shaggy in a box that looks like the Scooby Doo van, with the characters looking out the van windows.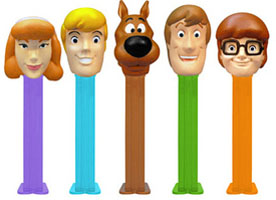 Also in September, the Angry Birds Pez Gift set will be released in an embossed tin that is shaped like the Red Angry Bird. It appears that this set will be the same as the Angry Birds that have been available in Europe for the past year or so.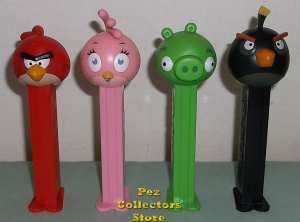 Pez International will be releasing the Smurfs Click and Play pez set in October, 2014. This should be a very popular set among pez collectors and Smurf collectors! This set is a European only release. It will not be released in the USA. We will have these available in the Pez Collectors Store just as soon as they are released in Europe.
November will be the release for the US Presidents volume VI (Taft, Wilson, Harding, Coolidge, and Hoover) and VII (Roosevelt, Truman, Eisenhower, Kennedy and Johnson). There is also new Elf that will be released for Christmas and it should not be nearly as scary looking as the previous elf!
Looking ahead to 2015, the Harry Potter set is something that we can all look forward to. Preliminary photos from Austria suggest that this boxed set will have only 6 characters. Harry, Hagrid, Ron, Hermione, Dumbledore and Voldemort will be included. The color palette, hues and balance of the artwork for the package is looking very similar to what we saw on the Lord of the Rings and again on the Hobbit Boxed sets. Early information suggested that we would be seeing Draco and Snape in addition to the other 6 characters and that the Walmart special edition set would probably include Dobby or Neville, but it is looking like that plan has been changed.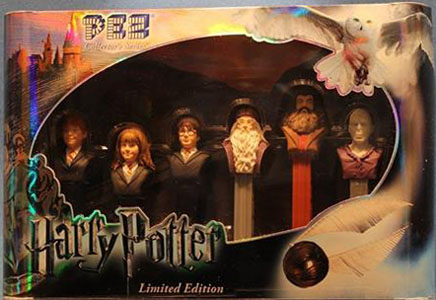 So, if Scooby Doo is supposed to be the collectors boxed set for 2014 (with only 5 different characters) and Harry Potter is the boxed set for 2015 with 6 characters, have we seen the end of the big 8 dispenser boxed sets? Have we seen the end of the Walmart special edition boxed sets that have just one different character than the standard collectors set?

In our January 2014 Pez Collectors Store newsletter, we gave some hints of what else may be coming in 2015 –Peanuts 65th Anniversary, Despicable Me Minions, Jurassic World Dinosaurs. We will provide more information about the 2015 sets as the time gets closer!
Meanwhile, convention season is heating up! The St. Louis 22nd Annual National Pez Convention will take place June 19 – 21 and we are really excited about attending! We hope to see you all there! More information can be found at
www.pezconvention.com
.
If you are not able to meet me in St. Louis, plan now to attend the Pezamania convention in Ohio July 17 – 19! Be sure to get your hotel reservations made before the hotel fills up! More information can be found at
www.pezamania.com
.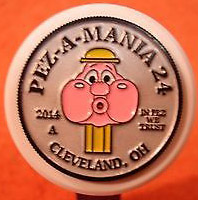 Last, but not least, we have discovered that there is a problem with some of the President Pez. We receive factory sealed cases in which there are President Pez sets in factory sealed boxes or volumes. We expect that these are all in mint condition. We offer the President pez loose for those who wish to save on shipping, and we remove the pez from the factory sealed boxes, place them in protective plastic bags for shipping if they are ordered loose. One customer notified us that the President pez we sent had been touched up with permanent marker. She provided pictures in which the marker was used to cover up scratches and scuffs on the Presidents wearing black coats. We then observed examples in factory sealed boxes in our inventory. The marks may be on the back, the sides of the bust or, in some cases, on the lapels. Not all President pez have been touched up and it is hard to see if they have been touched up when they are in the packages.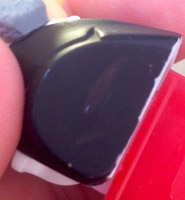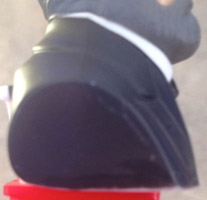 When the Presidents are arranged in the trays in the volume boxes, it is impossible to see if the sides and backs are touched up, but we have found examples in volumes 1, 2, 3, 4 and 5 in which marker has been applied to lapels and is visible from the front of the unopened box. The marker leaves a sort of iridescent shine which does not match the matte finish of the black of the President's coat. It is difficult to see in the packages unless it is on the lapels and it is even harder to take a picture through the package.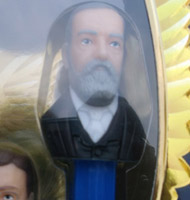 The ink from the marker is easily removed by wiping the area with a Q-tip soaked in rubbing alcohol, which will dissolve the marker and transfer bluish black ink to the Q-tip. Unretouched areas that are painted are not affected by a wipe with the alcohol soaked Q-tip.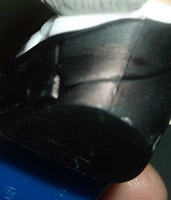 This pez was removed from the factory sealed box shown in the picture above. Notice that there is marker touching up the lapel and shoulder, but the scratches and scuffs on the side of the bust which are not visible when in package were left un-retouched.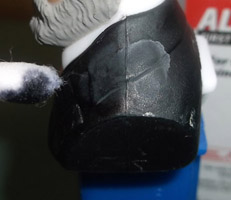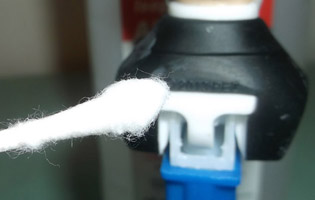 In the above pictures, you can see that the marker is dissolved and spreads to a 
Q-tip soaked in alcohol, but the regular paint is unaffected. 
As a collector, I believe that retouching a dispenser with permanent marker to hide scratches or scuffs is not an acceptable practice with Pez collectibles, and I believe that a pez which is mint from the factory should be unretouched! As a pez dealer, I value my reputation as an honest dealer and do not want my customers to think that I retouched the dispensers. Likewise, my customers should not have to fear that sometime in the future they will be suspected of doing this to the dispensers. 
I also have concerns about the safety of using permanent marker on pez that children will be handling, playing with, possibly putting in their mouths, etc. I know there are many different issues with various paints and I wonder whether permanent marker has been approved under the Child Toy Safety Regulations and tested through CPSC laboratories.
I have contacted my Pez Rep with these concerns and questions, and I was asked to send an example to the Pez Regional Sales Manager. I selected a Presidents Volume 5 set in which both Grover Cleveland and Benjamin Harris had marks on the lapels, thus visible from the front of the unopened factory sealed package. Tracking shows that the package was received on May 15, but despite sending additional emails asking for a response, I have still heard nothing further regarding this problem. On Friday, May 30, I also emailed a contact at Pez Candy, Inc. to be sure they were aware of the situation. I have not heard back from anyone at this time.
I do not know if employees of Pez Candy, Inc. are doing this touchup, or if it is being done in China or Hungary or wherever they are being assembled or packaged. I know that generally dispensers are shipped loose in bulk packages to the USA and the dispensers are apt to get scratched and scuffed during this shipment process. I do know that this Presidential pez cover up has happened somewhere in the production chain prior to release to retailers in factory sealed boxes.
I am hoping that this will not be an issue for future Presidential pez releases, and I have specifically requested that all of my future orders be filled with unretouched dispensers only! Until we hear otherwise, we will continue selling the Presidents sets in package (or loose) exactly as they have been received from Pez Candy, Inc. 
Collectors, check your loose President dispensers and don't let kids put any touched up ones in their mouths until we are at least reassured that the touchup marker is not toxic or dangerous to them!

That's all for this month! Happy Pezzing!