June 2013 Newsletter
May has been an exciting month for new pez releases and more are coming in the months ahead! We have news about the newest releases and some information to help you identify some fake regular pez, too!
The Monsters University pez set includes Sully with a much smaller head, Mike with a smaller head, carrying a book, a new Randall pez and a new Squishy pez which was only released in the USA and in Japan. This great set is available now in the Pez Collectors Store.
The retro European pez tins have arrived. There are 4 different styles of tins and they will each hold two packs worth of loose candy! The tins come mint on card with two packs of sugar free peppermint pez candy. For those who don't want the candy and prefer to display loose, the set of 4 tins is also available loose to save on shipping!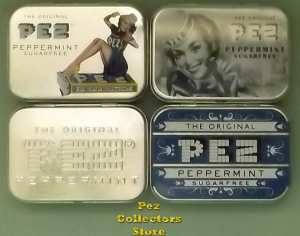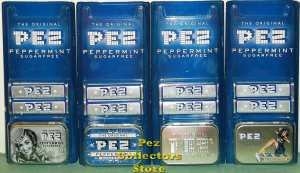 The 2013 Crystal Hello Kitty pez have arrived from Europe and are available now in the Pez Collectors Store. The set includes the two full body Hello Kitty pez in clear crystal with a translucent paint adding a bit of color. There is also a crystal Hello Kitty with a purple polka-dot bow and one with a pink bow that has a printed stem.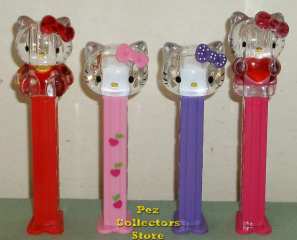 The new, revised Cinderella has also arrived in the Pez Collectors Store. She has a new hairdo and a new dress for the ball! The Princess Cinderella has side-swept bangs and the dress has white sleeves. The photo shows the old version on the left for comparison purposes to the loose 2013 Cinderella on the right, but you will receive the new princess mint in bag shown in the middle! This new princess will be mixed into the pez after the old versions are finally gone, so it could be a while before this one appears in retail stores. This new Disney Princess Cinderella Pez comes mint in bag with pez candies (bags may vary)!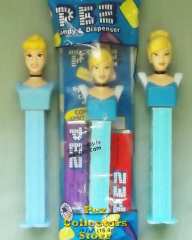 There has been a lot of talk about a 'new' Superman pez, but really Pez Co is just promoting the Superman movie with the same Superman Pez that has been in the Justice League Mix. The only difference is that the mix includes 50% Superman with 25% Batman and 25% Green Lantern. The entire Justice League set has been unavailable through Pez Co while they were shipping the same Batman with Catwoman in what they called the DC Comic mix and when Justice League was available before, it was 50% Batman, 25% Superman and 25% Green Lantern. So, the only thing that is new is the proportions of each dispenser in the mix!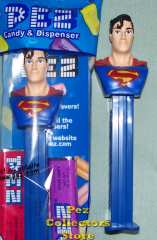 Congratulations to Chelsea for winning the Europa Football League championship! Did having a soccer ball pez for the team help? It surely didn't hurt!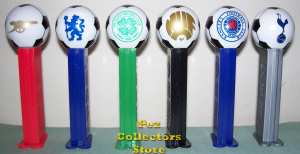 We expect 8 new soccer ball pez for the German Football League to be shipped to us soon. The German Bundesliga Football team pez include Hamburg HSV, Schalke 04, Dortmund Borussia BVB, FC Koln, Werder Bremen, Borussia Gladbach,  Eintracht Frankfurt and Fortuna Dusseldorf. These have been ordered and will be shipping to us in the later part of June so we expect to have them by the end of June!

PEZ Candy, Inc. had a booth at the Sweets and Snacks Expo and they did a press release talking a bit about the new releases scheduled in the future. Of course, we know that the Hobbit will be the collectors set for 2013, scheduled for release September 4.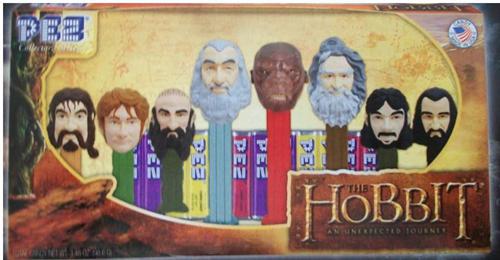 Pez also says that there will be a new Hello Kitty tin in 2014 that will include Mama (Mary), Papa (George), sister Mimmy and Hello Kitty in honor of the 40th Anniversary. Who knew that Hello Kitty has been around for 40 years?!


At long last, Pez will be releasing a Scooby Doo in 2014. It is not clear whether this will be a single pez or a set that would include other characters, but we are excited that this great cartoon character will finally be immortalized as a Pez dispenser! Maybe it will look something like this fantasy Scooby Doo pez...
Pez Co. also announced that there will be an Angry Birds play set in 2014. We are not sure if this will be different than the European Angry Birds expected to be released this fall. When Pez Co. says 'play set' it could mean something like the click and play Hot Wheels or it could be just regular pez.
We have heard that the new version of Winnie the Pooh with the taller face and printed tongue will eventually be released in the USA as inventory of the existing Winnie the Pooh is finally exhausted. They are slowly being distributed in Europe. We will have these in stock as soon as they are released in the USA!
In early April, I was contacted by a man from Sacramento, CA who claimed to have 364 vintage regular pez. The photos below, which show advertising pez, some plain regulars and 37 Witch regulars, were included. The man claimed to have been given these 5 years ago by his friend and former business partner, Curt Allina (the original president of Pez Candy, Inc.).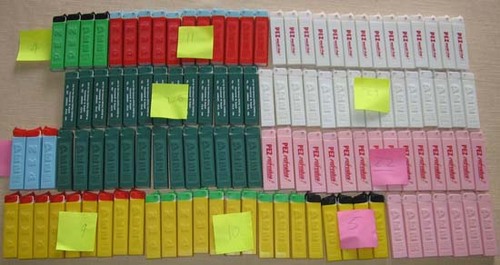 Dispensers from this same batch of pez were previously sold to John LaSpina, a well-known pez collector and dealer. John was suspicious of these as the print on the ad regulars is different than known vintage pieces. John had them chemically tested and discovered that they were printed in the 1990s. It even could be that the regulars themselves were made in the 1990s – the molds were available and the hobby was booming at that time, which invites fraud to occur! This same batch of fakes reappeared in the hands of the man from Sacramento.
A week later, I was contacted again by the seller. He had been told these were likely replicas. He did not want to incur the cost of a verification process and he stated, "It would be unfair and illegal to offer them as new when I can't vouch for their origin(s)." I offered to have the testing done through the chemistry department at the University of Missouri where I worked and he indicated he would send some to me the following week. My emails after that were not answered and I never received samples for testing. Despite being warned that these were likely replicas, there are at least 4 individuals who purchased them at extremely cut rate prices, for a penny on the dollar and who now are in possession of these fakes.
At least some of the individuals who purchased the fake dispensers are dealers that resell pez. Sadly, the distribution is fairly broad in at least 3 states in the USA (in CA, WI and FL) and in Finland. One individual took over 100 assembled fakes, plus loose stems and caps with sleeves to a well-known and highly respected collector who has an outstanding collection of legitimate vintage regulars so that a comparison to known vintage ad regulars and witch regulars could be done. After comparing and noting certain characteristics of all of these regulars, the collector shared photos of his findings with me. I am now sharing these photos with you so that you can learn to identify the fake pez. The true, known legitimate vintage pieces are shown on the top of the photos and the fakes are on the bottom.
Note that the printing is much crisper and more 'perfect' on the fakes. This is not because they are more 'mint', but because the process used to print the dispen
sers in the 1990s was much better than the processes available for printing in the 1960's. John LaSpina's paint testing showed these were printed in the 1990s.
real on top, fake on bottom in all photos
Note there are differences in the font, print size and sometimes slant or angle of the printing, or angles such as the on the Indian Chief's headdress which are incorrect on the fakes. These differences can be hard to distinguish if you don't have these photos or a legitimate regular to compare to.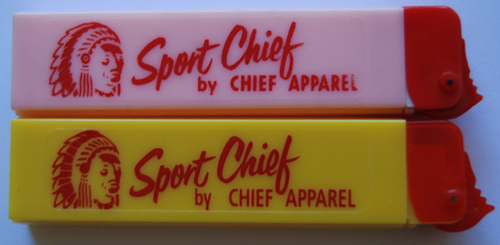 There are some characteristics that are common to every single regular in this lot and make it likely that they were all made from the same mold pieces.
First, the cap does not line up properly and shows a bit of white sleeve on the left, back side of the cap by the hinge (the side you see when the thumbtab is up and on the right of the cap). This gap of exposed sleeve is present on every one of the fakes.  This is not generally seen at all on legitimate regulars. Additionally, notice the dimple that is present just below the peak of the thumbtab. 
On every one of the fakes, a dimple or dent just below the peak of the thumbtab can be seen. This molding irregularity is known to occur occasionally, on some metal pin and on some plastic hinge hole caps, while other metal pin or plastic hinge hole caps do not show the dimple. This further suggests that the same mold was used to create all of th
ese parts.
Further, the cap of the fake regulars is skewed to the left side when viewed from the front. Notice how the cap center line does not match up to the center line of the stem, and the sides are offset.
For legitimate pez, there are 4 different styles of caps for regulars - the tall thumbtab and the short thumbtab. Further, both the tall thumbtab and short thumbtab may come with a metal pin or plastic hinge holes. Certain dispenser are known to have come with tall thumbtabs, and metal pins while others came with short thumbtabs and metal pins, while others came as tall or short with plastic hinge holes. The fakes in every single case have a tall thumbtab and metal pin. This is probably because they were all 
likely
 made from the same mold. Some ad regulars are known to come with short thumb tabs or with plastic hinge holes, (ex. PEZ Macht Froh! should have a tall thumbtab with a plastic hinge hole, and a Royal Toffee, Sports Chief and Seven PEZ daily should  have short thumbtabs with metal pins). In every case, the fakes are made with tall thumbtabs and metal pins.
real has hinge hole for plastic head spring, fake has metal pin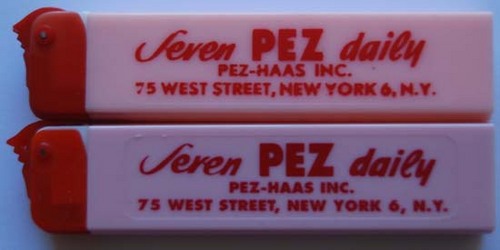 real has short thumbtab, fake has tall thumbtab
The fake ad regulars and fake regulars all have a no sha
dow (just blocks with no shading on the edges) PEZ patent number side and the fake regulars all have a shadowed PEZ side. This combination of mixed shadowing is unusual. Snow White is known to come on a shadow, no shadow stem, but it is reversed, with the shadow on the patent number side and the no shadow on the PEZ only side. Legitimate regulars come with no shadow on both sides or shadow on both sides, but the mixed shadow, no shadow is not commonly seen (I have never seen it, and haven't found anyone who has seen it on a regular). The molds used for creating these regular must have used a no shadow patent number side mold with a shadowed PEZ only side mold which is generally not done.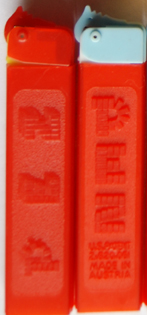 This lot represents a mix of 8 different colored stems and caps made with the same colors plus black caps. The fake regulars are mixes of the different colored stems and caps, some of which are in combinations that are not known to exist, making them highly suspect. These same color stems and caps are used in the Advertising regulars.
Also included with the 100 or so regulars and ad regulars were additional unassembled caps attached to sleeves and printed and unprinted stems. Below are photos of some additional ad regular stems that are believed to be fake.
There is no reason that a group of 364 regulars, representing some 21 different cap and stem color combinations, and 12 different ad regulars, should all have the exact same characteristics of metal hinge pin, tall thumbtab, dimple below the thumbtab, cap misaligned to the stem and sleeve, no shadow patent side and a shadowed PEZ only side and for every ad regular to have printing variations that are not seen in legitimate dispensers, unless these are all made from the same molds and printed as replicas.
People create fake pez dispensers because they believe that they will make lots of money by selling these to unsuspecting collectors. They attempt to replicate vintage pieces that have a high value because that is where the most money can be made. Sadly, this devalues legitimate pieces and it is a black mark on the hobby. Collectors who care about the hobby and their collection would not want to encourage the dishonest fakers by purchasing a fake dispenser, even if it were at a fraction of the price of a legitimate piece. Even if you planned to keep it, you will eventually die and the collection will be passed on to someone who won't know that it is fake. If you value your collection, don't encourage dishonesty by purchasing a fake. Be on the lookout and don't let the dishonest people ruin our hobby!
On a much more positive note, according to an interview of Joe Vittoria by FOX News, Pez will finally produce Harry Potter Pez in 2015! Granted, that's a couple of years away, but considering how long we have waited, well, better late than never! Perhaps it will look something like this fantasy Harry Potter Pez...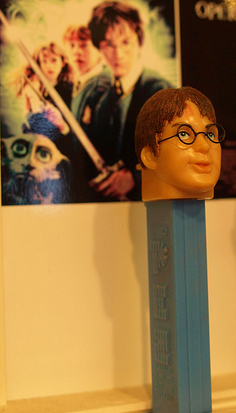 This month the Pez Collectors Store will be on the road, traveling to the 21st Annual National Pez Convention in St. Louis from June 12 through June 16. All orders placed during that time will be shipped on Monday, June 17. We hope to see many of you at the convention!
In July, we will be going to the Pezamania Convention in Cleveland, OH from July 24 through July 28. Orders placed during this time will ship on Monday July 29. We will not be bringing a full load to Pezamania, but will do some selling and a lot of buying!

There is less than one week between the end of the Pezamania Convention and the start of the MNPezCon. The Minnesota Pez con is being held August 1 – 3. I am sure it will be a lot of fun for those who can make it!
That's all the news for this month!
All the best,
Chris Jordan
www.pezcollectors.com