June 2011 Newsletter
More new Pez! It is always so much fun to add more pez and learn about new pez that will be released at a later date. It is even more fun to get to meet up with other collectors and we did just that at the Kansas City PezHead Gathering. Now we can look forward to seeing more collectors at the St. Louis Annual National Pez Convention in June!
Wally, the mascot for the Boston Red Sox, looks great on the new Major League Baseball Pez. The new Dodgers logo with the flying baseball and the new SL logo for the St. Louis Cardinals are all available now in the Pez Collectors Store. The new baseball pez are currently being shipped in cases mixed with old version baseballs, so we only get a few in each case. We wish we could order just the new versions instead of getting mixed inventory, but at least we do have a small number of the newest baseballs now.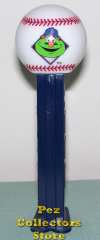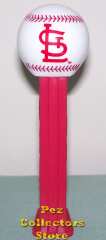 The Pez Smarts have arrived from Europe and we have some full sets as well as singles of boys and a few girls. It is interesting that Pez International seems to have produced far more Smart boys than Smart girls and the girls are much more common on the pink stem, at least in the initial shipments. These are great as graduation presents as the Smart boys and girls are wearing a mortar board graduation cap!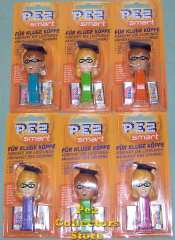 The University of Hawaii Football is available now in the Pez Collectors Store. The Warriors logo is the unique letter H and this exclusive football pez is sold only through the University of Hawaii, but we ordered plenty so our customers can get one now!
Rapunzel is the newest Disney Princess addition. Rapunzel is from the Disney movie Tangled and her long blond locks really stand out on this new pez dispenser!
Disney Cars 2 with Announcer Mater, Finn McMissile and revised Lightning McQueen are available now in the Pez Collectors Store.
Price Chopper Haulers arrived as well. The Price Chopper logo is on the side of the truck in a background of fresh apples. This new promotional advertising pez truck is from the Price Chopper grocery stores on the east coast, so we purchased quantities to have them available for our customers across the USA and all over the world!

The newest LaSpina price guide for 2011 has been released and it includes the new releases, along with updated pricing information and a handy check box format so you can keep track of the pez you have. This is the 22nd edition of the price guide!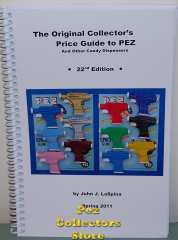 The 2011 Kansas City PezHead Gathering was just Ducky! We had a wonderful time! Extra Gathering Goodies – bags, candy packs, charity pin, registration pin, attendance pin, shot glass and Ducky Dispensers are available in the Pez Collectors Store for those who could not attend.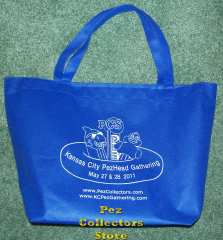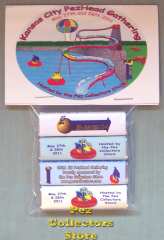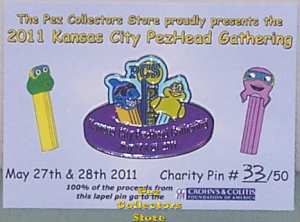 We have a few photos from the gathering posted in the PCS Photo Gallery section of the website. 
While we were busy hosting the gathering, the 2011 Sweets and Snacks Expo was going on. The new presidents set, KISS dispenser gift set, and new Muppets with a revised Miss Piggy, Kermit and Animal were on display!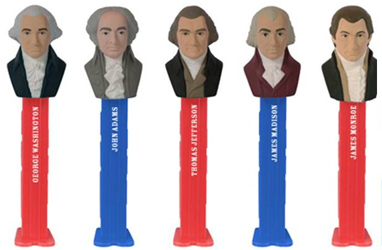 PEZ had a little game on Facebook where Jumpy Jack the grasshopper needed a bit of assistance in meeting up with the love of his life, Lady Marie the ladybug. Suggestions for an opening, introductory line, ideas for a wonderful first date, and a pet name for Lady Marie were solicited and our entry was chosen the first week by random drawing. Our suggested 'pick-up' line was:
Sweet Lady Marie,
Is the girl for me!
I'm a Jumping Jack
And PEZ I don't lack,
But I am incomplete
Until the day we meet.
The last round was for a pet name and we suggested Lady Glitterbug which received the third most votes, but I guess since we had already been chosen for a prize in round one, we did not win a crystal lady bug in round three.  A Swarovski crystal ladybug would have been nice, but the tin of 400 European candies was pretty awesome! It is so much fun being a pez collector!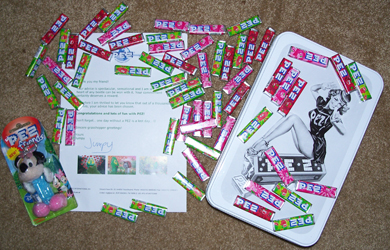 The collectors gift set scheduled for 2012 is supposed to be in honor of the 25th Anniversary of the Star Trek The Next Generation and we expect this to be a great gift set. It is rumored to include the Starship Enterprise, Captain Jean-Luc Picard, William Riker, Geordi La Forge, Deanna Troi, Data, and Worf. We will have to wait until 2012 to know more, but it is always nice to think ahead!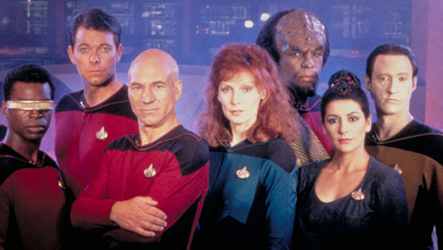 The 19th Annual National Pez Convention in St. Louis, Missouri is June 16 – 18 - just a few weeks away! This convention is always a lot of fun and we look forward to seeing you there!
That is all the news we have for now.
Happy Pezzing!
Chris Jordan