June 2010 Newsletter
June 2010 Pez Collectors Store Newsletter
Wow, May sure flew by fast! Perhaps it seems so because so many great things were happening in the pez world. For us, the 2010 Kansas City PezHead Gathering was the highlight but lots of new pez items arrived during May and there are more to come for June.
Jessie, Hamm and Slinky Dog from Toy Story have arrived in the Pez Collectors Store and the set looks great!
The Original Collector's Price Guide to Pez, 2010, 21st edition by John LaSpina is available now and there were quite a few new dispensers added and some price changes for vintage pieces that you will want to make note of. Be sure to add one to your next order!
We love the new PEZ COLLECTORS Ln Street signs that were just added. These cute 12 x 3 inch metal signs are perfect for our place and probably for yours as well!

The Pez Girl and Boy Pez Luggage Tags are now back in stock – just in time to mark your bags before summer travels. Whether you're heading to a Pez Convention or traveling anywhere, these luggage tags will make your bag stand out in the crowd!
The Hello Kitty Plush Pez and the new Hello Kitty Gift Tin Lunch Boxes are shipping to us now and should arrive within the next day or two. These are really cute looking and a must have for Pez Collectors or Hello Kitty fans!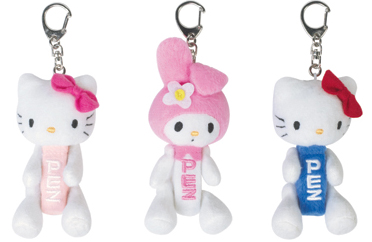 The Kansas City PezHead Gathering took place May 28 and 29th and it was a blast! We really love getting to meet customers for the first time and getting to see our long time friends once again! This year, we had 63 registered guests and approximately 50 walk-ins for the gathering and the Pez Show. Oregon, New York, Florida, Kansas, Colorado, Iowa, Oklahoma, Texas, Minnesota, Indiana, Illinois and Missouri were all represented at the gathering, so we literally had folks from across the country in attendance. What great fun it was. Room Hopping got busy Friday afternoon as people checked into the hotel. The pez swap and video showing of Maryann Kennedy's seminar was well attended, and was a nice opportunity for people to chat and catch up with others. Dealers were busy in their rooms and there was a good deal of traffic through the halls on Friday night.
Saturday morning came early for dealers and the hotel had a great breakfast buffet (free for those who had rooms at the hotel) so that when the doors to the Pez Show opened at 9:00 everyone was well fed and in great spirits. The room quickly filled with shoppers and filled even more throughout the day as local pez collectors came to join us. Two local TV stations came and filmed. I have heard reports that the footage was shown, but I haven't seen it yet. Folks were still shopping at 12:30 until the lunch buffet bell sounded.
The BBQ brisket and BBQ Ribs were good, along with some of the best rolls anywhere! Plenty of cole slaw, potato salad, beans and apple pie! There was plenty of food so no one went hungry!
Frances Evans won the Lunch time Door Prize and claims that she never wins – well, she can't say that again now! I think the full bellies may have had our guests snoozing during the Charity Auction that featured guest Auctioneer John COOLPEZMAN Devlin with his lovely wife Marian doing the 'Vanna White' showing. There were some fabulous pins, mugs, shirts, paintings, pez display, candy pack display, very hard to find dispensers, and even a Doc Hudson car signed by Ben Bailey from Cash Cab! The auction went quickly and people got some really great deals! The money raised will go to the Crohn's and Colitis Foundation of America and I know they will appreciate every penny. Thanks so much to those who bid and those who donated items to our charity auction!
Pezzy games were great fun. Pez Memory (a concentration/memory card game) played down to the final 4 with Dan Howard winning 4th, Madison Peth in third, Angie Peth in second and CindyLu Hunt in first place! It had to have been tough playing that many rounds – I bet they were seeing pez cards in their dreams that night!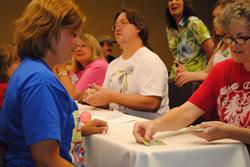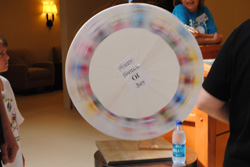 Those who didn't continue on in the Pez Memory game went to play the Pezzy Dance of Joy, moving to the Pez Song, Weird Al's eBay song and the Juliette Dagger Saturday Morning song. I joined briefly for a bit of dancing, and I had a great time. The spinning Pezzy Dance of Joy wheel produced 8 winners and I heard from the hotel staff that they thought it was a fun thing to do in their lobby!
Bingo finished our games with the first regular game won by Gunilla Mason and our second regular game won by Mike Catron. As we moved into the third Bingo game, one poor bingo player had not had a single number on his card called during either game one or game two! Guess who won the blackout Bingo? I think our winner, Bob Finin, was just saving up his ink for the great win.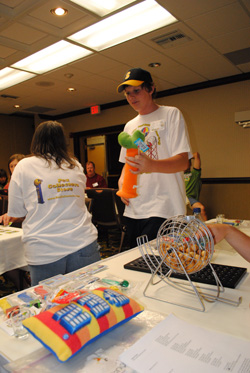 There were tons of other door prize winners as well. I think a good time was had by all. More pictures can be seen soon in the Pez Collectors Store Photo Gallery!
We have some remaining goodies from the gathering still available – Registration Pins, Attendance Pins, Candy Pack Sets, Shot Glasses, Crohn's and Colitis Foundation Charity Pins and 2010 Kansas City PezHead Gathering dispensers can be found in the Pez Collectors Store, so even if you missed out on attending this year, you can still get some of the souveniers!
The Annual National Pez Convention is now just a few weeks away June 17 -19 at the Marriott West hotel in Maryville, Missouri – just outside of St. Louis! We hope to see you there! Check it out at www.pezconvention.com!
That's all for this month!
Happy Pezzing,
Chris Jordan
www.pezcollectors.com
www.kcpezgathering.com