July 2018 PCS Newsletter
Summer is heating up and so are the new pez releases! There were several new sets added this past month, more are coming this month and next month, too! We have a few updates to information about the 2019 pez lineup plan and information about upcoming pez conventions in the USA! It is a great time to be a pez collector with all the fun new pez and lots of pez events!
Nothing says summer fun like pink flamingos and the Flamingo Pez are in stock now! These are the same Flamingo pez dispensers released in Europe, though they come on USA cards with new design orange, lemon and strawberry candy packs instead of coconut flavored candy. They are a limited, one time production which is already sold out, so when they are gone, we won't be able to get more. Available now mint on card or loose to save on shipping!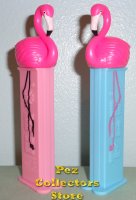 The European Despicable Me 3 Summer Mix Minion Pez assortment includes a new Dave on a pink stem with a screaming mouth, Stuart on a light blue stem with an open eye and lopsided smile and Jerry on an orange stem. The expression and features for Dave and Stuart are completely different than previous releases and all three are on different colored stems than previous releases. These come with Universal Studios stickers to decorate the stems. These new minion pez are in stock now in the Pez Collectors Store!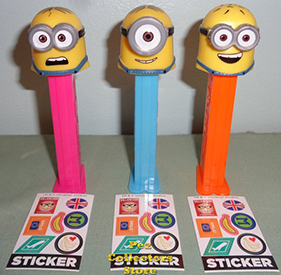 The Jurassic World Click and Play Pez in the gift tin are in stock now. Inside the gift tin are the 4 click and play pez dispensers with twist off tops which can be used as the pawns for the Jurassic World game included in the tin. The spinner for the game is in the back of the tin and there are also 6 packs of sourz blue raspberry flavored pez candies. For those who prefer to save on shipping costs or who also want to display the pez, we offer the pez loose as well as in the gift tin.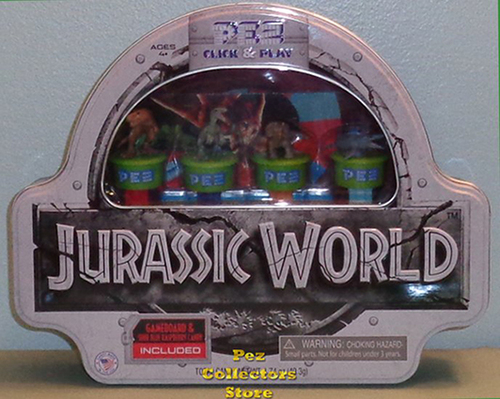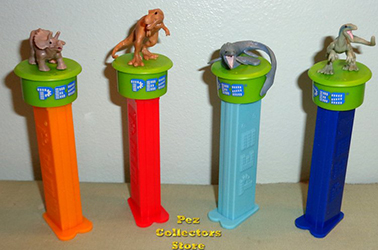 Ant man is in stock now, joining Black Panther and the rest of the Marvel Super Heroes pez.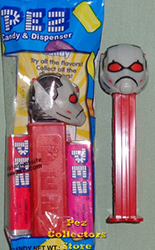 The soccer ball on a green stem is now available in the Pez Collectors Store. This is a part of the sports set and the printing of the Pez logo and the soccer ball markings are different than previously released soccer balls that came on blue stems. The PEZ logo is not in a white oval as the previous European versions were, so the black pentagon shape beneath the PEZ logo is completely visible on this USA Soccer ball version. It comes mint in bag with pez candies!
European PJ Masks pez have arrived from Europe. The Catboy, Owlette and Gekko pez have great texture detail on the masks. Who knew kids in pajamas could have so many adventures! The set is currently a European release, though in 7 months in February, 2019, it will be released as a tripack boxed set in the USA. The European set comes loose and ready to display and is available now in the Pez Collectors Store.
Rocky and Rubble have joined the European Paw Patrol assortment. Rocky is a mixed breed Eco Pup that is careful to recycle and reuse and Rubble is a construction worker English Bulldog pup. The pair is cute as can be and a great addition to the Adventure Bay Paw Patrol team. There are plans for Rubble to be added to the Paw Patrol assortment in the USA 8 months from now, in March, 2019, and no currently announced plans for Rocky to be added, but the pair of European Paw Patrol pups are available now in the Pez Collectors Store!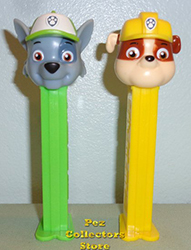 Brush Buddies Pez Emoji and Peppa Pig Toothbrushes are back in stock now. Remove the head and push the button on the pez stem, then a toothbrush pops out! We have a small number of sets of these great PEZ licensed toothbrushes available now!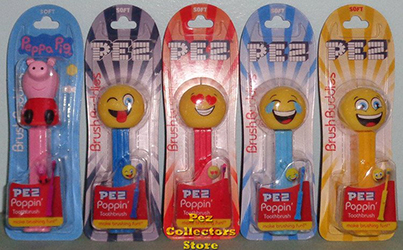 In addition, Thomas the Train Pez Brush Buddies Toothbrush will be available later this month and it is a great addition to the set.

Poop Emoji Pez twin packs are supposed to begin shipping from Pez beginning July 1. The set includes Brown Poop and Rainbow Poop dispensers and they come in the emoji twin pack boxes.
There is also a new emoji twin pack set with crystal LOLing and crystal Happy emoji pez. These twin packs feature the same emoji graphics as the poop twin pack and crystal angel and devilish twin pack.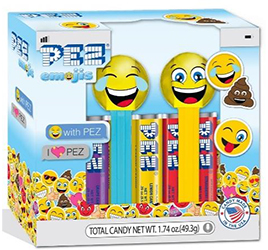 European Miraculous are shipping to us now! Cat Noir and Ladybug are only European releases – not scheduled to be available in the USA. We will have them in the Pez Collectors Store very soon!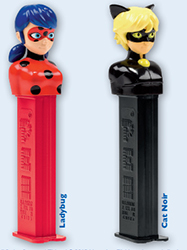 We have a bit more information about a few of the pez planned for 2019. Toy Story 4 will be coming in June, 2019 and the assortment will bring back Buzz Lightyear and Woody who will be joined by Bo Peep! These will be available as singles and will also be available in a twin pack with Buzz and Bo Peep and with Woody and Bo Peep.
We have been told that the Frozen 2 assortment coming September 15, 2019 will include an updated Elsa, updated Anna and a new Sven along with Olaf. Twin packs will be released at the same time and will include Anna with a mini Olaf, and Elsa with a mini Olaf. Additionally, a gift tin will be released that will include the new updated Elsa, updated Anna, Sven and an exclusive Kristoff!
We have seen a sneak preview of the dispensers for the 12 Days of Christmas gift set in a German video interview of Gabriele Hofinger, a pez international employee working on new designs. The screenshot from the interview shows the 12 crystal balls, each with a number (1 – 12) and a picture of the corresponding gift from the song the Twelve Days of Christmas. In this screen shot, the dispensers seem to be on full size stems, but it is believed that they will actually come on mini stems and can be hung on a Christmas tree as ornaments. Like other Christmas Pez, these should come with Sugar Cookie Pez candies. These will be coming out next year on September 1, 2019.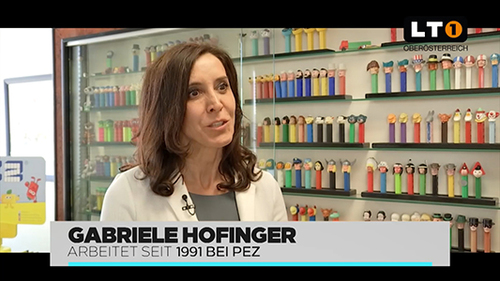 It is the time of year for lots of conventions across the USA. There is one or more a month through November and we will be attending as many as possible! Every convention has its own 'flavor' and special qualities that make it unique and special! I am often asked which is my favorite, and it is impossible to pick because each one has its own charm.
The biggest pez event of the year in the USA will take place in Cleveland Ohio July 26 – 28 at Pezamania 28. As always, Rick and Sue have plenty planned for us from seminars to carnival games, room hopping to Friday game night and Saturday's Show. This convention has the largest attendance and pez will be everywhere! Plenty of collectors will be ready to participate in Swag Swapping, trading their own unique memento for one that you have created to represent yourself! The 2018 PezHead of the Year will be announced and there will be lots of opportunities to support the Gliding Stars Charity. Peace Love and Pez is the theme and it is going to be far out! If you haven't registered yet, do it now!
August 16 – 18 is the 3rd Michigan Pez Convention in Livonia, MI and the hosts have plenty planned to keep you moving from one activity or game to the next, from getting your pint glass at check-in through the show on Saturday and beyond! There are generous happy hour free snacks and drinks provided by the hotel each evening. The convention is like one giant party with an after party on Saturday night. Be sure to get registered if you haven't already!
September 13 – 15 is the 4th Sin City Pez Convention in Las Vegas and it is a lot of fun. There is a great balance between room hopping and planned activities including contests, Pizza and Family Feud night, seminars, Friday night Bingo games, a Saturday Pez ballroom show. Plus, it's Vegas and there is never any lack of things to do in Vegas!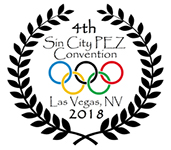 October 11 – 13 is the 5th Pez on the River Convention in Winona, MN. The theme is Family Reunion and this is a wonderful description of the atmosphere of this convention! It's not too big and it's not too small – it's just right! A wonderful opportunity to have time to catch up with your pez friends who are like family! The hosts have planned plenty of time for room hopping and social gathering times for a cookout, a seminar, scavenger hunt, Friday night games and a ballroom Pez Show on Saturday.

Pezylvania IX will also be on October 13. This is a one day event held at Renninger's Antiques and Farmers Market in Kutztown, PA. The day is packed with activities and lots of dealer tables!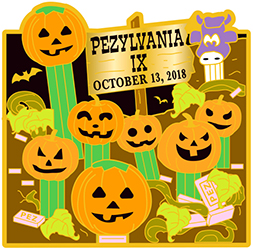 Pez in the Sun is coming back October 30 – November 3, 2018 in Myrtle Beach, SC. Room hopping galore, a Halloween Costume Contest, Mini Golf tournament and PEZ car drag races, all at the oceanfront hotel!
We look forward to seeing you at one or more of these conventions!
That is all the news for now. Wishing everyone a safe and happy 4th of July! Happy Pezzing!
All the best,
Chris Jordan
www.pezcollectors.com