July 2017 Newsletter
It has been an exciting month with new releases, some surprise promotional pez, and pez variations showing up. Some really awesome pez accessories are available, too!
The Transformer and My Little Pony Pez Connectibles have arrived in the Pez Collectors Store. The connectible pieces transform the pez dispensers into full action figures.
Halloween Pez are available now and the new assortment includes the Mummy B pez. We have this in stock now and he is a fabulous new dispenser!
The Ohio State Football with solid lettering is a new variation for the Ohio State Football. We now have all 3 different footballs in stock in the Pez Collectors Store!

We added a new twin pack that has the Batman v. Superman pair. This twin pack packaging is something that PEZ Co. really seems to be promoting and they do make for nice displays!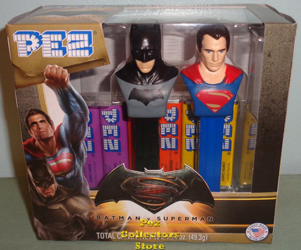 The Purple Hair Branch Troll pez is a variation. The first ones released had bright royal blue hair and blue noses, but there was a change and they now have purple hair and purple noses. This color change really gives Branch a whole new look!
Pez Co. made some special limited double cards. There are 3 versions – Secret Life of Pets with Duke and Max, Marvel with Ironman and Spiderman, and Emojis with LOLing and Silly pez. These double cards come with 4 rolls of Pez candies and they look great! We have just a few in stock now in the Pez Collectors Store, but we will be getting more in just a few weeks.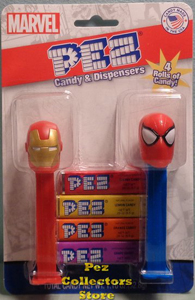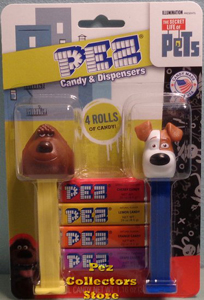 A new green stem European version of SpongeBob is now available. This SpongeBob is half dressed – clothes are printed only on the front of the head and not on the sides. The green stem is a new variation and he looks pretty good in green! We have them in the Pez Collectors Store now!

Austria has produced 4 new I LOVE AUSTRIA and I Love Vienna pez pucks, currently available in the Vienna Airport gift shops. The set of 4 comes mint on card with European candies and we have just a few sets for now, though we have more ordered and hope to get a second shipment soon.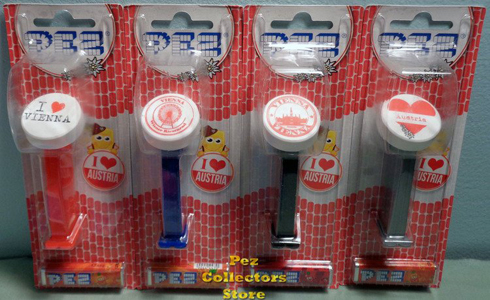 PEZ Candy pack thumbdrives are an awesome way to keep track of your collection database or spreadsheet. This 4GB USB memory stick is the perfect place to keep copies of your pez photos and all the information about your collection!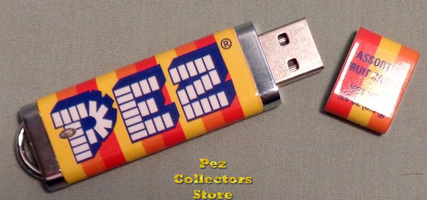 We were quite fortunate to get a few extra 2017 Northeast Pez Convention dispensers on awesome light blue translucent stems. Only 75 were made! These are printed on the sides of the translucent blue stem with rocket ships and stars, on the front of the stem it says NE PEZCON 2017, and the ball has the NE PEZ Convention world logo. These come mint in bag with the header card and they are really out of this world!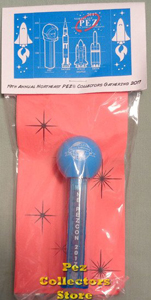 We added a few of the Pez Candy brick design eyeglass cases from A&A Optical. These fun cases are lined with a soft felt to protect your eyeglasses and they make a great addition to your pez collection! Available in blue, yellow, purple and red, and we have only a few of each!
We have added more of the Hello Kitty Rainbow Lunchbox tin with Crystal Hello Kitty Pez. These are super cute!
A new exclusive Karl's Strawberry Mascot Pez named Karlchen has been released for Karl's, a company in Germany that began in 1921 as a farm producing fresh fruits and vegetables, with strawberries being their specialty. People enjoyed visiting the farm and this grew into a theme park concept with 7 different locations throughout Germany. The pez dispenser is the strawberry mascot for Karl's. These are shipping to us now and will be in stock soon!

The Boy Scouts of America Councils often produce patches that they trade at the National Jamboree and this year, the Connecticut Yankee Council designed a fabulous patch set featuring PEZ. As a recipient of the Silver Beaver Award, the BSA organization is near and dear to my heart, so I couldn't be happier that this set is available! The center octagonal patch is 12 inches across and there are 8 smaller Council Shoulder Patches each featuring a different Pez. Additionally, there is an Order of the Arrow patch with a pilgrim pez. The second, bottom half of the Order of the Arrow patch set will not be available to anyone prior to the Jamboree in July, but we are showing a picture of it so you will know what to be watching for. These are wonderfully done, fully embroidered patches and would make a fabulous centerpiece for a pez patch blanket or pillow, or for framing as a full set! We have a couple of extra sets available now in the Pez Collectors Store!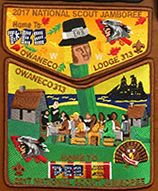 How awesome are these? These Men's PEZ crew socks are a must have for collectors! We have a few pairs in stock now! Who will wear them better?
Ace Hardware has a variation on the 2014 Paint Bucket truck. It looks like a second run was done in which the smoke stacks are unpainted, the headlights are not painted white over the silver of the grill, so they are still silver, and the blue PEZ logo on the back of the truck is missing completely. This style of unpainted headlights and smoke stacks and not printing PEZ on the back of the truck started in 2015 with the Wawa Christmas train hauler and has been the way promo trucks are done since then. It is too bad that Ace didn't go for a new logo on the side when they had more trucks made! We are trying to get these in stock, but so far, the warehouse that ships to our area has only the original 2014 versions available.
Pez produced a new promotional hauler truck for Old Dominion truck lines. Unfortunately, at this time, Old Dominion is not selling them outside the company. We are hoping this will change and if it does, we will be sure to get them in stock!

We have had a few questions regarding the information for 2018 Easter pez from our last month's newsletter. We told you about the new Easter Egg with the Easter Basket which will be new in tubes in 2018, but we didn't mention the Tan Floppy Ear Bunny on a full size pink stem (previously available only on a mini stem in the Easter Eggs) or the Mr. Bunny E on a purple stem. These are not shown on the ad sheets as being "New" for 2018 and we needed to verify that they will be released for Easter 2018. We have now confirmed that they will be included in the assortments for 2018!
M2 Machines Pez Haulers have been appearing in various Walmart stores and apparently 7800 of them were produced in the regular versions with black tires. They also produced some 'Chase' versions with blue, red, and yellow tires that match the color of the trucks and these are extremely limited with 500 each of the yellow and blue trucks and 168 red trucks world wide. So far, we have not been successful in finding any of them, but things are often slow to make their way to our area. We will try to get a few regular sets if possible for those who are unable to find them in stores.
We have added a new candy collectible in the Pez Collectors Store. The Pop Ups were displayed at Pezamania last year and they have really added to the line for this great product. Pop Ups hold Chupa Chups lollipops. You push a button to open the holder and expose the lollipop, then release the button to close the holder and keep your lollipop nice and clean. These come in many different designs with favorite kids characters. Check out all the different Pop Ups available now in the Pez Collectors Store!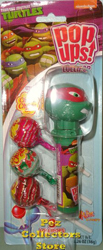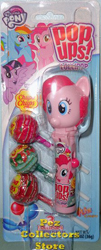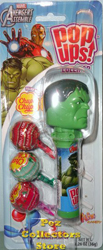 Convention season is upon us and we will all be celebrating Christmas in July at Pezamania this year! For those of you that have not registered yet time is starting to run late and the cutoff date to make sure of a correct T-shirt size is July 11th. Rick and Sue have lots of great things planned for our entertainment and the attendance for the largest pez convention is going to be outstanding! Don't forget your UGLY Christmas in July Shirt or sweater! It is not too late to register - www.pezamania.com has everything you need to know!

Collector Brian Jaskolski has started a Swag Swap this year. Collectors are encouraged to create their own unique items – patches, pins, stickers, postcards, candy packs, or any fan made pez related items, which can then be swapped for another person's swag. These items are not to be sold, only traded for other people's swag. Brian has also created a button that will be available in the registration room, in our room, and a few other dealer's rooms, which you can wear to identify yourself as a participant in the Swag Swap. Imagine coming home from the convention with a ton of different collector created swag that you have swapped your swag for! What a fun additional activity for the Pezamania convention! We can't wait to see you in Cleveland and swap swag! We are hoping this will become a regular convention activity for all conventions! Here is our Swag Swap Patch!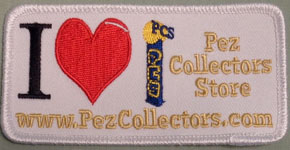 August 24 – 26 is the date for the Michigan Pez Convention! I know that Jim Blaine has gone all out in planning this convention and it is sure to be a blast! Be sure to get your registration in and we will see you there! Check out www.mipezcon.com for all the details!
September 14 – 16 is the 3rd Sin City Pez Convention in Las Vegas. Jill and Dan are excellent hosts and this convention is a real winner! Register now at sincitypez.weebly.com so you can get in on all the fun!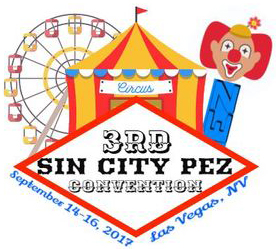 Sadly, I have now confirmed with the hosts that the Steel City Pez Gathering will not be taking place in September.
October 12 – 14 is the 4th Annual Pez on the River convention in Winona, MN. Sandy and Cheryl are enjoying their Best Catch theme and your job is to create a Best Catch Theme pez creation! It will be so much fun to see everyone's idea of Best Catch! Get your registration in now for this great convention - www.pezontheriver.com

October 21 is the Pezylvania VIII Pez Gathering in Kutztown, PA at the Renninger's Antiques and Farmer's Market. They have lots of activities including games, raffles, a silent auction, a costume contest, and of course, lots of pez for sale at dealer tables! Visit www.pezylvania.com for all the details.
Scott Karsner will be hosting the Maryland Pez Gathering in Arnold, MD on November 11, 2017. Knowing Scott, this gathering is bound to be a blast. Details can be found on facebook on the Maryland Pez Gathering group page.
That is all the news this month - we look forward to seeing you at a convention soon!
Happy Pezzing!
All the best,
Chris Jordan
www.pezcollectors.com