July 2016 Newsletter
This month, we have a couple of new pez available in the Pez Collectors Store, a new packaging that came as a bit of a surprise, and a new answer to the question of when does a PEZ dispenser something that isn't a PEZ? There are even new pez with a tongue hanging out like Mick Jagger, and a whole host of Pez conventions and gatherings coming up!
The Saatchi Gallery in London, UK is featuring the Rolling Stones Exhibitionism exhibit and the gift shop has pez dispensers to commemorate the event. These are an exclusive promotional pez made for this gallery exhibit only. These dispensers have the Rolling Stones tongue and lips logo on a black puck atop a pink, a black or a blue stem, printed with the word EXHIBITIONISM. The Rolling Stones Exhibitionism promotional pez set come mint on cards with the Rolling Stones logo with European pez candies! For those who can't make it to London, or who don't want to pay the £26.00 admission cost (plus booking fee) which is required before anyone can visit the gift shop, we have added the Rolling Stones Exclusive dispensers to the Pez Collectors Store!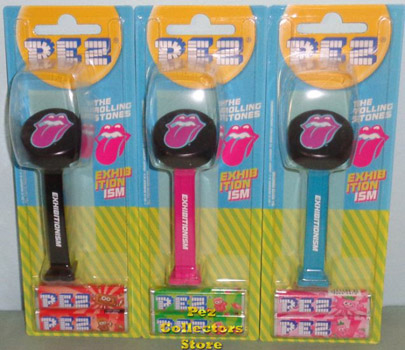 The Secret Life of Pets Pez have been added to our website. The Secret Life of Pets Pez assortment includes Chloe, the overweight tabby cat, Max the Jack Russell Terrier dog, Duke the big mongrel Newfoundland dog, and Snowball the white rabbit. This Universal Studios, Illumination Entertainment licensed pez set is based on the characters in the movie scheduled for release in the USA July 8, 2016. The set of 4 come mint in bag with pez candies!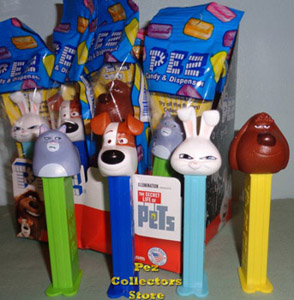 The newest promotional pez is coming soon to the Pez Collectors Store. Ben Pakulski is a professional body builder and he is the first of several body builders to have their likeness added to a Pez dispenser. The unusual thing about this promotional pez is that it is packaged with Scitec Nutrition BCAA Chews instead of PEZ candies. BCAA Chews are branched chain amino acid (Leucine, Isoleucine and Valine) supplements taken by body builders and athletes who want to promote protein synthesis and muscle growth. Hey, if eating these is all I have to do to get ripped, sign me up for the BCAA chews and I will eat them from the Pak-Man's pez dispenser! These should be arriving soon and there are rumors that Cedric McMillan is the next bodybuilder promoting Scitec Nutrition that will grace a pez dispenser. We will work on getting that one in stock, too, if it is released!

Dory and Nemo from the Finding Dory pez assortment are being released in a new twin pack packaging. The Nemo and Dory are the same dispensers as those released in the USA on card and in polybag. The Finding Dory Twin Pack boxed sets will be available soon in the Pez Collectors Store!
The twin pack joins the previously released USA Finding Dory set of 3 with the colored translucent/clear/transparent stems which are available mint in bag.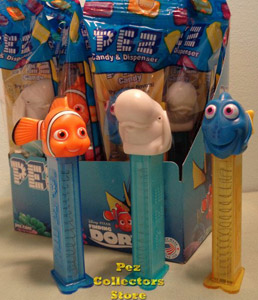 There is also the Finding Dory fishbowl pez set of 3 which are all on translucent/clear/transparent aqua blue colored stems.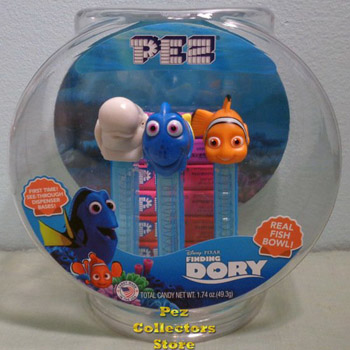 The European Finding Dory pez set includes Hank the Octopus and all the dispensers are on opaque, non-see through stems. With this many different options available, there should be no problem Finding Dory!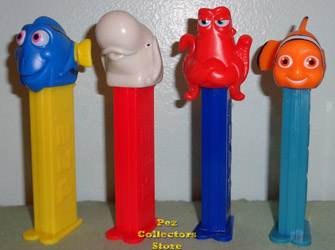 Of course, the Finding Dory pez look different than the original Finding Nemo Pez which included Dory with different colored spots and eyes, Nemo with different eyes and Bruce the Shark.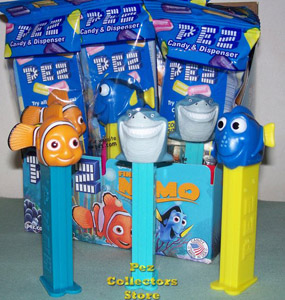 The next scheduled USA pez release is the Transformers Robots in Disguise set due out in August. For those who don't want to wait, they were already released in Europe and are available now in the Pez Collectors Store.
There are no new pez scheduled for release in July, but the largest pez convention worldwide is scheduled for the last week of July, so there is plenty to look forward to if you are attending Pezamania! The 26th Pezamania extravaganza is going to be huge and we are looking forward to seeing everyone there! We will try to bring plenty of all the newest releases from the USA and abroad, plus some vintage, PCS shoes, grandstand and wall displays, and cylinder displays so you will have a chance to catch up on what you might have missed!

For those who are planning to attend the Turkey Pez Gathering in Istanbul, we hope that recent events will not prevent you from having a great time on July 10! The Norwegian gathering is July 14 – 17 and we hope everyone enjoys the event!
There are 3 different pez events scheduled for August – the Dairyville Pez Gathering by invitation will be August 12 – 13 and we are looking forward to seeing many of you there!
The first UK Pez Gathering will be August 20 from 11 am – 4 pm and will be held at The Garage in Norwich. Information can be found at www.pezheads.co.uk
The first Michigan Pez Gathering will be August 25 – 28 at the Embassy Suites in Troy, MI. For more information, visit MIPEZCON.com.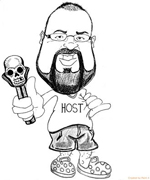 Then, the 2nd Sin City Pez Gathering is September 8 – 10 and registration prices for this gathering will go up after August 25, so hurry to get registered for this gathering in Las Vegas, NV! More information can be found at http://sincitypez.weebly.com/
That's all for now! Until next month, Happy Pezzing!
All the best,
Chris Jordan
www.pezcollectors.com