July 2015 Newsletter
It has been fairly quiet in the Pez world this month, but there is a new release coming out this month and another scheduled for next month, so we won't have to go without pez! The Pezamania Pez Convention is this month and there will be several Pez Gatherings in the months to follow. We wanted to take this opportunity during the lull in pez releases to introduce you to another great candy collectible that has really taken off in the past couple of years - Radz!
Transformer pez are due to be released this month and should begin shipping from Pez Candy any day! We expect our order to arrive soon! Optimus Prime, Megatron, and Bumblebee will be awesome!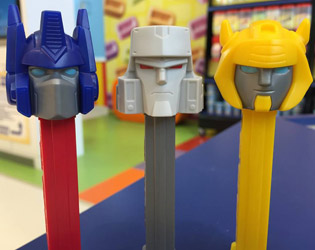 The 65th Anniversary Limited Edition Peanuts Pez boxed set is scheduled for release in August. The set features Snoopy, Lucy, Charlie and Woodstock in a box shaped like Snoopy's dog house. Lucy comes on a blue stem, Charlie comes on a red stem while Snoopy is on white and Woodstock is on yellow. These will likely have the Peanuts Worldwide LLC copyright. It is too bad that we don't get to see any of the other great characters from the Peanuts Gang immortalized on pez dispensers, but this will still be a welcome addition!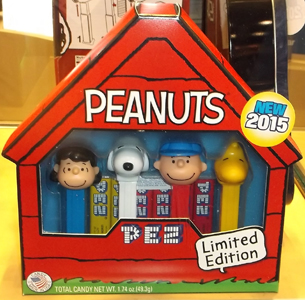 It looks like the same dispensers will be released on cards in Europe.
These two new assortments will tide us over until the major releases come out in September and I know we are all looking forward to the Crystal Star Wars gift tin and the Harry Potter gift set that will be released!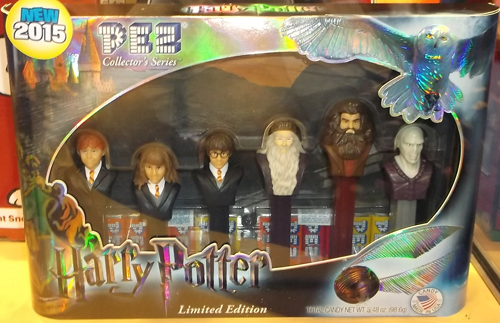 For general distribution, Europe and Asia do not have any pez at this time that we do not also have in the USA. However, according to Pez International, limited quantities of the three additional Emoticons have been shipped to Australia. We have not gotten word that they are available yet, and if they are limited, we may not be able to get significant quantities, but we will try!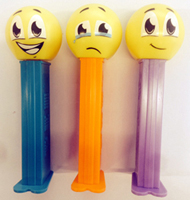 The Annual National Pez Convention in St. Louis was greatly missed this year, but we are really looking forward to Pezamania 25! The attendance at this historic event will be phenomenal and we can't wait! If you have not booked yet, there is still time to plan to attend! We hope to see you all there!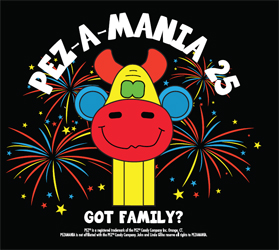 We will be having some random Flash Sales in the Pez Collectors Store at Pezamania during room hopping on Thursday and Friday. We will post signs with all the details throughout the hotel, so be sure to check them out and come by for some awesome deals!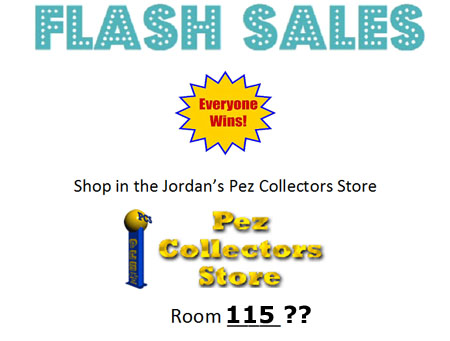 There are a few more pez gatherings scheduled for the months ahead, so it is time to plan for them. The first Sin City Pez Gathering will take place in Las Vegas September 17 – 19, 2015. It looks like they have plenty of activities planned and it should be a good time. Details can be found at http://sincitypez.weebly.com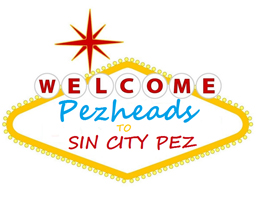 The following week, two gatherings will take place – the Pez on the River gathering will take place September 25 and 26, 2015 on an island in the middle of the river between Minnesota and Wisconsin at the Days Inn of Lacrosse, WI. This gathering was a great event last year and we are looking forward to attending again this year! More information can be found at www.pezontheriver.com

The Steel City Pez Gathering will be held September 26 at the Galeria at Pittsburgh Mills in Pittsburgh PA. This gathering has also been very popular and well attended, so you will have to choose between them. More information can be found on facebook on the Steel City Pez Gathering group page. Whatever your plans, the end of September looks like it will be a great time for Pez events!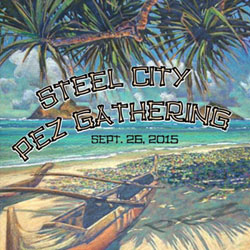 October 24 is the date set for the return of the Pezylvania Gathering. It will be hosted by Suzanne Robison at the Renningers Kutztown Farmers Market in Kutztown, PA. The details can be found on the Pezylvania VI facebook page.
That's all the news about Pez for now, but we wanted to share more information about another very popular candy collectible that has really taken off in the past couple of years! Radz is a cute ball shaped dispenser with a belt, keychain or lanyard clip. The dispenser is operated by sliding the hair or hat backwards to have the tongue pop out with a candy treat. There are now more than 250 different Radz dispensers – an indication that there are plenty to collect, but not so many that you can't possibly collect them all! Each dispenser comes with candy and a code for access to exclusive mobile and online games, videos and more at RadzWorld.com.
Just to make collecting a bit more fun, some of the Radz dispensers have a Born on Date stamped on their feet, indicating the year that dispenser was released. To make collecting a bit more challenging and fun, some Radz collections have a unique Radzmark stamped on 1 out of every 25 dispensers produced.
When the original dispenser came out in 2011 there were two sizes – the larger Radz and the smaller Bytz dispensers. The larger Radz have been discontinued though we still have some available in the Pez Collectors Store. The smaller dispensers are now just known as Radz. It is fun to see the evolution of this candy dispenser and how they have grown in just a few years!
We met with the Radz representatives at the 2015 Sweets and Snacks Expo and have ordered almost their complete line. These are just such cute collectibles and we hope you might enjoy them, too!
In the Everyday Series one, there are 10 different characters – Antic, Bubbs, Critter, Scorch, Alexis, MixMash, Turbo and Dabs plus Max and Twig which retired in 2014.

In the Gone Wild series, Bandit, Scratch, Spanky and Squeak represent wild animal species.

Sports Crazy Radz set includes Homer, Hoops, Jaxon and PK.

The Splash series includes Marino, Speedy, Finn and Tux – critters from the water world!
The Barnyard series includes Chops the lamb, Chuck the cow, DoodleDoo the rooster and Kevin the pig - great barnyard animals!

The Skate Grinder Series include Spitfire, Roskopp, Turtle Face, Flame Boy, World At Night and Monster Face. These Skateboard licenses are really awesome!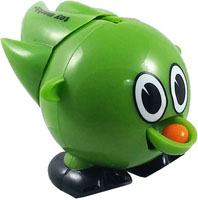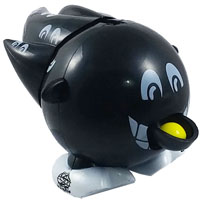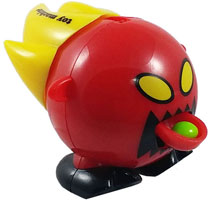 For the holidays, Jingles and Pep are in the winter holiday assortment, Beau is the Valentine's Bear and Blu and Raz are in the Easter assortment.

In addition to these great characters, Radz has done a fabulous job with getting licensing rights for all 30 of the Major League Baseball teams and there are 6 teams – Cardinals, Cubs, Mets, Phillies, Red Sox and Yankees that also have an away team version in addition to their at home version.





There are also NCAA College Football team dispensers – the Crazy Hair line includes Alabama, Arkansas, Auburn, Boise, BYU, Georgia, Illinois, Kansas, Kansas State, Kentucky, Michigan, Michigan State, Mississippi, Missouri, Nebraska, North Carolina, Ohio State, Oregon, Oregon State, Penn State, Texas A&M, Utah, Washington, Washington State, West Virginia and Wisconsin.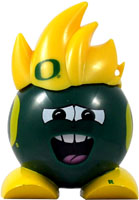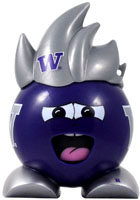 The Rally cap series includes Clemson, Florida, Florida State, LSU, Oklahoma State, South Carolina, and Tennessee. Yet another line is the College Reindeer series with Boise State, Oregon, Oregon State, Washington and Washington State.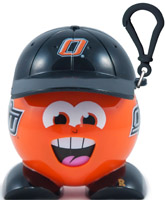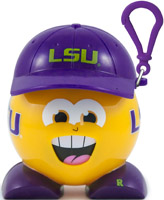 Coming out in about a month are the new Transformer Radz include Optimus Prime, Bumblebee, Grimlock and Underbite.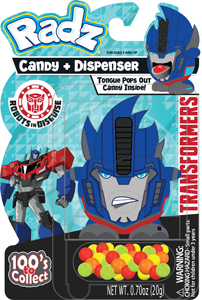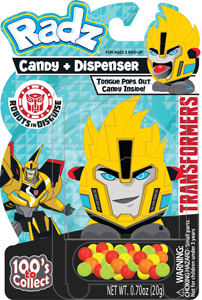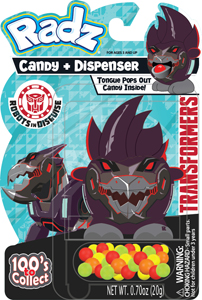 My Little Pony Radz are also due out in about a month and include Pinkie Pie, Twilight Sparkle, Rainbow Dash and Fluttershy.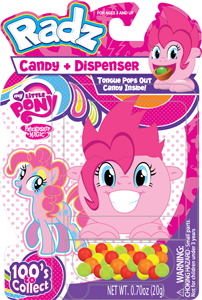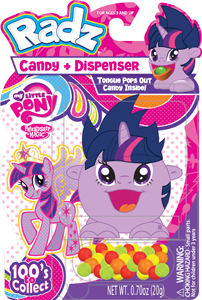 In October, the Gone Huntin' series will be available Bucky and Bambo.

In November, the Shopkins Radz series will be released with Snow Crush, Strawberry Kiss, Bubbles, and Lolli Poppins.
We have a few of the original Radz available now in the Pez Collectors Store. The original Radz, remember are a larger size and they have been discontinued. We also have a prototype set of Easter Bytz (the size that is now just called Radz).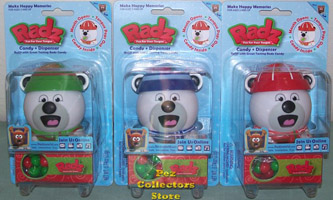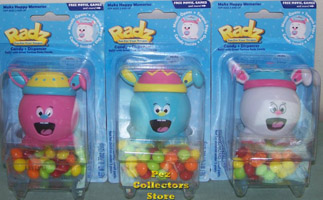 And, within a few weeks we will have all of the new ones, so check them out in the Other Candy Collectibles section!
That is all for now – we hope to see you in a few weeks in Cleveland Ohio at Pezamania! Happy Pezzing!
All the best,
Chris Jordan