July 2012 Newsletter
This past month there has been a flurry of activity in the Pez Collectors Store. We were fortunate enough to be contacted by an ex-employee of PEZ Candy who had many vintage pieces which we purchased. We also attended the St. Louis Annual National Pez Convention and acquired many many different striped halo carded pez. We have been adding this inventory to the Pez Collectors store as we get it photographed and descriptions written. Pez Co has released the Strawberry Shortcake pez as expected and there are more new pez coming quickly on the horizon! Last, but not least, a piece of history may have been found - a second Political Donkey may have surfaced!
The European Love and Friendship Pez Hearts with different sayings arrived early this month. These are more versatile than the Happy Valentine's Day sayings. Friends forever, Hug Me and I (Big Heart) You are a nice way to show how you feel about someone any time of year!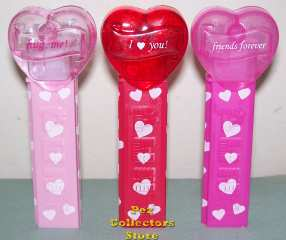 Strawberry Shortcake and her friends Lemon Meringue and Orange Blossom are now in stock in the Pez Collectors Store. These are not quite the same characters that I recall from the 1980s, but apparently they were reintroduced in a more modern, sleeker fashion in the early 2000's. Still, they look pretty good, even without the bonnets I remember.
For those who collect the Fun Fact inserts, we were astonished to find what we thought was a third series of Fun Fact inserts. The first series had the floating candies on the front while the second set featured a picture of the new Pez Visitor Center in the floating candies background. In the Strawberry Shortcake bags, we found another insert in which the coloration of the PEZ logo faded from pink to blue and the first letter of the Visitor Center was pink. We were assured that these inserts were misprints and that there is not a third set of Fun Facts to be collected.  Still, for those who collect these, here is a chance at an error version!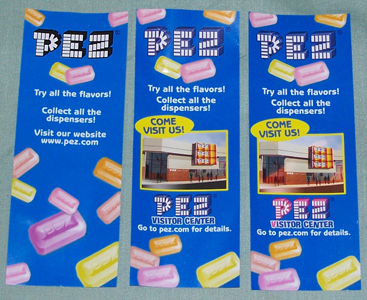 Hot Wheels Pull and Go Cars are scheduled to begin shipping from Pez Co in August. There are two different Hot Wheels cars – Twinduction and Fast Fish. Instead of attaching to the wheel base magnetically as the Disney Cars versions, these new pull and go cars have a new mechanical twist off attachment. These dispensers are sure to be a hit among pez collectors and Hot Wheels collectors alike!

The Annual National Pez Convention in St. Louis was a blast and it was good to see so many of our friends and customers! A seminar at the ANPC was presented by Mike Chadwick, a long time collector with an awesome dispenser collection and paper collection. It is hard not to drool when you see some of the dispensers he has and shared. He also shared old advertising inserts and sales sheets that provide a lot of documentation about the history of PEZ releases!
While room hopping at the convention, we met a collector who was selling off a huge collection of mint on Halo Striped carded pez. We were able to purchase a large number of these dispensers and are working our way through getting them added to the Pez Collectors Store. Some are vintage, no feet dispensers, some are quasi vintage 3.9 thin feet and still others are 4.9 retired pez dispensers. The easiest way to find these new additions is to do a search in the Pez Collectors Store for 'Halo'! Below are a few examples of some of the Halo cards we now have available, some in limited quantities!


We were also able to pick up some of the 2012 Jasper Charity Pez. This is a red crystal version of Naughty Neil and there were 100 of each printed for three major conventions in the USA – those for the Pezcific convention were printed in gold, those for St. Louis ANPC were printed in Black and those for Pez-a-mania were printed in silver. We have these available in the Pez Collectors Store.


We also have some of the 2012 St. Louis ANPC convention dispensers in yellow, purple and silver available now.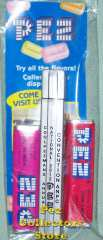 Upon returning from the convention this month, we were contacted by a daughter who's mother was an ex-employee of Pez Company. She had a number of old vintage pieces she and her mom wanted to sell and we were very pleased to purchase these wonderful pieces of pez history! Many of the dispensers went directly into my personal collection or the collections of my family while others are being listed as quickly as possible for sale in the Pez Collectors Store.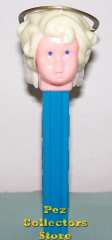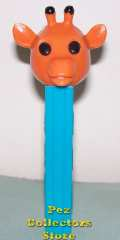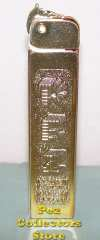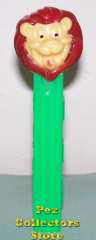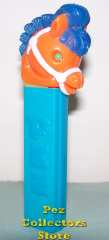 We also have a pristine, unused Personalized Pez Regular with gold foil in the original packing material and envelope, inside an original mailing box with the return address of PEZ-HAAS, Inc. 56-16 37th Avenue, Woodside, N. Y. 11377. Also printed on the box is Third Class Mail (anybody remember what that was?). These personalized regulars were mail-in premiums. There was a candy pack which had an offer  saying "Write Your Name in GOLD. Send for your own PEZ Personalized Candy Dispenser" and these were used to fulfill those orders.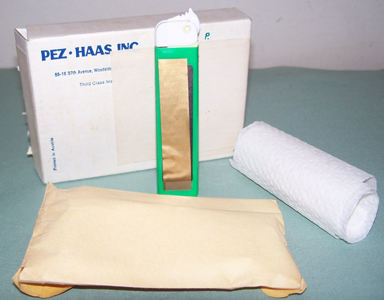 In answer to my questions about the mother's job at Pez Co and questions to learn more about the history of the pieces we purchased, the ex-employee's daughter told us, "I will have her write you an e-mail detailing about some of the different pez. I DO know that she worked in the customer service department and the newer pez are from random garage sales. Some of the really old stuff my mom saved because a guy named "Carl" told my mom and her co-worker Donna to throw everything out of a back room (old literature, brochures, pez etc) and my mom asked if she could keep some and he said he didn't care!! So those guns and things like that were headed to the trash!!" She also told me, "I can get details from my mom about the pez factory, I do know they were given dispensers as incentives (ex; Speedy Gonzales was given to her for being quick on a particular job." Personally, I find the history behind the dispensers as fascinating as the dispensers themselves. I will save those stories for next month!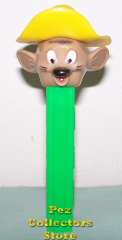 Next up is the22nd Pez-a-Mania Pez Convention in Cleveland, OH, June 19 - 21. Unfortunately we will not be able to attend this year but for those who can make it, it is sure to be a fabulous event! Information can be found at www.pezamania.com and John and Linda Gliha are great hosts that organize the largest, longest running pez convention!

We will be attending the 17th Minnesota Pez Convention in Bloomington, MN, August 2 – 4, 2012. This convention is now hosted by Chris and Leslie Sloan with some definite input from the wonderful previous hosts, Dana and Juli Kraft. The convention is just across the street from the Mall of America and there are tons of family attractions in the area, making it a great experience for the entire family as well as a pez collectors dream! We hope to see you there!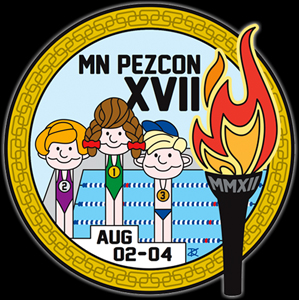 Oh, yes, the Political Donkey? We were contacted by Dan Wright who found a bag of pez when helping clean out his grandfather's house. His grandfather had done some business with PEZ Co, probably the 60's. In the bag was what certainly looks like a second Political Donkey! This is quite a historical piece and the only other one is currently in the PEZ offices in Linz, Austria! Dan tells us that he is planning to attend the Pez-a-Mania Pez Convention and then may attend the MNPezCon after that. He is considering selling the piece, but wants to move slowly before making any decisions on how to sell or to whom to sell! We will keep you posted by updating this newsletter on our website with any new information we receive regarding this fabulous pez!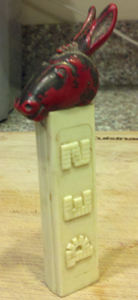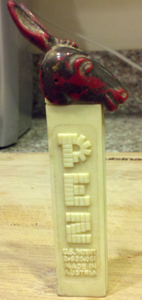 Until next month, Happy Pezzing!
All the best,
Chris Jordan
www.pezcollectors.com