July 2010 Newsletter
Pez Collectors Store July 2010 Newsletter
So much has been happening in the pez world with much anticipated new releases and a few surprises along the way. Pez Convention season is in full swing and there is lots of new information to share! The Pez Collectors Store is working hard to keep up and be sure to have all the newest pez available for you! A few new items have been added to the Pez Collectors Store this past month and more will be added just as soon as they are available!
The Geico Gecko is as elusive as the gecko in the wild! Geico Insurance Company had a promotional Gecko pez produced but how it is to be distributed seems to be questionable! Most business for Geico is done online, so there are relatively few agents. The thought was that agents would give out the Gecko Pez to those who got insurance quotes, but our experience has shown that very few agents are participating in this promotion.  We have been able to acquire a very limited number of this elusive Geico Gecko, but they probably won't last long!
Brigham Young University has a new logo and has a new NCAA Pez with that "Y" logo! These are another exclusive pez, so they cannot be ordered directly through Pez Candy. Again, we were able to obtain a supply to offer to our customers and they are available now in the Pez Collectors Store.
There is a new Chicagoland Raceway and a Phoenix International Speedway NASCAR helmet available in the NASCAR Helmet and Hauler mixes. The two new NASCAR racetrack helmets join Joey Logano in the mix along with all the older pez helmets.  Joey may be the last of the racecar drivers to be on NASCAR Helmets and there may be no more NASCAR Haulers produced. Pez Co states that it is too difficult to keep up with licensing the drivers as they change teams too frequently. The NASCAR track helmets will likely be what we see in the future! Unfortunately there are only a few per case, thus our supply of the new helmets is quite limited, so hurry and order now.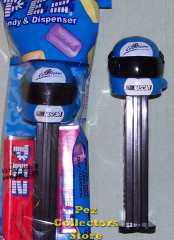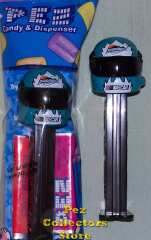 Promotional pez hauler trucks seem to be a big focus for Pez Candy and the GetGo gas stations have a revised hauler truck for 2010! This hauler is a red truck while the 2008 version was a blue truck. These are available on the generic rigs card instead of in polybag.
For those who collect Klik candy dispensers, a pair of World Cup Soccer dispensers is now available. The dispensers are white or red, making two different dispensers in the set.
The Pez Collectors Store was able to restock a few of the Wegmans Promotional Hauler truck pez which have been sold out for a while now. This Wegmans pez shows a roasted chicken on the side of the truck and this version is no longer in production. A new Wegmans truck is planned, but it will have tomatoes on the side of the truck, so be sure to get the first version while you can!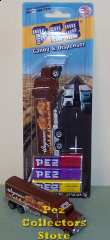 We were also able to restock a few of the Sparefroh Pez released for world savings day to customers of European banks. These have been difficult to obtain but we have a few more, mint on card, available now!

Our Hello Kitty Plush pez were great sellers and we sold out of the set of three very quickly, but we now have more back in stock, with more on the way. The 2010 Hello Kitty Gift lunch box tins are also available with a full body crystal Hello Kitty Pez and a whole new package design!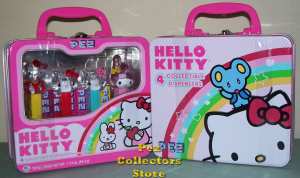 The Chuck E Cheese promotional pez will be coming soon to Chuck E Cheese locations. We will be trying to obtain these to add to the Pez Collectors Store just as soon as they are available.
A great deal of new information from Pez Candy was given at the 18th St. Louis Annual National Pez Convention. Pez employee Shawn Peterson attended the convention and gave a seminar in which he showed the expected releases for the remainder of 2010 and the anticipated releases for 2011! There are many new exciting pez in the lineup! We are going to have to make a lot more room for our pez displays to show all these new releases! The Pez Collectors Store may need to add a warehouse to keep them all in stock!
The Vampire is new for the Halloween set and we expect these to be available in August or September, 2010.

Snow White and the 7 Dwarfs Pez Gift sets and Thomas the Train gift set lunchbox tins are scheduled to begin shipping September 1, 2010 and this set will include Thomas, James, Henry and Gordon. In February, 2011, Toby, train #7 will be added to the polybag mixes which include Thomas, James and Percy. We are told that Henry (#3) and Gordon (#4) will only be available in the gift tin lunch box set.

The Arctic Babies plush pez have been retired and the new Christmas Plush pez for 2010 will include a penguin, polar bear, snowman and reindeer. These should begin shipping on September 1, 2010.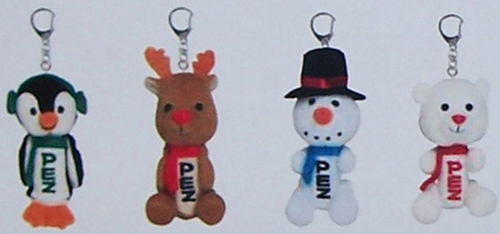 More sports pez are scheduled for release in Fall, 2010 – Syracuse, University of Connecticut and Kentucky will all have new collegiate NCAA basketball pez.
More Promotional Hauler trucks are scheduled for Fall, 2010 as well. Food Lion, WaWa and a new Wegmans truck will be released. These are exclusives, so we will be doing our best to track them down and have them available in the Pez Collectors Store when they are released!

Valentines for 2011 will include a new full body teddy bear which is adorable. There will also be two new plush valentines teddy bears and a revised Mickey and Minnie with hearts on the stems as well as Lightning McQueen and Sally with hearts on the stems, in the clamshell packaging as was seen for the Disney couples.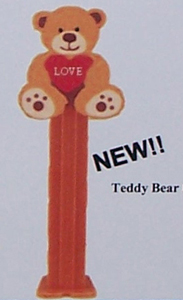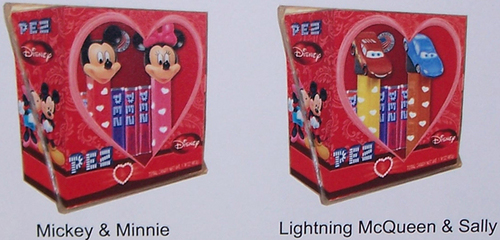 Looking ahead to more 2011 releases, major league baseballs will be back in the spring. We know there are plans for a revised logo for the St. Louis Cardinals, San Francisco Giants and Philadelphia Phanatics. We hope to have these available as soon as they begin being distributed by Pez Co.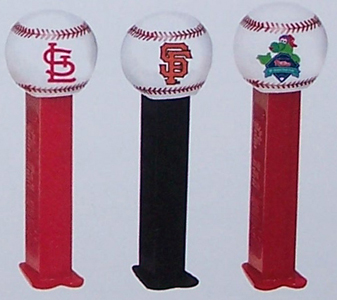 In April, we expect to see new Marvel Universe Pez – Thor and Captain America will join Iron man and we assume that Spiderman, Hulk and Wolverine will continue to be available.
Also in April, we expect to see two new candy flavors introduced! Strawberry-Vanilla and Raspberry-Lemon flavors will be included on cards of pez refills as bonus packs!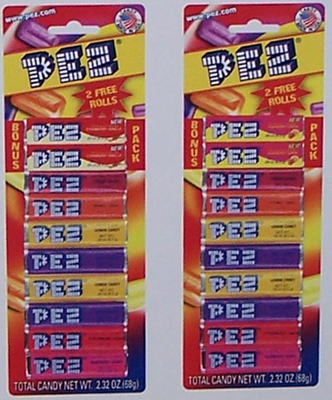 May should bring some new Disney Cars pez. Lightning McQueen and Mater will be joined by Finn McMissile!
Also in May, 2011, Rapunzel will join the Disney Princess assortment. We are still waiting to find Tiana in the princess assortments, but were told that they will be included very, very sparsely in princess assortments at this time. By May, 2011 when Rapunzel is added, Tiana's image will be included on the counter display boxes, header and princess cards, so maybe she will become more available at that time. We also heard that Pocahontas and Mulan will be discontinued.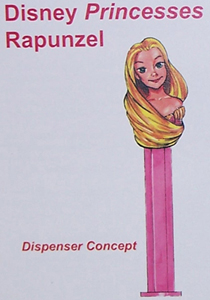 In June, 2011, a new character will join the Hello Kitty Plush pez – Keroppi the frog looks just as cute as can be!
July 2011 is the scheduled release date for the Justice League pez dispensers and Superman will finally make his debut along with the Green Lantern and an updated Batman!
September 2011 will be very busy with releases of Disney Phineas, Ferb and Perry the pet platypus!
A new gift set is planned for Disney's Handy Manny which is a set of 4 dispensers including Handy Manny, Dusty the Hand Saw, Pat the Hammer and Flicker the Flashlight, all in a cute tool box display box.
The most exciting September 2011 release scheduled is the limited edition release of the Lord of the Rings! This gift set of 8 dispensers will include Bilbo, Frondo, Samwise, Gandalf, Aragorn, Leoglas, Gimli and Gollum! We are really, really excited about this set!
There is also talk of a new Disney Cars 2 release which will include detachable pull & go cars on the dispensers. These are tentatively scheduled for September, 2011 release as well!
November, 2011 will mark the first release of the Educational Series. The Presidential Series 1 will be a boxed set of the first 8 presidents of the United States. Their names will be printed on the stems and the dispensers will be bust up designs of the president's heads. Educational information about each president will be included along with an insert sheet showing all of the sets in the series.
That is a lot of new pez to look forward to and we can't wait to bring them to you! We truly hope you are as excited as we are about these new releases. Getting the information first hand from Shawn at the St. Louis ANPC was a real step forward in marketing for Pez Co!
Back to 2010 and the convention circuit! Pez-a-mania 20 is the next convention scheduled July 15 – 17, 2010 in Cleveland, Ohio.  It is just a few short weeks away!
August will bring the MNPezCon, scheduled August 5 – 7 in Bloomington,MN. We are looking forward to seeing you there!

Happy Pezzing!
All the best,
Chris Jordan

www.pezcollectors.com