January 2017 Newsletter
Happy New Year! 2017 begins with the promise of many good things to come, including lots of new Pez releases, pez conventions and other pez items. PEZ was established in 1927, so 2017 marks 90 years for the brand! Clearly, PEZ is not just a fad!
The Mighty Morphin Power Ranger Pez assortment is in stock now in the Pez Collectors Store. Jason, the Red Ranger, Zack, the Black Ranger, and Kimberly, the Pink Ranger are the only Power Rangers included in this pez assortment. These pez are released ahead of the Power Rangers movie coming to theaters March 24. Sadly, Kimberly the pink ranger is in very short supply in all of the cases, so finding the complete set may prove to be difficult. We have them in stock now!
The newest Pez Emojis arrived in the Pez Collectors Store. Chilling, Cheesing and Devilish all look great, though we were disappointed to discover that all of the Devilish were an opaque, non-crystal head. These are in stock now.
Last month, we reported that the Devilish would be a crystal head. The emojis on display at the 2016 Sweets and Snacks Expo showed the crystal head. My November 23, 2016 version of the 2017 Pez plan showed the following image of Devilish with a crystal head. I was given permission to share the image with the crystal head. I double, triple and quadruple checked with my Regional Sales Manager to be certain that the Devilish would be crystal and was assured that it would be. I even received a photo below of the crystal head that my sales manager had received from Pez Co. as a sample. I am not sure if there was a breakdown in communication for the first production run of this dispenser causing it to be produced as an opaque head, or if it was a change in plans that was not conveyed to the sales managers. It still looks cool, it just isn't crystal as planned! I have asked my sales manager if the crystal head will be released at a later date and have not received a response at this time.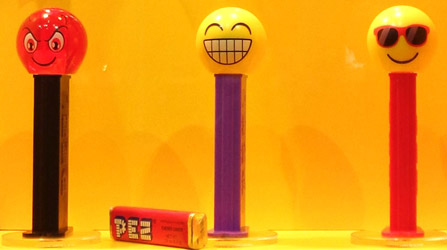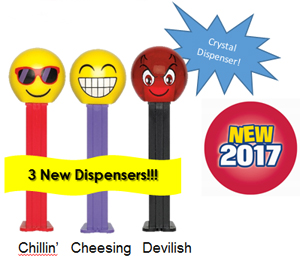 Europe is getting 4 new emojis, though they are the same heads that we already have in the USA. There is one difference though, Chillin' is on an orange stem instead of the red stem available in the USA. We will have this variation in stock as soon as possible!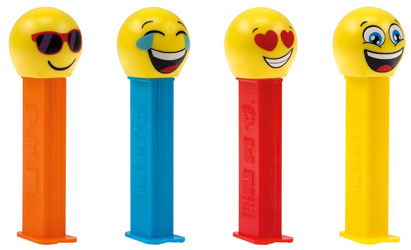 The Pez licensed Watchitude Slap Watches arrived and they are truly awesome! There are 4 different styles – Pez Candy bricks, Pez Fun with animated pez candy bricks, Pez Wrapper with Lemon, Orange, Grape and Strawberry (or cherry) colored pez candy packs, and Pez Rainbow with the red, yellow and orange stripes from multiflavor candy packs. The watches have an analog face with a second hand and are 'plunge proof'. The band is a slap band with metal which coils up around your wrist for a perfect fit!


The PEZ Visitor Center is celebrating its 5th anniversary! To celebrate they produced 500 limited edition 5th Anniversary Pez Visitors Center Pez Pal boys available only at the Visitor Center. This special dispenser was announced on December 2 and according to reports, they were all sold out before Christmas. All proceeds of the sales at the Visitors center go to the The Hole in the Wall Gang Camp to benefit children facing serious medical conditions. The sales were limited to one dispenser per person per day with paid admission, so many collectors that live near the visitor center gathered up their friends and family for a trip to purchase multiple dispensers. Initially these were selling for $200 or more on eBay and on facebook auctions and raffle pages! Sorry to say that we do not have these in stock, though thanks to a good friend, I was able to add one to my personal collection!

We are very excited about the upcoming 2017 pez releases in the USA from PEZ Candy, Inc.. First up in January is the third series of Smurf pez. Papa, Brainy, Smurf Boy and Smurfette are new molds and look great. This pez assortment is coming out ahead of the Smurfs Lost Village animated film due out in April. These are sure to be a great new release! We will have them in stock sometime in January, 2017!
The Emoji Twin Packs are the boxed set for Valentine's Day. The set features Kissing and Love Emojis in an emoji graphic twin pack boxed set. These are in stock now in the Pez Collectors Store. This is the only new release for Valentine's Day, although some new packaging graphics will be seen as old inventory is moved out and replaced with new graphics. The floating red hearts on a pink background with large Happy Valentine's Day! lettering looks very bright and cheerful!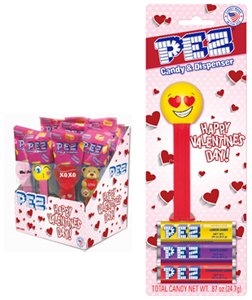 Easter Pez will begin shipping from Pez Co in January and we are looking forward to the new mini lamb in the mini eggs. The lamb will replace the Pink head Mr. Bunny. The same lamb head will be on a full size stem in the newest Easter pez assortment. There is also a new Easter Egg that features a lamb on a purple egg which will replace the Ducky pictured on the green egg. These Eggs will be available only in the Easter Tubes. We will have these in stock as soon as possible!


We provided you with a rundown of the expected USA pez releases for 2017 in our August, 2016 Pez Collectors Store Newsletter which we are reprinting here:

First Scheduled Ship Dates for USA Releases for 2017

1/1/2017 Smurfs 3 – new Papa Smurf, Smurfette, Smurf and Brainy Smurf
1/1/2017 Easter Assortment – new Lamb added to assortment with White Floppy Ear Bunny, Brown Rabbit and Ducky
1/1/2017 Easter Tubes – New Egg design added to assortment with White Floppy Ear Bunny and Brown Rabbit
1/1/2017 Easter Mini Eggs – new mini Bunny, Lamb and Ducky with exclusive color schemes
3/1/2017 Click & Play Smurfs Gift Tin with Game Board
3/1/2017 DC Superhero Girls – Harley Quinn, Wonder Woman, Batgirl and Supergirl
4/1/2017 Guardians of the Galaxy (Marvel) – Groot and Rocket Raccoon added to assortment with Spiderman, Iron Man and Captain America
4/1/2017 Star Wars – BB-8 and Rey added to assortment with Stormtrooper, Kylo Ren, Young Chewbacca and R2D2
5/1/2017 Hello Kitty – pink stem Hello Kitty with polka-dots and purple stem Hello Kitty with Hearts added to assortment with Nerdy Kitty and Classic Kitty
5/1/2017 Nickelodeon Favorites – Paw Patrol Chase and Skye added to assortment with TMNT and Spongebob
5/19/2017 Despicable Me 3 – Jerry and Gru added to assortment with Dave, Stuart and Agnes
5/19/2017 Despicable Me 3 – Tripack with Gru, Mini Jerry and mini Stuart with Banana flavor candy
6/1/2017 Transformer Robots In Disguise Connectibles – Bumblebee and Optimus Prime connectibles
6/1/2017 My Little Pony Connectibles – Rainbow Dash and Twilight Sparkle connectibles
7/1/2017 Halloween Assortment – new Mummy added to assortment with Vampire, Witch, Pumpkin and Ghost in all new packaging
9/1/2017 Christmas Assortment – new Snow Globe added to assortment with Santa, Reindeer, Snowman, Elf and Penguin
9/1/2017 Christmas Tubes – new Angel only available in tubes added to assortment with Santa, Reindeer, Snowman, Elf and Penguin
9/1/2017 Christmas Mini Ornaments – Mini Santa, Mini Elf, Mini Reindeer and Mini Angel in plastic Christmas Ornament
9/4/2017 Star Wars Millennium Falcon Gift Tin – BB-8, Rey, Young Chewbacca and gift tin exclusive Han Solo in the Millennium Falcon shaped gift tin
10/6/2017 Justice League – Aquaman added to assortment with Batman, Superman and Wonder Woman
10/6/2017 Justice League Gift Tin – Aquaman, Batman and Superman with gift tin exclusive Cyborg in a specially designed Justice League Part One gift tin

We are anxiously awaiting the release of the full 2017 European Pez Launch Plan. In February, we anticipate a new set of Hello Kitty Pez with different colors. The pink polk-a-dot and the purple stem with hearts are expected to be the same as the new Hello Kitty scheduled for release in the USA in May, but the two full body Hello Kitty will be new variations and exclusive to European release.
The other European releases include much of the same things we will be getting in the USA though on a slightly different release schedule. Smurfs 3 will be released in late January, Paw Patrol in mid March, Transformers 5 which will come with new PEZ Play codes in early April, Despicable me 3 which will include one new character (likely Gru) in early April, DC Super Hero Girls in July, My Little Pony with PEZ Play codes in mid August. In September, Justice League will be released and in October, we are really excited about the Yo-Kai Watch pez!
The 2017 USA Pez Convention season is getting ready to kick off in sunny California! The 16th Annual Pezcific Coast Convention will be held February 16 – 18 at a new Los Angeles area hotel, Ayres Manhattan Beach/Hawthorne, 14400 Hindry Ave. Hawthorne, CA, 90250. Please visit www.Pezcific.com for all the details and to register for the convention! It is sure to be an awesome event!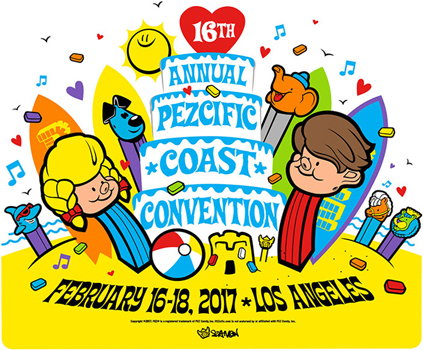 The Pez Collectors Store will have a booth at Planet Comicon in Kansas City, MO April 28 – 30.

May 23 – 25 is the Sweets and Snacks Expo in Chicago, IL and we will be in attendance to check out all the newest plans for upcoming pez.
The 19th annual Northeast Pez Convention has switched from spring to June 22 – 24, in Stamford, CT. Details can be found at www.pezconvention.org

Pezamania 27 will be July 20 – 27th in Cleveland, OH and all the information can be found at www.pezamania.com

The 2nd Michigan Pez Convention will be August 24 – 27 in Troy, MI. Details are at www.mipezcon.com
The 2017 Sin City Pez Convention will be sometime in September – details are still in the works. Details can be found at www.sincitypez.weebly.com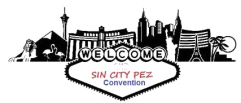 The Steel City Pez Gathering is scheduled for September 22 – 23 in Pittsburgh, PA and details are available on the Steel City Pez Gathering page on facebook
Pez on the River will be October 12 – 14 in Winona, MN and information is available at www.pezontheriver.com

The Pezheads at Sea Cruise is October 28 – Nov 4. Details are available at www.cruisingpezheads.com
Pezylvania VIII will be held October 22, 2017 and all the details are found at www.pezylvania.com
It is time to plan ahead and mark your calendars, make your reservations and send in your registrations to be sure you can be a part of all the pezzy fun!
That is all the news for this month! Wishing you a Happy New Year with many wonderful things to come in 2017!!!
All the best,
Chris Jordan
www.pezcollectors.com