January 2015 Newsletter
Happy New Year to all our Pez friends and valued customers! There have been plenty of new cool (or maybe cold…) pez released to send out the year of 2014 with a bang and welcome a wonderful new year with all new pez!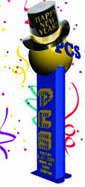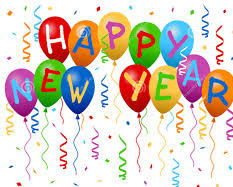 Frozen pez characters are available now in boxed sets with Elsa and Anna as well as the complete set of Elsa, Anna and Olaf in package. The Frozen Pez seem to fit the chilly winter months ahead!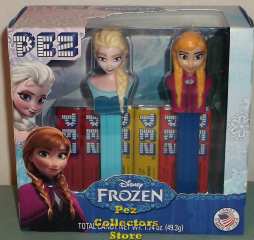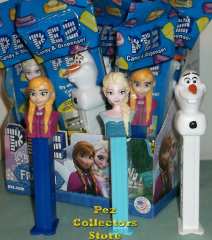 SC Bern is an ice hockey team from Switzerland that started in 1931 and they now have their logo on a hockey puck pez dispenser that comes on three different stem colors – red, yellow and black. These sets are available now in the Pez Collectors Store!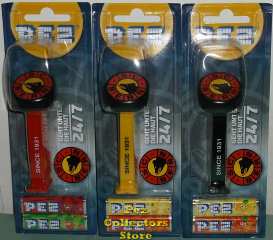 The pez Valentines Hearts for 2015 have been updated! The cloudy pink crystal heart on a pink stem printed with deep pink hearts says Be Mine in a bold script print, the rubine red crystal heart on a white stem printed with deep pink hearts says Happy (heart) Day in white script and the red crystal heart on a red stem printed with white hearts says XOXO in big bold white letters with hearts in the center of the O letters. These three hearts come in an assortment with various other previously released Valentine pez, so making complete sets is difficult. The three new Valentine's Day Heart pez are in stock now in the Pez Collectors Store!
We have gotten some of the 2014 Target Pez Christmas Gift Card pez back in stock. The dispensers feature Bullseye Spot the dog dressed as Santa on a regular sized stem and dressed as an elf on a mini stem. We also have the Target Bullseye Spot gift card pez that was released last year!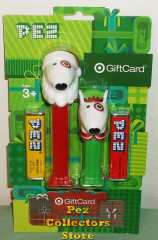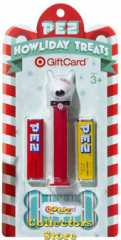 The newest addition to the Hello Kitty Collection includes 4 new European Hello Kitty Pez with solid white heads. The full body Hello Kitty with overalls and Hello Kitty with heart are on new colored stems and have new facial expressions and clothes, as do the Hello Kitty heads with purple and pink bows. These great new pez are on their way to us now and will be in stock within a week or so!
European Penguins pez will return to the Pez Collectors Store soon. The Penguins of Madagascar originated in Antarctica according to the Dreamworks movies. Unfortunately, it appears that one shipment of penguin pez have taken a detour to Australia on their way to the USA – maybe they have grown to enjoy the warmer climates and wanted to experience winter down under where it is now summer. Somehow it seems that the world travels of the movie have continued in real life with our penguin pez! These will be in stock just as soon as the shipment gets rerouted back to the northern climes!
Our first shipment of European My Little Pony pez have also taken the detour through Australia, but we do have a second shipment on its way and they should be arriving soon! Twilight Sparkle, Rainbow Dash and Pinkie Pie are adorable new pony pez and will be in stock soon.
A new set of Minnie Mouse pez scheduled for release in February or March in European countries. These 4 new Minnie Mouse pez use two different molds and all 4 have different eyes – closed eyes, rolling eyes, and two different winking eyes. The stems are printed and the bows are decorated differently. These are great new European Minnie Bowtique pez and we have placed an order and will be getting them in stock in the Pez Collectors Store as soon as possible!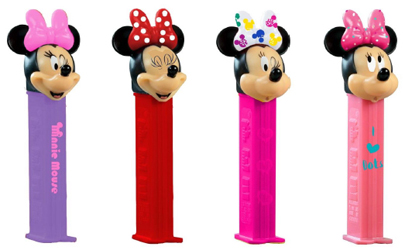 We expect the catalog of European Pez to become available online in mid-January, but  we don't really expect to see anything new other than what we have already mentioned or what will also be released in the USA, as discussed below.
In the USA, we expect the following lineup of releases for 2015.
In January, 2015, Gary the Snail will join SpongeBob, Patrick and Squidward.  A few of these have already been spotted and it appears that Gary is the same as the one which has been available in Europe for several years.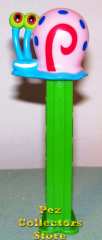 March, 2015 is the scheduled release date for the Despicable Me pez. The set will include Stuart, Dave and Agnes. Stuart is the one-eyed short minion, Dave is a two-eyed, skinny minon and Agnes is the daughter with brown eyes, black hair and a red ponytail holder. These should be really cute pez dispensers!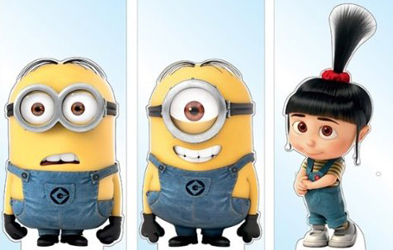 April, 2015 a new Avengers assortment will be released to include an updated Hulk, Thor, Ironman and Captain America. We are told that there will be a packaging update also to correspond to the May 1 release of the Avengers 2: The Age of Ultron movie. The Hulk update can be seen in the photo taken by Eddie Santiago at the Sweet and Snack Expo in Chicago 2014.
A new plush series of Wildlife animals will be released in April and will feature a white tiger, giraffe, gorilla and elephant. The packages will include information about these animals as well.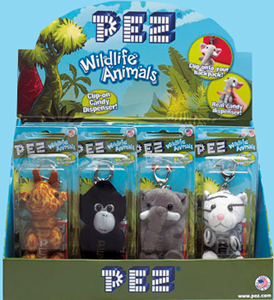 In August 2015, the Peanuts 65th Anniversary tin will be released. It will include Charlie Brown, Snoopy, Woodstock and Lucy, but we are hearing that the pez will be the same as the series 2 Peanuts release. It will be interesting to see if there are any changes or variations!
The Star Wars Gift tin shaped like Darth Vader's head will also be released in September 2015 and will include a crystal Darth Vader, crystal C3PO, crystal R2D2 and crystal Yoda! This one we know will be good looking! (Photo from Sweet and Snack Expo 2014 by Eddie Santiago).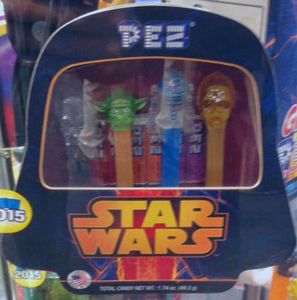 September 2015 will bring a new Star Wars pez assortment for the Episode VII movie. The assortment will include Yoda, C3PO, Darth Vader, Chewbacca, R2D2 and two additional all new dispensers. Which new characters will be added has not been announced yet, but we think it is high time that Han Solo is added to the pez assortment!
Also in September 2015, the Harry Potter Pez Boxed set will be released with Harry Potter, Hermione, Ron, Voldemort, Dumbledore and Hagrid! Now, this is a boxed set that will be very popular!
There will be a new Hello Kitty Tin released in September, 2015, but we are told the dispensers will be the same as what is currently in the regular Hello Kitty tins (crystal My Melody, crystal Kitty with red bow, crystal Hello Kitty with hibiscus flower and crystal full body Hello Kitty with overalls).
In November, 2015, the President Pez Series will be caught up to current with the release of Volumes VIII and IX. Each set will include 4 Presidents in each volume. Nixon, Ford, G. H. W. Bush and Clinton will be in Volume VIII, and Carter, Regan, G. W. Bush and Obama will be included in Volume IX. One of the Presidents in each set will have the Presidential Seal on it, so that should be a neat addition!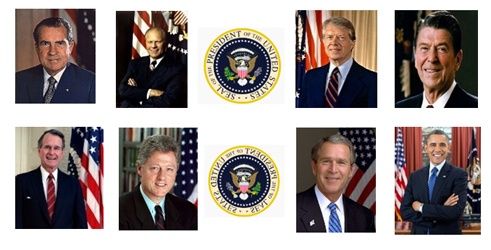 For Christmas, 2015 we expect to see the new Christmas Plush Pez set.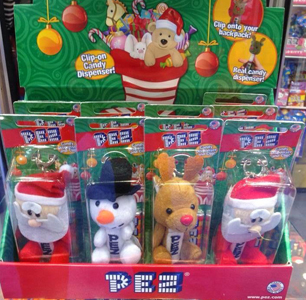 It looks like 2015 will be a great year to collect pez with so many new releases scheduled in the USA and Europe! Happy New Year and Happy Pezzing!
All the best,
Chris Jordan