January 2014 Newsletter
Happy New Year! 2013 was a year filled with many new pez and it looks like 2014 will be too! We gave you the preliminary 2014 lineup for Pez USA back in October, but we will refresh your memory here as we start the New Year off and we will give you a bit of a sneak peek at a few things that are in store for 2015 as well.
Before we close out 2013, Pez released a crystal version of the new 2013 Snowman as a Walmart exclusive, though they seemed to be scarce in the shipments. We have some of these in stock now in the Pez Collectors Store. 
A greenish rather than greyish Boba Fett Star Wars Pez was released this year and we finally got a few. We don't have a lot, so get them now if you want them! This photo shows the new greenish shade of grey Boba and the older version for comparison.
The three revised Disney Princesses Ariel, Snow White and Belle are shipping to us now from Europe. These three updated princesses look really good!
The lineup for the USA pez releases for 2014 is really exciting! Starting things off in January, we are expecting a new Hello Kitty Pez assortment that will include Batz Mardu and Keroppi along with Hello Kitty, Full body Hello Kitty with Heart, My Melody and Full body Hello Kitty with overalls! We will have these in stock as soon as they begin shipping from Pez Co.!
There will be no change to the Valentine hearts pez, but a Monkey holding a Heart will be added to the assortment. These should begin appearing soon! We will have them available in the Pez Collectors Store soon.
There is a new lamb plush pez that will be included in the Easter plush pez sets. We are waiting to place our order until we can be sure the lamb will be included since it is being 'flowed into' the assortments.
In February, 2014 Fozzie Bear will be added to the Disney Muppets assortment along with Miss Piggy, Kermit and Animal. Again, this additional pez will be added to the old assortment, so it could be a while before we begin seeing the new pez.
In March, 2014 Space Alien will be added to the Toy Story assortment of Woody, Buzz Lightyear, Jessie and Rex. No mention of Slinky and it has been a long while since Hamm the Pig was included so it looks like they are retired.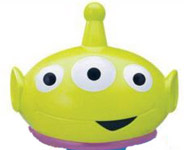 An updated Captain America is to be added to the Marvel assortment along with Captain America, Wolverine, Spiderman, the Hulk, Thor and Iron Man. The new Captain America will have a dark blue mask and a red stem - maybe something like this.

In April, 2014 Dr. Doofenschmirtz will be added to the Phineas and Ferb assortment, so the set will include Doofenschmirtz, Candace, Phineas, Ferb and Agent P (Perry the platypus).
An all new set of Pez Heroes will be released in April! These were originally planned for 2013 but were delayed until 2014. The set includes a policeman, fireman, Army man and a nurse that look very cartoonish and cute, and much less realistic than the Emergency Hero pez.
SpongeBob, Squidward and Patrick will be brought back in a new SpongeBob assortment in May, 2014. No word yet on whether the characters will be updated, same molds on different stems or if they will look entirely different.
In June, 2014 the Flash will be added to the DC Comics assortment which will still include Superman and Batman.  Perhaps it will look something like this – maybe even with the lightning bolt pad printed on the stem?
The Disney Cars Assortment will be retired in June and replaced by a "World of Cars" assortment to include Mater, Dusty (a car from Disney Planes) and El Chupacabra which is a Disney Plane. A sneak peak of the European pez makes us believe these may be the same.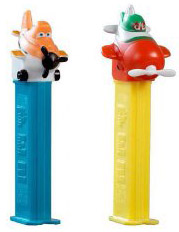 For July, 2014 a Disney Jr. assortment will be released and include Sofia the First, Jake, Minnie Mouse and Scully. Sofia the First is from Sofia the First, Minnie Mouse from Minnie's Boutique and Jake and Scully from Jake and the Neverland Pirates. This will be an all new assortment for the USA, but it seems that Jake and the Neverland Pirates will be a separate release in Europe!
An all new Teenage Mutant Ninja Turtles pez assortment will be released in July in the USA! This would coincide with the release of the Paramount Pictures 2014 Teenage Mutant Ninja Turtles movie. Our information suggests that these will also be released in Europe in August. We are told that there will be just the 4 characters, Raphael, Donatello, Michelangelo and Leonardo in the set! 
In August, 2014 we will get a Hello Kitty 40th Anniversary Limited Edition tin to include Mama Mary, Papa George, Mimi and Hello Kitty, all as full body characters. No word on how limited the set will be, but dealer orders had to be placed by Sept 16, 2013, so it is probably limited to the number of advanced orders they received.

For September, 2014 there is a Scooby Doo Gift Set to include Scooby, Fred, Velma, Daphne and Shaggy. This should be a great set and will finally lay to rest some of the fantasy pez that keep circulating out there.
An Angry Birds Gift Set with Red Bird, Black Bird, Green Pig and Stella will be released in September. This pez set will come in an embossed Red Bird Tin. It sounds like these will be the same as the set already available from Europe, except packaged in a gift tin. For those who display loose, we have the Angry Birds in stock now in the Pez Collectors Store!
Christmas pez will begin shipping in September 2014 and the cute new elf will be added to the set, hopefully not just in the canes!
In November, 2014 the USA Presidents Volume 6 and 7 will be released. The volume 6 will include Taft, Wilson, Harding, Coolidge and Hoover and volume 7 will include Roosevelt, Truman, Eisenhower, Kennedy and Johnson.
We have a few more hints about what is planned for release in 2014 in Europe as well.
Last month we gave a sneak preview of a couple of pez from the Minnie Stylish pez set of 4 which is scheduled for release in January. These 4 pez include two winking Minnie Mouse pez with printed stems and two with nicely bejeweled bows! We have an order placed and will get these in stock as soon as possible. It is unknown if one of these will be included in the Disney Junior assortment to be released in the USA.
Dusty and El Chupacabra are being released as the Planes 1 set in January in Europe. We have ordered a small number of these as they may be the same as the ones scheduled for release in the USA in June.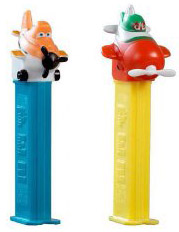 Jake and Skully the Parrot from Jake and the Neverland Pirates are scheduled for release in Europe in March. We have ordered a small number of these as well as they may be the same as the ones scheduled for release in the USA in the Disney Jr. Assortment in July.
In April, Pez International has scheduled a release of Looney Tunes – Hot in Brazil pez. We have no idea what these might be, but we will let you know as soon as more information is available.
In June, NICI pez will begin being distributed directly by Pez International and these will be on a new card with regular candy packs. They will not include the Just for You sticky notes and the Rosa sheep on the pink stem will be printed with dark pink ink instead of white ink. For those who collect loose, the difference will be just the 3 pink stem Rosa pez printed with pink ink.
Pez International is planning a Planes 2 release in July for the Fire and Rescue movie. No word yet on what characters might be included in this set, but it is supposed to be 3 different dispensers.
The Smurf Click and Play pez were originally planned for 2013, but were then canceled. We believe these are now going to be released in October 2014 in European countries!
2014 should be a year filled with pez from the USA and Europe based on the scheduled releases. I suspect there will be even more promotional pez released as well. And, if that isn't enough, pez collector Tony Enos reports that he visited the Pez Visitor Center and was part of a focus group to guage interest in potential releases for 2015. We knew already that Pez will release the Harry Potter boxed set and it is now reported that the set will include Harry, Ron, Hermione, Dumbledore, Hagrid, Draco, Snape and Voldemort. Walmart will likely get their own version and it will probably include Dobby or possibly Neville. There was also some consideration of not putting candy in the collector's sets.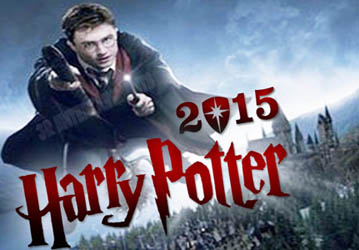 Peanuts will be celebrating their 65th anniversary in 2015 and there will be a new Peanuts movie in November 2015. Pez will produce a new set of Peanuts pez and will include a new character this time. It is not known which character that might be – Linus, Pig-Pen, Schroeder, Marcie, or maybe Sally?
The focus group learned that Pez is also considering a release to coincide with the 2015 Jurassic World and a Disney Dinosaur movie release. The focus group preferred realistic pez to cartoonish pez and there was a suggestion that the dinosaur pez not be tied to either of the movies, but be an educational series.
A set of 5 Muscle Cars such as the Mustang were considered. It could be that these would be released as Pull-n-go cars. I am guessing that maybe the group of 5 would also include the Chevelle, Baracuda, Charger, Firebird, maybe a Javelin or Cougar? 
A Minions movie (from Despicable Me) will be released in July 2015 and Pez Co plans a new release to coincide with the movie. 
We have plenty of pez scheduled for release in 2014 and lots to look forward to for 2015 as well!
Happy Pezzing!
All the best,
Chris Jordan
www.pezcollectors.com