January 2012 Newsletter
Nothing brings in the New Year like new Pez! The Pez Collectors Store has added a couple of new dispensers to start the year off right and we have heard a few snippets about what we might expect to be coming from Europe in the near future! Happy New Year to us all!
The Craftsman Promotional Pez Hauler was quite a surprise and has been very difficult to find. We were able to add these to the Pez Collectors Store and they are available now.

The Phantom Menace is scheduled to be released in February, but we have already gotten some of the new Darth Maul dispensers. This is one wicked looking pez! The Phantom Menace set is supposed to include Darth Maul, Darth Vader, C3PO, R2D2, Emperor Palpatine and a revised Yoda. These have come on 5.9 stems, but the Yoda is still the older version. The Emperor Palpatine is a new variation as it has Made in China printed on the stem (rather than molded).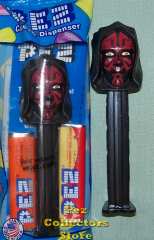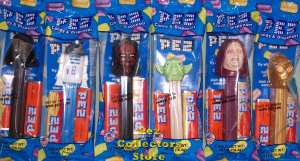 We have been told that the Disney Magnetic Pull 'n Go Cars will be discontinued. Pez will still make the Pull 'n Go Cars, but the new design will not have the magnet to attach the car to the dispenser top. The new design will be a clip on design, so when the magnetic Pull 'n Go cars are gone, that will be the end of them!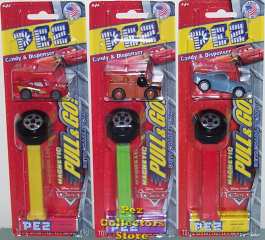 Disney Muppets are supposed to be released in January, and our order has been in for months! We hope to add the new Kermit, new Miss Piggy and Animal soon.
The new Valentine hearts should be coming soon. We received a very few of the new teddy bears about a month ago which sold out very quickly, and we are waiting for a new shipment which should also include the new valentine hearts!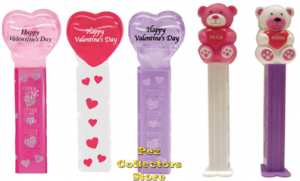 Easter pez will be coming soon and there will be three new Easter Egg pez dispensers. This new pez will come only in the Easter Holiday Tubes packaging.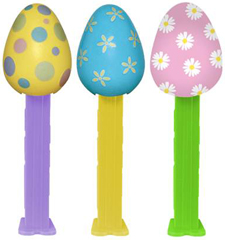 Marvel Universe is scheduled to get an updated Avengers graphic and Ironman will have a new gold colored paint scheme. These are supposed to be released in March, but I imagine that it could be a while before shipments include the new Ironman. We will have them just as soon as they become available. The old version of Ironman shown below will be discontinued!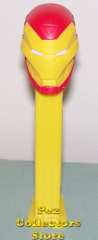 May is the scheduled release date for the new Amazing Spiderman assortment with a new Spiderman and Lizardman. These look quite interesting!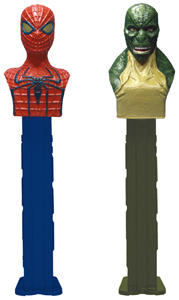 In May, a new Catwoman will join Batman, Two Face and Riddler. Looks like the Joker has lost out for inclusion in this assortment! We have not seen a sneak preview photo of these yet!
Europe has not had many new pez releases lately, but we have heard a few bits and pieces about what may be coming. There will be a new Pirates bag with one dispenser and a variety of pez candies and stickers. These bagged sets are expected to include a few new dispensers – possibly a skull and a hockey puck with a skull and crossbones symbol! Madagascar will be re-released in Europe with Alex the Lion, Gloria the Hippo, Marty the Zebra, Skipper the Penguin and Melman the Giraffe. It remains to be seen if any of these will be updated. There is also a new Mickey Mouse Click 'n Play set scheduled for release in European countries. This set will include Mickey, Minnie, Donald and Pluto! I am sure there will be more new pez from the European market – we are just waiting to find out what they will be and we will do our best to get them in stock just as soon as possible! We will share photos as soon as possible!
The Pez Collectors Store website has been updated a bit, making it faster to load and there is a new link that is easier to find that allows logged in customers to view their previous orders. In order to use this feature, you will need to be sure to create an account with your email address and password instead of checking out without an account.
We have also added a Fun and Games section where you can do word searches, play the memory matching game with pezzy cards or play checkers with Pez Candy bricks! Look for the link on the left sidebar of the website, under News and Information!
Happy pezzing!
Wishing you all the best for the new year,
Chris Jordan
www.pezcollectors.com