January 2011 Newsletter
The Pez Collectors Store would like to wish everyone a healthy, happy and prosperous New Year! 2011 is sure to bring us new pez dispensers and will even bring new pez candy flavors. We have a few new additions to the Pez Collectors Store and we have more to look forward to in 2011. We gave you a sneak preview in July and have more information to add to the pez expected in 2011 that we can share as we begin the year!
The Stewart's Ice Cream Hauler and Bottom Dollar Food Hauler promotional advertising pez have arrived in the Pez Collectors Store! PEZ Candy, Inc. has been very busy this past year getting various store chains to purchase these exclusive dispensers!  Most of the stores have been chains on the East coast which makes it difficult for those of us that don't have these stores in our area. The Pez Collectors Store has worked hard to acquire these dispensers and make them available to all collectors!

These two new promotional pez have joined the other 2010 releases including Wawa, Food Lion, 2011 Red CVS, Wegmans with Tomatoes,  and red GetGo Haulers. We still also have the 2010 White CVS, blue GetGo, Ace Hardware, Hollywood Video, Movie Gallery, Winn Dixie,  and Sheetz Hauler Pez as well.
Of course, the special molds produced for the Geico Gecko, Chuck E Cheese and Chick-Fil-A cow are included with Promotional pez, along with the Wal-Mart and Walgreens truck pez released a long time ago!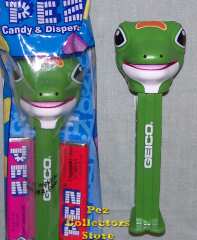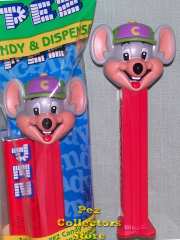 The Promotional Pez Haulers won't end here – there is a Price Chopper Hauler Pez scheduled for release in March and we are working already to make arrangements to get one. We are not sure what the logo will look like, but we expect something like their corporate logo.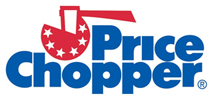 The scheduled Pez releases for 2011 are exciting! Europe will be releasing the Mr. Men Pez, probably sometime this month. These will be the click-n-play style and will include Mr. Strong, Mr. Bump, Mr. Rude, Little Miss Sunshine and Mr. Happy. These are really cute and should be available soon! The Pez Collectors Store order is placed, we just have to wait for them to be released in Europe then make their way across to the USA!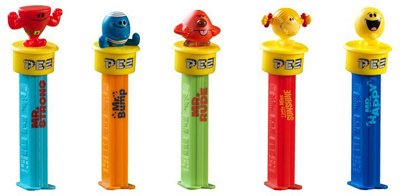 For February, 2011, New Disney Couples in special Valentines packages include the Mickey and Minnie Mouse with hearts on the stems and Lightning McQueen and Sally with hearts on the stems. These have come to us in cases packed with 9 Mickey and Minnie and only 3 Lightning and Sally. We have plenty of Mickey and Minnie in stock now and more Lightning and Sally will be arriving by the end of the week.
For Valentine's Day, new Plush Teddy Bear keychains have finally arrived at Pez Co. and are being shipped to us soon. These new plush bears are really cute! Also, a full body teddy bear will be included in the mix with Valentine hearts pez. These are also due to arrive soon!
In February, we expect a shipment of new Sports Baseballs – 5 new Major League Baseball teams – the Houston Astros, Los Angeles Angels, the Cincinnati Reds, Colorado Rockies and the Texas Rangers. These are good looking and great additions to the MLB Baseball pez!



The Boston Red Sox mascot "Wally" logo Pez is also scheduled for release in February, along with a new Dodgers logo. We are guessing that this will be the logo that was expected for 2010, but it has not been released yet. We are also still waiting to see the new SL Cardinals logo and the new New York Mets logos which were also planned as 2010 releases.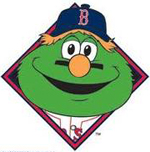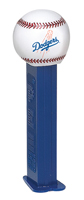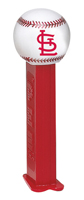 Two new NCAA football Pez will be released – one for Texas A & M and one for Texas Tech. Again, we are showing some team logos, but we don't know what logo will be used on the new football pez.
Thomas and Friends Toby train #7 Pez will be released as part of the Thomas the Train set in February, but we expect these will be mixed with Thomas, James and Percy in the sets. Gordon and Henry are supposed to be available only in the Gift Tin sets, but we will have to wait and see if they are included in the Thomas and Friends releases.
In April, we expect to see new Marvel Universe Pez – Thor and Captain America will join Iron Man, Hulk, Wolverine and Spiderman. How super is that! These Super Heroes are cool!
Also in April, we expect to see two new candy flavors introduced! Strawberry-Vanilla and Raspberry-Lemon flavors will be included on cards of pez refills as bonus packs!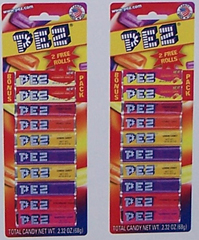 May, 2011 should bring some new Disney Cars pez. Lightning McQueen and Mater will be joined by Finn McMissile!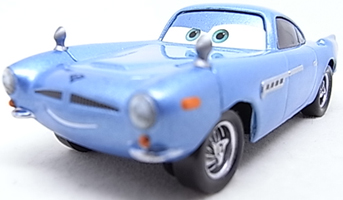 Also in May, 2011, Rapunzel will join the Disney Princess assortment with a new graphic design. We also heard that Pocahontas and Mulan will be discontinued.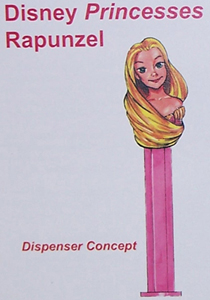 In June, 2011, a new character will join the Hello Kitty Plush pez – Keroppi the frog looks just as cute as can be!
July 2011 is the scheduled release date for the Justice League pez dispensers and Superman will finally make his debut along with the Green Lantern and an updated Batman!
September 2011 will be very busy with releases of Disney Phineas, Ferb and Perry the pet platypus!
A new gift set is planned for Disney's Handy Manny which is a set of 4 dispensers including Handy Manny, Dusty the Hand Saw, Pat the Hammer and Flicker the Flashlight, all in a cute tool box display box.
The most exciting September 2011 release scheduled is the limited edition release of the Lord of the Rings! This gift set of 8 dispensers will include Bilbo, Frondo, Samwise, Gandalf, Aragorn, Leoglas, Gimli and Gollum! We are really, really excited about this set!
There is also talk of a new Disney Cars 2 release which will include detachable pull & go cars on the dispensers. These are tentatively scheduled for September, 2011 release as well!
November, 2011 will mark the first release of the Educational Series. The Presidential Series 1 will be a boxed set of the first 8 presidents of the United States. Their names will be printed on the stems and the dispensers will be bust up designs of the president's heads. Educational information about each president will be included along with an insert sheet showing all of the sets in the series.

That is a lot of new pez to look forward to and we can't wait to bring them to you! We truly hope you are as excited as we are about these new releases. 2011 should be a wonderful year for Pez!
We are actively working on the website, logo design and all the arrangements for the 2011 Kansas City PezHead Gathering scheduled on Friday and Saturday of Memorial Day weekend, May 27th & 28th, 2011! Plan now to attend this fun filled PezHead Gathering! Next month we will bring you updates for the website and tell you about all the pezzy activities that make getting together with other Pez Collectors so much fun! We can't wait to see you in Kansas City!
The Pez Collectors Store would like to wish everyone the a happy, healthy and prosperous New Year and we look forward to bringing you more news and more Pez in the months ahead!
Happy Pezzing!
Chris Jordan
www.pezcollectors.com