January 2010 Newsletter
January 2010 Pez Collectors Store Newsletter
As we ring out the old year, we would like to wish all of our customers a joyous and prosperous New Year! We are excited about the new Pez that are expected for 2010. The 2010 lineup looks like it will have some excellent new pez and we expect to get a few surprises along the way as well. We know for sure that Pez Candy, Inc. is always looking for ways to expand their market and whether they know it or not, Pez Collectors are a big part of that market. It will be exciting to see how the year unfolds and all the new Pez that come to us.
Christmas is barely past but we already have received the special Valentines Day Pez release for 2010. The Mickey and Minnie and the Donald and Daisy Disney Couples gift sets have arrived. Actually, we got them earlier in the month and quickly sold out of the Donald and Daisy. They have come to us in 12 count cases, packaged with up to 4 Donald and Daisy, so we are getting twice as many Mickey and Minnie sets in every case. To make matters worse, we were told that Pez Candy hires another company to do the clam shell case packaging for these sets. The company apparently went out of business without finishing the full order for Pez Co, so these are supposed to be in short supply. We were fortunate that our second order was accepted and we now have a limited number of these loving Disney Couples in stock.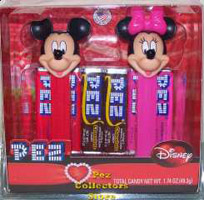 We have been told that there will be no new Valentine hearts for this year, but whether or not that is true remains to be seen!
We received a small shipment of Sparefroh and have just a few left in stock. These were produced for the banks in Austria for World Savings Day and they have been quite difficult to obtain. We will try to get more, but for now the few we have in stock are all we have.
We quickly ran out of Movie Gallery and Hollywood Video Promotional Haulers and had a very difficult time getting more, but these are now back in limited stock as well. We also added the Winn Dixie Promotional Pez Hauler.


We have recently been able to acquire some older inventory that is not new, but new to our webstore. Gundam pez sets are now available in very limited quantities, along with body parts from both series 1 and series 2. We also added a few of the Pez Lunch boxes with thermos sets and added a few sets of older releases such as ET, Bandai mini pez sets etc. Be sure to check out the Just Added section on the home page to see 'new' additions to the store and use the search box to find older additions that may have been out of stock and disabled that are now available. A hint about the search box - try to be as general as possible in your search terms as the search function is very specific and will search for exactly what you have typed in.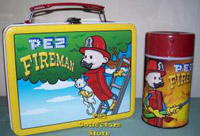 We are looking forward to the arrival of Thomas the Tank Engine and Friends as a USA release. These are scheduled for release in January and we still don't know if there will be much if any real difference or if they may be the same as the European versions. The European set previously  in stock in the Pez Collectors Store had no Made In country listed on the 5.9 stems of Percy and James, while the 5.9 Thomas stem is Made In China, so the stems for James and Percy at least will be different for the US releases.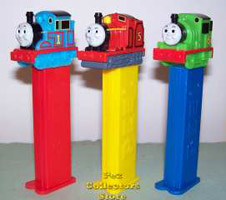 For the rest of 2010, the lineup we provided in the October, 2009 newsletter remains mostly the same with a few additions. Here is what is in the lineup -
January - Thomas the Tank & Friends (Thomas, Percy and James)
February – No new Valentines (insert sigh of relief) but Disney Couples Valentines Gift Sets are now available
Spring  - New Baseballs: Seattle Mariners, Chicago White Sox, Florida Marlins
March - Princess Tiana added to the Disney Princesses
May - SPECIAL "Yankees 27th World Champions" logo PEZ® dispenser.  This will be packed with the regular NYY dispensers and will not be packed separately (so we are told)
May - Toy Story (Hamm, Jessie, Slinky Dog added to the set with Rex, Buzz Lightyear and Woody)
June - Hello Kitty - 2 full body characters - Hello Kitty with bow and holding heart
         - Hello Kitty - Gift Tin - new packaging & dispensers
         - Hello Kitty – Plush pez
September - Snow White Gift set (seven dwarfs on short stems)
September - Thomas & Friends Gift Tin
September - New Basketballs--
                      North Carolina imprinted with "2009 National Champions"
                      Ohio State
All of the above information is subject to change and there are no guarantees of release dates according to the information provided by our Pez Rep. The full body Hello Kitty scheduled for release in the USA do not include Usahana winking or Usahana smiling, We already have the complete set from Europe available in the Pez Collectors Store now. It remains to be seen if the other two will be different than those released in Japan or in Europe.
Snow White is the set we are really looking forward to! Hopefully it will be as great as the new Wizard of Oz set! We showed a sneak preview of this back in our July and October Newsletters with a photo from Moresay.com from the All Candy Expo.
Ben 10 is coming from Europe - hopefully towards the end of January. The Heatblast, Way Big and Ben 10 characters are sure to please! We are guessing they will be a big hit in the USA and I know my grandsons Shawn and Tony can't wait!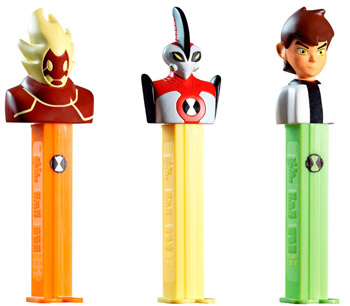 The next really cool European release is the full body Winnie the Pooh set. These look great and we will have them available just as soon as they are released and can be shipped to us – we just don't know yet when that will be, but we have been told that they should be released in Europe in March or April!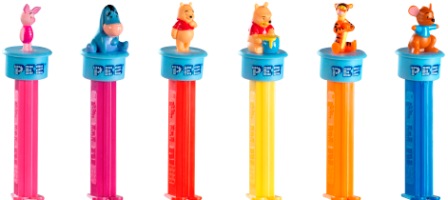 It looks like a very exciting year for Pez and we can't wait to share it with you! Speaking of sharing it with you, we hope that you will join us for the 2010 Kansas City PezHead Gathering on May 29, 2010. Now that you have your new calendar, be sure to mark the date and begin making plans to join us and share the pezzy day – It's a World of Fun! Hotel reservations can be made at the Kansas City Holiday Inn NorthEast for a fun filled pezzy day. We have negotiated great room rates of just $75.00 per night ($87.85 after applicable taxes) and they even agreed to provide up to two complimentary full hot breakfast buffets per room per night! We are working on the schedule and events of the day and will be providing more details as soon as possible. Meanwhile, get that date of Saturday May 29, 2010 on your calendar and plan to attend the 2010 KC PezHead Gathering!
Wishing you all the best for 2010!

Happy Pezzing!
Chris Jordan

www.pezcollectors.com