February 2020 PCS Newsletter
The year is off to a great start with new pez releases coming out and being announced! We look forward to the new European release announcements from ISM and the release of the 2020 catalog from Pez International. It's going to be a great year for Pez collectors!
The Trolls arrived from Europe and they look great. Poppy has a fabulous new hairstyle, Guy Diamond looks really good with his glittery blue crystal head on his lime green stem, Branch has very dark purple hair and Queen Barb really rocks the orange Mohawk! This set is available now in the Pez Collectors Store!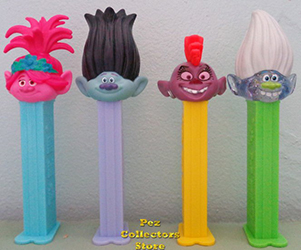 Peppa Pig and George pez are available in a twin pack and Princess Peppa and Pirate George are available in another twin pack. We have these twin pack pairs ready to ship to you now!
The FC Bayern Munchen football (soccer) pez are inbound from Europe, but have been hung up in customs since January 9. We are assured by the post office they will make the final leg of their journey soon.

Valentine's Day will be here in just a few weeks, so be sure to get your mini pez party bags! The Valentine Mini Pez 12 count Party Favor bag has three full sets of 4 different Valentine's Day mini pez. Included are Crystal Silly Heart, Crystal Happy Heart, Love Emoji and Kissing Emoji, each on a mini stem and individually packaged with a pack of pez candy. We have a few in stock now in the Pez Collectors Store!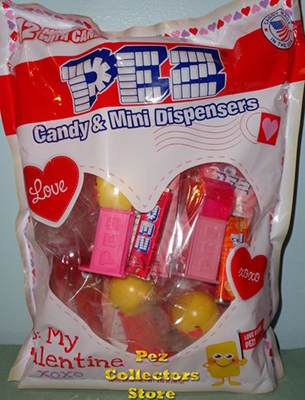 Valentine's Day Pez for 2020 include a new Teddy Bear head that is really cute! We have just a few of these in stock now!

New Emoji Pez Twin Pack pairs with Unicorn and Surprised Emojis, and Crystal Glitter Poop and Brown Poop are expected to arrive within a week or so.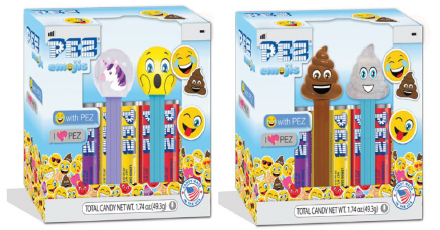 The Emoji assortment will now include the Party Popper and Cheesing variation on red stem. We are waiting until these are assured in the assortments before ordering but we will have them in stock soon!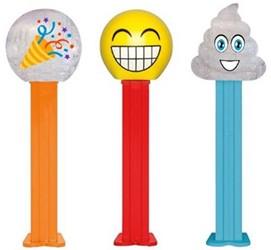 Moana will be joining the Disney Princesses in February! We look forward to adding this great princess to the Pez Collectors Store as soon as they become available in the assortments.
Paw Patrol Zuma and Rocky will be added to the USA Paw Patrol assortment in February. These dispensers have been available from Europe for quite some time now and we expect them to be the same as the European releases.
The Nick Jr. assortment will add Thomas the Train from Thomas and Friends and Nahal from Shimmer and Shine in February. It is unclear if this will be a revival of the original Thomas pez dispenser or if it will be a new variation, though Nahal appears to be the same as the previous European release!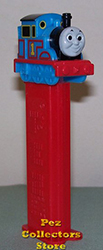 March 1 is the first scheduled ship date for new Mickey and Minnie dispensers in the USA. There are 4 new dispensers with all new molds. Mickey and Minnie have closed mouths with no tongues showing, and Steam Boat Willie and Pill Box Hat Minnie are completely new additions! These are expected to arrive by mid March.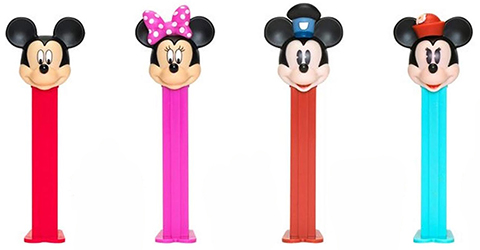 In Europe, there will also be new 4 new Mickey and Minnie pez that are different from those coming to the USA! We expect to receive these by mid March as well. The European only set includes Mickey on a black stem with a printed bow tie and a white Mickey silhouette printed in the ear, Minnie with a pink polkadot and striped bow, Mickey with a closed mouth with a printed stem, and Minnie on a light blue stem with a printed pearl necklace and a white Bow.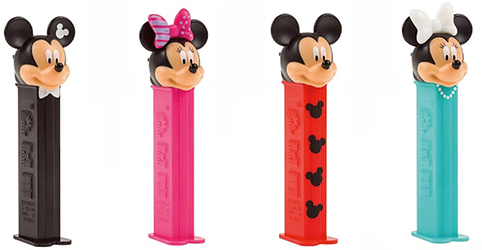 The European Limited Edition Panda Pez pair are expected to arrive in mid March. These cute pandas are limited editions similar to Floyd and Mabel Flamingos, and Lili and Spike Cactus – very trendy anthropomorphic male and female pandas! These are super cute and fun additions!
We have restocked a few of the PAMP Suisse Snowman with Silver Pez Candies sets. This was a limited production with only 3000 made which sold out very quickly. This set was so popular that the program is being continued with an Easter version featuring the Chick sitting on his rump pez dispenser and candy bricks featuring the Chick, also a limited edition with only 3000 produced. We are told that issue with the silver candies coming loose in the boxed sets is being resolved and we expect to receive these in March.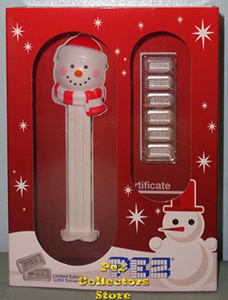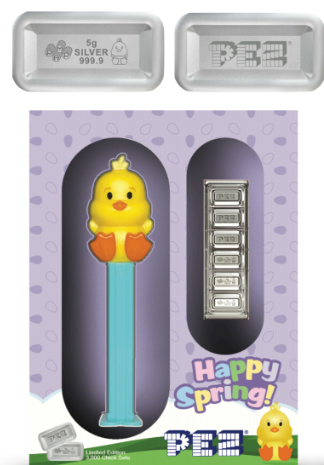 Easter assortments will feature a new full body Lamb pez, sitting on his rump. The Easter Egg in tube this year features a bunny with a chick on its head, printed on an orange egg. We will have these in stock soon!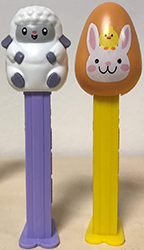 There is a new exclusive pez truck released for Save Mart Companies – Save Mart, Food Maxx and Lucky grocery stores in California and Northern Nevada.
New POP! PEZ from Funko arrived over the past month. My Hero Academia is a set of 4 with All for One, All Might, Izuku Midoriya (aka Deku), and Shoto Todoroki. We have these in stock, available individually or in a bundle of all four.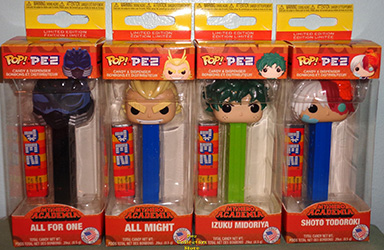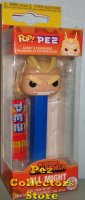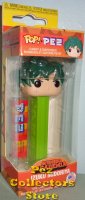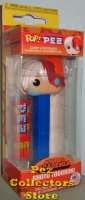 Coraline and Coraline Chase also arrived. The Chase is the button-eye rag doll version. These are available now, though we are nearly out of Chase versions.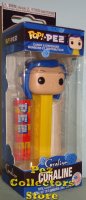 Gizmo, Gremlin and Gremlin Chase are great releases for the Gremlins. These are all in stock, though we are running low on the Chase versions.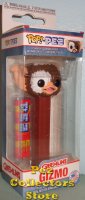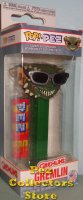 Care Bears is a cute set including Cheer Bear, Glow in the Dark Cheer Bear Chase, Funshine Bear, Good Luck Bear, Grumpy Bear, and Share Bear. These are available individually or the 5 regular Care Bears can be purchased as a convenient bundle!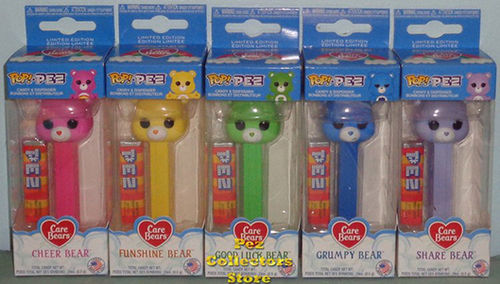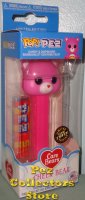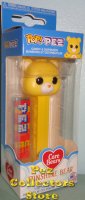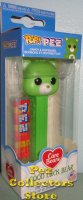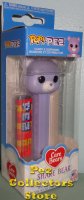 There have been no new announcements of upcoming POP! PEZ from Funko for the past several months, so there is nothing new to tell about. We will keep you updated as soon as there are any new POP! PEZ releases or announcements from Funko!
ISM, the international trade fair for confectionery and snacks is scheduled February 2 – 5 in Cologne, Germany. We expect the new catalog from PEZ International to be made public soon after the trade show and we look forward to learning more about the new releases scheduled for European distribution. As always, we will try to have them in stock in the Pez Collectors Store just as soon as possible! We will share more information in our next newsletter! We expect to have news of a new Disney Princess Aurora, DreamWorks Spirit dispensers, and 44 Cats dispensers!
Boystown Pez Gathering in Chicago, hosted by Brian Jaskolski and Matthew Porter on January 18 was a huge success. It certainly set the bar high for all gatherings and conventions for 2020! I know for sure that at least 50 BabyYodaRitas were consumed and $920 was contributed to support PAWS Chicago! Way to kick it off guys!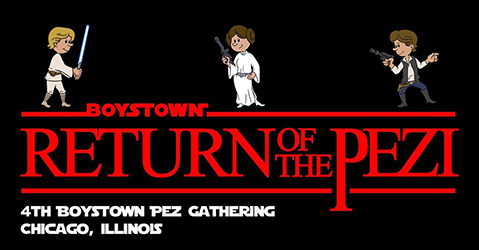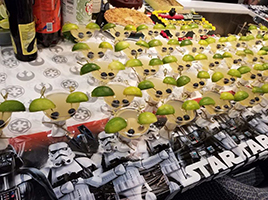 The second P.I.G. – Pez Informational Gathering will be held March 5 – 8, 2020 in Cincinnati Ohio, hosted by Josh Bales. The event is sure to be a lot of fun with lots of opportunities to learn more about Pez! Information can be found at thepigevents.com website. We hope everyone has a wonderful time and we look forward to hearing all about the gathering!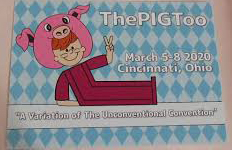 That's all the news for now! Happy Pezzing!
All the best,
Chris Jordan
www.pezcollectors.com