February 2018 Newsletter
The new year is off to a great start with new Pez releases. The USA and Europe will be seeing a lot of new dispensers in 2018 and a few of them have already been released. It is going to be a great year for pez collectors with new pez , conventions and gatherings!
The Troll Emoji Pez Twin Packs arrived in the Pez Collectors Store. The heads are colored crystal balls, printed with the head of Poppy on a pink crystal ball and Branch printed on a blue crystal ball. The copyright on the balls is PEZ, but the DreamWorks copyright - (c) DWA LLC. is printed on the back of the head. The twin pack Trolls graphics look great!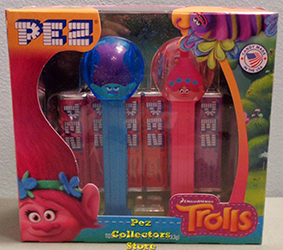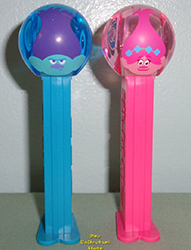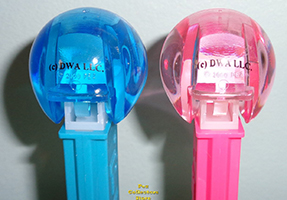 The Sparkling Heart and Thumbs Up emoji pez have also begun to be released. The Sparkling Heart can be found in both the Emoji assortment and on Valentine's cards. Rather than producing new Valentines this year, Pez is adding Emojis. Love and Kissing Emojis were added to the Valentines assortment last year, and Cheesing, Crystal Devilish and the new Sparkling Heart were added to the Valentines assortments this year. Crystal Devilish was also added to the Halloween assortment in 2017, so Pez Co. is really getting some added sales from the emoji pez by packaging them into different assortments! So far, the Thumbs Up seems to be only appearing in the carded Emojis assortment and we are waiting for them to begin arriving in polybag by the end of the month. We do have some of the Sparkling Heart Pez on Valentines Cards in stock now in the Pez Collectors Store.

The Crystal Angel and Crystal Devilish twin packs have been quite elusive! We were able to get just a few in stock and they are selling fast!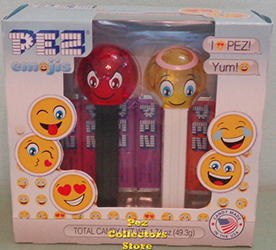 Easter Pez have arrived and the new assortment includes the Tan Floppy Ear Bunny on a full size pink stem which is new for 2018, a Mr. Bunny with a white head on a purple stem which is also a new variation, along with the 2017 version of the lamb dispenser with a blue kerchief, and the Ducky pez. This year, there is a roll of Vanilla Cupcake flavored Pez candy included in the package and it is yummy! These are in stock now in the Pez Collectors Store!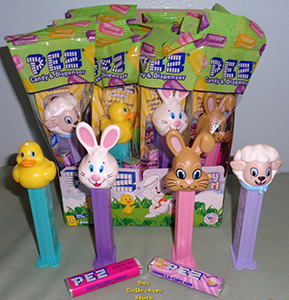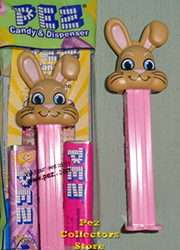 Easter eggs with mini pez should be arriving soon. We expect to have a new white head floppy ear bunny on a mini green stem added to the assortment with the lamb with a purple kerchief on a mini blue stem and the blue Ducky on a yellow stem.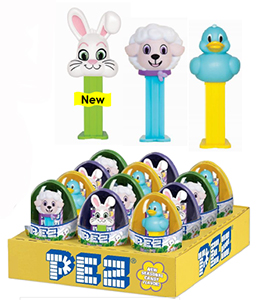 Pez Easter Tube assortments will include a Green Easter Egg with an Easter Basket printed on the Egg. This dispenser will only be available in tubes.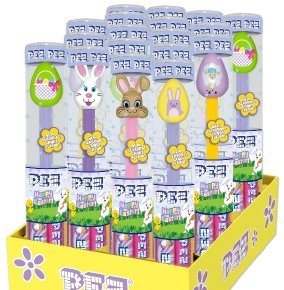 Crayola Pez have begun making their debut and we expect our order to arrive soon! This first release includes Vivid Violet that matches the color of Grape Pez candy packs, Jazzberry Jam which matches the color of the Raspberry Pez candy packs and Outrageous Orange which matches the color of the Orange Pez candy packs. There will be more Crayola pez coming in June when the Gift Set is released with blue, green, yellow and red Crayola pez.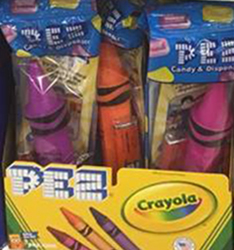 Shopkins Pez are scheduled to begin shipping February 1 with Apple Blossom, Kooky Cookie and Strawberry Kiss pez. We expect our order for the three new Shopkins Pez to arrive soon!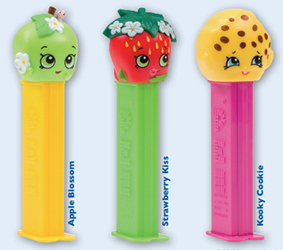 DJ Suki will be added to the Trolls Pez assortment beginning February 1 and since it will be 'flowed' in to the existing assortment, it may be a bit hard to find for a while. We have an order placed that should be arriving soon.

Black Panther is being added to the existing Marvel Pez assortment now. We have an order placed and expect it to arrive within a few weeks.

The next new Marvel pez will be released in July for the Ant-Man and the Wasp movie. Now that the official trailer has been released, I can share a bit of a story. I was contacted by a gentleman from the company doing props for the movie. They had all sorts of ideas about using pez in the movies and I sent them a variety of pez to consider for use as props. Hello Kitty made the final cut! When filming was done, all of the pez from the Props department were returned to me and I couldn't be happier! Check out the very end of the trailer at https://www.youtube.com/watch?v=P1m76Cz5ZWU and see the Hello Kitty Pez!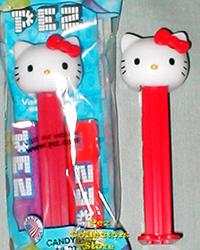 Minnie Rock the Dots pez is a new version of Minnie Mouse. The eyes are both open and outlined with eyelashes, and her red bow features white polkadots. The stem is not printed, making this new version slightly different than the one from the European Stylish Mickey and Mad about Minnie version. We will have these in stock soon!

We are expecting the Shimmer, Shine and Nahal pez to arrive from Europe soon. Shimmer and Shine will also be released in the USA in March and will come as single dispensers and also in a Twin Pack with both dispensers! We will have them all in stock just as soon as possible.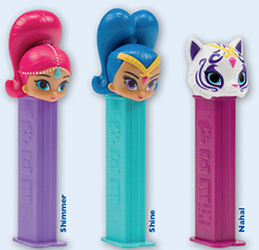 The Blaze set should also be arriving soon from Europe. This set includes Blaze, Crusher and Stripes. Our order is in and we are just waiting for them to be released and shipped to us!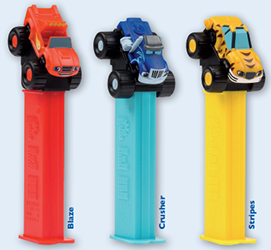 The Paw Patrol Tripack with Chase, Skye and Marshall pez is scheduled to begin shipping March 1 and we have an order placed so we expect to receive these in early March.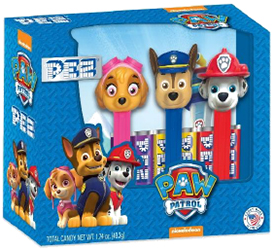 Dolly Madison Ice Cream has picked up on the popularity of Pez and have teamed up to create a new line of frozen treats featuring Pez Emoji faces, and popsicles with pez flavors. These cool treats are scheduled to arrive in stores in March, 2018.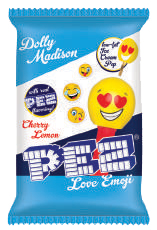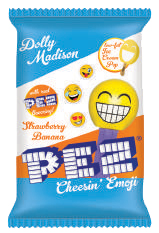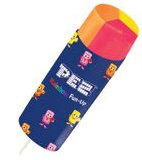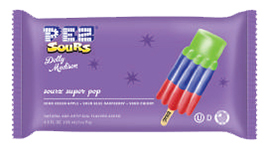 In April, the Sports Baseball, Basketball, Football and Soccer ball pez will be released in the USA. These have a white oval with the PEZ logo printed on the front of the ball. These have actually been around for quite some time, though it looks like the soccer ball may come on a green stem, making it different than the European set that has been available since 2007, except the European set includes the hockey puck.
In addition to the previously reported pez expected in the USA, the most recent plan adds a few new items that we are really excited about. Poop pez are coming in July! Yep, a brown Poop pez and a Rainbow Poop pez will be added to the Pez Emoji assortments. The emoji twin packs will continue with updated graphics and there will be a Poop Pez emoji twin pack and a crystal LOLing and crystal Happy twin pack coming in July. We believe these will probably be yellow crystal heads, but more details will come later.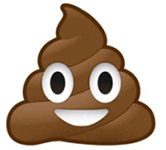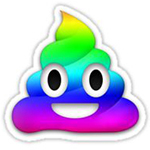 Mickey Mouse is celebrating 90 years and a Mickey and Minnie 90 Years of Magic twin pack will be released in September. The styling is original with black and white heads and the graphics for the twin pack are retro.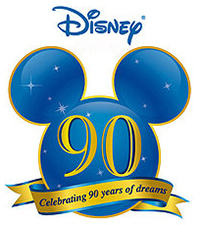 In November, a Shopkins twin pack will be released with Strawberry Kiss and Cheeky Chocolate. The candy included in the twin pack will be strawberry and chocolate pez candy!
The Marvel Mystery Packs and the Shopkins Mystery Packs shown at the Sweets and Snacks Expo in May, 2017, originally scheduled for September 1 release, have been eliminated from the 2018 Pez Plan. The fate of Thanos, Crystal Hulk, Crystal Groot, Crystal Black Panther and the variations of the Cupcake Queen are now unknown! While the mystery packs might be a nightmare for collectors trying to get them all, I really wish the crystal Hulk, Groot, Black Panther and Cupcake Queen dispensers would happen, but at this time, they are not in the schedule.
There are also a few updates to the European scheduled pez releases. Pez International posted their full 2018 Catalogue and there are new pictures that can be shared now. Europe will be releasing a limited edition pair of Flamingo Pez in May. These awesome new pez will come with Coconut flavored pez and they look fabulous! We have placed an order and will have them in time for summer fun!

Peppa Pig and George will be released in Europe in April or May and they really look cute.
Despicable Me Minions Pez will be released in Europe in May and they will come with stickers to decorate the dispensers. The stem colors are also different – Dave is on pink, Stuart is on blue and Jerry is on orange. In the USA, they are all on light blue stems.
Barbie Pez will be released in Europe in May or June and they look different than the USA versions which were released in the purse shaped gift tin. The molds seem to be mostly the same but the paint makes them look much different.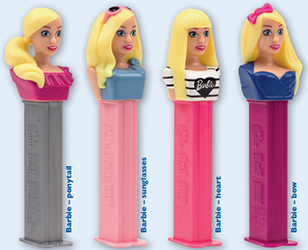 PJ Masks look great in color in the new European catalog. They are due out in June or July.
Miraculous dispensers in full color are also shown in the new catalog and they are will be coming at the end of summer.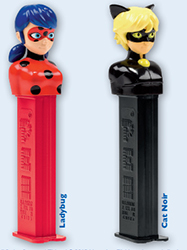 In case you're having a hard time keeping up with all the different releases, here is a quick listing for the 2018 approximate release dates for USA and Europe.
USA Pez Releases for 2018
Jan 1 Trolls Emoji Twin Pack

Jan 15 Pez Emoji Thumbs Up and Sparkling Heart

Jan 15 Easter with Mr Bunny purple stem, tan bunny on pink & vanilla cupcake pez

Jan 15 Easter Egg with Easter Basket in tubes

Jan 15 Mini Easter pez with white Floppy Ear Bunny on green stem in eggs

Feb 1 Crayola Asst

Feb 1 Shopkins

Feb 1 Trolls DJ Suki

Feb 1 Marvel Black Panther

Mar 1 Shimmer and Shine

Mar 1 Shimmer and Shine Twin Pack

Mar 1 Paw Patrol Tripack

Apr 1 Jurassic World

Apr 1 Jurassic World Twin Pack

Apr 1 Sports Basketball, Baseball, Football, Soccer Ball

May 1 Incredibles 2 Tripack

May 1 Incredibles 2

May 1 Han Solo gift tin

June 1 Ant man

June 1 Jurassic World Gift Tin

June 1 Crayola Gift Pack

July 1 Poop and Rainbow Poop added to Emoji asst.

July 1 Poop and Rainbow Poop Twin Pack

July 1 Crystal LOLing and Crystal Happy Twin Pack

Sept 1 Han Solo Twin Pack

Sept 1 Mickey and Minnie 90 Years of Magic Twin Pack

Oct 1 The Grinch gift tin

Nov 1 Shopkins Twin Pack with Strawberry Kiss and Cheeky Chocolate
European Pez Releases (different than USA)
Dec 17 Shimmer Shine and Nahal

Dec 17 Nintendo (add toad)

Jan 1 Trolls DJ Suki

Jan 15 Blaze

Feb 1 Shopkins

Mar 1 Hello Kitty Unicorn

Mar 15 Incredibles

Mar 20 Jurassic World

Apr 1 Peppa Pig

Apr 15 Minions

May 1 Flamingo Pez

May 1 Barbie

June 1 PJ Masks

June 1 Paw Patrol Rocky and Rubble

June 15 Miraculous

Aug 1 Grinch

Aug 15 My Little Pony

Aug 15 Dragons
Pez Conventions and Gatherings will take place across the USA and worldwide again this year. Here is the list of conventions in the USA in 2018.
First, a bit of sad news. The PezCific Coast Convention is no more. We greatly enjoyed this February convention in sunny Los Angeles and it will be sorely missed! Maheba Merhi and her family did an awesome job hosting this wonderful convention and we are all very sorry that it has come to an end.
The 1st Niagara Falls Pez Convention will take place April 19 – 21, 2018 in Niagara Falls, NY, hosted by Michael Ward. The agenda is filled with many different activities and games, lots of different activities for kids along with room hopping and the pez show. Details can be found at niagarafallspezconvention.com
The 20th Northeast Pez Gathering will take place May 3 – 5, 2018 in Stamford, CT. There is an optional bus trip to the Pez Visitors Center scheduled (additional fee required), Pez Swap, Pezingo and new games and activities scheduled for the Cinco de Mayo party Saturday night after the show this year. All the details can be found at pezconvention.org and host Richie Belyski can answer any questions you might have!
Pezamania 28 will take place in Cleveland, OH July 26 – 28, 2018. The Peace, Love, and Pez theme is sure to be a hit! The agenda is packed full with games, seminars, kids activities, lots of room hopping and a huge ballroom filled with pez! Your hippie hosts Rick and Sue Marlowe are sure to do justice to this groovy event. Details can be found at pezamania.com
The 3rd Michigan Pez Convention hosted by Jim and Jody Blaine will take place August 24 – 26, 2018 in Troy, MI. There will be just 3 days (March 1st, 2nd, and 3rd) open for Early Registration which will entitle the registrants to an Early Registration version of the registration dispenser. Of course, you can register after that as well! Agenda details will be coming so watch the mipezcon.com website and follow the Michigan Pez Convention Facebook group to get all the details.
The 4th Sin City Pez Convention will take place in Las Vegas, NV September 13 – 15, 2018, hosted by Dan and Jil Borchers. The hotel will open room reservations in February and details can be found at sincitypez.weebly.com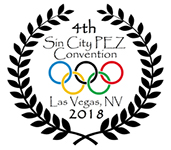 The 5th Pez on the River Convention will take place October 11 – 13, 2018 at the Riverport Inn and Suites, Winona, MN. The website will likely be updated soon, but this convention is celebrating its 5th year, so it will be a big year and I know that hosts Sandy and Cheryl Gardner-Ghionzoli have lots of great things planned! Keep watching www.pezontheriver.com for details!

Pezylvania IX Gathering will also take place on October 13, 2018. It will be held at Renninger's Antiques and Farmer's Market in Kutztown, PA. This one day event includes many different games and contests, along with lots of dealer tables in the antiques mall! Visit www.pezylvania.com for all the details.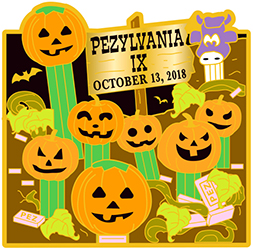 For a full rundown of the 2018 International Conventions and Gatherings, please visit http://pezpalz.blogspot.com/2017/12/18-purple-crystal-pez-lolings-made-by.html to see which countries will be having gatherings and getting an exclusive purple crystal LOLing dispenser for the event!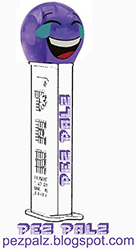 That's all the news for now! Happy Pezzing!
All the best,
Chris Jordan
www.pezcollectors.com