February 2014 Newsletter
Bitter cold has gotten us down this winter across the USA but new Pez can certainly warm our hearts if not our feet! With new pez coming out for 2014 and with the kickoff of the 2014 Pez Conventions in WARM and SUNNY Manhattan Beach, CA, the year is beginning to heat up!
We have received a shipment of the newly revised Disney Princesses from Europe. Ariel is sweet on the purple stem with a pearly green top that really sets off her bright red hair! Belle and Snow White as well as Ariel are all smaller heads on busts than previous releases.
The Valentine's Day Monkey has been showing up but we have only been able to get them in small quantities so far. We have just a few in stock, so hurry since Valentine's Day is just around the corner. We have plentiful inventory on many of the retired Valentine Hearts – both tall Hearts and the newer style low rider hearts, many different sayings, ink color, heart colors and stem colors, printed stems and plain stems! Check out our inventory in Current US Holiday Pez and Retired US Holiday Pez to fill the gaps in your collection!
Hello Kitty Badtz Maru the penguin and Keroppi the frog were scheduled for release in January and our ordered cases arrived, but while the pez were in the new counter display boxes, there were none of the new Pez characters included. We are still working on getting these in stock and should have some available within a few weeks.

Fozzie Bear is scheduled to join the Disney Muppets Pez assortment in February. Since this is an added item to an existing assortment, it could be a while before we actually begin getting them in our shipments. We will have them in stock just as soon as possible!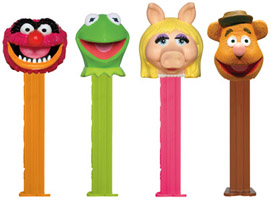 Space Alien is scheduled to be added to the Toy Story pez Assortment beginning in March. Like other assortments where a new character is added to an existing assortment, these will be 'flowed in' so it could be a while before we actually begin seeing the Space Alien in the mix. We will get these in stock just as soon as possible!

Europe has released the 2014 Pez Catalogue with exciting pictures of the upcoming European releases, so now we have some photos to share to go along with the release information we provided earlier.
The Minnie Mouse Stylish pez for 2014 is a set of 4 Minnie Mouse Bowtique dispensers with printed stems and winking eyes or glitzy decorated bows. These were just released in Europe and we are anxiously awaiting the arrival of our order! We should have these in stock in about a week.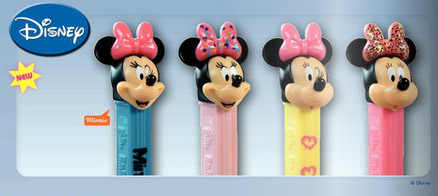 Planes 1 has been also just been released in Europe. This includes the Dusty and El Chupacabra planes. The Pez Collectors Store order has been shipped and we are just waiting for our shipment to arrive any time now! It could be that these will be the same as the dispensers released in the USA from the World of Cars assortment with Dusty, Mater and El Chupacabra, but our order is on its way now and they should be in stock in about a week.
Jake and Skully from Jake and the Neverland Pirates is scheduled for release in March, 2014. These two pez are also scheduled to be released in July as a part of the Disney Junior set in the USA, so they may not be "European only" pez.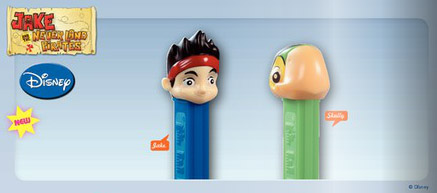 Rio 2 is a set of three different pez – Blu, Jewel and Raphael – two Macaws and a Toucan from the Rio 2 movie. The Rio 2 pez will be released in March in time for the movie Premier. We will get them in stock just as soon as they are released!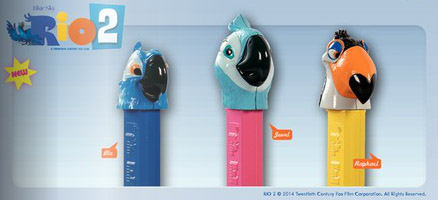 The Looney Tunes Hot in Brazil set is listed as a new release for April, 2014, but it seems to be the same as the 2013 Warner Brothers Looney Tunes set. It includes the newest Tweety with brown comb. It is uncertain why this is being shown as a new release, other than perhaps these pez will be on a different card featuring something about Brazil? We have no idea, but we have the pez in stock now!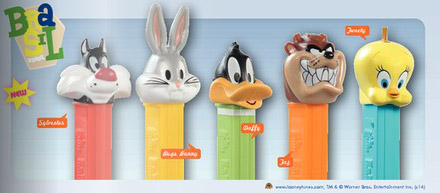 Planes 2 Fire and Rescue pez assortment is scheduled for release in July. The image provided shows Dusty, Dipper and Blade Ranger planes, but they are not shown as Pez dispensers, so PEZ must still be working out the design details! It looks like these will be a European only release.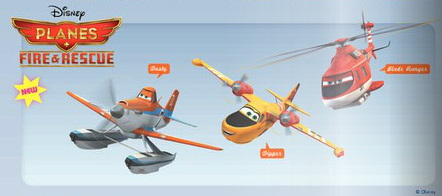 The Turtles Pez are scheduled for release in August in European countries, but these will also be released in the USA in July! These revised Teenage Mutant Ninja Turtles definitely have a different look than the TMNT pez from Series 1 or even Series 2.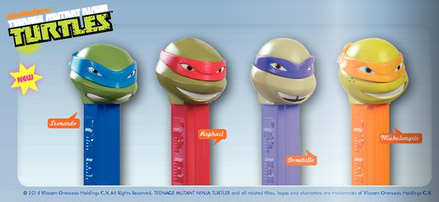 The Smurfs Click 'n Play pez set of 4 are really cute. Smurf boy, Brainy, Smurfette and Papa are sitting on their green bases which can be twisted off and used for play separate from the dispensers. This is a great European only set coming in October, 2014!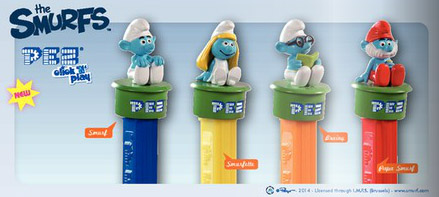 From the land down under, Australia will have an exclusive set of Emoticons being released soon.  The set of We will be getting these as soon as they are released, but shipping from Australia will take a while so it could be a month or so before we have them in stock.

The first pez convention for 2014 will take place February 20 – 22 in Manhattan Beach, California where we are being promised warm and sunny weather! A welcome relief from the bitter cold we have been facing for the past several months! The 13th Annual PEZcific Coast Convention is still open for registration! Get all the details at http://www.pezcific.com/ ! I will be attending the PEZcific Coast Convention from Feb 20 – Feb 22 so orders placed during this time will ship first thing on Monday, Feb 24. I hope to get to meet many of you there!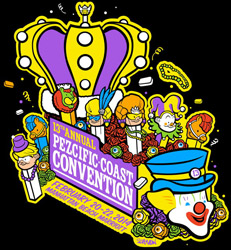 Until next month, happy pezzing!
All the best,
Chris Jordan
www.pezcollectors.com