February 2013 Newsletter
There are lots of new pez on the horizon including some really exciting new sets coming soon and in the months ahead! 2013 has already added several new pez that are in stock now in the Pez Collectors Store and others are on their way to us now.
The new Finding Nemo set is in stock now. Nemo is completely different than the original Nemo released as part of the Best of Disney Pixar assortment. The 2013 Nemo has side fins that are molded as part of the body, while the original Nemo had rubbery fins that stuck out on the sides as separate pieces. Dory is a completely new pez dispenser. We have not seen any terribly noticeable differences in Bruce the Shark aside from perhaps slight color or painting differences, but probably not enough to call it a new dispenser. This three pez all a part of the new Finding Nemo pez set, in stock now!
Easter is March 31, but the new Easter Pez are here now! The 2013 Easter Pez assortment includes a new Periwinkle Blue Floppy Ear Bunny that is cute as can be. This bunny pez is available in bag or in the Easter Tubes with 6 rolls of pez candy. The Easter Eggs Pez set of 4 includes a new 2013 green egg on a yellow stem with a picture of a ducky in a flower, a yellow Easter egg with polka-dots on a purple stem, a blue Easter egg with yellow daisies on a yellow stem, and a pink Easter egg with white aster flowers on a green stem. We are not real fans of the tubes, but the Easter eggs will only be released in tubes - not in bag or on card, so we have set them free so you can save on shipping. So, in tube or loose, the choice is yours!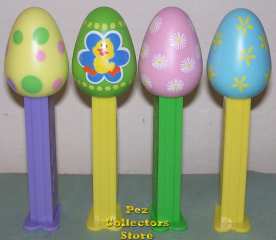 Merida is the new Disney Princess from the movie Brave. This Scottish princess archer makes the 11th Disney princess, all of which have been produced as pez dispensers! I wonder if Anna will also be produced next year for the Disney movie Frozen? The new Merida pez is now in stock in the Pez Collectors Store.
We need to send a great big thank you to Vinnie P. of NH. He came to our rescue in helping us get the Market Basket Pez that we were having trouble getting stock on. We have plenty in stock now thanks to Vinnie!
Moshi Monster pez are shipping to us now from Europe and should arrive soon! Thankfully, these cute pet monster pez dispensers need no extra care, unlike their digital counterparts who must be fed and cared for like the Tamagochi from years past. The Moshi Monster pez set includes Furi, Katsuma and Poppet.
Also shipping to us at this time are the Silver Glow pez on card with sugar free peppermint pez candies. These new silver glow pez are a limited release and have a different shaped cap than the silver glow pez released 10 yrs ago. Shipping from Europe can take an undetermined amount of time – but since they are already on their way to us now, it shouldn't be much longer until they are available in the Pez Collectors Store.
Red Nose Day Pez are the coolest new promotional pez! Comic Relief is a British charity that raises money used "to transform the lives of countless people in the UK and across Africa. Red Nose Day is the main way that the group raises money. This effort includes a biennial telethon, being held March 15, 2013, as well as the sale of various red noses – this year the Dinosesaurs to do something funny for money. These funny dinosaur noses have been made into pez dispensers! The set of 3 pez are T-Spex with glasses, Dinomite with the huge open mouth, and Triceytops.
They are sold only in the UK, but we are fairly sure we have finally found a source for these. If not, we will keep working to get inventory so we can offer these at a reasonable price to all our customers. Hopefully we will have them sometime this month!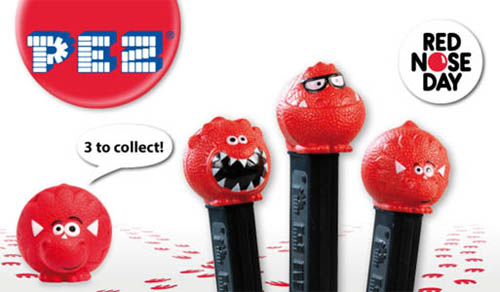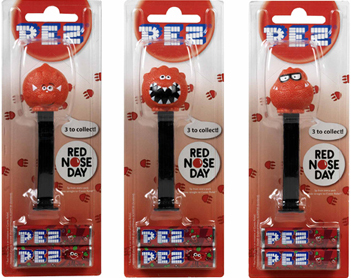 Another fun pez dispenser that has been produced is Polizist Ferdinand. This is a child's drawing of a policeman used as the spokesman promoting traffic and outdoor safety in Carinthia, a southern state in Austria. These are being given away to kindergarten children and are not available for retail sales. While we would love to be able to offer these to our customers, we have not found a source. So, if anyone happens to know any kindergartners in Carinthia, please help us get some of these adorable pez dispensers!

Delays, delays, delays! We hate them as much as you do! The Pez Collectors Store customizable Wall Displays with adjustable shelves, available with or without cover doors have been delayed for a month by the manufacturer. The molds are nearly completed – they are at the foundry being plated, then the molds will be shipped to the plastic molder so that the first cases can be produced. We are being told that the first pieces should be available for inspection by mid-February, so it will probably be March before these awesome display cases are available for sale in the Pez Collectors Store.
There are more pez coming from Europe this year. The 2013 Sales Catalog shows several new sets that are scheduled for release this year. We were able to give you a bit of information about these in our December, 2012 newsletter, but now we have updated information and some photos as well!
In April, the Super Mario set will be released. This set includes Mario on a blue stem, Kinopio on a yellow stem and Yoshi on a white stem. These are sure to be as popular as the original Nintendo Mario pez set so we will be sure to order plenty!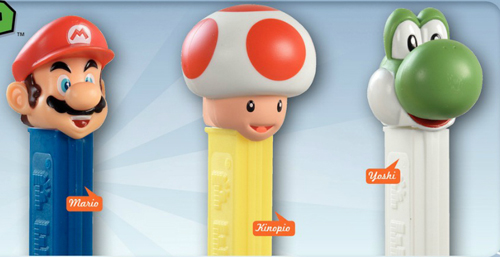 The European catalog shows a set of 3 Monsters University pez – Sully, Mike and Randall. Sully and Mike are definitely different looking than the Monsters, Inc. that were released as part of the Best of Disney Pixar pez assortment, and Randall is a completely new dispenser. The question is, will these be different than the Monsters University Pez scheduled for release in the USA in May. The US set is supposed to have 4 characters – Sully, Mike, Randall and Squishy! We have ordered plenty of cases of Monsters University pez from Pez Co in the USA, and we will order European dispensers if they turn out to be different.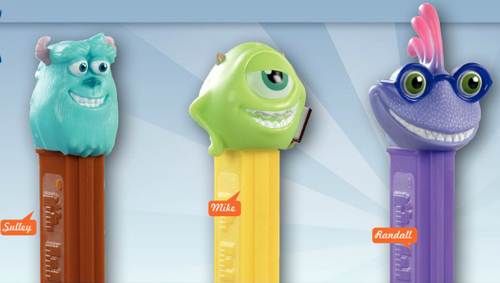 Angry Birds is going to be hugely popular! And, they are a cute set! Red Bird, Black Bird, Stella and the Green Pig are all represented in this new European Pez set.
The Smurfs will have a third pez series coming from Europe. Unfortunately, the photo shown in the catalog is a Smurf cartoon drawing, but these will be the Click 'n Play style pez with detachable tops like the Mr. Men and Winnie the Pooh Click 'n Play pez sets. We expect that there will be at least 4 characters – Papa Smurf, Smurf boy, Brainy and Smurfette.
There is a new crystal Hello Kitty Pez set. We were disappointed that Pez International has dropped the plans for a Hello Kitty KISS set and they will be releasing these instead. The printed stem is cute, the purple bow with polkadots is nice and the two full body characters in crystal make for a completely new Hello Kitty Pez set. Any new pez are great, but we really wanted the Hello Kitty KISS. Oh well, maybe later…
We will get these in the Pez Collectors Store as soon as they are available.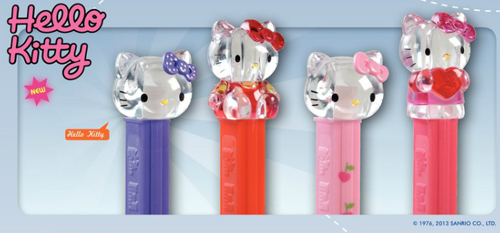 The 2013 European Catalog also shows a remake of the Warner Brothers Looney Tunes Pez. This set is called Looney Tunes Active and it seems that it will include Sylvester, Bugs Bunny, Daffy Duck, Taz and Tweety, but the picture seems to show old style dispensers with maybe different colored stems. Daffy's stem has a white stripe for some unknown reason and Tweety is a cartoon instead of a dispenser, so it appears that Pez International and Warner Brothers probably have not settled on the exact look for this rerelease of Looney Tunes Pez. 
Likewise, the Disney Princesses are shown with a different looking Cinderella. Since these are mockups, we are not sure if there will really be a new Cinderella or not. If there is, we will get some for the Pez Collectors Store!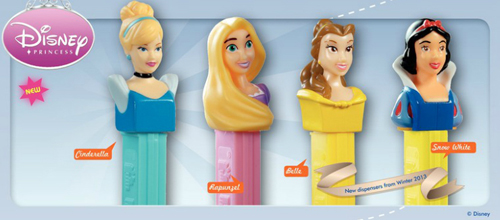 The Halloween release in Europe shows a new Ghost that is really cute, but we expect to get the same new Ghost and a new kid friendly cute Vampire as well as part of the US Halloween pez release. 
The same thing applies to the Christmas pez shown in the catalog. The new Snowman is cute, but we expect to get a new snowman, a new Elf and a new Penguin in the Christmas pez in the USA.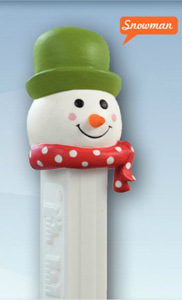 We will be trying to get some of the new sugar free peppermint candy tins from Europe. These look great and are very reminiscent of the early tins that pez candies were originally distributed in, before the dispenser was invented. There are 4 different great graphics on the tins and they come mint on card with 2 rolls of pez candy, which gives a good idea of the size of the tin! Move over Altoids! Pez Rules!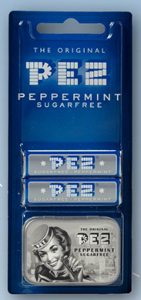 Back in the USA, March is the scheduled release for the new Baseball cap pez dispensers. We are told that all of the teams that currently have baseballs will begin shipping with 25% baseball caps and 75% baseballs. Of course, since there is likely so much old stock already packaged with nothing but baseballs, Pez Co will ship those before sending out cases with the 25% caps. This means that the caps are initially going to be quite difficult to get. We will get them as we can, but we don't expect to have them all available by March or even all at one time. The 19 different hats would include Atlanta Braves, Boston Red Sox, Chicago Cubs, Chicago White Sox, Cincinnati Reds, Cleveland Indians, Colorado Rockies, Detroit Tigers, Florida Marlins, Houston Astros, LA Angels, LA Dodgers, New York Mets, New York Yankees, Philadelphia Phillies, San Francisco Giants, Seattle Mariners, St. Louis Cardinals and Texas Rangers.
Also in March, the Barbie Pez Gift tins are supposed to be back in stock. Pez Co released this gift set in September, but they sold out almost immediately and did not have another shipment coming in until March. We have been out of stock on these as well, but will have more when they are re-released in March.
The 2013 Pez Convention year is about to kick off with the 12th Annual PEZcific convention February 21 – 23 at the Manhattan Beach Marriott hotel. Maheba knows how to do a convention right and it is sure to be a magical time at this California convention. For more information, visit www.pezcific.com .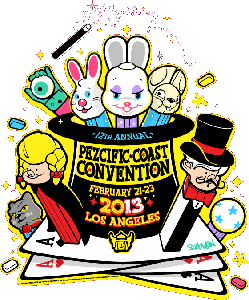 April 5 – 6 will be the Green Bay Gathering. We have not been able to find a website, but for more information, see the Facebook event for Green Bay Pez Gathering.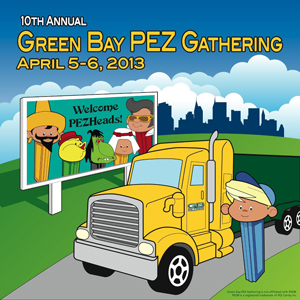 This is the month for letting our friends and loved ones know how much we care! We would like to let our customers know we care about you, too and we want to make it easier for you to purchase those Pez Valentine gifts for your loved ones! So, we are offering 20% off on all items in the Current and Retired US Valentines Pez section of the Pez Collectors Store, now through February 10. Happy Valentine's Day!
That's all for this month!
Happy Pezzing!
All the best,
Chris Jordan
www.pezcollectors.com