February 2011 Newsletter
The year is off to a great start with new pez releases expected to be arriving soon and more in the lineup from Europe have been announced! Much of the USA has been covered in snow so the new Major League Baseball pez bring thoughts of Spring training and warmer weather ahead! The Pez convention season is getting ready to kickoff again with a convention or gathering scheduled somewhere almost every month.  Collecting pez is so much fun!  The new pez releases certainly add some joy to our lives to help us get through these cold and snowy winter months!
Valentine's Day will be here soon and the Valentine's Pez are available now in the Pez Collectors Store. The Plush Teddy Bear Pez set includes the brown bear with the pillow that says LOVE and there is also a pink bear with a pink ribbon bow and a yellow bear. These sweet little plush dispensers have a key ring clip and little printed paw pads on their feet – just as cute as can be!
The full body Teddy Bear Pez holding a LOVE heart is a traditional pez dispenser, all new in the Valentine's Day pez mix this year. These are also available now in the Pez Collectors Store.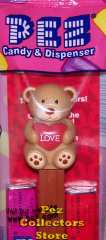 Mr. Men Click 'n' Play Pez are expected to arrive in the Pez Collectors Store from Europe by the middle of February.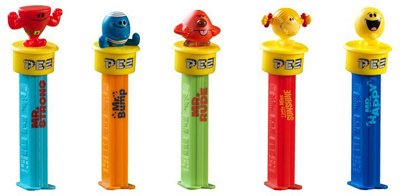 The new Major League Baseball Pez are also expected to arrive by mid February. These new teams and team logos will be great additions to the Sports pez series! 5 new Major League Baseball teams include the Houston Astros, Los Angeles Angels, the Cincinnati Reds, Colorado Rockies and the Texas Rangers. The Wally mascot of the Boston Red Sox will also be available soon and we guessed pretty close on what it would look like!



Europe has released the 2011 salesman catalog and now we have more insight into what is coming! In December, we announced the Littlest Pet Shop pez would be released and now we know that the characters include the Dog, Monkey and Cat! Hasbro has made these characters quite popular, so the Pez dispensers should be a hit!
We also announced the coming of a Hello Kitty Skull pez and this one really had us guessing! We guessed completely wrong as we can now see! The Hello Kitty Skull pez has a Skull in her bow and the set of 4 includes Hello Kitty with a black bow and Skull, Hello Kitty with a polka-dot bow, a glittery crystal Hello Kitty with a black bow and skull, outlined in pink and a glittery crystal Hello Kitty with a purple bow. The skulls on the bows were a bit of a surprise to us, but Sanrio probably knows their Hello Kitty audience better than we do and all pez are good pez for us! We are not sure of the release date for these yet, but we will get them in stock just as soon as they are released in Europe!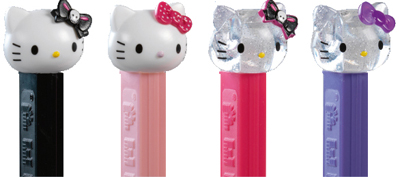 Toby from the Thomas and Friends train set is supposed to be added to shipments in February. Toby is the No. 7 brown tram engine. His square shape sets him apart from the other Thomas and Friends engines and he is really cute and happy looking! Pez Co. will ship out the older inventory – cases which include only Thomas, James and Percy before the newer inventory which includes Toby will be shipped, so we are waiting patiently for Toby to begin appearing, but we will have these in stock just as soon as possible!
We talked last month about the new Disney Cars pez and the European catalog shows images of Finn McMissle and the new Tow Mater pez with his cool announcer headphone gear. We expect that the US releases will be the same, though we can't be sure! These are scheduled for release in May, 2011.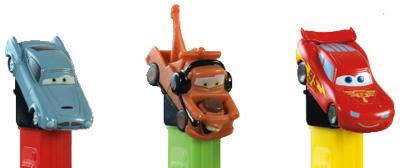 Rapunzel is supposed to be released in the mix of Disney Princesses in May and is included in the European catalog as a June release for Europe. It could easily be June before the mixes in the USA actually include any of these dispensers, but we know she will let her hair down sooner or later!

Phineas, Ferb and Perry pez are shown in the European catalog and we also expect these to be the same as the US releases scheduled for September, 2011.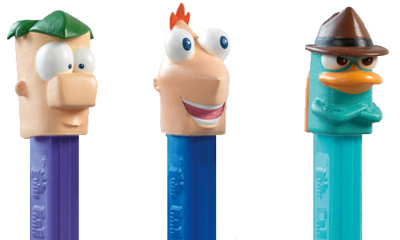 The European Halloween mix includes a new Witch! We have not received any information about this new version being released in the USA, so we will have to wait and see if it is a European only pez or if it is also to be included in the US Halloween pez mix! Either way, we will be sure to get stock and have them available in the Pez Collectors Store!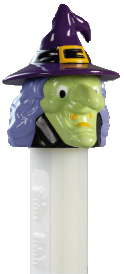 The Pez Convention season is about to kick off with the 10th Annual PEZcific Convention scheduled for February 24 – 26 in Los Angeles, California. Details can be found at http://www.pezcific.com.
March 4th & 5th will be the 8th Annual Green Bay Pez Gathering in Green Bay, Wisconsin and details can be found at http://www.gbpezgathering.com.
The 13th Northeast Pez Collector's Gathering/Candy Collector's Gathering will be held April 7 – 9 in Stamford, Connecticut. All the details can be found at http://www.pezgathering.com/necon.html
May 27th & 28th the Pez Collectors Store will host our very own 4th Annual Kansas City PezHead Gathering in Kansas City, Missouri. Details can be found at http://www.KCPezGathering.com and we will also provide more information later in this newsletter and upcoming newsletters! Here is a sneak peak at the limited charity pin with proceeds going to support the Crohn's and Colitis Foundation of America!
June 16 – 18 is the date for the 19th Annual National Pez Convention in St. Louis, Missouri. All the information can be found at http://www.pezconvention.com/home.htm 
July 14-16 will find pez collectors gathering in Cleveland, Ohio for PEZAMANIA 21. Details are online at http://www.pezamania.com
August 4 – 6 is the end of summer MNPEZcon 16 in Minneapolis, Minnesota. Information can be found at http://www.mnpezcon.com
That is quite a full schedule of monthly Pez Conventions and more are usually scheduled later in the year. We will bring you information about them as they get a bit closer. Be sure to mark your calendar and schedule time to attend one or more of these great Pez Collector events!
We are really getting excited about the 4th Kansas City PezHead Gathering! Memorial Day Weekend is a great opportunity to plan a little outing and get together with fellow pez collectors. Registration and all of the details for the gathering are available online at www.KCPezGathering.com. Be sure to register early and book your room at the Holiday Inn for discounted early registration prices! Come to KC and help us make a big splash this year!
Happy Pezzing!
Chris Jordan