December 2016 Newsletter
It is hard to believe that another year has flown by and it is December already. We have had so many different new pez released this year in the USA and abroad. Pez has even saved a few new assortments for release in December, so there are lots of new Pez releases just in time for the Holidays – great items for stocking stuffers and gifts. The Pez Collectors Store exclusive shoes for no feet pez are the perfect present because one size fits all. Of course, you can never go wrong giving a wall display or a grandstand display to a pez collector, so make the shopping easy for everyone by creating your wishlist in the Pez Collectors Store! It has been a great year and next year promises to be just as good!
The Wawa promotional pez truck has made its way inland and is available in the Pez Collectors Store now. This 2016 edition Wawa Christmas truck has a wintery night scene, with Santa in his reindeer pulled sleigh, flying across the moonlight sky. It has arrived just in time for the holidays!
The exclusive BSC Young Boys soccer ball pez are now in stock. The Young Boys of Bern is a Swiss sports club based in the capital city Bern and they are best known for their professional football (soccer to those in the USA) team. This pair of soccer pez features the YB logo of the Young Boys team on the soccer ball on a yellow stem and on a black stem. These are available from a single Swiss distributor, making them limited in distribution. We have a few sets remaining either mint on card or loose and ready to display!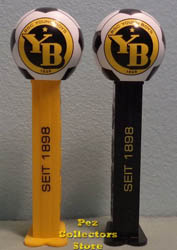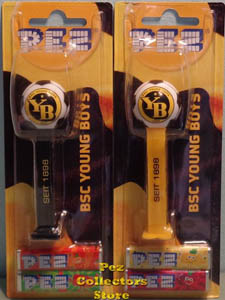 Nintendo Donkey Kong and Princess Peach pez from Europe have arrived in the Pez Collectors Store. These awesome new Mario Brothers pez are a great addition to the Nintendo Mario Brothers assortment in Europe and we will have them ready to ship to you in just a few days!

The Emoji Pez twin packs arrived in the Pez Collectors Store and were quickly sold out. We are waiting on a second order to be shipped to us and we hope to receive them within a week. Technically, this Emoji Pez twin pack is a Valentine's Day gift set, but Love and Kissing are truly timeless and seasonless, so they are perfect at any time!
The Power Rangers pez assortment with Kimberly the Pink Ranger, Jason the Red Ranger and Zack the Black Ranger is scheduled to begin shipping from Pez Candy on December 2 and we hope to receive our order within a week.
Watchitude PEZ Slap watches are on the way and should arrive within a week or so. These great new PEZ licensed wrist watches use a slap band that snaps from a stiff flat band to a perfectly fitted wrist band. The analog watch face has the PEZ logo and includes a second hand. There are 4 different PEZ styles – Pez Fruit Flavor Candy Packs called Pez Wrapper, Pez Candy pieces called Pez Candy, Animated Pez Candy pieces called Pez Fun, and Multiflavor Fruit Pez Striped design called the Pez Rainbow. These are so much fun!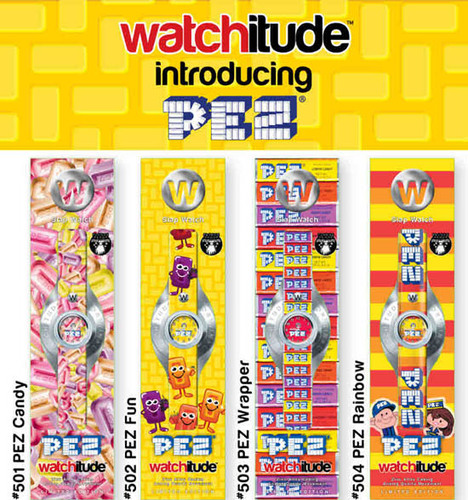 Before we leave 2016 behind, a quick pictorial review of the 2016 Pez releases still available in the Pez Collectors Store might be fun! Check out all this year's pez from USA and around the world! Did you get them all?

Don't forget about the awesome new Vintage pez t-shirts in adult and child sizes! We have lots of different designs and sizes in stock that are sure to please!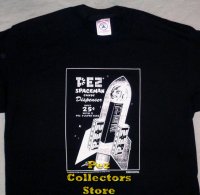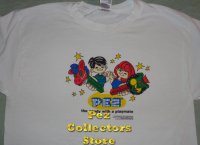 In January, 2017, Pez Co. will add three new emoji pez to the assortment – Chillin', Cheesing and Devilish will be added to the mix as Love and Kissing are retired. To make it even more awesome, Devilish will be a crystal head!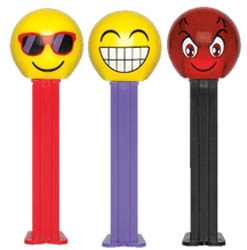 Also scheduled for release January 1, 2017 is the third series of Smurf pez. Papa, Brainy, Smurf Boy and Smurfette have a new (but still blue) look for the Smurfs Lost Village animated film due out in April. These are sure to be a great new release!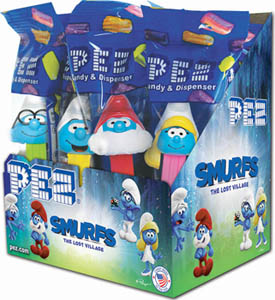 Easter 2017 pez are scheduled to begin shipping in January as well. The lamb pez has been redesigned and will be added to assortments as the old lamb with a standup bow is discontinued. The new lamb will come on a full size stem, on a mini stem in the mini eggs assortment and will be featured on a new Easter Egg Pez that will come only in the tubes.


It is already time to start making plans for the kick off of the 2017 Pez Convention circuit and what better place to begin it all than in warm and sunny Los Angeles at the 16th PezCific Coast Pez Convention February 16 – 18, 2017! The convention is moving to a different hotel that looks like it will be an awesome venue! Check out all the details at www.pezcific.com, make your plans and send in reservations and registrations for this great kickoff convention! We hope to see you there!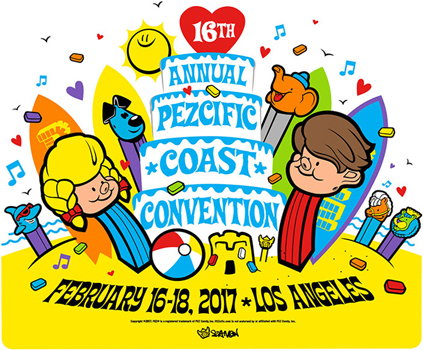 That's all the news for now. We would like to wish all of our subscribers, customers, friends and fellow collectors all the happiness of the holiday season! Merry Christmas, Happy Hanukkah and good tidings as you prepare for the New Year!
All the best,
Chris Jordan