December 2015 Newsletter
It is really hard to believe we are entering the last month of the year! Happy Holidays to all our great customers and newsletter subscribers! There are lots of new Pez releases just in time for the Holidays – great items for stocking stuffers and gifts. The Pez Collectors Store exclusive shoes for no feet pez are the perfect present because one size fits all. Of course, you can never go wrong giving a wall display or a grandstand display to a pez collector, so make the shopping easy for everyone by creating your wishlist in the Pez Collectors Store!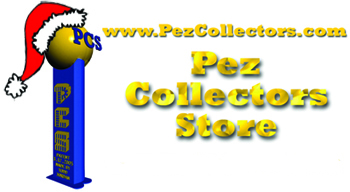 ​The final President Pez sets, Volumes 8 and 9, have arrived and these sets complete the US Presidents Educational Series. Both sets also include a puck pez with the Presidential Seal. This pez is the same in both sets, but I suppose there is only one Presidential Seal, so making it different for the sake of collectors might not make sense. We are offering the President Pez loose for those who will display loose and prefer to save on shipping, or in the boxed set with pez candy.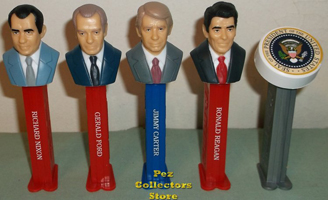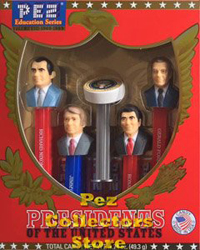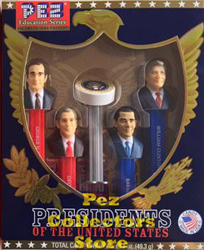 The new version of Darth Vader and the mini R2D2 and Yoda pez have been released as an exclusive box set called a twin pack. These are the new Star Wars pez we talked about last month as being on display at the Pez Visitors Center. One box includes the new Darth Vader with a mini Yoda and a second box or twin pack includes C3PO and a mini R2D2. These new Star Wars twin pack sets are available now from the Pez Collectors Store!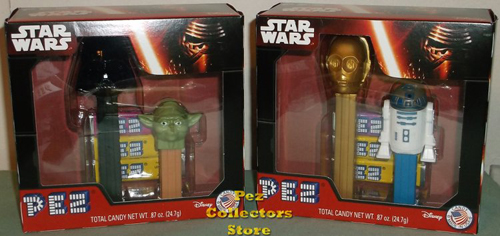 A new promotional truck pez has been produced for Wawa convenience stores as the 2015 edition. Rather than featuring just the Wawa logo, this one is quite colorful with a red cab and a Christmas train and elves on the white trailer. It is also interesting to note that the small smokestacks on this truck are not painted silver. This is a departure from the way this F series advertising truck is usually released and whether this was intentional or an oversight, it is consistent on all the 2015 edition Wawa trucks. The logo on the side is super cute and a great addition to the promotional pez collection. Order one now for your collection!

A few of the 2015 Winter Plush pez finally arrived and as is typical of Pez Co., the characters are not evenly distributed. Each counter display case has 3 complete sets of Santa, snowman and reindeer, plus one extra reindeer and 2 extra Santa plush pez. The 2015 Reindeer does not have a scarf and 2015 Snowman does not have a scarf or a hatband. Santa is an all new plush pez, first introduced in the 2015 Winter Plush pez set. Get them while they last!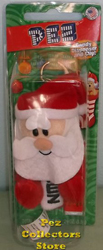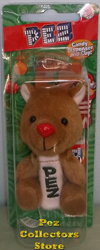 A set of 5 emoji pez is scheduled to be released in December. An Emoji has been named the word of the year by Oxford Dictionaries – and they chose the face with tears of joy emoji to represent their selection. This is the first time a pictograph has been selected as the Word of the Year.
The new Emoji Pez include Love, Happy, LOL'ing, Silly and Kissing. We hope to have them in stock within a week or so in the Pez Collectors Store.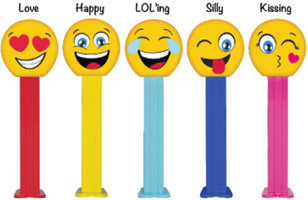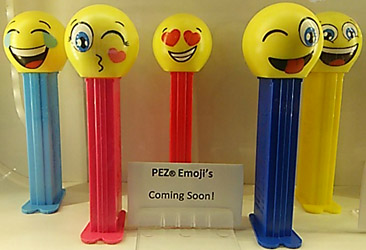 All new, exclusive PCS Shoes for no feet Pez are shipping to us now! The Pez Collectors Store has designed a revolutionary new shoe that will fit all no feet pez – vintage or current no feet pez in any size! The shoes are truly one size fits all! There are two different styles to choose from – narrow for pez that will face forward in the normal manner, and wide for pez that should be displayed sideways such as valentine hearts, psychedelic eyes or flowers, die cut stem or advertising or arithmetic regulars. The base of PCS shoes have the same thickness as the foot of a current pez and will fit in many different displays in the same way a footed pez does. You can choose clear, colorless shoes which allow the stem of the pez to show through, or opaque black shoes. These stylish new shoes are just what you need to display your pez beautifully! These should be in stock in the Pez Collectors Store within a week or so.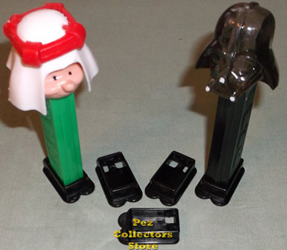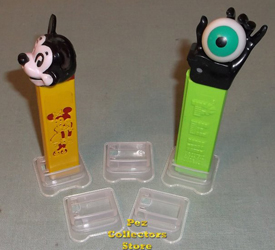 Valentine Pez twin packs will be arriving in the Pez Collectors Store very soon. This year, in addition to the Mickey and Minnie twin packs, we will have Snoopy and Woodstock twin packs.
In January, we expect to receive the new Justice League Assortment with revised Batman, Superman and Wonder Woman. The photo below of the original mockups on display at the Sweet and Snack expo appears to be completely new molds and it is likely that at least Wonder Woman will be a new mold.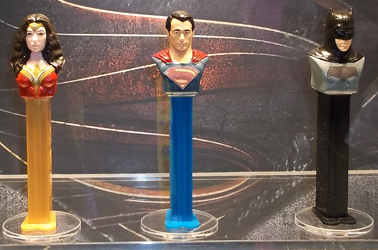 Europe is only releasing Batman and Superman and these actual dispensers photographed by Guenter Haidinger show that the old Batman and Superman molds are being used and are getting new paint jobs. For Superman, the old mold is used and the gap between his hairline and fallen curl is now filled in with black painted hair, and a blue collar is painted in around the neck. The eyes are a bit different and the emblem is a bit different as well. The Batman is the same mold but looks quite different in the black and gray tones. There is a difference in the chest emblem and the hood and cowl are black instead of blue on the new Batman.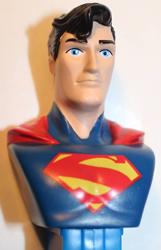 Easter Egg mini pez will begin shipping from Pez Candy in January and these are really cute with several different color heads including a blue ducky, a brown floppy ear rabbit and a pinkish purple bunny, all on mini pez stems in eggs.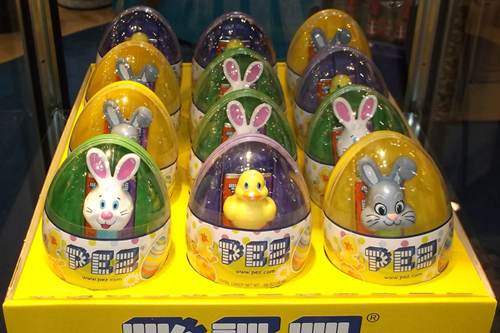 We also expect a white head floppy ear bunny (maybe on a green stem, maybe on a blue stem?) and a new Easter Egg this year though we are not sure if they will just be on card or tubes or in polybags. We will try to get these in stock as soon as possible, but assortments for holiday pez often include the old characters until Pez Co. runs out of old inventory, before they begin shipping the newest releases.

In January, we will be getting the European Fluttershy to add to the My Little Pony pez set. We have not heard of plans for this dispenser to be released in the USA at this time, but we will be getting them in stock early in the New Year!

We also have an order placed for the revised Kung Fu Panda pez set from Europe. This set will be released in January and it includes Kung Fu Panda, Tigress and Shifu. The new versions have somewhat different painting for their features and they will come on different stems. This Dreamworks set is being released in Europe to coincide with the release of the movie Kung Fu Panda 3.
Nerdy Hello Kitty is also coming to us in January from Europe. This is not expected to be released in the USA until May and it will be included in the assortment with other Hello Kitty Pez, so it will be harder to find. We will get them from Europe and who knows if there may be some differences between the European release and the USA releases.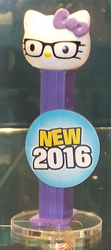 In the past PCS Newsletters, we have shared the 2016 line up of pez which looks great, and so does the lineup for 2016 pez conventions and gatherings in the USA! Kicking off the year February 18 – 20, 2016 is the PezCific Coast convention, celebrating their 15th Anniversary. Held in beautiful Manhattan Beach, California, just outside of Los Angeles, this convention features beautiful weather so desperately needed by much of the USA at this time of year. Hostess Maheba Merhi and her wonderful family really know how to pull together a great show with plenty of pez, seminars, pezzy games and guaranteed great times! The awesome LA weather, golf course, and nearby beach are just a couple of added bonuses for this convention. Check out all the details and get registered by visiting the website at www.pezcific.com. We look forward to seeing you at PezCific!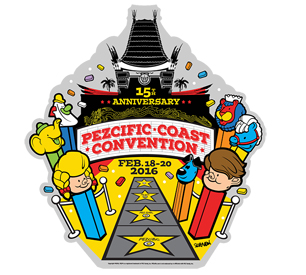 In March, host Ryan Rimmer will hold the 2nd ATX pez gathering March 31 – April 3 in Austin, Texas. Details, registration and hotel information can be found at www.atxpez.com.
April 28 – 30 is the date for the 18th Annual Northeast Pez Convention in Stamford, CT, with a bus trip to the Pez Visitor's Center planned for Thursday, April 28. Word is that the seats for this bus trip are filling up fast, so now is the time to book your seat so you're not left out of the fun! Hosts Richie and Mary Belyski have been doing this convention for so long that they really know how to do it right! All the details can be found at www.pezconvention.org.
July 28 – 30 is Pezamania 26 in Cleveland, Ohio. The new hosts, Rick and Sue Marlowe have been involved with this convention alongside previous hosts John and Linda Gliha, so they have learned from experts how to put on a great convention. All the details for this awesome event can be found at www.pezamania.com. The hotel for Pezamania 25 sold out and some attendees had to stay at a different hotel. To be sure this doesn't happen to you, go ahead and book you hotel room reservation now. Let Rick and Sue know if you will be selling out of your room so that they can be sure you're on the first or second floor of the hotel. You can send them an email at pezamania@gmail.com
Looking even further forward, we know for sure that Pez On The River will take place October 13 – 15 on the island in the middle of the river in La Crosse, WI. I have not gotten responses to my request for confirmation regarding the Sin City convention, but the website says it will happen in September 2016. Likewise, I have no response regarding whether the Steel City Pez Gathering will take place in September, or if Pezylvania VIII will be held October, but I will be sure to keep the updates coming whenever we have firm information.
That's all the news for now. Happy Holidays and Happy Pezzing!
All the Best,
Chris Jordan
www.pezcollectors.com