December 2014 Newsletter
Happy Holidays to all our great customers and newsletter subscribers! There are lots of new Pez releases just in time for the Holidays – great items for stocking stuffers and gifts.  There are lots of new promotional pez releases, both pez trucks in the USA and really exciting different characters and molds for promotions from Europe and Asia!
President Pez Volume 6 and Volume 7 are back in stock in the Pez Collectors Store. Volume 6 features William Taft, Woodrow Wilson, Warren Harding, Calvin Coolidge and Herbert Hoover and Volume 7 features Franklin D. Roosevelt, Harry S. Truman, Dwight D. Eisenhower, John F. Kennedy and Lyndon B. Johnson.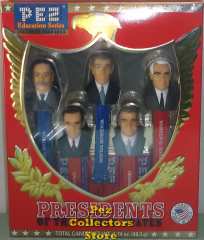 For the most part, Republican, Whig and Democratic-Republican presidents have been on red stems and Democratic Presidents have been on blue stems. In Volume 6, William Taft is on a blue stem, but as a Republican, he should be on a red stem. James Madison from Volume 1 is on a blue stem but should have been on a red stem for the Democratic-Republican party. In Volume 4, Rutherford B. Hayes is on a blue stem yet he was a Republican.  James A. Garfield should also have been on a red stem for the Republican party, but the pez is on a blue stem, and likewise Benjamin Harrison from Volume 5 should have been on a red stem for the Republican party, but is on a blue stem. The President's names are written in blue or red on the back of the box, but these colors do not always represent the same color as the stem or the political party affiliation. In fact, for volumes 1, 2, 3 and 4 the color of the name alternates between red and blue and do not always match political party or stem colors. In volumes 5, 6 and 7, the colors do not alternate but match the political party of the President, except for Benjamin Harrison who is incorrectly written in blue and on a blue stem. The name on the back of the box correctly identifies Taft as a republican by being written in red, even though the stem is blue. The Presidential pez series is supposed to be an educational product, but either Pez Co. does not know history very well or they are rewriting it! This is not good news for education, but the dispensers are still cool!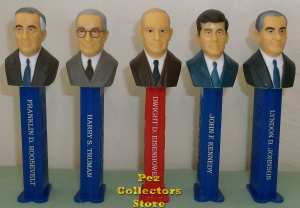 HEB Promotional Pez trucks were released for H-E-B grocery stores in Texas and Mexico. There are two different versions of the trucks. The first just has the H-E-B logo on the side of the truck and the second is a truck that says "Volunteering to support our community." With the HEB logo and "Helping Here" printed in a heart. These two promotional trucks are available now in the Pez Collectors Store.
A new 2014 edition Wawa truck has been released. This truck has a black trailer and cab similar to the first Wawa truck released in 2010. The 2010 version says "gottahava Wawa and shows a Canadian Goose in white above the Wawa logo. The new 2014 version has just the Wawa logo with a red Canadian Goose and does not say 'gottahava'.  This is actually the third Wawa truck released – there is also a 2013 version which is on a white trailer with a white cab and the background is red with white lettering and logo. All three versions are available now in the Pez Collectors Store.

Wegmans has issued a new promotional truck each year, beginning with the 2009 roasted chicken, the 2010 tomato, the 2011 sushi, the 2012 vegetable and the 2013 sushi girl so we kept expecting to hear about a new one for 2014. We sent an email to their consumer services to check on this and we received the following response: 
Dear Chris,
Thank you for contacting us to inquire if we will have a new Wegmans Pez Truck this year. Unfortunately, we have decided not to create a new Pez Truck this year.
We're sorry we can't help you at this time, but we do appreciate hearing from you.
Sincerely,
Marcie 
Consumer Services Specialist
So, there will be no new Wegmans promotional pez truck for 2014.


Disney Frozen Pez are in stock now in bag. The three characters in the set are Elsa the Snow Queen, Princess Anna and Olaf the snowman. The Disney movie Frozen characters are still extremely popular and are a great pez set!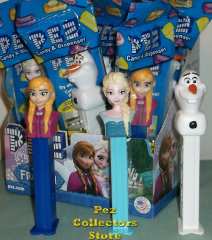 A Disney Frozen Pez Gift set is scheduled for release December 1. This boxed gift set will have just Elsa and Anna. The packaging looks very nice on this gift set! We will have them in stock in the Pez Collectors Store just as soon as they are shipped from Pez Co.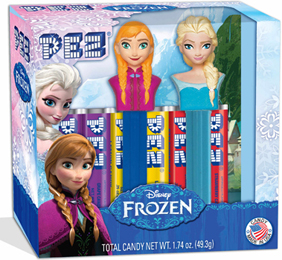 Target stores released a new Gift Card, packaged with two pez dispensers. The dispensers feature Bullseye Spot the dog dressed as Santa on a regular sized stem and dressed as an elf on a mini stem.  We have just a few left in stock in the Pez Collectors Store. We also have the Target Bullseye Spot gift card pez that was released last year!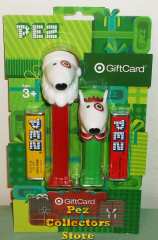 The Christmas pez release for 2014 features a brand new elf pez that is really cute, along with the 2012 version of Reindeer and Santa and the 2013 version of the Snowman. There may be slight variations between this year and the previous two years Santa, Reindeer and Snowman, such as slightly darker paint for Santa's glasses, but they are the same molds as previous. The Elf is a completely new dispenser this year and he is super cute! These are great stocking stuffers and are in stock now in the Pez Collectors Store!
Coming to us from across the ocean are Penguins of Madagascar! This set of 4 penguins includes Skipper the leader, Kowalski, Rico and Private. These are all full body penguins and they are really sweet. We have an initial small shipment that should arrive within a few days and will have more in stock within a few weeks.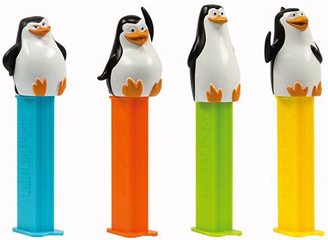 My Little Pony will be shipping to us within a few weeks as well. This is about a month earlier than expected and we are really excited about these cute ponies named Twilight Sparkle, Rainbow Dash and Pinkie Pie. Be sure to keep watching the Pez Collectors Store for these new European pez to be added!
A new Kyoro Chan Parrot pez set will be released by Morinaga Chocolate in Japan.  The Parrots in this set all have feet as a part of the character head, so they are technically full body Parrots! The heads on the new set are smaller than the original ChocoBall Kyoro Chan mascots released in 2007. The set of three include Strawberry, Caramel and Peanut. The information about this new set was shared by Pez International is that they were just shipped to Morinaga in Tokyo and they are scheduled for release in March, 2015. We have reached out to our contacts in Japan to get these as soon as they are released.
Another promotional pez has been released in Germany. Spike the English Bulldog is the mascot of MINI. These are available at MINI Cooper BMW dealerships in Germany and are supposed to be free to customers who purchase other MINI items from the dealership. Rumors suggest that there were 50,000 of these produced, so we expect that we will find a source to get these pez before long.

SC Bern hockey pez are on their way to us now. This set of 3 hockey puck pez was produced for the Bern, Switzerland Hockey team. The SC Bern team logo is on the hockey puck as well as on the graphic card, and the red, yellow and black stems are printed 'since 1931', the date that the Bern Sports Club team first began playing. These should be in stock within a few weeks!
Pez Candy has shared information about the new Wildlife Animals plush pez set scheduled for release in the USA in April, 2015. The set includes a gorilla, elephant with tusks, a giraffe and a white tiger. The dispenser comes with a clip to attach to a belt or backpack and it appears that the legs are attached directly to the body (not with strings as has been seen with some plush pez releases). Information about the animals will be included on the packaging!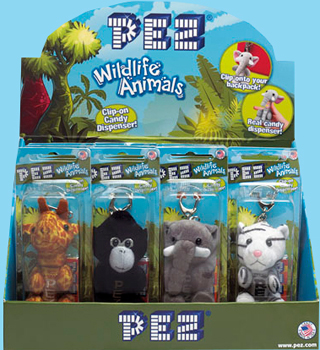 With the major gift giving holidays coming, now is a great time to be sure your Pez Collectors Store Wish List is up to date! Browse through the Pez Collectors Store and from the individual item description, click the Add to Wishlist button for the items you want! On your wish list page, you can rank the items by how important they are to you and you can write comments about the items. This list can be shared with friends and family so you can be sure to get the pez you really want the most! Just click on the Tell a Friend link at the top of your Wish List page, then enter their email address and write them a personalized message letting them know that these are some gift ideas for pez you really want!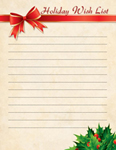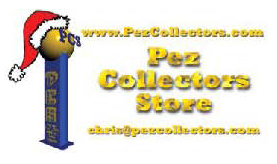 With all the new pez that are available, it may be time to consider additional displays! The Pez Collectors Store has customizable, adjustable wall display bonus packs on sale right now! Not only are the displays on sale, but with the bonus pack of two displays, the shipping is the same price for shipping two displays as it is for one display! The winter months are a great time to reorganize and get your pez displayed just the way you want them, so now is a great time to order the new displays you need! We offer the displays with or without a cover and additional shelves can be added to the unit if you will be displaying trucks or mini pez sets. Check them out in the Pez Collectors Store!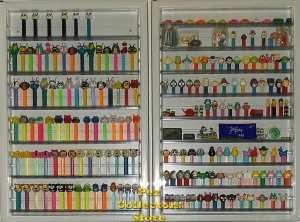 That is all the news we have for you at this time. Wishing all of you a very Merry Christmas, Happy Hanukkah, Happy Kwanzaa or whatever you celebrate during this joyous season!
All the best,
Chris Jordan