December 2012 Newsletter
Happy Holidays from the Pez Collectors Store! Wishing you all a very Pezzy Christmas, Hanukkah, Diwali, Las Posadas, Kwanzaa or whatever you wish to celebrate this month!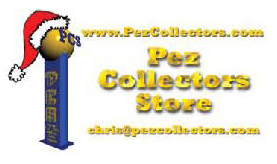 The Pez Collectors Store is happy to help you with your wish lists and filling the wish lists of others! Don't forget to update your wishlist in the Pez Collectors Store! There are Pez for everyone!
The Presidents Volume 2 and 3 arrived and have been selling quickly! They look good. The first series suggested that perhaps the stem color would simply alternate, but beginning with Volume 2 and 3, I believe that the color of the stem represents the party they were affiliated with, using Red for Republican or Whig and Blue for the Democrats.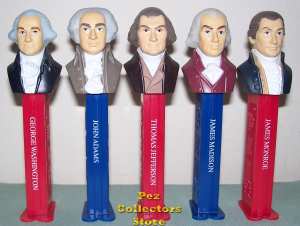 George Washington  None/ Federalist  Red stem
John Adams  Federalist  Blue stem
Thomas Jefferson  Democratic-Republican  Red stem
James Madison Democratic-Republican Blue stem
James Monroe  Democratic-Republican  Red stem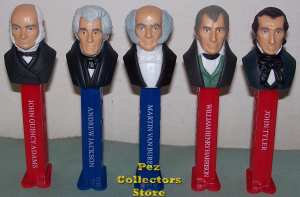 John Quincy Adams  Democratic-Republican Red Stem
Andrew Jackson  Democrat 1829-1837 Blue Stem
Martin van Buren  Democrat  Blue Stem
William H. Harrison Whig  Red Stem
John Tyler  Whig Red Stem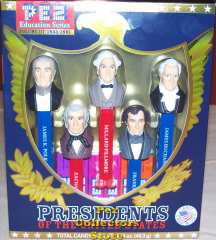 James K. Polk  Democrat  Blue Stem
Zachary Taylor  Whig   Red Stem
Millard Fillmore  Whig  Red Stem
Franklin Pierce  Democrat  Blue Stem
James Buchanan  Democrat Blue Stem
Toys R Us trucks are now in stock in quantity. It took a while for our order to arrive, but we have plenty of these colorful promotional trucks available now!

Star Trek the Next Generation with Beverly Crusher are back in stock and we also have the Walmart Exclusive set featuring Picard as Locutus of Borg as well.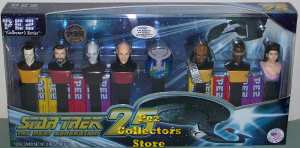 Brutus Buckeye is back in stock, along with the outlined Ohio State football pez. These are the only new footballs that have been released in 2012. We also have the older version of the Ohio State pez which is not boldly outlined. We have these both Mint on Card or Loose for those who prefer to save on shipping!

The NHL Stanley Cup Pez arrived from Canada. The stems are really nice – I believe it is the first time that Pez Co has printed multi-color logos on a stem, so even if the Stanley Cup starts looking kind of boring, the stems on these are top notch!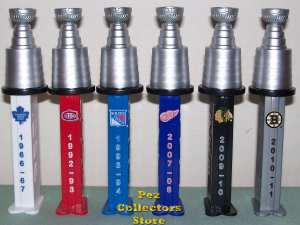 The NICI pez are coming soon! The Jolly Mah sheep are from a community where all the sheep are friendly, nice and cute. These pez are a wonderful way to express your thoughts kindly! They come on cards with a sticky note gift card and include 8 different sayings, among three different sheep. Lucy is the grey sheep with pink pompoms on a maroon stem saying "So What!" and "Keep Smiling!", Rosa is the white sheep with pink flower on the pink stem saying "Friends Forever!", "Happy Birthday!" or "Thank You!" and Bob is the laid back brown sheep with the colorful cap on a green stem that says "Don't worry!", "Take it easy!", or "Have a break!". These are shipping to us now and should arrive within 3 weeks.
If you ever wished you had gotten in on the ground floor of collecting a highly collectible candy dispenser, this is your chance! Radz are a new interactive candy dispenser that brings a 21st century approach to interaction! Besides the collectible candy dispensers in the large Radz size (~3 ½" tall) and the smaller Bytz size (~2 ½" tall), and cute dispenser accessories such as cool glasses, there is the Radz's online entertainment portal which features free games, videos, app downloads and fan art galleries. This portal is at www.Radzworld.com and special codes to unlock more fun adventures can be found in each package of Radz or Bytz candies and dispenser. The hats are interchangeable and by pulling back on the hat, the dispenser mouth opens to release a fun for your tongue Radz candy! We have all of the Radz and Bytz released to the public as well as some prototype dispensers!
Prototype Radz Bytz Easter Bunny - Raz, Flop & Blu MOC are the smaller size dispensers and these come with candies that are the wrong size for the dispenser, so they don't work right, but these were early prototype versions.
2011 Radz Holiday Bears - Pep, Snowden and Bastian were the first Radz dispensers released to the public market. Pep is the red hat, red scarf bear, Snowden has the blue hat and scarf and Bastian has the green. Our supply of these discontinued 2011 Radz Bears is limited, so get them while you can!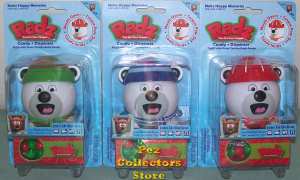 2012 Radz Bubbs, Antic, Max, Twig and Scorch Series 1 is a set of 5 large size dispensers.

The 6th series 1 character, Critter, is available online only – it was not released in the packages for the retail market.
2012 Radz Bytz set of 6 includes all 6 characters in the smaller size.
2012 Holiday Bytz includes Pep the bear and Jingles the Reindeer.
European pez candy comes with no added coloring, so while the tablets are all white, they are packed with strong flavors! If you enjoy the candies – try a pound of lemon and orange pez from Europe!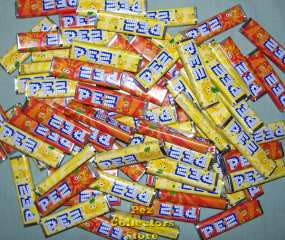 With all the new pez that have been released, displaying them all is the next concern! Even if you don't have a room that you can dedicate as a pez room, you can make the hallway or any open wall space a pez display, from floor to ceiling! We have been working on new display cases. You may remember that back in 2006 we made wooden pez wall display cases. We have improved on that design and will have new wall displays coming soon. The displays come with six adjustable shelves that have a lip on each shelf for the feet to slide under. This prevents the pez from the dreaded domino effect. The pez can be slid freely from side to side for ease of arrangement and rearrangement. The shelves are adjustable, so you can display 6 rows of standard size pez in a single depth so the stems are all visible, or you can add additional shelves to display mini pez or truck pez. Each display case can accommodate up to 17 shelves when spaced to fit truck pez.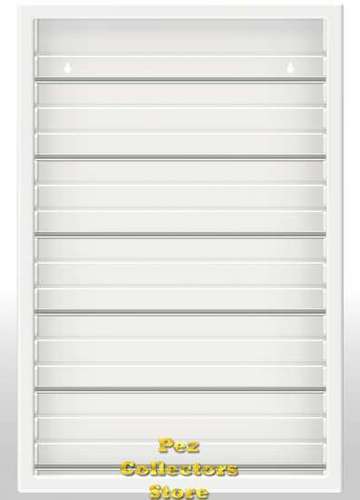 The cases can be purchased with or without a cover door and doors can be purchased separately and added at a later date. Extra shelves may be ordered as needed. The white case backing is constructed as a single sturdy molded plastic case and the doors and shelves are a clear plastic so you can see the entire pez. Uncovered, the vertical nature of the case helps prevent dust from settling on your pez, but to truly protect them from dust or other airborne objects, or from grabby hands or teething animals, use a cover door for maximum protection. The case is approximately 36 x 24" and 3" deep with cover and holds approximately 110 - 120 standard size pez.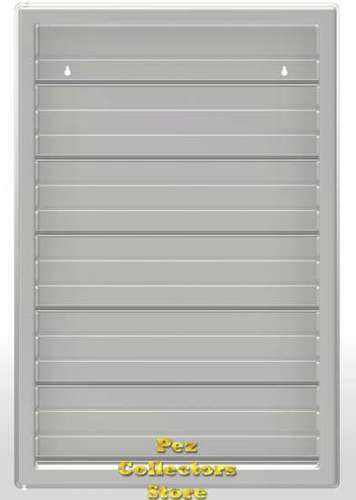 Check these out and be sure to add them to your wish list! They will be available in late January, just in time for the long cold winter and all the new 2013 pez!
In January we will see the new Finding Nemo Pez set. This set will feature Dori as well as Bruce and Nemo! It doesn't look like Bruce the Shark or Nemo will change, but who knows? Dori will be a welcome addition!
Also scheduled for release in January is Princess Merida from the Disney movie Brave.  Since this dispenser will be added to the existing mix and since Pez Co will ship the oldest inventory first, it could be a while before we see these available.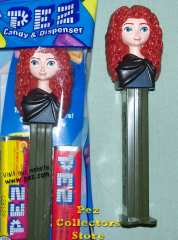 Europe will have some awesome new pez in 2013! Moshi Monsters are coming featuring  Katsuma, Furi and Poppet. Moshi monsters is an online world of adoptable pet monsters that need to be fed and cared for, similar to the Tamagotchi. The pez dispensers require no care, but they are sure cute!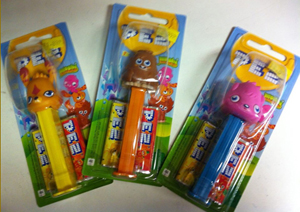 In April, a Super Mario pez set will be released. These are the Super Mario mini pez, and maybe the new Super Mario will look something like them.  A new set of Warner Bros. Looney Tunes is also scheduled for release.
There will be new Smurf Click and Play sets with 4 different Smurfs – I am guessing  Papa Smurf, a Smurf, a Smurfette and maybe a Brainy Smurf or even Gargamel! These will be really popular and as soon as we find an image, we will let you know more! These are supposed to be coming in May.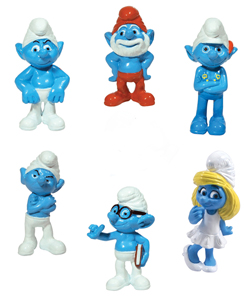 Angry Birds pez are scheduled for release, sometime in the 4th Quarter. Wow! Really? Yep, Angry Birds Pez! Not these fantasy ones, but real ones! Awesomeness!
We have also heard that there will be a Hello Kitty Kiss pez set but we are not sure what these might be, but here is our best guess! We will get you more information just as soon as we have it!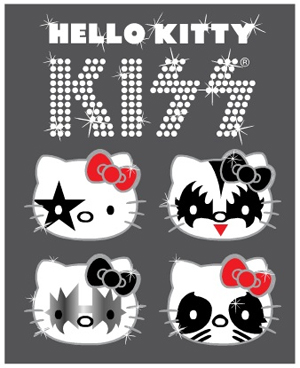 That's all the news for now, but look for more next month!
Happy Pezzing!
All the best,
Chris Jordan
www.pezcollectors.com