December 2009 Newsletter
December 2009 Pez Collectors Store Newsletter
We would like to begin by wishing all of our wonderful customers a very Happy Thanksgiving! We know the PCS Newsletter is a bit early this month, but we wanted to be sure you had all the great news in time to take advantage of everything the Pez Collectors Store has to offer as we move into the Christmas and Holiday season. There are new pez recently added to the website, the site has a new look with some new features you will want to try out and we have a special offer for our newsletter subscribers. This is our way of saying Thank You for your loyalty and your business!
The past month has been filled with the release of many different promotional haulers advertising various stores. Many of these stores are regional, making it difficult to get all of the different Pez trucks and we have been doing our best to get them, too! We have the new Wegmans hauler pez, the CVS hauler, and the Sheetz hauler pez on the older Rigs card, all in stock now. We also have the Get Go Hauler, Walgreen Rigs, WalMart rigs and a few of the European Nivea trucks in stock. The Winn Dixie hauler pez was finally released and is now available in the Pez Collectors Store.


We were quite surprised when we received a shipment of Rite Aid Hauler trucks that are packaged on CVS Pharmacy cards! CVS Haulers were released on cards that say CVS Limited Edition, and Rite Aid Haulers should be on cards that say Rite Aid Limited Edition. Since CVS and Rite Aid pharmacies are direct competitors, these were quite a surprise! Cross mixing of corporate logos on the Pez product is probably not a very common error, so we don't expect that there will be too many more of these released! We should be receiving more Rite Aid Haulers on Rite Aid cards soon, and the Error Rite Aid Hauler on CVS cards are available now in the Pez Collectors Store.

Movie Gallery and Hollywood Video also have a promotional Pez Hauler! These have been rather difficult for us to obtain as the only way to get them was to visit the stores and hope that they received some of the trucks, and then hope that they would be willing to sell them! Each store had a different policy about the sale. Some said they would not sell them until Saturday, November 21 which was scheduled as a Pez Headz Event day. The advertising poster said these were to be limited one per customer and we found some stores that were willing to sell early, some were willing to sell more than one dispenser, others did not receive any of the promotional pez and some would sell only one per customer and some even required that you have an account with their store! We were able to get only a few of the Movie Gallery pez which are available now. We were able to get only a few of the Hollywood Video pez, but we will keep trying to get more. For now they are quite limited in our webstore!
Sparefroh is on the way from Europe and we hope this shipment will be arriving around first of December. Again, the quantities on this special promotional pez are quite limited as it seems that the banks in Austria were giving them out very sparingly to their customers on World Savings Day. This dispenser is a wonderful remake of the original Sparefroh dispensers, but without the coin on the stem. This great promotional pez is a unique mold, not used for anything else, much like the Chick-Fil-A cow promotional dispenser. Personally, I really like the specialness of these different dispensers much more than the stickers on the hauler trucks, but having all the advertising dispensers makes a fabulous display!
Fast forward to Valentines Day, 2010 – the Disney Couples Mickey & Minnie and Donald & Daisy packaged in a special Valentines clam-shell box should be arriving by the first of the December.
As we mentioned in the last Pez Collectors Store newsletter, the website got a face lift! We hope you will enjoy the new look of the website and its added navigation to help you find the hottest items, the newest pez and all the new additions to the website (which sometimes are older pez or licensed products that we have added to our inventory).  Of course, the same sidebar navigation will allow you to browse through the different categories of pez or you can use the search box to find the pez you are looking for.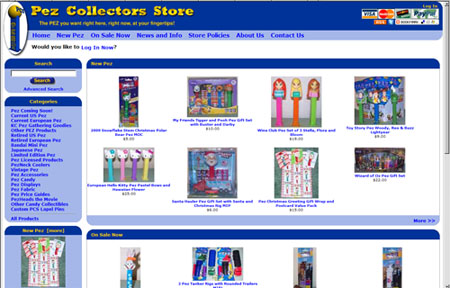 We also added a new feature – the Wish List! You can now add items to your shopping cart for immediate purchase or add them to your Wish List. You must be logged in to your Pez Collectors Store account to use the feature. Once logged in to your account, you can create a wish list by clicking the 'add to wish list' button on any of our products. You can even email your wish list to your generous friends and relatives to let them know which pez you really want to receive. You may move items from your wish list to your shopping cart when you are ready to purchase them or you may delete items from your wish list at any time.
Searching for a friend's wish list? Enter your friend's name or email address to view their wish list, then surprise them with a gift you know they really want! Now, how could your gift shopping be any easier and how could you make it any easier for your friends and relatives to shop for you? We hope you will enjoy this new feature!
We want to take time to thank each of you for being our loyal customers and subscribers and what better way than to offer you a discount coupon code to help you save money while shopping in the Pez Collectors Store. We are celebrating Thanksgiving with something to give thanks for! Free shipping on all orders of $75.00 or more in merchandise, placed between November 25 and November 30 for free shipping within the USA! Enter the code FreeShip in the discount coupon box on the checkout page to receive free shipping within the USA for orders of $75.00 or more in merchandise. Please note, while we greatly appreciate our international customers, we cannot extend this offer for international shipments.
So, take this opportunity to buy the pez you don't want to miss out on and take advantage of the FreeShip, then put together your Wish List, and email it to your friends and relatives and be sure to tell them in the email text about the FreeShip discount code!
Happy Thanksgiving, Happy Holidays and Merry Christmas to all!
All the best,
Chris
www.pezcollectors.com