December 2008 Newsletter
December marks the last month of the year and the end of the 2008 Pez releases, but it has been a fantastic year for new pez! We have several new additions to the Pez Collectors Store that were added over the past month and we are anticipating many more new pez as the 2009 releases begin to appear.
The Brigham Young University (BYU) and the University of Utah NCAA football pez were added to the Pez Collectors Store this past month, along with the Nebraska Huskers NCAA football pez. These 2008 football pez joined the other two exclusive footballs released this year – the Washington State University and the University of Washington football pez.

It is interesting that there were only two new NCAA football releases directly available to the pez dealers or other retail outlets this year – the University of North Carolina (UNC) and the Virginia Tech footballs. The latest 5 new footballs are all exclusives, available to only a single retailer or retail chain in the state where each school is located. This made it pretty tough for the Pez Collectors Store to acquire these for inventory to offer our customers! We have not heard about any new ones that are scheduled, but if there are pez out there, we will do our best to have them in our inventory!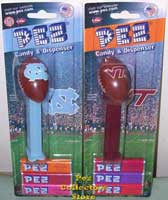 As we expected, the Star Trek set which was finally available during this past month has been a great seller and it is a nicely done collector's set. The harder plastic case is far superior packaging compared to the thin Saran Wrap type covering seen on previous gift sets. These have been selling fast, both to Pez collectors and to Star Trek fans!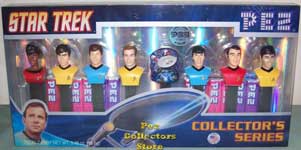 We also added the colorless (clear) Crystal Pez-a-Saurs to our inventory this past month. These were available briefly through online or mail-in orders and were never sold through the retail markets.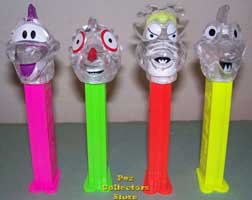 While the Midi Santa with Loop ornament is not new, nor even new to the Pez Collectors Store, our inventory is beginning to run low on these cute Santa pez. The midi stem is not as short as a mini but not as tall as a regular size stem. These would make an excellent addition to your tree this year!
There are no new pez releases scheduled for December, but we believe that the 2009 Valentines Cupid or Cherub will be available by the end of December or early January. We have not been able to find out yet if there will be new Valentine hearts (different colors, fonts, sayings, printing etc) included in the mix, so we will let you know when they arrive!
Also coming soon will be an addition to the Disney Clubhouse set. Pete the Cat is scheduled to be added to this mix in January. We are still looking out for the new Goofy Pez, and we hope maybe it will be included also!
We are not allowed to show you the picture yet, but a new Star Wars Clone Wars set is scheduled for release February 1st. The set should include Clone Captain Rex, Anakin Skywalker, Ahsoka Tano, OBI-Wan Kenobi, General Grievous, C-3PO, R2-D2 and Yoda. We don't know yet if General, C-3PO, R2D2 and Yoda will get an updated look or new mold, but the others have a much different look, with more realistic features. The photo will be in our next newsletter so keep watching!
As always, new items are added to the Pez Collectors Store on a regular basis, so check in often to see all the latest additions. Many thanks to our newsletter subscribers and customers for their continued patronage! We hope you enjoy the newsletter. Until next month...
Happy Pezzing!
Chris Jordan