August 2019 PCS Newsletter
It has been a busy month in the Pez Collectors Store with new pez and Funko POP! PEZ arriving as well as attending the Pez Conventions! That won't stop this month – new arrivals are expected and we will be attending two conventions in Europe!
Halloween Mini Pez Party Favor packs arrived and each bag has 12 individually wrapped mini pez dispensers. There are 6 different designs and each bag contains two full sets. There are no Frankenstein party favors (at least not this year), instead it is an Owl wearing a hat. These make a fun Halloween treat or are great for displaying in full bag, in individual packages or loose – or all of the above!
The Halloween Bat also arrived. It is grey with purple inside the ears and wings and orange around the black pupils. The style is showing a big rounded belly with little feet sticking out as though it is sitting on its rump (similar to the style for this year's Easter Bunny and Easter Chick). These come mint in bag with pez candies.
We now have full sets of the 2019 Lion King pez in stock. The assortments were not evenly distributed so our initial orders left us with very few complete sets. The new Lion King are all on different colored stems than the original Lion King release.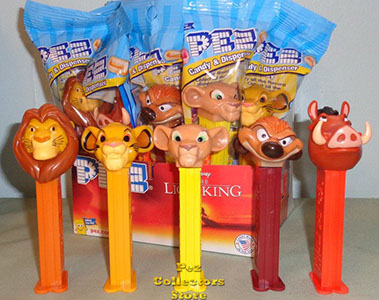 The European Silver Bird has arrived to join the others in the European Angry Birds assortment. Silver comes loose and ready to display! The 2016 European Angry Birds Pez set is also available!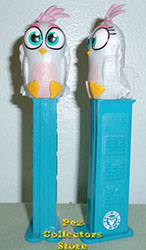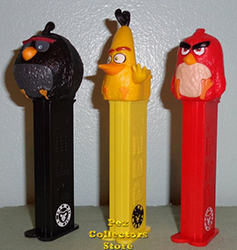 Princess Peppa and Pirate George are on their way to us now from Europe and we will have them in stock soon!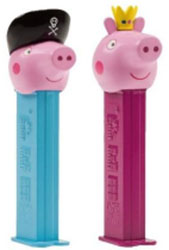 Zuma the Chocolate Lab water rescue pup is also on its way to us from Europe to join the other Paw Patrol pez!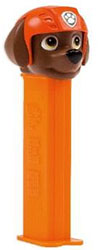 We are looking forward to the new Wonder Woman Pez and revised Batman and revised Superman in the 2019 Justice League Assortment. These are supposed to begin shipping August 1 and we hope to have them in stock soon!
LOL Surprise are also scheduled to begin shipping August 1. These will be Mystery pez, since you won't be able to see through the bag to know what you are getting until you open the package. There are 3 different dolls each with 3 different variations – popular, fancy and ultra rare. Collecting them all may prove to be a challenge!
Funko POP! PEZ announcements keep coming and new arrivals keep coming in! We received the remainder of our order for Duck Dodgers and have it available separately or in the bundle with Marvin the Martian and Space Cadet.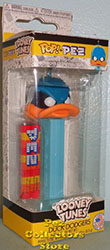 Disney Kingdom Hearts Sora, Organization XIII Mickey and Heartless POP! PEZ are in stock now! They are available individually or as a Kingdom Hearts Bundle.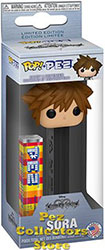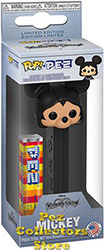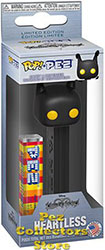 We have Banana Splits Bundles with Bingo, Drooper, Fleegle and Snorky that are a shared exclusive with SDCC. These are cute as can be!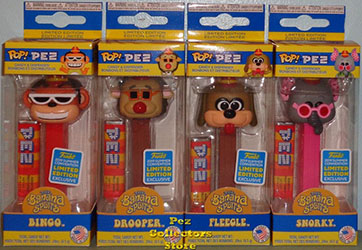 We have the San Diego 50 Comicon Toucan POP! PEZ in stock as well. The Toucan is the SDCC mascot and he looks great as a POP! PEZ dispenser!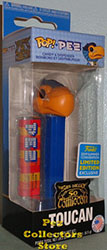 We are expecting Thundercats Lion-O and Mumm-Ra very soon!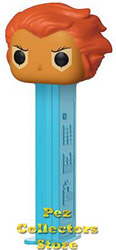 We are also expecting to receive Betty Boop and Betty Boop Chase very soon.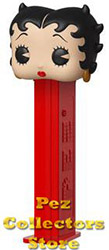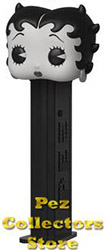 Wreck It Ralph characters Ralph, Fix-It-Felix and Vanellope are due in very soon as well!


A little later in August, we expect to receive DC Harley Quinn, Dark Knight Rises Bane, Dark Knight Batman, and Suicide Squad – The Joker.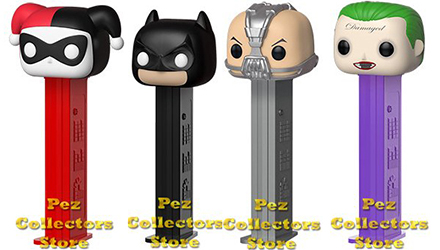 H.R. Pufnstuf characters Witchiepoo, H. R. Pufnstuf, Cling and Clang will be coming in August.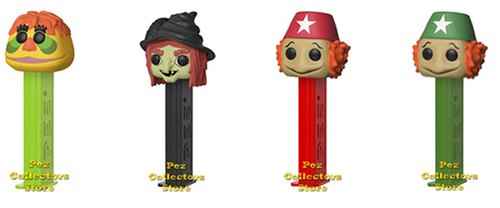 Land of the Lost Sleestak is also coming in August.

Also scheduled for August shipment are the second series of Nightmare Before Christmas with Dapper Jack, Dapper Sally, Oogie Boogie in Burlap, Lock, Shock and Barrel.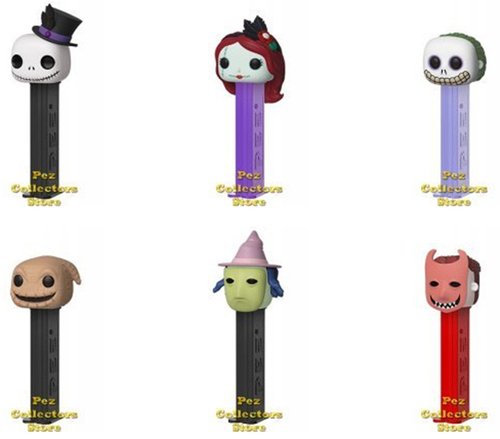 Tron characters Tron and Sark are coming in late August and so is Elvira!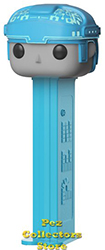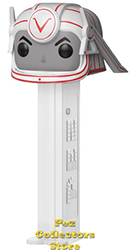 More new releases were announced and we look forward to receiving them. Previously announced expected September arrivals include Star Wars Lando, Holiday Boba Fett, and Boba Fett Prototype, and the Disney Villains Maleficent, Ursula, Cruella and Evil Queen, and A Christmas Story – Sheriff Ralphie and Bunny Suit Ralphie, plus Funko announced Heat Miser and Snow Miser from A Year Without Christmas will also be available in September, along with Buddy from The Elf and Felix the Cat!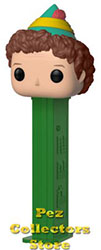 Dark Crystal POP! PEZ Rian, Aughra, and Chamberlain Skeksis will be coming soon.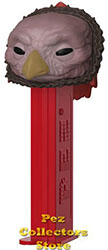 Additionally, Funko announced the release of The Office characters Prison Mike, Daryl, Facebook Jim and Dwight.
Disney Dumbo, Dumbo Clown, Stich and Lilo, Hercules, Hades, Baby Hercules and Baby Pegasus are also planned for release.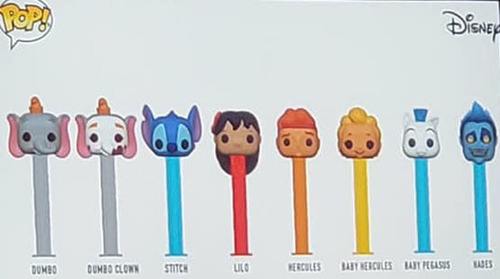 Funko will also be releasing Care Bears – Cheer Bear, Cheer Bear Chase which is glow in the dark, Share Bear, Funshine Bear, Good Luck Bear and Grumpy Bear.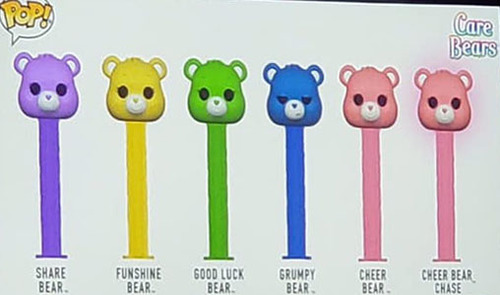 Funko also announced the release of several POP! characters holding POP! PEZ. The previously announced Peter Pez with a Red Hat is a Toy Tokyo exclusive, but Funko announced a similar Peter Pez with blue hat, holding a Peter Pez POP! PEZ dispenser, the Brunette Pez Girl, holding a Brunette Pez Girl POP! PEZ, and a Green Head Mimic the Monkey POP! There seems to be a few variations between the images for Blue Hat Peter Pez POP#52 with blue bow tie and pants and the image shown at the SDCC Funko Friday Fundays event with red bow tie and pants!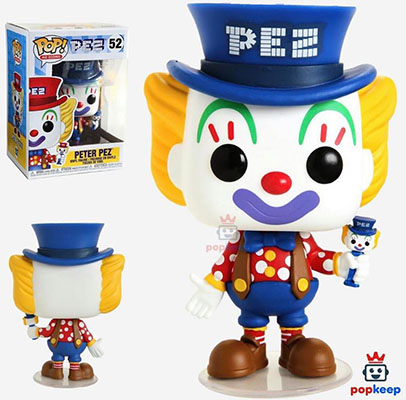 Some very limited edition POP PEZ were released in conjunction with the SDCC – some of the 100 piece Limited Edition Pez Pal Fireman with a black hat and stem and a black mustache and some of the 100 piece Limited Edition Gold Sleestak were given away to Funatics at the Funko Friday Fundays event! These are pretty sweet!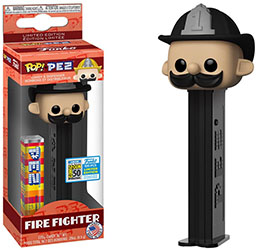 Brian Mariotti has also announced he will be giving away some very limited edition Batman POP! PEZ that have a sticker saying Social Giveaway 200 pieces Limited Edition. We are staying tuned to Twitter and Facebook in hopes of winning one of these great POP! PEZ.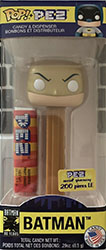 At the Cleveland Pez Convention, the PEZHead of the Year was announced. The recipients of this year's award are the hosts of the Pez on The River Convention, held October 10 – 12, 2019 in Winona, MN. They are long time collectors who go above and beyond in supporting the hobby, encouraging new collectors and sharing information and the love of Pez. They would not only give you the shirt off their backs, but their pants, too if you needed them! It is a pleasure to welcome Sandy and Cheryl Ghionzoli-Gardner as the 2019 PEZ Heads of the Year! We hope to see you at the POTR convention and be sure to congratulate the reigning PHOTY recipients!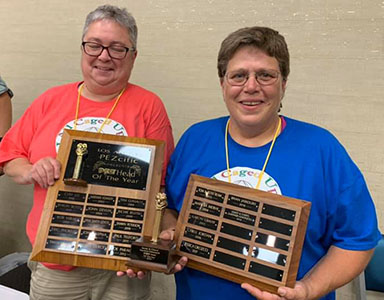 Every four years the Vienna International Pez Convention takes place in Vienna, Austria. One week before the VIP convention is the Slovenian Pez Convention in Slovenia. We will be taking 10 days and attending both conventions this year!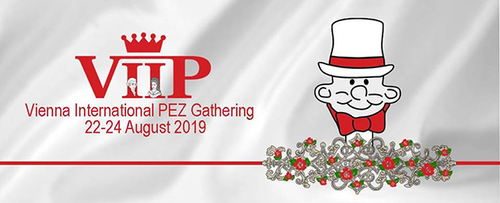 That's all for now! Happy Pezzing!
All the best,
Chris Jordan
www.pezcollectors.com