August 2018 PCS Newsletter
New pez releases kept coming in this past month and we have more to look forward to in August as well! We have news about the new Funko POP!+PEZ and a chance to win some before they are released to the public in this newsletter. Pez Conventions are off to a wonderful start and they will be happening at least once a month through the end of the year! We are planning to attend as many as possible and we hope to see you at one soon!
Thomas the Train Pez Brush Buddies Poppin Toothbrushes have arrived and join the Pez Emoji and Peppa Pig Pez Brush Buddies. It is so much fun to brush with a pez and the irony is just superbly sweet!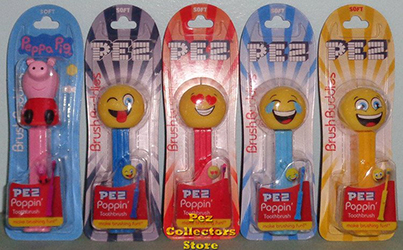 Miraculous Ladybug and Cat Noir arrived from Europe and they look great! These two teenage superheroes fight crime and catch supervillains in Paris in this popular animated show. The pez are fun new additions and are available now in the Pez Collectors Store!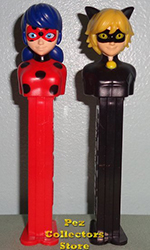 The USA Sports Pez assortment is in stock now in the Pez Collectors Store. The Sports assortment comes with Baseball, Football, Basketball and Soccer ball featuring the PEZ team logo. These pez are similar to the Sports Pez released in the Europe, but the soccer ball comes on a green stem and the word PEZ is not in a white oval as the previous European versions were, so the black pentagon shape beneath the PEZ logo is completely visible on this USA Soccer ball version. There is also no hockey puck in the USA pez set. These great Sports pez dispensers comes mint in bag with pez candies!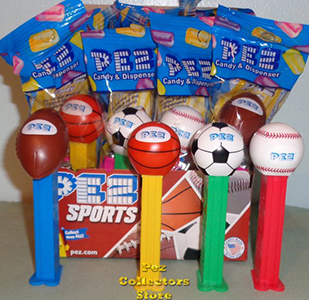 Poop Emoji Pez have arrived. The brown poop and rainbow poop emojis are shaped like swirled soft serve ice cream, but they are supposed to represent a pile of poop. These are extremely popular with kids and kids are the primary market target for Pez, according to the company. We sold all that we received in our first order and we are waiting on the next ones to arrive. They will be coming soon!
The Poop emoji twin packs arrived and are just as expected! We sold out of these at the Cleveland convention, but more are on their way and should be arriving soon!
The other emoji twin pack was supposed to be a crystal LOLing and a crystal Happy emoji. Unfortunately, Pez Company executives changed the plans for these based on remaining quantities of the existing LOLing and Happy dispensers, but this information was not conveyed to my regional sales rep , and I was assured just before the July PCS Newsletter went out that they would be crystal. The twin pack that was released has an opaque LOLing and opaque Happy emoji. We were disappointed, but sometimes plans change at Pez Co. between the time the sales plan is released and when the actual product is released. For this reason, we never do presales or list items until we actually have them in hand! The previous emoji twin pack included Love and Kissing, so the newest twin pack is still different than the previously released twin pack and they do look nice side by side.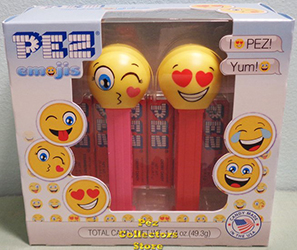 Halloween pez arrived in the Pez Collectors Store and there are two new additions to the assortment. The Cute Witch is quite charming and the Happy Pumpkin has a fabulous smile! Again, we sold out of these at the Cleveland Pez Convention, but we have more ordered that will be arriving soon!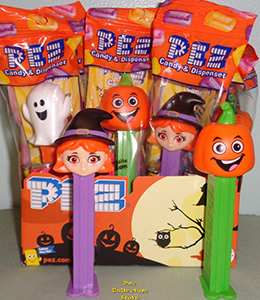 The Cupcake Queen will be added to the Shopkins pez assortment beginning in August. This update, reported by PEZ Candy USA on their official Facebook page, will be a welcome surprise to the assortment. Sadly, we will have to wait until January for the addition of Cheeky Chocolate as the twin pack planned for November 1 release has been canceled.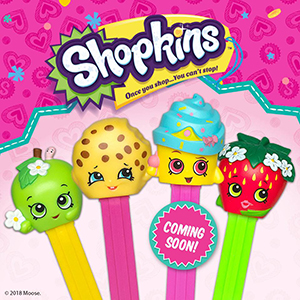 Mickey and Minnie 90 Years of Magic Pez Twin packs are scheduled to begin shipping September 1. The look is sort of retro styling for the faces and eyes. Mickey has a printed stem with 90 Years and Minnie has giant polk-a-dots! We will have these in stock just as soon as they are released!
September 1 is also the scheduled release date for the Stranger Things Twin Packs. Lucas and Dustin will be in one twin pack and Eleven and Mike will be in a second twin pack. The names will be printed on the stems and the twin pack boxes feature graphics from the Netflix Stranger Things show. These look awesome and we will have them in stock just as soon as they are available from Pez!
We are excited to give you a sneak peek at some of the new POP!+PEZ from Funko that will be coming soon. We expect to have them in stock beginning in September, but read on to see how you can win a set of 8 this month! There are so many fun characters that we have wished Pez Candy would make and now they will be available as POP!+PEZ. These POP!+PEZ are very nicely packaged in boxes, securely held in place with clear plastic supports and each comes with a package of Assorted Fruit Flavor Pez Candies. The heads are typical Pop! shaped, but they are made of a hard polystyrene plastic just like a Pez and the back of the head is designed with a candy kicker just like a standard Pez. The stems are 7.5 patent Pez stems and these function exactly like a standard pez dispenser. The width of the head of the Deadpool POP!+PEZ is exactly the same as the width of a puck pez. Some may be a bit wider or taller, but Marge is still taller than Captain Crunch!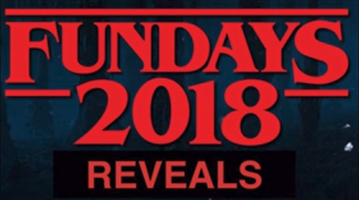 The POP!+PEZ revealed at Funko Fundays at San Diego ComicCon show the first 3 waves. The first wave shows that there will be some exclusives, such as the Captain Crunch. Target has a first to market one month exclusive for the white stem Captain Crunch (an exclusive) and they also have a Chase version which is a black and white head version labeled as a Chase (an exclusive chase). In September, the Pez Collectors Store will have the Captain Crunch on a blue stem and the black and white head on a blue stem that is the chase version. We will also have the Crunchberry Beast, Jean Lafoote, Quisp and Quake.
Other first wave releases includes a set of Marvel characters. Hot Topic and Box Lunch have a first to market one month exclusive for August for Deadpool, so the black exclusive versions of Deadpool will be at BoxLunch and the Blue Exclusive version and Yellow Exclusive Chase of Deadpool will be found at Hot Topic. We will have the regular deadpool, the Magneto and Stan Lee from this first wave in September.
More Marvel characters will be released in Wave 1, including Cable, Thor, Yondu, Loki, Star-Lord, Hulk and a Hulk Chase. Again, we will have these in stock just as soon as they are released.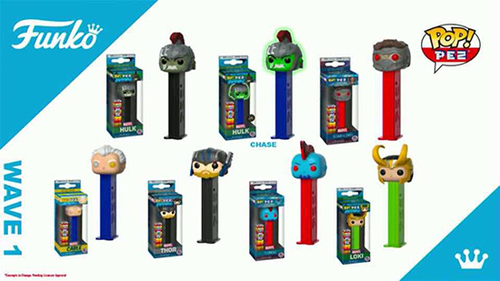 Wave 2 includes 4 POP!+PEZ from Dr. Who, 3 Megaman and Crash Bandicoot and 5 characters from Nightmare Before Christmas with one that glows in the dark, plus Greedo from Star Wars.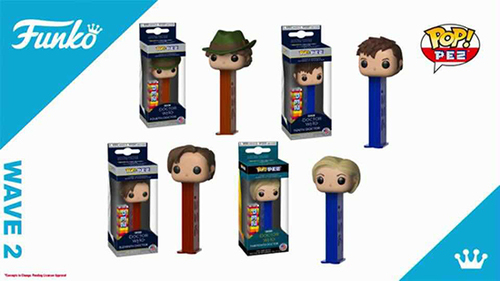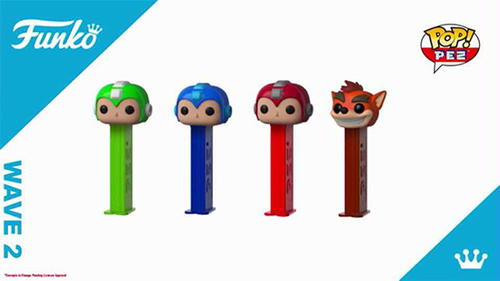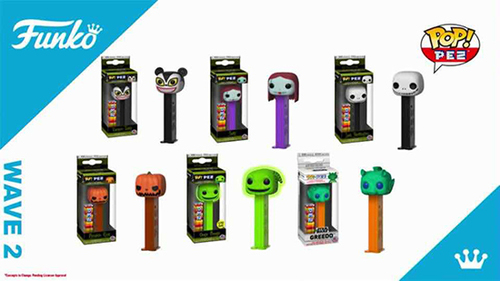 Wave 3 includes 4 Golden Girls plus Hanna-Barbara Snagglepuss, Morocco Mole, and Secret Squirrel. Hanna-Barbara Huckleberry Hound will come with a chase, plus 4 different exclusives that will appear at various different retail outlets. There will also be a few more Star Wars characters and Pez Pal Firemen, Policemen and Pez Pal Boys which are shown as exclusives. I am hoping that we will be able to get the Pez Exclusives in the Pez Collectors Store!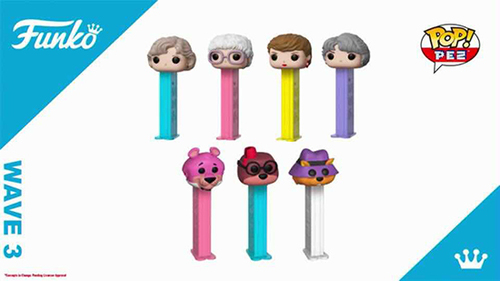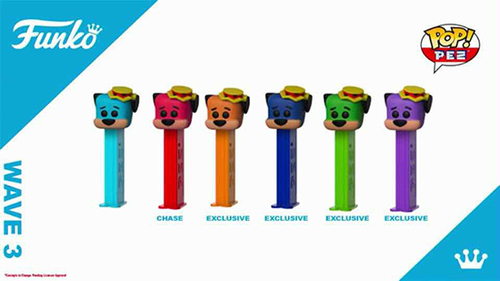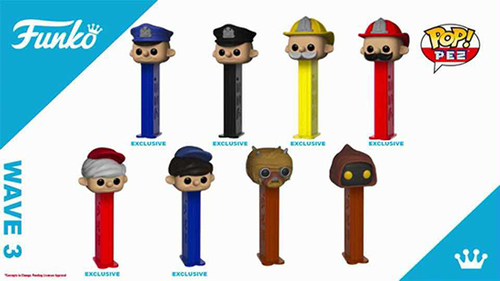 Funko anticipates releasing approximately 8 new characters per month and the Pez Collectors Store will carry the full line including the standard characters and their chase versions, along with any exclusives that we are able to acquire!
A word of warning - be careful about pre-ordering these Funko POP!+PEZ because the company has not provided catalog ordering information to the approved retail accounts at this time. Only certain dealers have been pre-approved to order these and Funko is just getting ready to roll out the full details to the accounts which are authorized to sell. We assure you that we will have what you want in stock, so there is no need to risk your money with a pre-order when the exact release dates for most of the waves is not even known yet! We received actual samples from Funko and took pictures, but these pictures are not for use for pre-sales!
We will be giving away a set of 8 POP!+PEZ including X-men Cable and Magneto, Thor Ragnarok Loki and Thor, Guardians of the Galaxy Vol. 2 Yondu, Marvel Deadpool, Stan Lee, and Huckleberry Hound which were given to us by the Funko CEO to promote the new POP!+PEZ line. We will also do a second chance drawing for a Deadpool POP!+PEZ. With each order from the Pez Collectors Store from now through August 10, your order number will be entered in a drawing. The set will be shipped to the winner at no charge and the winner will be announced in the September, 2018 Pez Collectors Store Newsletter.

The Cleveland Pezamania Convention was a blast! We really enjoyed ourselves and it was a thrill to be part of announcing the PezHead of the Year for 2018. The man behind the PEZ Swag Swaps now has some new Swag to Swap! Join me in congratulating Brian Jaskolski! He is truly deserving of the PHOTY Award and the Golden Gonzo!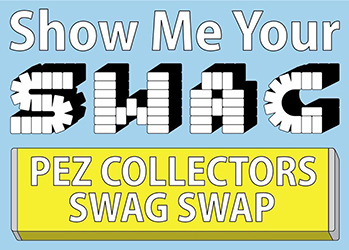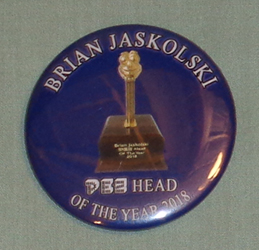 Rick and Sue Marlowe did a fabulous job with the Pezamania 28 convention and the Peace, Love and Pez theme was a lot of fun. We had a great time at the convention. It was wonderful to see so many of our friends and customers – I only wish it wasn't so busy so we could have more time to chat! I would like to thank Sue Finin for all her help on Saturday at the show. Her help was indispensable from set up to tear down and without her we would have been absolutely stretched to our limits. Thank you Sue!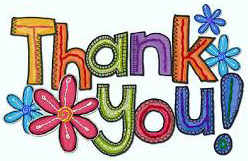 The next convention is the 3rd Michigan Pez Convention, August 15 – 18 in Livonia, MI. We will be at the convention and it is sure to be a lot of fun. Registration information can be found at www.mipezcon.com.
The deadline to register and book your hotel room for the 4th Sin City Pez Convention in Las Vegas is coming soon! Room Rate Discount ends August 12, 2018 and the convention registration deadline is August 31, 2018, so get busy and get registered and booked! We hope to see you in Las Vegas September 13 – 15! Get all the information at http://sincitypez.weebly.com/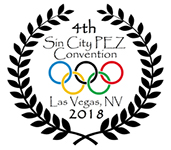 The 5th Pez on the River will be October 11 – 13 which is also coming up quickly! Details can be found at www.pezontheriver.com

That's everything for this month! Check out all the newest pez in the Pez Collectors Store – we are constantly adding to our inventory and we will get more of the newest pez in stock soon! Happy Pezzing!
All the best,
Chris Jordan
www.pezcollectors.com