August 2017 Newsletter
Summer is really heating up with some great new pez and just when things might begin to cool down, we will see even more smoking hot Pez gift tins and impressive new dispensers being released. The pez conventions are going strong and offer great opportunities to not only add to your collection, but to connect with other collectors. Pez collecting is truly a wonderful hobby!
Karlchen pez from the German theme park Karl's have arrived. This strawberry mascot is an awesome promotional pez dispenser. This pez comes mint on card with the Karl's logo on the back, or loose for those who prefer to save on shipping and display loose.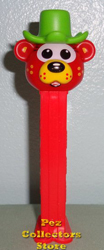 We have a few sets of the M2 Machines available. The set of 3 includes a red, a blue and a yellow semi-truck, each with a delivery vehicle inside the trailer. These are really nicely made and come in an awesome display case – perfect for the pez collection!
We now have just a few of the special, limited Pez double cards back in stock after quickly selling out last month. The 3 versions are Marvel with Ironman and Spiderman, Secret Life of Pets with Duke and Max, and Emojis with LOLing and Silly.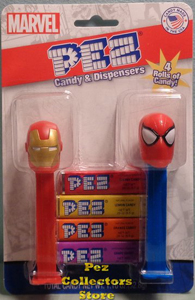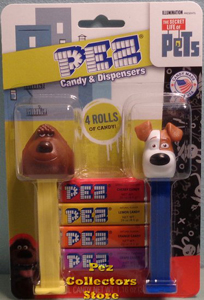 The purple hair Branch Trolls pez are in back in stock in the Pez Collectors Store after selling out very fast last month. Branch is the same troll that was first released as a blue hair, blue nose troll.
We have just a few of the Eyeglass cases featuring stacked Pez Candy Bricks in yellow and red. These also sold out quickly and we have been able to get just a few more in stock.
We just added some of the trucks and jeeps from the Auto PEZ from the 1970s and these are really cute. In the mid 1970s PEZ International released a series of plastic HO 1:72 scale cars, race cars, jeeps and trucks. The 1:72 scale Fiat 500, Mini Cooper and VW cars can be seen in Peterson's Collectors Guide to Pez on page 235. A salesman's car display kit showing different trucks, cars, race cars and jeeps is shown in Peterson's guide on page 237. The cars were manufactured in Italy by CGGC Grisoni which was an Italian producer of plastic toys in the 1970s - 1980s. The company went out of business in the mid 1980s and some of their old stock was found.

The PEZ logo on the Jeeps is still slightly visible. The variety of colors for these jeeps and cars is nearly endless!
The PEZ logo is not present on the trucks at all, but the 6 different style trucks - dump truck, hauler truck, tanker truck, ladder truck, hook truck and cement mixer trucks are shown in the PEZ auto salesman display. Again, there are many different colors of trucks and accessories!

More of the I LOVE Austria and I Love Vienna pez are shipping to us now and we expect them to arrive within a week or so. These are great European promotional pez that were available in the duty free shops at the Vienna Airport.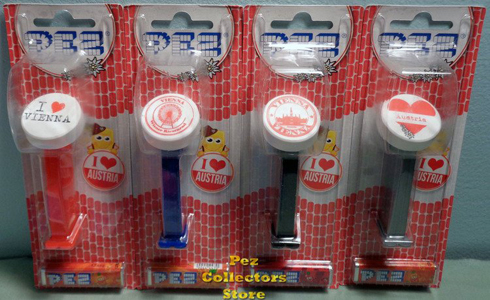 Super Hero girls with play codes printed on the stems are shipping to us now from Europe. The set includes Super Girl, Wonder Woman, Bat Girl and Harley Quinn, each with a special code printed on the side of the dispenser stem which can be scanned for access to a digital, online action game. The printed stems are a great variation that separates the European versions from those previously released in the USA!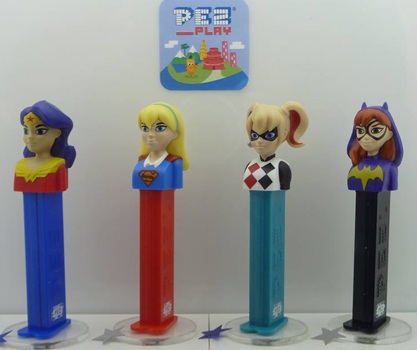 News of collaboration between Funko Pop! and PEZ Candy was revealed at Funko Fundays. It seems that Funko will be producing Pop! like heads and PEZCandy will be providing stems and candy for these fully functional Pop! PEZ dispensers. Huckleberry Hound was shown as an example of this new Pop! PEZ product. I was able to confirm that indeed, Pez is doing a collaboration with Funko, but it seems the distribution will be through Funko. Reps at Funko are unable to provide any specifics at this time, so we will keep watching for these to be available and will get them in stock just as soon as possible!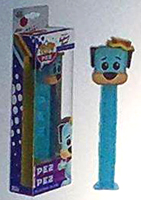 September is always a big month for the third quarter pez releases and this year there are a lot of new releases coming! The Star Wars Millenium Falcon gift tin is scheduled to begin shipping September 1. This gift tin includes Han Solo as an exclusive dispenser, available only in the gift tin, along with BB-8, Rey and Chewbacca.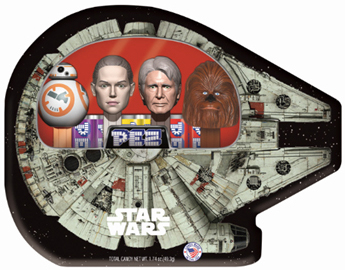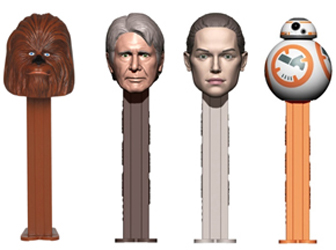 Star Wars Episode 8 The Last Jedi twin packs are also scheduled for release September 1. One twin pack will have BB-8 and Rey and the other twin pack will have Chewbacca and code name "Beaks", an undisclosed new pez dispenser. Which character this will be is being kept under wraps and is embargoed until September 1 – so we won't know what is coming until we receive them. We ordered them blindly so we could have them in stock just as soon as possible!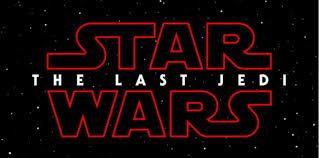 The Justice League gift tin is also scheduled to begin shipping September 1 and it will include an exclusive Cyborg, available only in the gift tin, and Aquaman, along with Batman and Superman. Aquaman will be flowed into the Justice League assortment, so it will eventually become available separately, but Cyborg will be available only in the Justice League Gift tins.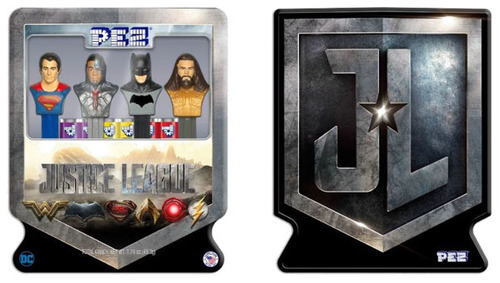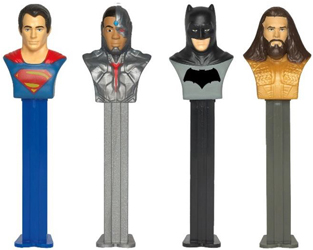 Nintendo Pez Gift sets will be released, featuring Super Mario Bros. pez that have their names printed on the stems. Mario, Yoshi, Donkey Kong and Princess Peach will come in this great gift pack. These are scheduled to begin shipping from Pez Candy on September 1.
An awesome new Pez Candy Tin will be coming on September 1. This tin features the Pez Girl offering candy from a regular and says Pez Makes You Smile. The tin will include 50 rolls of Assorted Fruit and Sourz candy, and a regular pez dispenser.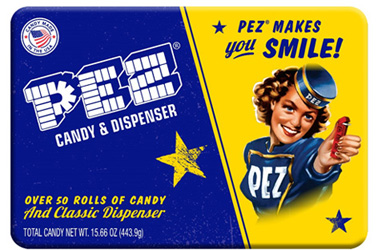 New Christmas pez dispensers are also scheduled to begin shipping September 1. The crystal snow globe featuring a Snowman among snowy pine tree landscape promises to become a favorite new Christmas dispenser! It looks great and is a welcome new addition to the Christmas assortment.

A new blonde hair angel with a blue shirt will be available only in the Christmas tubes. This Angel is on a standard size stem and it joins the Green Penguin, Red Elf on a Shelf, Derby Hat Snowman, Santa and Two dot Reindeer in the Christmas Tubes assortment.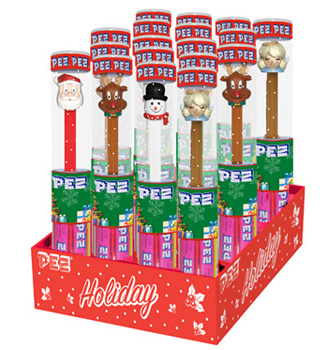 Pez will release 4 new mini pez in ornaments. Santa, Red Elf, Reindeer, and a new Brunette Angel with a white shirt will come on mini stems in a round ornament with a red or green background and clear plastic front. The ornament balls will have a loop on the top for hanging and each ornament will include two packs of pez candy. These will be awesome additions to the Christmas pez!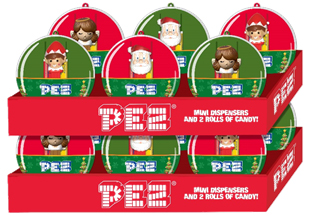 In October, the Yo-Kai Watch pez will be released in European countries. Robonyan, the robot cat, Jibanyan, a Charming Tribe cat, Komasan, a Charming Tribe lion dog, and Komajiro, brother to Komasan, are the names of the 4 characters of video game, manga and anime fame, shown below from left to right. We have an order placed, so in a few months, we will have these new pez in stock in the Pez Collectors Store!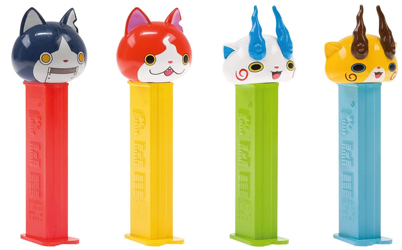 Pez Convention season is in full swing right now. Pezamania in Cleveland Ohio was a huge success and with the addition of the Pez Collectors Swag Swap chase, it truly felt like Christmas in July. Rick and Sue Marlowe pulled of yet another outstanding convention! If you missed it, you still have some more chances to get in on all the fun at the other conventions coming soon. Here is a picture of some of the swag we collected at Pezamania!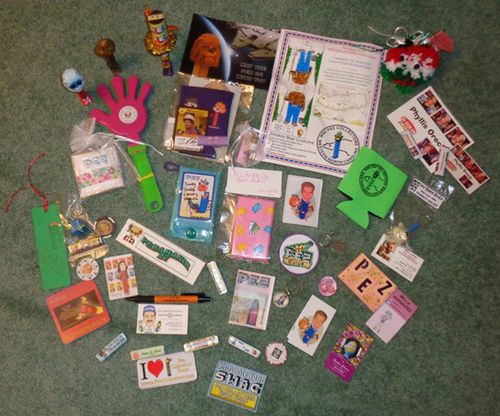 The Swag Swap brainchild of Brian Jaskolski will continue at the Michigan Pez Convention. Hosts Jim and Jody Blaine are counting down to the August 24 – 26 convention in Troy, Michigan. Their agenda is packed with fun activities for kids and adults throughout the convention. It promises to be a good time for all! Register quickly at www.mipezcon.com!
September 14 – 16 is the Las Vegas Pez convention hosted by Jil and Dan Borchers. Registration rates go up on August 25, so be sure to get your registration submitted and your hotel reservations made soon! http://sincitypez.weebly.com/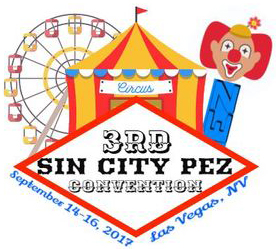 October 12 – 14 is the 4th Annual Pez on the River convention hosted by Sandy and Cheryl Gardner-Ghionzoli in Winona, MN. The theme is "Best Catch" and the agenda includes games and activities that are sure to be a hit with everyone! Get all the details at www.pezontheriver.com

That's everything we can share with you for now. Until next month, Happy Pezzing!
All the best,
Chris Jordan
www.pezcollectors.com