August 2015 Newsletter
New pez keep popping up like daylilies and sometimes like surprise lilies. Some releases are expected and others appear when we least expect them. New pez have been added and there are even more new pez on the way. There are even new paper inserts, graphic cards and graphic counter display boxes! Pez Conventions and gatherings are in the news and there are lots of opportunities to continue growing your collection and enjoying the hobby by attending these! We also have a few bits of new information regarding upcoming 2016 releases, so be sure to read everything in this month's Pez Collectors Store Newsletter!
Optimus Prime and Bumblebee Pez are fighting Megatron pez in the Pez Collectors Store! This pez set is reflective of the early generation transformers from the tv series from the early 1990s. What a great trip down memory lane! These three great pez are available now. In August, 2016, one year from now, the Robots in Disguise assortment will be updated and we expect to see Grimlock join Optimus Prime and Bumblebee!
The Marvel Avengers Assemble pez set released in April this year included three new pez – a new 2015 Hulk, a new 2015 Ironman, and a new 2015 Captain America, along with Thor which was the same mold as previously released.
Now, a different Marvel assortment is available with the three 2015 Hulk, Ironman, Captain America and the Spiderman pez first released in 2009. Thor is not included in this assortment. Additionally, this new Marvel assortment is in a new display box and the pez have the third series of Fun Facts insert sheets which feature the Giant Pez Pal Boy from the Pez Visitors Center on a yellow background.
We try to restock the Pez Collectors Store inventory when we begin to get a bit low on stock and we were quite surprised when our order for Louisiana State University football pez arrived. We thought we would be getting more of the LSU footballs with the mascot, but we received an all new LSU logo football that does not have the mascot. The graphic card has also changed to feature just the lettered logo without the mascot and it has a 2014 Louisiana State University copyright printed on the back of the graphic card. The previous version graphic card has a 2009 copyright. This great new LSU football pez is available now in the Pez Collectors Store, mint on card or loose to save on shipping!
The Peanuts 65th Anniversary Pez Gift Set will begin shipping in August and we are looking forward to receiving our first shipment. This set includes Charlie Brown on a red stem, Lucy on a blue stem, Snoopy on a white stem and Woodstock on a yellow stem. These 4 pez are in a boxed gift set shaped like Snoopy's doghouse and it says Limited Edition, though we have not been told how 'limited' it actually is. These great series 3, 65th Anniversary Peanuts Pez Gift sets will be available just as soon as Pez Co. begins shipping.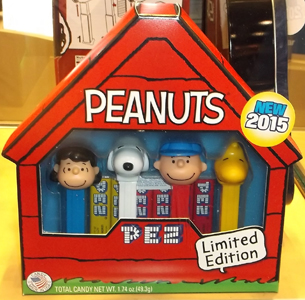 We are all anxiously awaiting the 'big' releases coming next month. Harry Potter has been long awaited and we have just one more month to wait! Harry, Ron, and Hermione are all on shorter, ¾ size stems, Hagrid, Dumbledore, and Voldemort are all on full size stems. This awesome limited edition collector's set will be available in September.
The Star Wars Pez Gift Tin shaped like Darth Vader's head with crystal Yoda, C3PO, R2D2, and Darth Vader Pez dispensers is scheduled to begin shipping in September. This will be a limited edition of 300,000 and, according to Pez Candy, these will sell out during the first few days following their initial release. We have placed multiple orders to be sure that we will have plenty of them available for our customers!
The final President Pez Volumes 8 and 9 are not scheduled for release until November. These last two volumes will include all the presidents through Obama, so that will be the end of the Presidents Pez Educational Series.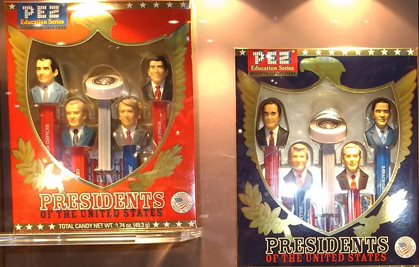 The Educational Series will continue next year, featuring the States of the USA. The states will be included in the volumes in the order of their admission to the union and two volumes will be released each year. The dispenser's tops will be shaped like the states and will be a click and play twist off top. The name of the capitol city for the state will be printed on the stem. For collectors, this eliminates the issue of stem switching and for students, stem switches would be considered incorrect! At two volumes per year, with 5 dispensers per volume, this will keep the Pez Educational Series going for 5 years! We will be getting the States volumes 1 and 2 in November, 2016!
Back to 2015, we have just found out that the PezEmojis scheduled for release in January, 2016 have been rescheduled for mid December, 2015 so there is yet another release to look forward to this year! Remember, these look different than any of the emoticons that were released in Australia, so these will be a must have!
We had a fabulous time at Pezamania 25 and we would like to thank John and Linda Gliha for hosting this great convention for the past 10 years. The announcement was made that the host and hostess crowns for Pezamania are being passed on to Rick and Sue Marlowe. Our new host and hostess are not new to Pezamania and have been integral to its success for these past many years, so it will continue as the same wonderful event that it has always been! We can't wait to join all our pez friends again for the 26th Pezamania convention next year! Rick, Sue, Andrew Prince from the Gliding Stars and pez galore!
There are more conventions and gatherings coming up and if you haven't already registered, now is the time to get it done! I will be attending the Dairyville Gathering on August 8, so any orders placed from Aug 5 - 8 will be shipped on August 10. I hope to see many of you there!
This will be the first year for the Sin City Pez Convention in Las Vegas and it will take place September 17 – 19, 2015. It looks like they have plenty of activities planned and it should be a good time. Details can be found at http://sincitypez.weebly.com
The following week, two gatherings will take place – the Pez on the River gathering will take place September 25 and 26, 2015 on an island in the middle of the river between Minnesota and Wisconsin at the Days Inn of Lacrosse, WI. Sandy and Cheryl have many awesome activities planned including a countryside weenie roast, a duck pond, Pez-Go, a costume contest, room hopping, ballroom floor show, door prize drawings, etc., so it will be nonstop fun from Thursday evening until we part ways on Sunday morning. The list party plans are underway and are secret as always, but I am sure we will find this event to be as educational and funfilled as ever! You don't want to miss this party! More information can be found at www.pezontheriver.com and the deadline for the special room rates at the hotel is August 28, so hurry and get registered now!

The Steel City Pez Gathering will be held September 26 at the Galeria at Pittsburgh Mills in Pittsburgh PA. This gathering has also been very popular and well attended, so you will have to choose between them. More information can be found on facebook on the Steel City Pez Gathering group page. Whatever your plans, the end of September looks like it will be a great time for Pez events!
Following the tradition started by Ralph Riovo, October 24 is the date set for the return of the Pezylvania Gathering. It will be hosted by Suzanne and Dave Robison at the Renninger's Kutztown Antique and Farmer's Market in Kutztown, PA from 8:30 am until 4 pm. The gathering will have lots of dealer tables, a charity auction, door prizes, kids games and costume contests. The details can be found on the Pezylvania VI facebook page.
That's all the news for now, so until next month, Happy Pezzing!
All the best,
Chris Jordan
www.pezcollectors.com