August 2014 Newsletter
July has been full of pez surprises with early releases! There are more new pez coming in the months ahead and it is always fun to get new pez!
Scooby-Doo has been long wished for by pez collectors and Scooby and his gang of teenage mystery solvers have arrived in the Mystery Machine box! The set of 5 pez dispensers includes Daphne, Scooby Doo, Shaggy, Velma and Fred in a boxed set that features the flower power Mystery Machine van. This also is the first Warner Brothers pez release in the USA in years! We were a bit surprised that Daphne is on a light green stem rather than a purple stem, but Pez Co. seems to have produced the dispensers with the scarf color rather than the dress color for Daphne. The set was scheduled for release in September, but arrived early! No more asking Scooby Dooby Doo, where are you? – He can now be found in the Pez Collectors Store! We are offering the set mint in the Mystery Machine package or loose for those who prefer to save on shipping.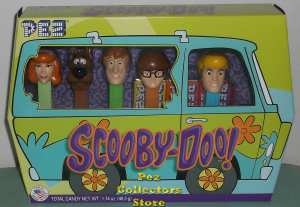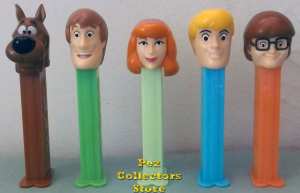 Angry Birds gift tins also have landed in the Pez Collectors Store ahead of schedule. This set was originally expected in September, but was released in July. The tin is a great addition to the collection – the tin is shaped like red bird's head and it features a window in the front for viewing the dispensers, while the back of the tin looks like Red Bird. Of course, the gift tin comes with Pez candies, too.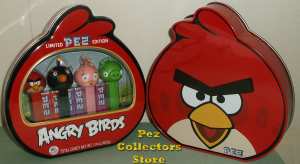 While the World Cup games may be over, you can be sure that Germany is still celebrating its 2014 win. The German soccer balls on black, red and gold stems are available now in the Pez Collectors Store. These have been very hard to find as the distribution was limited to retail stores in Germany. The set of German Soccer balls joins the FC Basel and Swiss 2014 as the newest soccer ball releases for 2014. They are in stock now in the Pez Collectors Store!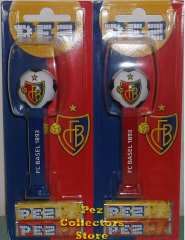 The original 6 Emoticon pez have finally arrived from Australia and are available in the Pez Collectors Store now. We are told that there will be 3 more Emoticons released at the end of the year and we will work on getting those as well when they become available. If you missed out on the first shipment of Emoticons, be sure to get yours now! These are available mint on card or loose to save on shipping costs.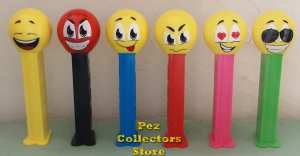 The 2014 Teenage Mutant Ninja Turtles are in stock in now and they look much different than the original happy and angry or the 2005 revised TMNT pez. Shreader, beware – these Turtles are on the move!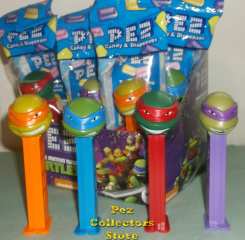 The Disney Junior Pez assortment includes Jake and Skully from Jake and the Neverland Pirates, a different Minnie mouse with a pink stem and pink bow, both with polkadots, and Sofia the First, a junior princess. These pez are all from the Disney Junior channel shows and are quite popular characters among young children. The complete assortment is available now in the Pez Collectors Store, or the pez are sold separately for those who may already have the Jake and Skully from the earlier European distribution.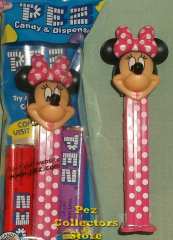 The 40th Anniversary Hello Kitty Pez tin shaped like Hello Kitty's head is shipping to us now! These should be available within a few days.  The limited edition 40th Anniversary set includes Hello Kitty, Sister Mimi, Papa George and Mama Mary, all as full body dispensers. All 4 dispensers are completely new versions and they look great!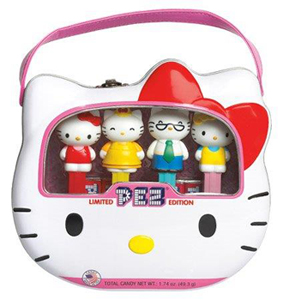 Halloween pez are just now being released and the heads are the same, but the Witch has moved to a purple stem and the pumpkin has switched to a green stem for this year's assortment. We have plenty of Halloween pez inventory from last year, so we have waited to order to be assured of getting the new assortment and these should be in stock within a week in the Pez Collectors Store.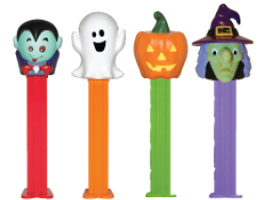 Smurf Click and Play pez are scheduled for release in September in European countries and our order has been placed. We expect this set to be very popular because there are many people who collect Smurfs.
Since the USA releases scheduled for September have already been released, the next new USA pez scheduled for release will be the Presidents volume VI and VII in November. These presidents include Taft, Wilson, Harding, Coolidge and Hoover in Volume VI and Roosevelt, Truman, Eisenhower, Kennedy and Johnson in Volume VII.
Last month, we told you that Anna, Elsa and Olaf pez from Frozen will be released in December. Photos of these pez were posted online by the Candy Warehouse and the photos have since been widely circulated. There is also a boxed set which will include just Anna and Elsa. This is a really exciting release and will be extremely popular!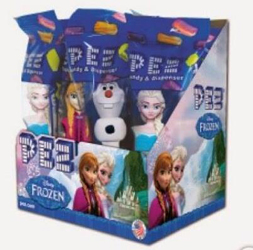 A new set of Pez Soft dispensers is going to be released in Europe and this set will feature the Angry Birds. The dispensers are colored to match the characters – Red bird, Pink Stella, Green Pig and Yellow Bird. The pez soft dispensers are completely different than the ordinary pez dispensers and they shoot the soft candies (though not very far).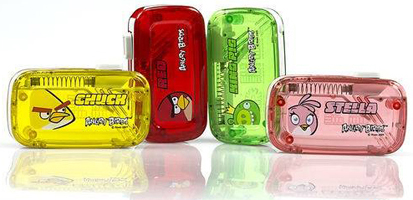 A generous pez enthusiast has been creating quite a stir on the West Coast by hiding money in Pez Dispensers, then hiding the dispensers for people to find. Clues to help people find the treasures are tweeted by @HiddenCash on Twitter. It would be really exciting to participate in this hide and seek game, and who knows how many new pez collectors will get hooked on the hobby because of the fond memories created by this pay it forward act! More cash is apparently going to be hidden in New York and San Francisco this weekend. Let us know if you find any!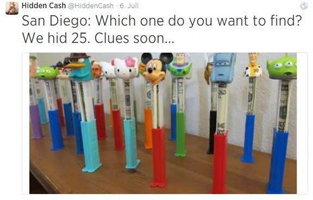 Pez Gatherings are taking place this weekend in Portugal and in Slovenia. Happy Pezzing to those who are able to attend these events! The next pez collectors gathering in the USA will be the Steel City Pez Gathering on Saturday September 20, 2014. The details can be found on their facebook page (Steel City PEZ Gathering) and Brant Olbeter and Pezburgh Punk are the hosts. The gathering events will be held at the Galleria at Pittsburgh Mills on Rt. 79 just off the PA turnpike, beginning at 10 am on Sept. 20.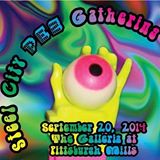 The maiden voyage of the Pez on the River gathering will take place October 10 -11, 2015. It is being held in Winona, MN and so far it looks like the attendance will be outstanding! The details can all be found at
www.pezontheriver.com
. Rooms for this event are booking up fast, so be sure to call in your hotel reservation soon!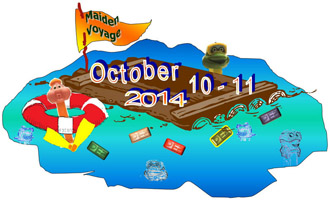 Until next month, Happy Pezzing!
All the best,
Chris Jordan