April 2020 PCS Newsletter
The Pez Collectors Store hopes this newsletter finds you well, safe and healthy! We are open for business even as we observe all Stay at Home and Social Distancing practices. New pez are brightening our outlook in these troubling times and there have been several new releases this past month, with more on the way!
Marilyn Monroe Pez are in stock now! This exclusive dispenser of the legendary American actress, model and singer comes on a card featuring her iconic billowing white dress. Remember the days when Pez never produced dispensers of 'real' people? Of course, that came to an end when the Orange County Chopper Pez Gift Tins were produced in 2006, followed by Elvis in 2007, the Presidents beginning in 2011, etc. Marilyn makes a wonderful addition!

The Limited Edition European Panda Pez pair with a boy Panda and girl Panda are in stock now in the Pez Collectors Store, available loose and ready to display. This pair will also be released in the USA in July and we will have them available mint on card.
The 2020 USA Mickey, Minnie, Steamboat Willie Mickey and Pill Box Hat Minnie are in stock now. All 4 dispensers are new, with new molds and look great! The Steamboat Willie and Pill Box Hat Minnie are in short supply in the cases, and these have been selling quickly but we are getting more in stock soon. The 2020 Revised Mickey and Minnie Pez are available now as a pair!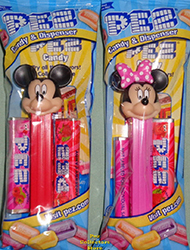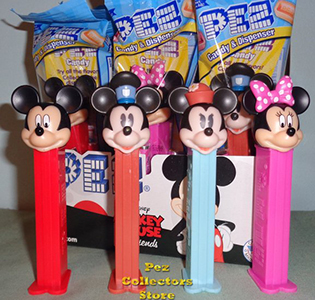 The 4 new European Mickey and Minnie Pez are on their way to the Pez Collectors Store now. We will have these in stock just as soon as possible!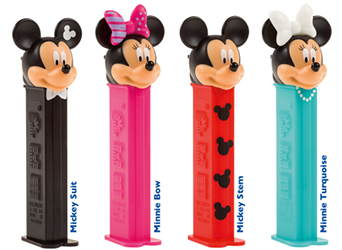 Disney Princess Moana is in stock now in the Pez Collectors Store. She is a great addition to the Disney Princess pez assortment!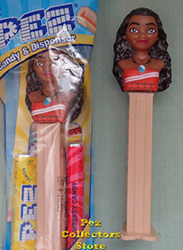 Thomas the Train is in stock now. The mold appears to be unchanged, but the colors of the paint and trim are different and the new Thomas has little white highlight dots in his eyes that were not present in the original Thomas.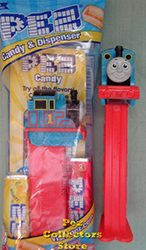 World Tour Trolls are available now in the USA! The assortment has been available for a few months in Europe and the USA set seems to be the same with new hairstyle Poppy and we are now seeing the Dark Purple Hair Branch, Green stem Branch and new Barb on Made in Vietnam stems!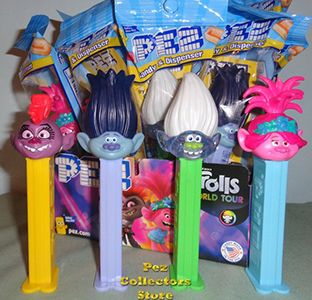 We have the new Full Body Easter Lamb, the Peeps Chick, and a few 2020 Easter Eggs with the spring garden and date in stock and ready to ship in time for Easter. Order soon before we run out of stock!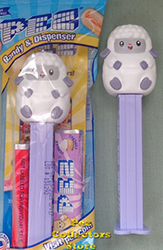 The PAMP Suisse Happy Spring Chick with Silver Pez Candy Bricks boxed set was canceled – a casualty of the Covid-19 and factory closures in China. There are plans for future releases, so we will look forward to adding new sets as they become available.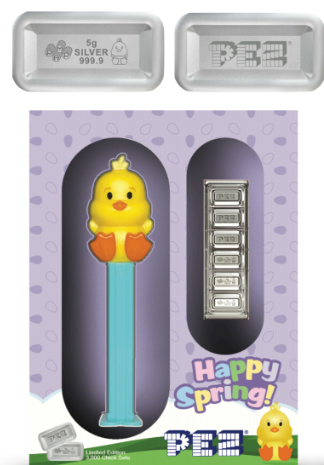 We have a few Smokey the Bear POP! PEZ in stock!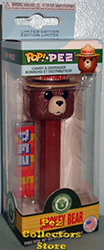 The new SpongeBob pez are shipping to us now and should arrive by the end of the week. The 2020 assortment may include a Bubbles Spongebob (common), a Crystal Spongebob (special), a Glitter Spongebob (rare), a Gold Spongebob (ultra rare with only 1000 pieces made) plus Patrick and Squidward. We will list them as soon as we know what we have in stock!
New Scooby Doo pez will be available shortly! Scooby with a printed SD emblem on his stem, Shaggy with Whiskers, Velma with freckles, Daphne on a purple stem and Fred on a white stem are included in the set.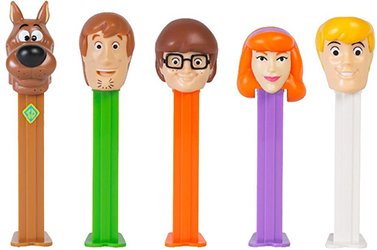 The Scooby and Shaggy twin pack will also be available soon! This great duo comes in a twin pack box featuring Scooby Doo graphics and comes with 6 rolls of Pez Candy refills!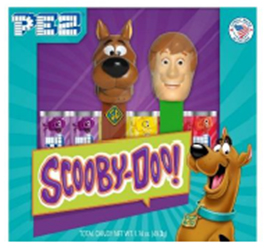 The new Justice League assortment with Batman, Superman and new Wonder Woman pez are expected to be available soon with an April 1 release date.
New Charm style Harry Potter, Hermione Grainger and Ron Weasley pez are on their way to us from Europe. These have the Hogwarts emblem printed on the stems and we expect to have them in stock within a few weeks. We expect the same dispensers to be released in the USA in June, with Mystery Flavor candy wrappers! There will be two twin packs featuring Harry and Hermione in one and Harry and Ron in the second, each on a mini stem. There will also be a 4 piece Gift tin with Harry, Hermione, Ron and Dumbledore, available in July!
More new pez are coming in May – Minions Rise of Gru Pez with Stuart, Bob, Otto, and Kevin, each with little arms and hands! They will be on light grey stems and look cute as can be!
May 1 is the scheduled release for new My Little Pony Pez. Rainbow Dash, Twilight Sparkle, and Pinkie Pie will be released with glitter crystal heads!


As we all are aware, the pandemic Covid-19 has created havoc worldwide and many events have been postponed or canceled. The 2020 Sweets and Snacks expo has been canceled, so our opportunity to preview upcoming releases is now more limited. We will be able to share information about upcoming releases and will share images provided to us by Pez Candy 30 days prior to the first scheduled release date. Trust me when I say there are a lot of exciting new pez on the way!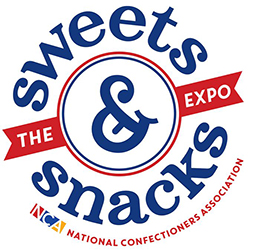 The Northeast Pez Convention has also been canceled for this year, and the Pez Visitors Center and Funko Everett and Hollywood retail stores are closed as our country and people worldwide attempt to limit the spread of the virus. On a more positive note, convention hosts have announced that they will have exclusive dispensers available for their conventions. Each convention host was able to help design the card and choose the color of the emoji head and specify the printing on the stem, so each dispenser will be unique and will be on a unique card! We won't spoil the surprise for anyone, but the dispensers we have seen look really great - think crystal and glitter and different colors!
In a time when we're all being asked to practice social distancing, we don't need to be socially isolated! On Saturday, April 11 from 2:00pm - 8:00 pm EDT, PEZ collectors will have an opportunity to attend the first ever solely virtual PEZ Convention. Hosted by the Facebook PEZ for Sale administrator and moderator, Landon Proctor and Morgan Rhinehart, the Virtual PEZ Convention (VPC) will be held on Zoom, a free conferencing platform. The VPC will feature guest speakers, tours of individuals' PEZ collections, giveaways, and a game night! The event is completely free to attend, but registration is required in order to receive the access link. Registration can be completed at Https://virtualpezconvention.eventbrite.com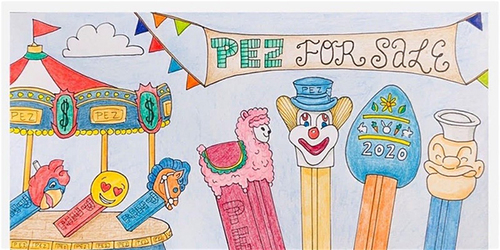 This VPC will be a completely new way to connect with collectors from around the world! If you have any questions you can contact Landon at l.p.proctor@gmail.com or Morgan at mrhinehart50@gmail.com
That's all the news for now! Stay safe and healthy! Happy Pezzing!
All the best,
Chris Jordan
www.pezcollectors.com