April 2018 Newsletter
It has been a great month for pez collectors with all the new additions arriving just in time for brightening our longer days of Spring! Of course, the trend will continue with more new pez coming out over the next several months as well. Pez licensed pez items continue to come out and pez convention season will be kicking off soon so there is a lot happening in the pez collecting world!
Walmart Museum has a new Lil Shopper Smiley promotional pez. This Walmart Smiley Pez is available only at the Walmart Museum. It is printed on the stem in two colors with the Walmart name and logo and "Save money. Live better." There is a picture of the smiley face on the card that says Wal-Mart Lil Shopper and the card shows the Walmart Museum logo. This great new promotional pez is available now in the Pez Collectors Store.
The Walmart Museum also has a Walmart Truck or Rig Pez, available only at the Walmart Museum. This truck has a white or blue cab with large smoke stacks and white trailer with the Walmart name and logo. The card has a picture of a Walmart truck and has the Walmart Museum logo. The change from the Walmart Visitors Center logo to the Walmart Museum logo makes the card really stand out! We have limited stock on the Special Edition Walmart Museum Blue Cab Truck Rig Pez mint on card, available now in the Pez Collectors Store.
A new licensed Easter Pez Lip Balm Set with 6 different pez flavored lip balms has been released by TASTE Beauty. The pez flavored lip balm come in an Easter PEZ tin that makes them extra nice! This is a fun licensed item and we have just a few left in stock!
The yellow crystal Angel emoji pez is now available separately in polybag, as well as in the revised Emoji Pez twin pack.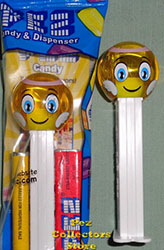 Shimmer and Shine arrived in the USA in polybags and in twin pack boxed sets. We have these available in the Pez Collectors Store now along with the European set which includes Nahal the Bengal tiger cub.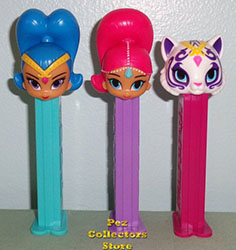 The Hello Kitty Unicorn pez set arrived from Europe and they are cute as can be. The addition of printing on the ear and on the stems is a nice addition and the closed eyes, winking and open eye expressions are great, too.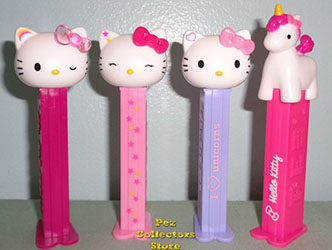 We have a few of the Brush Buddies still in stock and we expect more to be arriving in May. In June, Thomas the Train will be added to the Brush Buddies toothbrush set.


M2 Machines comes through with yet another PEZ van – this time as a model kit. The 1960 VW Delivery Van comes with all the parts to assemble this limited edition 1/64 scale model. This has proven difficult to find and our stock is quite limited!
Black Panther has made a huge hit at the box office and as a pez dispenser! We have him back in stock and noticed that the new 2018 Marvel counter display boxes graphics show not only Black Panther, but also features Ant-Man, along with Spiderman, Ironman, Captain America, Groot and Rocket. We can anticipate Ant-Man to be released in June.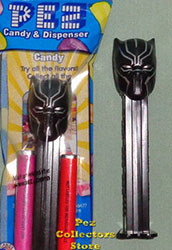 We had an order placed for Paw Patrol Tri-packs which never arrived. When we checked on our order, it was discovered that Pez Co. decided not to produce the tri-pack, but to release two additional Paw Patrol twin packs. Chase and Skye have been available for quite some time as a twin pack, and Pez Co. is now adding a Chase and Marshall version, and a Skye and Marshall version, rather than producing the tri-pack with all three. We will get a few of these in stock soon for those who want to have them all. Of course, Chase, Skye and Marshall are now all available separately from the Pez Collectors Store!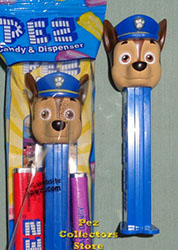 April is expected to bring many new pez to the Pez Collectors Store. We are looking forward to the addition of the Jurassic World pez assortment with T-Rex, Blue Raptor and Dilophosarus, as well as the twin pack with T-Rex and Blue the Raptor in the great Jurassic World graphics box. The twin packs will arrive in a couple of days and the singles should be following just behind them, so we expect to have them in stock soon!
Peppa Pig and George are just being released in Europe, and our order is on the way now, so we will be looking for them to arrive in the Pez Collectors Store very soon.

The Original Six Canadian NHL Hockey Masks are expected to be released in Canada sometime in April and our order is placed. We just don't know yet when they will be coming, but hopefully sometime this month!
Much like the Rolling Stones Exposition dispensers, B'z is a Japanese rock/pop duo celebrating 30 years with the B'z 30th Year Exhibition "Scenes" 1988 – 2018 and they have two different pez designs to commemorate the occasion. The B'z duo is extremely popular in Japan and among the best-selling music artists worldwide. The pez dispensers will be available only at the exhibition in Tokyo while the exhibition is going on, beginning April 1 – May 6 for the early years (1988 – 2002 and from May 11 – June 15 for the later years (2003 – 2018). We are looking into getting some of the dispensers for the Pez Collectors Store, so stay tuned!
The summer packaging for Minions is supposed to come out in Europe in mid April. The European catalog shows Dave on a pink stem, Jerry on an orange stem and Stuart on a different shade of blue. These will come with stickers to decorate the stems. We have placed an order for these variations of the minions pez and look forward to their arrival in late April or early May.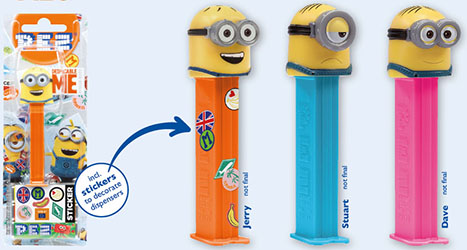 Looking ahead to what else will be coming in May – we can expect to see the new Incredibles II pez assortment with the three kids – Dash, Violet and Jack-Jack. These bust versions look great and it is wonderful that invisible Violet will be joining the Incredibles Pez lineup!
The Incredibles II tri-pack will also be released May 1 and Jack-Jack will be on a mini stem in this boxed set. The preview photo shows that this mini Jack-Jack is not the bust version, but the head only which is similar to, but not the same as the original Jack Jack pez head.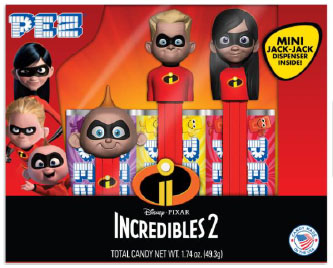 The Han Solo gift tin is scheduled to begin shipping May 1 and there is still a great deal of secrecy surrounding it. We know that it will have a new (younger) Han Solo and Lando Calrissian, a new droid (maybe L3-37?) and Chewbacca. No word yet on what the tin will like.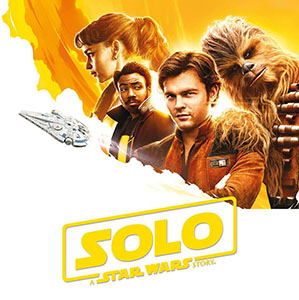 We are excited about upcoming conventions, but first a bit of bad news coming from Michael Ward regarding the 1st Niagara Falls Pez Convention. On March 10, he announced that due to a family health issue, he must cancel the convention. He is attempting to get refunds from vendors for his deposits and indicated he will be refunding everyone who registered but asks that you allow 4 to 6 weeks.
The Northeast Pez Convention will definitely be a happening thing and hopefully your registration is in and plans are made to attend this 20th year event on May 3 – 5, 2018 in Stamford, CT. If not, it is not too late to make plans and get registered! We are really looking forward to kicking the convention season off with this great convention! Hope to see you there!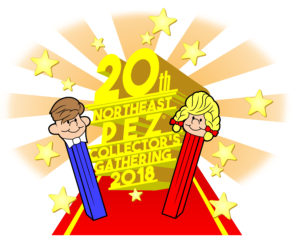 That is all for now! Happy Pezzing!
All the best,
Chris Jordan
www.pezcollectors.com