April 2017 Newsletter
Spring is in the air and the new Pez are as prevalent and colorful as the blooming flowers! There are so many new pez that is really makes it fun to collect them all. We have stock in the Pez Collectors Store or have them coming soon. Read all about the new dispensers as well as deadline information for the next USA pez convention.
The DC Super Hero Girls Pez assortment arrived and these young ladies from Super Hero High look awesome! Supergirl, Wonder Woman, Harley Quinn and Batgirl make an excellent addition to the Super Hero Pez.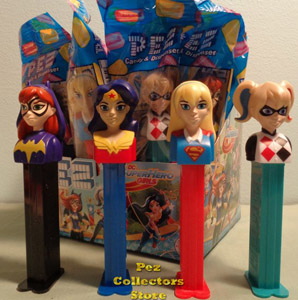 The Super Hero Girls Pez Twin pack boxed set is also available now in the Pez Collectors Store. This twin pack includes Harley Quinn and Supergirl in the boxed set with 6 packs of Pez candies.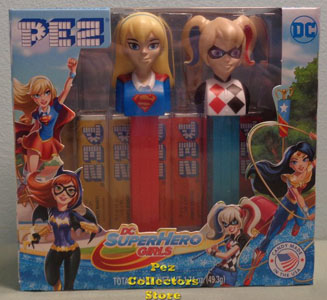 The Click 'n Play Smurfs Pez in the Mushroom shaped gift tin includes the Smurf, Smurfette, Papa Smurf and Brainy click 'n play pez and a really awesome board game! The inside of the gift tin is the spinner for the game and the player pieces for the game are the click 'n play pez dispenser tops. The set comes with 6 packs of Sourz Blue Raspberry Pez that will turn your tongue as blue as a Smurf! These are in stock now in the Pez Collectors Store.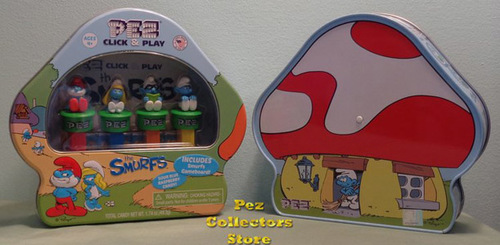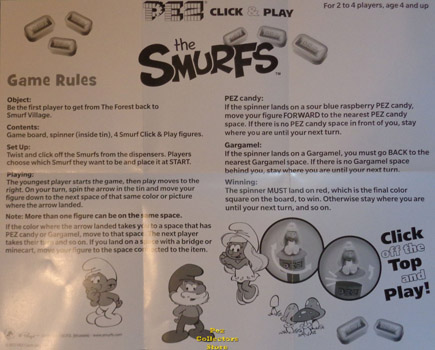 The Click 'n Play Smurfs pez are the same as those released in Europe in 2014, but now there is a real purpose to having the top twist off! There are new Smurf Pez that were released just a few months ago if you're looking for new pez. The Smurfs 3 or Smurfs C versions are available now in the Pez Collectors Store.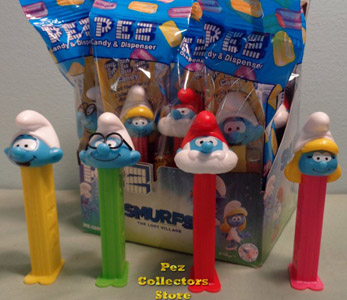 The Marvel Guardians of the Galaxy pez assortment includes Groot and Rocket and we have these two new pez waiting to ship to you now. These unusual cosmic adventurers are great additions to the Marvel Superheros pez!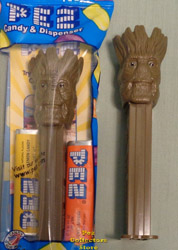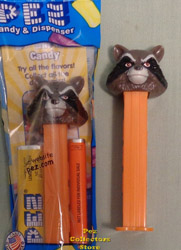 A Guardians of the Galaxy Pez Twin pack boxed set is coming to the Pez Collectors Store soon. This boxed set will include the full size Groot and Rocket Raccoon on a mini stem!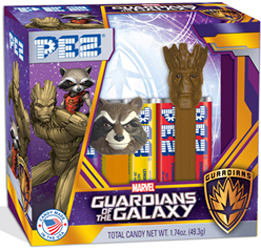 BB-8 and Rey will be arriving in the new Star Wars pez assortment any time now. Our order should be shipping from Pez Co. very soon as the first scheduled release is April 1, so they will probably begin shipping on Monday April 3. Keep watching!


The crystal Devilish Emoji is finally beginning to appear! This crystal emoji was supposed to be included in the new assortment along with Chillin' and Cheesing, but instead, the assortment was released with a solid, opaque red colored Devilish head. There was miscommunication and the factory produced the solid red dispenser, so Pez Co. released it while waiting for the crystal heads to be produced. It is unlikely that Pez will stop releasing the solid one until they run out, though they may not have more manufactured for future releases. It remains to be seen which will eventually be more easily available. For now, be watching for the crystal Devilish to begin appearing. We will have these available as soon as possible.
The World's Smallest Pez – a mini Peter Pez and a mini Pez Pal boy will be available from the Pez Collectors Store in mid to late April. These cute new mini pez come with a pack of Pez Candy. It is actually somewhat unclear as to what makes them "the World's Smallest" other than that is the brand name of the company that is marketing these dispensers. We have certainly seen plenty of other pez on mini stems and even smaller mini x mini stems from Bandai, all of which are fully functioning pez dispensers. The mini Pez Pal boy looks just like the Visitors Center Pez Pal Boy and Peter Pez is in classic but diminutive stature. Even if the claim of "World's Smallest" wouldn't hold up, these are still awesome! We are told they are currently in a container, shipping to the USA and should arrive at the dock by April 10 – 15, so we expect to receive our order within a week or so later.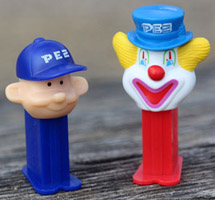 Chase and Skye from Paw Patrol have just begun appearing in Europe and are scheduled for release in the USA in May. The first scheduled shipping date is currently set for May 1. These heroic puppies are just as cute as can be and we will have them in stock next month!


Nintendo has been added to the lineup for USA releases. The assortment will include Mario, Yoshi, Princess Peach and Donkey Kong. These are the same dispensers that have been available in Europe for some time now. Sadly, Toad didn't make the cut for being part of the USA Nintendo pez release. The assortment is scheduled to begin shipping May 1 and we will have them in stock as soon as possible.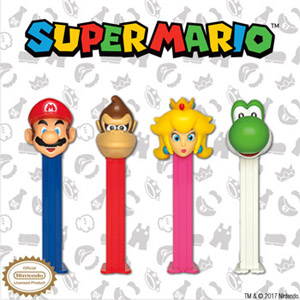 Despicable Me 3 is also scheduled for release May 19. The new assortment will include Jerry and Gru in addition to Dave, Stuart and Agnes previously released. Jerry is a minion with buzz cut hair and two eyes and of course, Felonius Gru is the supervillain.
There will also be a Despicable Me 3 Tri-pack which will include a full size Gru dispenser and Jerry and Stuart on mini stems. This tri-pack will come with 6 packs of new Banana flavored pez, exclusive to the tri-pack boxed set! Collectors will need to get two boxed sets, just so one can be opened to try the new Pez candy flavor!
Coming soon from Europe is the Globi Pez from Lolipop The Candy Shop in Switzerland. It is scheduled to become available April 1. This adorable blue parrot with yellow beak wears a black beret and he is one of the most popular comic characters in Switzerland. The Globi Pez dispenser joins a host of other Globi merchandise items ranging from books and plush toys to crockery and cutlery! We have an order placed and hope that Globi will make quick work of his world voyage from Switzerland to us in the USA!

The Transformers with Pez Play codes are expected to be released in Europe in May. These are the same Transformer Robots in Disguise dispensers previously released but Optimus Prime, Bumblebee and Grimlock will have the Pez Play code printed on the stem. This scanable code can be used to access the digital Pez Play games! We will get these in stock as soon as they become available.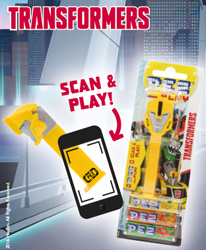 It may seem like the next convention is a long ways away, but the deadline for early registration for the 19th Annual Northeast PEZ Convention is April 15. The convention will take place June 22 – 24 at the Sheraton Stamford Hotel and Richie assures us that it will be a "blast"! Visit www.nepezcon.com for all the details!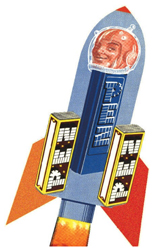 The 2nd Australian Pez Gathering will be held in Brisbane, Australia on April 15. Host Greg Potent invites you to come join the fun in the land down under! Details and more information can be found on facebook on the 2nd Australian Pez Gathering group page.
That's all the news for now, but check the Pez Collectors Store for new pez being added all the time!
All the best,
Chris Jordan
www.pezcollectors.com