April 2015 Newsletter
We have added a couple of new pez sets to the Pez Collectors Store in March and there will be a couple of new releases in April as well. It is fairly quiet in Europe as they are not getting any new releases that are not also offered in the USA, but maybe Pez is working on some new, top secret Promotional Pez items or other exciting new releases. Pez USA is likely working hard on getting the information and displays ready for the 2015 Sweets and Snacks Expo taking place in McCormick Place, Chicago, IL, May 19 – 21 and we hope to get a sneak peak at the releases anticipated for 2016 at this event.
As expected, the Kyoro Chan Parrot Pez arrived and we now have them both loose and mint on Japanese bubble cards. These cute little Parrot pez are a promotional item for the Morinaga Company Chocoballs and the set features Strawberry on a pink stem, Caramel on a yellow stem and Peanut on a blue stem. The heads on the 2105 pez are significantly smaller than the previous version of Kyoro Chan parrots and they now have little feet at the bottom of their bodies which helps to show that they really are birds!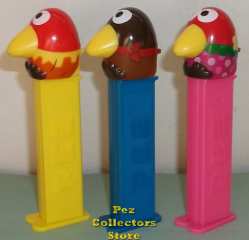 Despicable Me pez arrived in the Pez Collectors Store in March. These have been very popular and the USA assortment includes Agnes in addition to Minions Dave and Stuart. Agnes seems to be the dispenser that is short in all of the 12 count counter display boxes – perhaps Pez Co. didn't think she would be as popular as the two minions, but they obviously were not thinking of pez collectors who want to get them all when they made these decisions! All three are available in the Despicable Me pez set in the Pez Collectors Store.
We received a very few Ferdinand pez which are now for sale. Ferdinand is a policeman character who teaches young children in Carinthia Austria safety. He teaches about traffic safety, skiing safety and swimming safety. The character was made into a pez dispenser and these dispensers are very hard to come by since their source is a private organization in a single town. This pez comes loose and ready to display!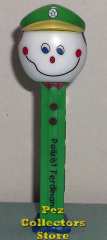 March Madness is winding down and the Final Four NCAA Champions are showing that once again, there is an advantage to having a Pez Dispenser with your team logo! We are predicting that the University of Kentucky will win based solely on the fact that they are the only team in the Final Four that has a NCAA basketball pez.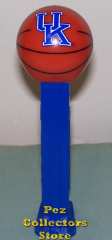 It is nearly time for Easter, but Pez Candy did not produce any new dispensers for Easter this year. We were able to get some additional inventory for the Easter Egg boxed sets and these are available now in the Pez Collectors Store as a full set of 4 different eggs with the floppy ear blue bunny or the Ducky Egg with the floppy ear blue bunny.
There are more new pez expected in April! The Marvel Avengers Assemble assortment should be arriving soon and it will include a new Captain America, a new Iron Man and a new Hulk, along with Thor which we don't expect to have any changes. We have delayed our order to be sure that we get the new pez instead of left overs of the old versions, so we hope that our order will contain all the new Marvel dispensers.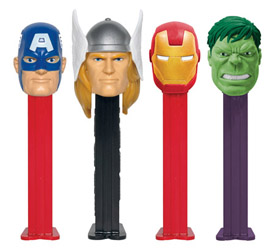 The Wildlife Plush pez are scheduled to begin shipping in April, and we look forward to receiving our shipment of these super cute endangered animals. The set includes the white tiger, giraffe, gorilla and elephant. The packages will include information about these animals as well. We should have these in stock well before Earth Day which is April 22, 2015.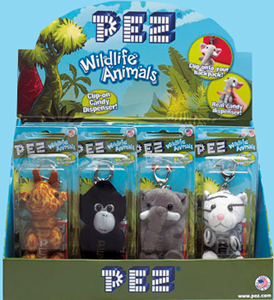 In further news for April – there is an article about Pez in the April 2015 Playboy magazine. No, this is not an April Fool's joke. This story features the European escapades of pez dealers Steve and Josh Glew through the 1990s and tells of the ultimate downfall of Steve's contraband pez empire at the hands of Pez Candy, Inc.. The Pez Outlaw story was researched and written by Jeff Maysh, an award winning journalist who is very thorough in his investigative reporting. The story is told from an unbiased perspective and includes quotes from his interviews with past Pezident, Scott McWhinnie, and collectors worldwide including David Welch, Johann Patek and even me! Yes, this is the only way you will ever see Chris Jordan in Playboy Magazine! The article can be read online at
http://www.playboy.com/articles/pez-outlaw
and don't worry, there are no nude pictures from this link.
Steve wrote on his blog, "I want to thank Jeff James Maysh for his interest in and writing of the Pez Outlaw story in April's Playboy. His support has been a dream come true." I asked Steve if he was satisfied that Jeff had written a fair and unbiased account of the Pez Outlaw story. Steve responded, "I've never read the story in Playboy, I gave Jeff Maysh my trust to write what he best thought. I won't ever read the story, I've never read the followup interviews stories or listened to the radio interviews. I do not look in mirrors and to read or listen to these stories would be the same thing. I glance at mirrors like I've glanced at the stories. I know who I am and another person's impressions would only be distracting. Good or Bad. I ask people I know here in the real world what they thought and most seem to really like it. I'm good with that."

An interview with Jeff Maysh regarding the story and his experience in writing it can be heard on WGN Radio at http://wgnradio.com/2015/03/21/playboy-magazine-author-jeff-maysh-on-pez-dispenser-smuggling/ and some background on how he came to write the story can be found in Collectors Weekly at http://www.collectorsweekly.com/articles/quest-for-the-pez-holy-grail/  The photo below from the Collectors Weekly article shows a sample of some of the pez that Steve Glew smuggled into the USA from Europe in the early days.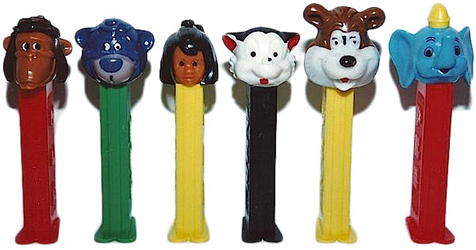 For those who are interested in some pez history, read all of the chapters of the Pez Outlaw Diary at
www.pezoutlaw.com
.  You will need to click on the chapter links on the right sidebar part way down the page in the Blog Archive. Admittedly, the blog is not easy to read or follow, but it will yield many interesting and hilarious glimpses into the world of pez in the 1990s, at least as viewed by Steve Glew. There is also a lot to be learned – such as the origin of the Psycho Lucy Pez. Steve tried to purchase more white eye Lucy pez, but what he got was Lucy with the entire face printed in white instead of black and psycho Lucy was born!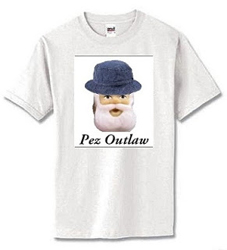 Just for fun, we thought Jeff Maysh would enjoy this creation in honor of the Pez article in Playboy, so we made this Playboy Bunny Pez and sent it to him to enjoy! Surely by now he must think all pez collectors are a bit crazy!

In other news, Pez Candy, Inc. has thrown us a curve ball! We have just been informed that the My Little Pony Pez set will be released in May as its own assortment. The assortment should include the same ponies released in European countries - Rainbow Dash, Pinkie Pie and Twilight Sparkle, but we have no information as to whether there will be any differences or variations in the USA release. We have the European My Little Pony Pez in stock now and in May, we will get the USA releases as well!
The ATX pez gathering just concluded, so the North East Pez Gathering is next up in just a few weeks -  April 30 – May 2, 2015. The early registration deadline has passed, but you can still plan to register and attend! Everyone is welcome and no one will be turned away from the gathering! Your host, Richie Belyski, is great at planning a fun filled event and the turnout for the gathering is usually really good! Check out all the details at
http://www.pezgathering.com/
.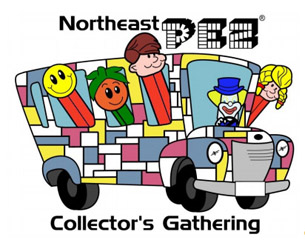 That is all the news for now – Happy Pezzing!
All the best,
Chris Jordan