April 2011 Newsletter
April is upon us and we're being showered with new Pez! What a joyful feeling!
Littlest Pet Shop Pez have arrived from Europe. The set includes 3 popular Hasbro Littlest Pet Shop characters – pink cat, dog and monkey. These are really cute characters and are sure to please the animal lover in us all in besides being a great addition to the pez collection!
Hello Kitty Skulls have also arrived from Europe. These dispensers look really awesome with the glittery crystal heads and the skulls and polka-dots in the bows! These are also available now in the Pez Collectors Store!
Disney's Handy Manny Pez gift set made an early arrival as it was not expected to be shipped until September. The gift set box looks like a tool box and comes with a handle for carrying. There are four dispensers – Handy Manny, the bilingual Hispanic handyman, his trusty tools – Pat the Hammer, Dusty the Hand Saw and Flicker the Flashlight. These gift sets of Disney Clubhouse Handy Manny characters are available now in the Pez Collectors Store.
Thor and Captain America are fighting crime alongside the Hulk, Spiderman, Wolverine and Ironman in the Marvel Universe Superheroes sets. These have just been added to our inventory and they look awesome! These remakes of the original pez characters look as good as the vintage pez, at a fraction of the cost! With new movies coming out this year, these pez are sure to be a hit!
It sure seems like the teams that have a Sports Pez come out on top! Take a look at the March Madness basketball games! Final Four includes both University of Kentucky and University of Connecticut, Elite Eight included University of North Carolina and the Sweet 16 included Ohio State and even Syracuse hung in there for a while. That's a pretty good showing for the 5 NCAA Basketball pez! Maybe some of the other teams should be taking notes. I am really itching to see a Jayhawks Basketball pez, so maybe someone at Pez Candy should point this out to the folks at Kansas University!
Pez Smart Dispensers from Europe are shipping to the Pez Collectors Store and should arrive within a couple of weeks. These great vitamin dispensers feature boys and girls wearing a mortar board cap that flips open (a great place to hide a little note or special little treasure) with the heads sitting on mini stems. The Pez are not traditional Pez Candies, but are vitamins that claim to make you smart! These are sold only in pharmacy stores in Austria at this time, but we have arranged for a shipment to be sent to us!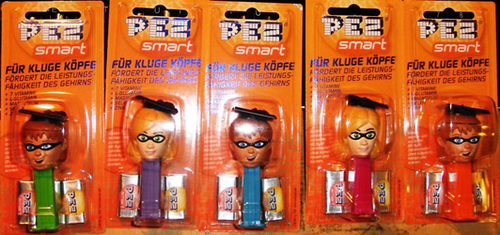 More of the Mr. Men Pez are expected to arrive within a week or so. Our initial shipment sold out very quickly and we have more arriving from Europe soon!
New candy flavors are scheduled to ship to us for April. Strawberry-Vanilla and Raspberry-Lemon flavored Pez Candy! These will be part of the Assorted Fruit Bonus pack and will be available through the Pez Collectors Store!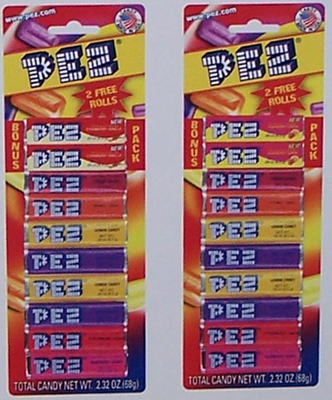 The promotional Price Chopper hauler truck was scheduled for distribution in April, but the company has let us know that there has been a delay and shipments are not expected until June, so we will have to wait on getting these in stock.
Rapunzel is scheduled to join the Princess Pez mix in May, 2011. Since she will be added to the existing characters, it is hard to say how soon we will see her in our shipments, but hopefully sometime in May.
New Disney Cars are scheduled for release in May.  Mater with his announcer headset and Finn McMissile will be added to the Disney Cars pez assortment, along with all-time favorite Lightning McQueen.
There will be new pull-n-go cars for September featuring Lightning McQueen and Mater as detachable pull-n-go cars. These attach to a race tire pedestal, very similar in design to the European Click-n-play pez dispensers. These are an awesome new concept for Pez – highly interactive while still the pez design that we all know and love!
Collecting Pez is fun and it is ever so much more fun to share your love for collecting with other Pez collectors. Attending a gathering or a convention is the ultimate pezzy experience! Meet master collectors, beginning collectors and everything in between. No matter how many or how few you have, no matter what your budget and no matter what your focus is, attending a gathering or a convention allows you the chance to be among others who share your passion! Attend a seminar to learn more about the hobby or to see new and unique pez items. Join other collectors in games of wit, knowledge, skill and just pure luck as you compete in pezzy games and fun! What a wonderful chance to be among friends – new friends, old friends and soon to be friends! Sign up for a gathering or convention this summer and you won't regret it!
The NorthEast Pez Convention is being held in Stamford, CT April 7 – 9. Information can be found at http://www.pezgathering.com/necon.html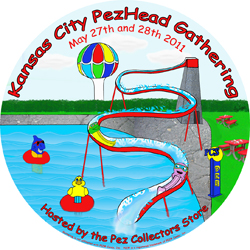 The Kansas City PezHead Gathering is coming soon and the early registration deadlines will soon be upon us. Registration prices go up on April 27, so be sure to visit us at www.KCPezGathering.com to get registered now! The Holiday Inn Kansas City NorthEast Hotel will hold our room block at the discounted rate through May 6.
Dealers may arrange table space after registering, but tables are on a first come, first serve basis, so we can't guarantee table space for much longer!
Economy registration allows registrants to attend room hopping and the Pez Show, Friday night games and Seminar, Saturday BBQ Buffet, Charity Auction, Pezzy Games and PezGo for great Pez prizes! Be among the first to play the all new Pez Collectors Store Funky Pez Sets Card Game! The Gathering is going to be so much fun!
The Works Registration includes all of the events, the BBQ Buffet and includes loads of goodies like the T-Shirt, Registration Pin, Attendance Pin, Special Gathering Dispenser, Gathering Candy Packs, and more. For those who cannot attend, we can ship absentee packet with the T-Shirt, Registration Pin, Gathering Dispenser with Candy Packs. These will be shipped just after the gathering, but must be ordered in advance!

Limited Edition Charity Pins to support the Crohn's and Colitis Foundation are also available separately, but only 50 of these were made, so hurry and order yours now.  A 2011 KC PezHead Gathering Shot glass, complete candy pack sets with special header cards, extra t-shirts and extra registration pins are also available in the Extra Goodies section, but supplies may not last so order soon.
We also made special arrangements for discount tickets to Worlds of Fun and Oceans of Fun, the Kansas City Amusement Park right across the street from the hotel! Details for how to get discount tickets are available at the Kansas City PezHead Gathering website! What a great way to spend Memorial Day Weekend!
More interesting news from Pez - Prince William and his bride Kate have been immortalized on Pez dispensers! They now join the Teutul's of Orange County Chopper fame as being the only living people to be depicted as the head of a Pez dispenser. The single pair of dispensers produced to commemorate the marriage of Prince William and Kate Middleton will be auctioned on eBay beginning April 7 and ending April 17, with the proceeds going to a charity designated by the royal couple. I wonder how high these dispensers will go? Sorry folks, the Pez Collectors Store will not have these available for sale - at least not until Pez Co releases them for public retail sales!
Until next month, Happy Pezzing!
All the best,
Chris
www.pezcollectors.com
www.KCPezGathering.com